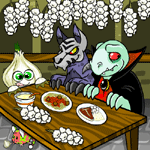 Halloween Preparations Guide

by mewemy

--------



Halloween is quickly approaching and you want to be sure that you have everything prepared for Halloween night. Your neohome should be decked out in the spookiest of decorations to impress all the trick-or-treaters, you should have plenty of delicious treats on hand to give out, and you'll want to be sure that your pets are dressed in the best costumes on the block. My guide will make sure your Halloween night ends in a wonderful success and leaves you feeling fulfilled. Halloween only comes once a year so you might as well have some fun with it!

Both inside and outside decor is important if you want to make a bold statement and have all the young pets knocking at your door this fall! Sure, you want to make sure you've bought plenty of candy to hand out but your scary props are just as important to a successful night and I'm here to help!

There are many color schemes to work with for Halloween. Black and orange is traditional and usually the first colors people think of. Dark purple, crimson red, and slime green are three other colors options that work very well though. It's important to have your decor match to make it look very well put together and well-thought-out. You'll want to stay away from pastels and bright colors for this. The more dark and sinister the better!

Candles are a great and inexpensive decoration that not only adds to the physical aesthetic of the decor but can also give off a great scent to really put you in the mood for the holiday of horror. Pumpkin spice, fall leaves, and spicy cinnamon are all great choices and Dark Red Spooky Candle, Spooky Skull Candle, Spooky Green Candles, and Spooky Korbat Candle will all give off that frightening look that we are striving for. No cutesy stuff here!

The Haunted woods is where we want to draw our inspiration from. Aside from candles there are many other suitable table-top decorations that will add the perfect amount of creep element to your neohome. Haunted Dream House Playset, Scary House Tree, Haunted Chess Set, Haunted Snowglobe, and Haunted Woods Tree Lamp are just a few of the eerie pieces that you'll want to set out for this event. Remember you can always put a decorative table outside as well and bring it indoors when Halloween is over!

Speaking of outdoors, this should be your primary focus when decorating. The outside of your neohome will be the first thing trick-or-treaters will see and you want something spectacular to draw them in. I suggest hanging up old dusty cobwebs in bushes for an easy but scary effect. A scarecrow is another great prop that you can set up in the yard to give passing pets the shivers. I don't mean the cute Kacheek Scarecrow either, no, you're going to want the Scary Evil Pumpkin Scarecrow. That one will be sure to make young pets scream in terror!

Pumpkins in general are a great way to decorate your front porch! You'll want to carve them into something spooky or pick up one that's already done up such as Illusen Halloween Pumpkin Decoration, Cannibalistic Pumpkin, Carnivorous Carved Pumpkin, or a Glaring Pumpkin. There are also quite a few neopet character pumpkins out on the market to purchase or replicate such as Dr Sloth pumpkin, Pant Devil pumpkin, and Meuka pumpkin. However you go about obtaining your pumpkins make sure they will cause freight!

Now let's discuss the treats you will be handing out to the children. Candy is traditional and there are a lot of good seasonal varieties such as Skull Candy, Disgruntled Candy Corn, Candy Feast, Angry Candy, and Assorted Pumpkin Mixed Candy. Candy isn't the only Halloween themed goodie available though and if you think outside the box you can really make a lasting impression. Poison Heart Candy Apple, Candy Pumpkin Latte, Wocky Funnel Cake, Caramel Apple Bundt Cake, and Pumpkin Cannolis are all favorites that will put a huge smile on any pets face that winds up at your doorstep! It wouldn't hurt to have a pitcher of hot apple cider to serve alongside those delicious treats as well.

Lastly, but certainly not least, we need to discuss how you are going to dress your pets up. Whether they'll be out trick-or-treating or will be staying home to hand out the candy to the youngsters they need to be looking at their hauntingly best. You can always paint your pet Halloween but there are plenty of less permanent options to be considered.

A witch is always a great choice and easy to achieve! With a charming witch dress, dark witches broom, gnarled witch gloves, fancy witch hat, and spooky witch makeup, everyone will be tossing water on your pet to see if she melts away. Another great option, exclusively for Kikos, is the Spyder Kiko dress, gloves, hat, and bag. This is an adorable look that will have your Kiko looking exactly like the hairy little petpet. Lastly, a vampire is a great choice for adult pets. With red vampire contacts, vampire costume face paint, vampire costume wig, vampire counts cape, and vampire wax lips your neopet will look like he's ready to suck the blood of his victims.

There are plenty of great options for baby pets as well, don't fear. Baby candy corn hat and wings, baby ghostly cape, baby giant moach, baby judge hog costume, and baby zomutt costume will have everyone ooohing and ahhhing at your frightfully adorable baby pet! All of these fashions are very in this year and highly recommended.

No matter how you choose to dress your pet make sure they are warm and comfortable as the evening should be quite chilly this season. If you follow this guide and get your neohome decorated accordingly, treats that make the tummy rumble in excitement, and pet costumes that are sure to scare then you'll be sure to have an excellent Halloween bash. Don't forget to set up early so you don't have to rush around last minute and good luck!