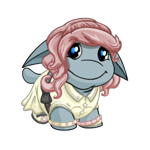 Species Customization: Poogle

by aleu1986

--------



In honour of Poogle Parade, aka Poogle Day, I have put together a selection of customizations using the species-specific clothing of the precious Poogles. If you`re looking for inspiration to dress up your Poogle in honour of their special day, I hope this article will give you some new ideas!

Female Retro Poogle
I like this wig, not only because it suits the theme of Valentines and picks up the pink in the outfit, but because the hair is up and away from the Poogles face. This species has a large head with a round, plump face, so a wig that hugs their cheeks and frames their face is not always the best look for them, in my opinion. With that said, I`ve listed a few other wigs that suit this ensemble below. I chose to go for blonde wigs as I think they suit the pink and white outfit well.
If you want to cover up the table top in the foreground, try adding Slushie Slinger Table Top or Magnificent Milkshakes to keep with the cafe theme. I chose not to add any other elements in this customization, such as a garland or curtains, as the background has plenty of detail and colour in it.
Items used:
Retro Poogle Skirt, Shirt, Scarf, Shoes.
Valentine Cafe Background
Curly Valentine Wig
Light Pink Lipstick
Also try:
Glam Curled Wig, Blonde Quiff Wig or Dyeworks Yellow: Curled Updo Wig. (Also available in the original brown).
Male Retro Poogle
To create a male version of the retro look, keep the Retro Poogle Shirt and Shoes. With the simple addition of the Pompadour Wig and a pair of blue jeans, you got yourself a cool retro look for your boy Poogle. Instead of the Retro Poogle Shirt, you can try Bowling Shirt for a nice pop of colour.
The milkshakes carry the theme of the background, but if a garland is really needed, is up to you to decide. I personally think it looks a bit bare without it, and the Colorful Paper Lantern Garland fits in nicely with the muted tones of the ice cream parlour.
Items used:
Colorful Paper Lantern Garland
Magnificent Milkshakes
Old School Ice Cream Parlour
Hardy Blue Trousers
Pompadour Wig
Retro Poogle Shirt/Shoes
Also try:
Slushie Slinger Table Top
Basic Blue Trousers or Cuffed Ripped Trousers
Deadly Doll Poogle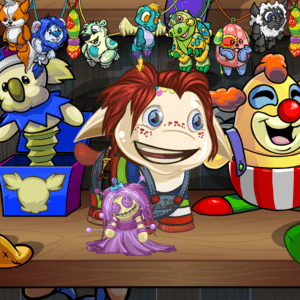 What a good little guy! He`ll be your friend until the end!
This themed look of the doll costume can be varied by changing the face paint and choosing different backgrounds to place your Deadly Doll Poogle in different settings, such as a classroom, a haunted forest or a bedroom. A popular choice is to make your Poogle look like a trick-or-treater on Halloween, or go for the Toy Shelf look as I have done here.
Items used:
Deadly Doll Poogle Bottom, Top, Shoes, Wig
Petpet Plushie Garland
Toy Shelf Background
Chadleys Collectors Contacts
Adorable Freckles
Infectious Smile of the Shootout Showdown Goalie
Kanrik Collectors Weapons Belt
Fyora Voodoo Doll Handheld Plushie
For a female look, try Wavy Red Wig or Layered Orange Wig.
Also try:
Gift of Neocash Surprise Box Background
Inside a Mystery Capsule Background
Dark Blue Contacts
Armin Collectors Contacts
Nutcra-cker Face Paint
MME13-S4b: Voodoo Skull Face Paint
Playful Scarecrow Makeup
Battle Scar Marking
MME13-S2a: Petpet Voodoo Doll Garland
Autumn or Winter? Your choice!
This is an example of a neutral customization that can easily be changed to look more masculine or feminine if you prefer. Add the Winter Poogle Skirt and a longer wig for a girl, or add a shorter wig or a hat for a boy.
The Winter Poogle outfit itself (particularly the jacket) feels more like autumn/fall to me than winter, but I`ve added a winter ensemble for you to consider as well.
Items used:
Golden Leaf Lined Street Background
Autumn Shrubbery
Autumn Umbrella
Short Center-Part Wig
Basic Orange Trousers
Winter Poogle Jacket and Boots
Also try:
Basic Khaki Gloves
Brown Newsboy Hat
Here I`ve used the complete Winter Poogle set, and essentially created a winter version of the autumn look above. I`m personally not a fan of the scarf, but used it here to show the complete ensemble.
Items used:
Winter Poogle Wig, Jacket, Scarf, Skirt, Boots.
Snowy Leaves Street Background
Snowy Holiday Umbrella
Snowy Picket Fence
Also try:
Beret N Wig
Green Velvet Holiday Cap and Wig (looks best paired with a pair of trousers instead of the skirt).
Maractite Poogle
Glow is the keyword here, and I couldn`t resist making this Poogle the life of the party! I love the Blue Light Damask Markings and how it complements the lines of maractite on the clothes.
For a female look, add the Black and Blue Wig. It`s a perfect match for the black and blue colour scheme of the clothing.
Items used:
Maractite Lined Poogle Shirt, Trousers, Wig, Shoes, Bangles.
Glowing Good Time Party Background
Dyeworks Blue: Golden Scattered Light Garland
Glowing Slinkys
Dyeworks Blue: Light Damask Markings
Also try:
Commemorative In the Spotlight Garland
Glowing Body Paint
Daily Dare NC Challenge Gamers Scarf
Green Poogle
Green Knit Poogle Purse and Green Poogle Rag Doll also belong to this clothing set, along with the dress and the red bows, but I chose to leave them out of this example. The rag doll can certainly serve its purpose, but the purse just sits in front of the Poogle and doesn`t really add anything to the look, in my opinion.
With the cute green dress and the pretty bows I get a childish vibe from this clothing set, and recommend customizations featuring settings like a picnic, a classroom or a birthday party. Perhaps put her in the Old School Ice Cream Parlour as seen in a different example in this article?
The combination of green and red makes it a perfect choice for the holiday season, including Illusen Day!
Items used:
Black Poogle Shoes
Red Poogle Bows
Green Knit Poogle Dress
Floral Courtyard Background
Clothesline Garland
Fence of Flowers Foreground
Also try:
Swing Set Background
Backyard Summer Background
Spring Clothes Line
Sleeping Poogle
There are different ways to build a customization around this fine clothing ensemble, and below I offer a few suggestions.
By combining Lacy Poogle Sleeping Cap and Gown with the Spooky Old Foyer Background and Glowing Handheld Candle, you`ve created a simple, but effective customization. Perhaps your Poogle was awakened by a strange noise, and went downstairs to investigate.
You can also create a look with your Poogle standing in the clouds, to create a dream-state, or even a customization based around Maths Nightmare. By using Tired Eyes and putting your Poogle in outdoors backgrounds, you can create a humorous take on sleepwalking! The Lacy Poogle Sleeping Gown is a versatile item, not limited to customizations centered around sleeping or dreaming, you can use it in a Neovian setting or a tea party, for example.
In this example, I created a Wonderland tea party. You can remove the Jungle Party Table for a tidier background, or add Tree Stump Tea Party to the foreground for added whimsy. I chose to keep the foreground rather bare and simple for this customization in order to properly show the Poogles outfit.
Items used:
Lacy Poogle Sleeping Gown
Adorable Wonderland Shoes and Tights
Dyeworks Blue: Wonderland Gloves
Pastel Mushroom Garland
Mad Tea Party Teapot
Mad Tea Party Background
Jungle Party Table
Charming Wonderland Wig
Also try:
Cheerleader Poogle Wig
Checkered Ribbon Wig
Fishtail Braided Pigtail Wig
I hope you enjoyed looking through my Poogle-themed customizations! I have several other customization and fashion related articles, so feel free to browse that selection as well.
Happy Poogle Day!