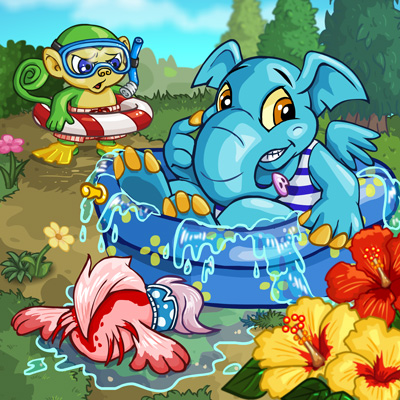 How To Make The Most Of Late Summer in Neopia

by baybee_dawl7

--------



As we move into August, the end of summer starts to come into view. We can see the point on the calendar where we have to go back to school, our family vacations long behind us. But just because the end of summer is approaching doesn't mean the fun is over. Summer doesn't actually end until Sept. 23—there's still a lot of time to make the most of the last few months of the season.

Worried that you've spent all of your best summer fun ideas over the first months of summer? That's where I come in. I'm a summer expert—with my starry Poogle by my side, I'll walk you through the best places to visit and things to do in Neopia as we savour the last months of the season. Whether you're the adventuring type or a homebody—or something right in the middle—there is a perfect option for you. Grab your Chia Pops and let's get splashing! You've got more than enough time before you go back to school for some fun in the sun.

For the adventurer: Visit Maraqua

Maraqua might be quite difficult to visit unless you've got gills or a scuba suit, but for the water lovers among us, it's the best vacation location for the hot summer days of August: Everything's underwater! This time of year, the water's warm, with history abound. Make sure to explore the ruins of Old Maraqua, the once thriving city that was destroyed by an evil pirate's curse. Revel in the history of the underwater city, while searching in the ruins for valuable souvenirs to bring back home with you. It's a trip you won't want to forget!

Bring you water-loving petpet along for a dive in New Maraqua and win some Neopoints over at Petpet Plunge. In this collection game, your petpet will be tasked with avoiding currents to collect a series of treasures. There are plenty of shells and other neat treasures to find in the depths of Maraqua!

If you've got a little extra money to spend, consider bringing a piece of Maraqua home with you by purchasing a Maraquan Paint Brush. Then your Neopet pal can live the underwater life all year 'round! If you're on a budget, you might consider a plushie. My choice? A Maraquan Shoyru plushie.

Want to stay dry? Head over to Kiko Lake

If you're interested in the water lifestyle but want to stay dry, might I suggest a trip over to Kiko Lake? Here you and your Neopet will be able to hop onto a glass-bottomed boat. Everything's smooth sailing, where you can relax and check out the Kiko habitat below. According to the travel guide, the boat tours run each hour between 10am and sunset. You'll see all the beautiful and exciting coral and seaweed gardens, as well as the perfect little homes that the Kiko inhabitants live in.

Once the tours over, there are plenty of places to explore on the shore. My favorite? Kiko Pop. Throw a dart at the balloons and win a prize. A classic! Kiko Pop is run by an inviting Kiko called Elvin, a Neopet that's been running the game for decades. (He looks great for his age!) There are three difficulty options: easy, standard, or super crazy hard. The board full of balloons will spin and you've got to aim your darts just right to pop the balloons. Special prizes are awarded based on difficulty. But make sure you're trying your best on your first choice. You can only play once a day! Not only is Kiko Pop a fun way to spend an afternoon on Kiko Lake, but you're also able to take home a souvenir with you. Another bonus: if you hit a specific balloon, you may win a Neopets avatar!

When you get hungry, head over to the Kiko Lake Treats shop for a bite. The Salted Kiko Popcorn Ball is always a hit among tourists, but the shop also has various flavors of Kiko Candy Floss on offer. Talk about a sugar rush!

Homebody? Try this

You've spent so much time perfecting your Neopian home—I don't blame you for not wanting to leave. There are plenty of things you can do right at home to keep your Neopets happy in the summer. The most necessary? A pool. I'm partial to the Turdle Paddling Pool, but the Snorkle Paddling Pool will do, too. Of course, regardless of what pool you choose to go with, you're going to need a Jetsam Floaty Ring for safe paddling. Keep a Meerca Squirt Bottle by the pool, too, to tease any of your neighbors!

Slap on your Heart-Shaped Sunglasses and open up best-selling book The Great Cybunny Theft and you're all set. If you're really looking to treat yourself, there's nothing better than a Cloud Slushie on a hot day, paired with a Blueberry Wedge. But make sure they don't melt!

It's always handy, too, to have a variety of Chia Pops stacked away in the freezer. Rainbow, Blue Orange, Candy Floss… you really can't go wrong there! Once you've got all the fun stuff ready, you're going to want to look the part, too. When you're riding around your cul-de-sac on your Green Scooter, your Quiggle Summer Tote flailing behind you with a Blue Elephante Flying Disc stuffed in the front pocket, it's essential that you're donning your Super Tough Jetsam Glasses. For shoes, I'd go with the Blue Summer Shoyru Shoes for that jelly sandal look. Want to shade yourself from the sun? (Keep that skin looking young!) Try the Flowery Pink Parasol.

Wherever you're going to make the most of the end of summer—or if you're staying home—you've got to protect your skin. Illusens Sunscreen is your best bet for protecting the largest organ in your—and your Neopets'—body! Don't forget to protect your lips, too: Lip Balm with Sunblock will do that right for you. After all, you probably don't want to look like a Grobrin. Or maybe you do! But I'd rather keep my skin smooth like a Kiko's bottom.