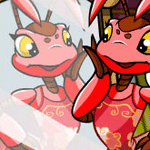 Customization, Species Clothing Edition: Ruki

by aleu1986

--------



In celebration of Ruki Day, I have put together examples of customizations for Rukis using their species clothing. Species clothing sets are made especially for a particular type of Neopet, and can be worn by them alone, making for some truly unique pieces and a way for you to get your Neopet to stand out from the crowd. I started with the outfit, and tried to build a look that would suit it. In some cases, I used the full set, other times I left out one item. I tried to include as many different clothing pieces as possible, while also creating varied and exciting customizations intended to inspire Ruki owners.

Laboratory Technician
Ruki Scientist Jacket, Hat, Trousers, Vial (Hat).
Sparkler String Lights
Laboratory Ray Background
Jars of Magic Foreground
MiniMME16-S2c: High Tech Glasses
Ruki Scientist Vial
Also try: Gaming Too Much? Glasses or Jewel Toned Glass Lights, Freaky Factory Tubing Garland.
With the Ruki Scientist outfit, your go-to look is one set in a laboratory, so this customization is fairly straightforward. I feel the look of the Ruki is softened without the odd-looking hat, so I chose other options in my two examples. I added the Jars of Magic Foreground here as I thought they could be re-purposed as a science experiment rather than something magical, and the colours suit the screens and the sparklers.
Neoschool Science Teacher
Black Square Glasses
Assorted Potion Shelf
Schools in Session Background
MME24-S3b: Gyros Lab of Chemicals
Also try: Armoured Ruki Wig (can not be combined with the Ruki Scientist Hat, but can be used with a pair of glasses, for example) for a more casual look.
In this example, the Ruki is a science teacher in NeoSchool, conducting an experiment for the students. This is a suitable look for those who like the Ruki Scientist set, but don`t feel like making a mad scientist customization.
Feel free to play mix and match with any of the items listed in these two examples to create a look that works for you and your Ruki!
Ruki Jester Hat, Jacket, Trousers, Gloves (Wand).
Puppet Master
Blue Ruki Puppet
Wooden Puppet Show Frame
Dream Deserted Fairground Background
Mr. Chuckles Make-Up Kit
Alternative: Puppet Markings
Alternative Jester Hats:
There are many jester hats to choose from, due to them being released as part of the Altador Cup team merchandise. The following best suit the colour scheme of the Ruki Jester outfit.
Darigan Citadel Team Jester Hat, also Mystery Island, Kiko Lake, Roo Island and Brightvale.
In this example, the Ruki is a jester putting on a puppet show at the fair. The make-up kit is a perfect fit for the jester outfit and really completes the look.
Circus Clown
Inside Circus Tent Background
Roo Island Team Jester Hat
Decorated Rope Ladder
VIN Velvet Ropes
Mr. Chuckles Make-Up Kit
Carnival Ruffle Collar
Jovial Holiday Staff
Alternatives: Give your Ruki jester a colourful umbrella, or a Heavy Mallet. They`re fun accessories he can use to play jokes and amuse his audience.
Roo Island Throne Room Background and King Skarl Throne Background are good options for your traditional jester customization.
Alternative setting: Entertainer at a birthday party!
Here I added the Carnival Ruffle Collar to spruce up the outfit, and the Roo Island Team Jester Hat makes a good fit for the Jovial Holiday Staff. The aforementioned item is a bit large and clunky, but the Ruki Jester Wand works just as well.
Entertaining Royalty
Sakhmet Palace Collectors Background
Grand Entrance Curtains
Darigan Citadel Team Jester Hat
Lost Desert Vase
Fancy Purple Facepaint
Commemorative Roo Island Jester Staff
Alternatives: Lost Desert Royalty Lounge, Jazan and Amira Wedding Arbour.
The make-up was added to give the Ruki a more feminine look (who says that jesters have to be male?) and the setting chosen is a tribute to The Lost Desert, the native land of the Ruki. I personally think the Darigan Citadel Team Jester Hat is a great match for the suit, and the Commemorative Roo Island Jester Staff is a well suited accessory.
Shopping
Chic Ruki Dress, Shoes, Accessory, Wig.
Neopian Serving Cart
Inside the NC Mall
Fringed Blanket Scarf
TNT Mantra Coffee Mug
Dyeworks Black: Rich Golden Eye Makeup
Alternatives: Black Ruffled Scarf, Handheld Shopping Bags, AC Team Logos Bag.
Also try Ruki Strappy Pumps for a lighter look.
This Chic outfit can easily be turned into a gothic ensemble, but for the setting here I chose a modern one. An outdoors autumn scene can fit as well. This clothing set fits a young, trendy Ruki that is ready to hit the shops at the NC Mall.
Sunflower Fields Forever
Yellow Ruki Dress
Grass Foreground
Dyeworks Yellow: Flowering Vine String Lights
Sunflower Wings
Bunch of Sunflowers
Premium Collectible: Sunflower Fields Background
Soft Lock with Golden Chain Wig
Also try: Sunflower String Lights, Sunny Summer Scarf Wig, Giant Flower Background.
Lovely Ruki Wig or Chic Ruki Wig look nice with this dress.
As far as I was able to tell, the Yellow Ruki Dress is not part of a larger set, though it does come with shoes (they`re not mentioned in the item name, but are added automatically when you put on the dress). A beach customization is also perfect for this sunny dress, but I opted for simple colour matching. You can try Trippy Ruki Hat with the Yellow Ruki Dress for a beach/pool look.
Shenkuu In Autumn
Autumn Leaf Necklace
Shenkuu-Inspired Paper Parasol
Wooden Shenkuu Doorway Frame
Shenkuu in Autumn Background
Shenkuu Warrior Princess Bracers
Trippy Ruki Shoes
Cosy Ruki Pyjamas
Gothic Ruki Wig
Alternative: Shenkuu Rock Garden Background, Pumpkin Faerie Slippers. Tiered Fringe Ruki Dress can be layered with the pyjamas.
If you want to make a bedroom/sleepover customization, try Fuzzy Pink Ruki Slippers with the pyjamas.
A bit of mix and match going on in this example, as the wig, pyjamas and slippers are taken from different sets. When I saw the pyjamas, my mind automatically went to Shenkuu due to the red and gold signature colours and the cloud pattern.
Fancy Ruki
Fancy Ruki Dress, Wig Shoes and Armwraps.
Royal Neopian Background
Birthday Ball Chandelier Garland
Neovian Serving Trolley
Also try: Royal Birthday Ballroom, Stately Reception Background.
I would go with Lovely Ruki Wig or Chic Ruki Wig to this ensemble. If you want to make a more old-fashioned, but regal Meridellian customization, I would choose a wig with longer hair.
Arid Desert
Arid Ruki Hat, Shirt, Trousers, Gloves, Belt, Boots.
Ruki Adventurer Torch
Dark Desert Ruins Background
Deluxe Lost Desert Tent
For a daytime look, dress your Ruki with:
Sakhmet Battle Supplies Collectors Desert Wrap
Desert Tree Trinket
Battle Scar Marking
Red Desert Dunes
Also try: Desert Night Sky, Desert Night Background, Scarred Pirate Eye, Lost Desert Silhouette Background, Underground Desert Neighborhood, Pyramid Tent.
As the clothing set itself is very detailed, I personally think the other elements in the customization can be toned down and simple.
Adventure Awaits!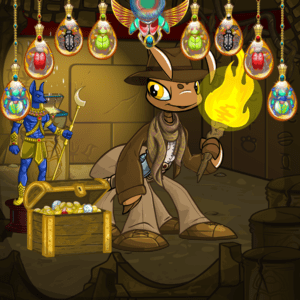 Ruki Adventurer Jacket, Shirt, Trousers, Boots, Hat, Torch)
Trendy Ruki Scarf
Arid Ruki Belt
Daunting Anubis Statue
Sparkling Treasure Chest
Jewelled Scarab String Lights
The Sakhmet Battle Supplies Collectors Desert Wrap also fits well with this ensemble.
For a feminine adventurer look, try adding Safari Scarf Wrap and Wig, Lovely Ruki Wig or Trippy Ruki Hat.
Also try: Smug Bug Net Trap, Lost Desert Pyramids Background, Ancient Geb Pyramids Background, Rolled Up Treasure Map.
A customization set in an Mystery Island/Lost Isle/Geraptiku or otherwise jungle/forest environment is also perfect for this clothing set.
Hard At Work
Perfectly Flat Rock Quarry Background
Pet Customisation In Progress Foreground
Kiko Hammer
Ruki Construction Boots
Ruki Hard Hat
Ruki Safety Vest
Ruki Work Trousers
Ruki Work Shirt
Also try: Under Construction Sign, Toolbox, Bigsby Shadingtons Wrench, MAGAXs Menacing Sledgehammer.
In my opinion, this outfit is quite limiting as it doesn`t allow for much creativity or variation, but here`s my take on how you might use it for your Ruki.
Let Them Eat Cake!
Premium Collectible: Window of Light Background
Loaf of Bread Bat
Bakery Display Case
Ruki Flower Vendor Dress
Ruki Flower Vendor Apron
Fancy Ruki Wig
Ruki Jester Gloves
Also try: Pastry Shop Background, Window with Twinkling Lights Background Item.
Background suggestions for full Flower Vendor set: Vintage Valentine Flower Vendor Background, Flower Shop Background, Shop of Spring Flowers Background, Shoppe of Neggs Background.
You can also use the Flower Vendor Dress and Hat with Neovian Sitting Room Background.
I wasn`t personally crazy about the complete Ruki Flower Vendor look, so I instead used her dress and apron to make her a baker! The gloves also make sense in this customization for hygienic purposes.
Sorceress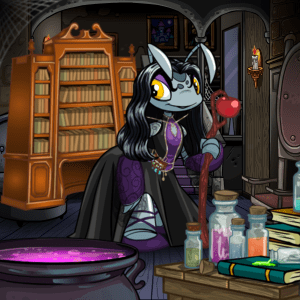 Dark Damsel Ruki Gown, Shoes, Staff, (Crown).
Exquisite Aged Bookcase
Dark Faerie Eye Shadow
Jhudoras Cauldron
Eliv Thade Castle Background
Potions Belt
Deadly Beauty Wig
Also try: Ash Blonde Wig, Bone Tiara and Wig, Dark Mystical Book Foreground, Well Read Book, Dark Sorceress Staff, Potions and Spells Room Background.
Use the full set (including the crown) with Ornate Mirror Reflection or Ornate Silver Mirror Frame.
In my opinion, the crown really changes the look of the Ruki completely. I opted to leave it out and add a different wig plus the eye shadow to give her a more menacing look befitting a sorceress, but if you want to give your Ruki a more regal, dignified look, have her wear the crown!
Student
Noble Ruki Shirt, Jacket, Trousers, Shoes (Wig).
MME24-S4b: Sandros Philosopher Study Background
Brightvale Scholarly Hat
Exquisite Aged Bookcase
Smart School Girl Eye Glasses
Well Read Book
When using the Noble Ruki outfit, you can have your Ruki look like a prince or nobleman, but for some reason, I pictured the Ruki as a student when looking the outfit over. (He could also be a member of the Seekers!)
I chose to add the same bookcase as in the sorceress customization, but do leave it out to enjoy more of the details in the background.
Keep in mind, these are just my suggestions as to how you may use your Rukis species outfits to create varied customizations. I hope you enjoyed looking through them, and that you were inspired to try out some new looks for your Neopet.
Happy Ruki Day!