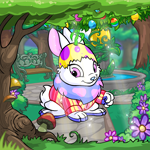 10 NC Essentials for Your Spring Customisation

by breakeven

--------



Spring always hangs light and sweet in the air. As the cold starts to ease up and the snow gradually melts away — the whole world seems to come alive again, awakening from their long winter slumber. Spring is filled with so many resolutions – little sprouts push out of the soil inch by inch, buds slowly start to bloom petal by petal. Just like spring, our wardrobe definitely needs a bit of freshening up! What would you be depicting in your customisations this spring?

To make things easier for you, let us bring to you some of our favourite Spring NC items that we find essential this lovely season! (They are affordable as well!)

First up, we have backgrounds. Think floral blooms or blossoming gardens or meadows, here are a few of our favourite scenes to depict:

Pink Peony Field Background (2-3)
This cheery background is definitely one of our favourite spring backgrounds and it never gets old! Emanating lovely Spring vibes, it features pink peonies in full bloom, sashaying gently in the wind. It is a perfect backdrop for a slow morning stroll in Spring. There is also room for layering on with a garland or a shower (we have some suggestions below!). Have your pet dressed up in a tulle or tea dress and carrying a parasol to complete the look.

Spring Patio Background (1-2)
This background may have slipped under our radar initially, but it definitely grew on us. It features a cobbled pathway right outside a quaint house with tiny red flowers dotting the surrounding bushes. It even attracts the little bees and butterflies! We definitely love to be outdoors during Spring. Don your pet up either to have a relaxing time out in the gardens sipping some tea and enjoying the cool breeze, or have them in a jumper and ready for some gardening.
Next up, for foregrounds or trinkets we have selected a few vibrant ones which complements the backgrounds we have selected earlier:

Garden Festival Lantern Garland (2-4)
This garland in vibrant shades of pink and purple definitely captures one's attention. It adds a delicate and oriental touch when layered with a background, creating a lively ambience at the same time. Trying to portray a scene at a Spring party or just as a lovely decoration in the lawn or walkway? This garland is definitely a great pick!

Dyeworks Yellow: Peaceful Tree Garland (1-2)
The Peaceful Tree Garland is definitely a crowd pleaser with its various dyeworks versions, but for Spring we'd pick the yellow one! It contrasts nicely with the flowers and greenery usually found in Spring backgrounds (for instance, the Pink Peony Fields Background) we mentioned earlier. With the small specks floating gently around, this garland indeed gives off a peaceful vibe and makes the whole customisation come to life.

Pastel Rose Petal Shower (1-2)
Who does not love to be showered in pastel rose petals? This shower is perfect for Spring, either as an add-on to a meadow or flower fields background, as if your pet is dancing in the petals in the wind, or even at a garden party. Its light colours does not take the attention away from the background, which is definitely a plus to us!
Now that we have shortlisted the backgrounds and trinkets, we will be moving on to some lovely clothes and accessories perfect for your pet this Spring!

Commander of Nature Dress (1-2)
The name of this dress says it all – have your pet don this on and be a Commander of Nature. This dress is impeccable with its light blush base, vines and flowers decorating the front and along the hems of the dress. The flowers even move gently in the breeze. How does it feel to be able to command Nature? Perhaps, with a wave of a hand, flowers bloom, sprouts grow. Guess we will let your pet find out!

Dyeworks Yellow: Lovely Layered Lilac Dress (2-3)
Another dress that we find ideal for Spring is the Yellow Dyeworks version of Lovely Layered Lilac Dress. Whether your pet is out taking a stroll on a Spring morning, or having high tea, this floor length number will definitely draw surrounding eyes to it. The soft layers and flower corsages are such delicate details, causing us to swoon.

Pastel Coloured Wig and Hat (1-2)
We are always a fan of wig and hats combined into one. This Pastel Coloured Wig and Hat features Spring appropriate colours – a pink ribbon tie and flowers decorates the yellow hat, along with light blonde locks flowing down softly. The hat keeps it cooling for your pet even on a sunny Spring day. It will suit a demure outfit best – paired with a dress and a parasol!

Spring Circlet (1-2)
Sometimes wigs can be too overbearing on an outfit and in situations like this, we would count on the Spring Circlet to add on the finishing touch! Featuring light pink flowers and some colourful butterflies that occasionally flutters, it sits like a regal flower crown and leaves the neck and ears clear.

Floral Lace Parasol (1-2)
There are numerous parasols out there but we picked the Floral Lace Parasol due to its subtlety! Featuring intricate white lace details, it compliments most customisations without being too eye-catching. Think poise and elegance as your pet wander around outdoors or at a lovely party with this parasol. Your pet will definitely be shaded from the sun.
We hope this guide has exposed you to some suitable Spring items if you are feeling lost as to how to start your search! We are definitely mixing and matching these items for our Spring customisations and this list is not exhaustive – we wish we can go on and on about them. We do hope we have helped ignite your next Spring customisation inspiration and we look forward to seeing your blossoming customisations around Neopia.
Also written by lookidontcare3 and masters_united