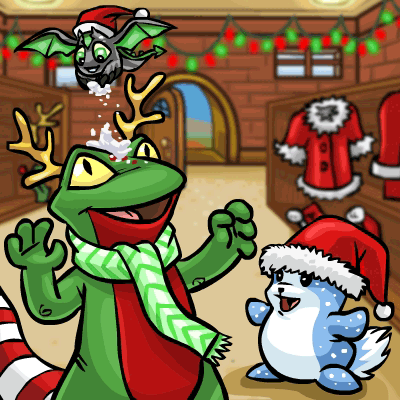 10 Festive Items to Get You in the Christmas Spirit

by breakeven

--------



&nbspIt's that time of year again. The snow is finally falling again, the Advent Calendar has given out tons of delightful gifts, and carols ring throughout the air. Yes, that's right—Christmas is approaching! The beginning of winter is delightful; there's plenty of laughter, cheer, and cordiality in the atmosphere, and, for at least some Neopians, that's not even the best part. There's Christmas to look forward to! The holiday is famous not only for the practice of gifting, but also because it's a perfect day to relax and catch up with your family and friends over some hot chocolate and the sound of children laughing and delighting over their new gifts. Whether you want to go all-out or just want to go for a more subtle, minimalistic approach, you should have pretty accessories and foods for your Neohome to celebrate. After all, it's one of the biggest holidays of the year; it's important that you get it right! For our selection, we've decided to go for some wonderful items that should be perfect for a wide variety of Neopians, and we think you will find something regardless of whether you're more frugal or like to spend extravagantly.

&nbsp First, we start with the treats. The best way to celebrate any holiday is definitely with food! There are so many great foods that are perfect for Christmas, ranging from delicious chocolate treats to some yummy baked goods. Let's not forget the beverages, either: a nice, warm cup of borovan or hot chocolate would be perfect for Christmas. We have curated a few delightful, festive treats for you to consider buying to have the greatest holiday season ever!

&nbsp

&nbspCandy Cane Chocolate Advent Calendar
&nbspThere's nothing to get you more in the mood for Christmas than a good countdown, so count down the days until Christmas with this delicious treat from the Chocolate Factory! It mimics Terror Mountain's very own Advent Calendar. Every day in December, Terror Mountain's Advent Calendar gives out an item and a couple neopoints; similarly, there's something good behind every window on the Candy Cane Chocolate Advent Calendar—a delicious chocolatey treat. Just push in a window on the calendar for every day that passes. Gently, of course: you don't want to crush the treat inside! Then pull out the delicious chocolate and enjoy! Thirty-one chocolates for the price of one. There's a special surprise for Christmas, too, which should make you even more excited for the holiday! What is it? Well, that would ruin the surprise, wouldn't it? So, even if you don't totally love the snow, you'll have something to look forward to every day as it gets ever closer to Christmas with the Candy Cane Chocolate Advent Calendar. Just push the window and enjoy some gourmet chocolate!
&nbspAdditionally, the candy canes in the bottom right corner of this calendar make for a pretty festive decoration, but they're also a cute little edible treat for a baby Neopet, perhaps.
&nbsp

&nbspSnowflake Winter Coffee
&nbspWhenever winter hits and the first snow starts to fall, we would pull out this recipe and make our favourite Winter beverage – the Snowflake Winter Coffee! Who doesn't love a warm, hand-warming drink for the cold winter season? This coffee not only tingles our senses and awakens us from the drowsy winter stupor every morning, it also has the most amazing flavours. We are not entirely sure how fresh snowflakes taste like (or maybe you did have a lick while rolling the snow, we won't tell), but we definitely liken it to a faint lavender taste, traces of hazelnut chocolate and crumbs of almond. Here are the ingredients you will need: some Lavender Truffle, a few Organic Almonds and lastly and most importantly – coffee. As we slowly mash the first two ingredients together, we then mix it in with the coffee. Mmm, heavenly.
&nbsp

&nbspCandy Cane Cupcake
&nbspAnother food we love to whip up during the winter season is the Candy Cane Cupcake! We receive visitors often during the season and we love to have these freshly baked for our guests to take home. The base of this cupcake is vanilla and strawberry flavoured, topped with candy cane meringue and lastly a candy cane. Candy canes are a festive reminder of Christmas, and we thought that instead of giving out candy canes, why not cupcakes?
&nbsp Christmas always leaves behind a warm, cosy feeling as we gather together with our loved ones. To get ourselves into the Christmas spirit, we definitely love to decorate our neohomes to emanate the same homely and welcoming ambience. If you want the best Christmas ever, you should go definitely all out and decorate! You can get music boxes, garlands, backgrounds, and ornaments for your pets. Show everyone you're excited for the holidays and go all out! Here are some suggestions, for starters:
&nbsp
&nbspDyeworks Brown: Hanging Winter Candles Garland
&nbspThese candle garlands come in various dyework colours, but our favourite is definitely the brown version as it adds a warm vibe to our neohome. This garland is made of oak branches, with lovely ornamental baubles housing the candles, dangling delicately from them. We found a perfect place to hang them – across the living room near the fireplace, where our Christmas Tree sits. As Christmas approaches, we love to sit beneath the garland – reading and solving jigsaw puzzles, under the glow and gentle flicker of the candles.
&nbsp

&nbspSeasonal Cumulus Music Box
&nbsp What's Christmas without some music playing softly in the background? One of our favourite comes from this Seasonal Cumulus Music Box, which plays an airy aria. The aria's a beautiful song often played around Christmas in Neopia. Wind up the music box, let it play and listen to this lovely, festive melody ring throughout the room. This music box also double ups as a perfect festive display in the living room, with its vibrant colours and delicate details of a Christmas tree made of clouds.
&nbsp

&nbspDarigan Holiday Bells (maybe?)
&nbspWant to have some music for the holidays? Is the light aria of the Seasonal Cumulus Music Box not your groove? If you're feeling extra naughty this Christmas, you might want to buy some of these Darigan Holiday Bells for the season! It's hard to imagine a set of bells jingling ominously, but these ones manage to do it. Even villains need to get into the mood for Christmas sometimes, right? If you're living near Darigan Citadel, if you're having a villain-themed party, if you like sinister music, or you're just genuinely evil but like Christmas, these might be perfect for the holidays. Despite the connection to Lord Darigan's Citadel, they're pretty festive, too; there's a piece of mistletoe attached to the end, which is one of the quintessential symbols of Christmas. An unorthodox and festive decoration at the same time that also doubles as a music piece? This might be too good to pass up as a Christmas accessory.
&nbsp Then the entertainment! You have to keep everyone entertained if you are going to have a great Christmas. Although we are sure that you make great company, it couldn't hurt to have a couple books and toys, either as gifts for your friends and family or just as things lying around the house, to get everyone near you into the Christmas spirit. Here are a few choices that might interest you:
&nbsp

&nbspHow to Build a Snowman: A Petpets Guide
&nbspMany books exist just for Neopets. While that's fine in most situations, sometimes Petpets need a bit of love too! Since most Petpets can't really read, this book offers a generous number of diagrams and instructions you can use to help you build a snowman together with your Petpet. One of the most important parts of the holiday season is spending time with those close to you, and there's no reason Petpets shouldn't be able to join in on the holiday fun too! Be sure to follow the instructions in the guide and we're sure that you and your Petpet will have a delightful time building a snowman together during the holiday season.
&nbsp

&nbsp101 Snowman Jokes
&nbspSo, no one's clarified: who writes these jokes and whom are they for? Are they jokes about snowmen, written by Neopets? Are they jokes snowmen have made about being snowmen? Are they jokes written by snowmen about Neopets? No one really knows. Maybe the book contains all of them. Regardless, there are a ton of snowman jokes inside 101 Snowman Jokes, and you're likely to laugh and make every snowman around you laugh if you have this book.
&nbspBut if you don't have any snowmen around (we'd imagine readers in the Lost Desert probably wouldn't, for instance), that's fine, too! It's still a great book in its own right and some entertaining light reading, great for when you're curled up around a fire or even while you're on the go thinking about funny jokes you can tell your friends in Terror Mountain. The point is that it will make you think of snow, and when you think of snow, you often think of having a white Christmas. What's better than the thought of spending time building snowmen with your friends on Christmas, telling jokes to each other the entire time? We can't think of anything better, really.
&nbsp

&nbspChristmas Evil Fuzzle
&nbspEveryone loves the gifting part of Christmas. Whether that joy be in giving, receiving, or both, it's a lot of fun to participate in the gifting spree attendant to the holiday. One of the most exciting parts of getting new gifts is in finding out what they are. A new set of clothes? An amazing Battledome weapon? Some rare, delicious gourmet food? Strange artifacts? There are a lot of things a gift could be, but a classic gift is a toy. It's hard to get more festive than the Christmas Evil Fuzzle as far as toys go; not only is it draped in the classic Christmas colours, it even has a festive little hat and some mistletoe attached to it. Be very careful gifting it to small, innocent baby Neopets, though: sometimes, if you play with it enough, it'll yell, "BOO!" which is enough to shock most Neopets. But it might haunt your baby pet's dreams. There are a ton of myths about Evil Fuzzles, too, such as the fact that they blink sometimes despite being toys and that they have a habit of showing up in different places even though you haven't moved them at all… but those aren't true, right? And there's no fun in spreading a little holiday cheer, is there?
&nbsp

&nbspGingerbread Sled
&nbspThe final item (and I would say most unique) on our list of festive items is definitely this Gingerbread Sled! Sledding is one of our favourite activities in the winter! Who doesn't love riding the pristine white hills with our family and friends? There are two options for this sled: 1) we can go into a huge bake craze, baking gingerbread to construct this sled or 2) we make a sled out of wood and decorate it to resemble gingerbread. We definitely would go for the latter as we doubt the stability of a sled made of gingerbread while we're out sledding... On the other hand, the perk of having a sled made out of gingerbread is, should you be hungry while you're outdoors, you have the option of snacking on your sled too!
&nbsp It's very easy to have a good Christmas. There are so many things to buy, from food to ornaments to sleds to books, that could get you in the mood for the holiday. Really, though, what we have recommended are only suggestions; it's important that you find a way to make sure your Christmas is special. The items we have chosen are just ones we think are festive. They were chosen carefully because we think they embody some of the nicest aspects of Christmas—it's easy to imagine, for example, building a snowman with your Petpet, or maybe bonding over a cup of hot coffee with an old friend in front of your fireplace. However, it is really up to you to decide what's most festive for you. So, as you get ready for Christmas, be sure to take some time to appreciate the things around you and, most importantly, the people. We are sure you will have a spectacular time. Happy holidays!
&nbspAlso written by tsiegred & lookidontcare3