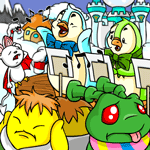 Happy Valley and the Winter Starlight Celebration

by dazical

--------



It is that wonderful time of the Neopian year, the month of Celebrating. The time where you can revel in all things festive and be involved in the Winter Starlight Celebration.

Every year, in the month of Celebrating, Happy Valley is the place to be!! Start off the month by doing the rounds of the local shops and attractions and make the most of this year's celebrations.

To get your pets in the mood you can visit the Merry Outfit Shop and view how your pet would look painted by the Christmas Paint Brush.

The very nice part of this customisation is you will get some very snazzy seasonal clothes as well as the colour change.

The next stop should be the Wintery Petpets shop and find an adorable petpet to go with your pets new seasonal look.

A lot of the Wintery Petpets also come dressed up in festive clothes (although not removable), they add a little something extra to the customisation.

Even though it is winter, the Happy Valley Ice Cream Cart has some delicious foods that you should try.

The Ice Cream Cart is run by a lutari named Mr. Chipper and it is a little different to other shops, as you require a coupon to buy his ice creams.

There are 3 types of coupons, Blue, Green and Pink and can be given out as a prize from the Snow Faerie or you can buy them from other Neopians.

Your coupon allows you to choose from a variety of items that have 'ice cream' in the name.

There are 5 flavours exclusive to the Ice Cream Cart: Double Chocolate Ice Cream, Five Scoop Ice Cream, Ice Cream Sundae, Mint and Chocolate Ice Cream and Rainbow Sherbert Ice Cream.

While we are getting food, pop along to the Slushie Shop and find some very interesting flavours just for the festive season - Holiday Lights Slushie, Holiday Slushie, Mistletoe Slushie, Snow Slushie, Snowflake Slushie and Snowman Slushie.

For those who like to try their luck, you can buy a scratchcard for 600 nps from the Scratchcard Kiosk.

You can buy a scratchcard from the kiosk every 4 hours, and you can scratch up to 5 a day.

Win any prize on your scratchcard and receive the Kiosk Wocky avatar.

Scratchcards include: Faeries Fortune Scratchcard, Icetravaganza Scratchcard, Peak O Plenty Scratchcard, Race to Riches Scratchcard, Terror Trove Scratchcard.

Continuing around Happy Valley, we can play the three local games, Ice Cream Machine, Rink Runner and Snowball Fight.

In the Ice Cream Machine game you help Adee the chia avoid being hit by ice cream scoops. Send a score of 14,500+ points to receive the Ice Cream Machine avatar.

Rink Runner requires you to skate around catching musical notes in as fewer moves as possible before they disappear.

Snowball Fight is a fun game of throwing snowballs at your opponents, just don't hit the Faeries!

Our second last stop in the Valley is Gift Tags.

This is a special place where you can print out Neopian winter themed tags and share them with non-Neopians!

There are 28 different tags to choose from.

Now for the final stop and the most anticipated on this journey, the Advent Calendar. Every day in the Month of Celebrating make sure you visit and get your free neopoints and gifts.

The visit includes a short animation of Neopians celebrating the festive season.

For a surprise gift, find the hidden bonus item.

This year, Y20, the hidden bonus is an Angelpuss. Just click the Angelpuss when you see it!

You can also receive two avatars while visiting the Advent Calendar.

1. Plastic Fir Avatar is awarded with your regular gifts on the 1st December.

2. The Seasonal Attack Pea is awarded randomly while claiming your gifts.

You must collect the prize in order to obtain the avatars.

The avatars are only giving out once, so if you have already received them, you wont get them again.

The Advent Calendar also allows you to view previous years animations. Just click 'View the archive' and you can look through 18 years of the Advent Calendar!

That wraps up Happy Valley, but wait.....there's more.

As mentioned at the start, during this festive month, we can visit a place called Winter Starlight Celebration, which you can access from Happy Valley or the Advent Calendar.

Here we have a round-up of festive activities all in one place. It includes the Advent Calendar, Gift Tags, Winter Games, The Snowager, Season's Greetings and Stocking Stufftacular.

The Advent Calendar and Gift Tags are the same from Happy Valley.

Here the Winter Games include, Wrath of the Snowager, Snow Roller, Snowmuncher, Let It Slide, Ice Cream Machine and Igloo Garage Sale.

In the Wrath of Snowager you help the Snowager gain back his loot after a thief steals from him.

Snowmucher sees Dieter the Polarchuck eating his way though the snow as quickly as possible. Send a score of 5,000+ to receive the Snowmuncher avatar.

In Let It Slide, a snuffly fights his way though the treacherous Ice Caves.

Igloo Garage Sale sees Mika and Carassa throwing out their old items. Mika must catch them before they crash into the ground.

The Snowager hibernates all this month, so you can visit once a day and be assured of grabbing a piece of treasure!

This also means that during this time, you will not be able to get the Snowager - Rawr! avatar.

Season Greetings is another special place where you can send Neogreetings (via email), to non-Neopians.

With 41 different greetings to chose from, you shouldn't have any problems finding the right one to send.

Finally our last stop in the Winter Starlight Celebration, is the annual NC event.

Stocking Stufftacular requires Neocash. To enter you buy a Stocking Stufftacular Pack (1-pack, 5-pack, 10-pack, 25-pack), activate in your inventory, and then visit Stocking Stufftacular and hang your stocking/s to receive a NC item the next day.

So there you have it, a wrap-up of the wonders of Happy Valley and the Winter Starlight Celebration.

HAPPY HOLIDAYS!!