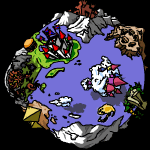 A World Of Grandiose Creature:Part Five

by luuuvmebabe

--------



After my success meeting Sutek, the famous leader of the Gebs in the ancient Lost Desert, I set out for my biggest mission yet. I have been very happy with my work so far, researching the Snowager and the Snow Beasts, coming into contact with the Coconut People, bridging a relationship between the Cogham residents and the Ixi Raiders, finding out some new stuff about the giant Turmaculus of Meridell, and then my experience in the Gebmids. But there was a bigger mystery, a whole population of people that I know in my heart of hearts exists, but one that is denied by everyone that should know about them.

Neopia has a lot of mysteries, like Portal City, an ancient land that used mysterious portals to transport its residents around the world. Lutari Island, a constantly moving island that is home to the Lutari population and who knows what else. The secrets of The Emperor in Shenkuu and what his real name is. The biggest mystery of them all: Jelly World and its inhabitants!

---

Jelly World's Citizens:

"Randal," I know you're saying to me. "Jelly World doesn't exist. People have spent their whole lives trying to prove it and they've come up with nothing. It's a silly fable, a fun story to tell our children. It isn't a real place, you are just wasting your time. There is no evidence of this place existing at all."

Oh, my dear, but that is where your wrong! There is a ton of evidence! Just look at my journal writings! I've been at this for a while, but with my other missions behind me now I am ready to go full steam ahead.

JELLY WORLD EXISTENCE EVIDENCE:

Jelly Chia - blue in color, made of Jelly. A giant Chia.

Information can be found in the Gallery of Evil and he can be fought in the Battledome. He was created by a confectioner named Wizzle, who I believe might also be responsible for Jelly World as a whole. Wizzle intended to make this Chia as an edible friend, but it turns out that though he was made of Jelly, he had a brain and knew that he would be eaten. He attacked Wizzle and now bounces around Neopia. No one has seen Wizzle since, common theory is that he is dead, but I have a belief that he disappeared to create Jelly World and is now living there.

Jelly Chomby - green in color, made of Jelly. Has been seen running at full speed through Neopia as if being chased.

I'm not entirely sure what this Chomby is, no one has ever been able to talk to him. But he can rarely be seen in areas around Neopia running. He's often eating Jelly. I think there is something happening in Jelly World, maybe the residents are after him for something? Unclear, but I'd like to talk to him if I can find him. Unlikely though.

Jelly Practice Team - a whole team of Jelly Neopets that help Altador Cup players practice.

We know how the Jelly Chia was made, by Wizzle. This was the first known Jelly Neopet, and only Wizzle had the capabilities to make a sentient edible Neopet. This, to me, says that he must still be out there creating Jelly people!! This is an entire Altador Cup team made of Jelly. They are very mysterious, not doing any interviews, and they disappear by the time the tournament starts...never once competing. The team was once made up of different species, but is now just five Jelly Chias.

There are also many more Jelly Neopets around Neopia. There is no Jelly Paint Brush available, people think that you can turn jelly from eating jelly, while others think you can only become Jelly from the secret lab ray. I'm not so sure. I think Wizzle is hiding out in Jelly World, creating these pets, or has a team creating them, and then releasing them to the world. The secret lab ray rarely turns pets Jelly, that doesn't explain how so many exist. Especially not commonly enough to create a whole Altador Cup team!

That is where I wanted to start my questioning. I went to the Altador Cup early last year, hoping to catch an interview with the Jelly Chias competing.

"Hello guys," I said cheerfully to the team that I believe to be from Jelly World.

"Are you ready to practice," one questioned me.

"No, I'm here to talk! What are your names?"

They answered one at a time. Vinarok, Zeenana, Lemoran, Tagobo, and the goalie was named Wartroot. It seems that this would correspond with their flavor of jelly.

"How was the commute here from Jelly World," I said in an attempt to trick them into answering, acting like I already had all the answers.

"What? Where," Zeenana answered dumbfounded. I feel like I sensed some nervousness in her voice, as if she knew I was onto her.

"Jelly World doesn't exist silly," Lemoran jumped in.

"Where are you guys from," I asked.

"You know, here and there, kind of all over," replied Tagobo.

"What do you mean? Don't you have a home?"

"We travel a lot for practice and stuff, and we all came from...different places," Tagobo said sternly.

I took that as a sign to change my line of questioning.

"It's incredible that five Jelly Chias from all over the world were able to find each other, and be proficient enough to train everyone in the Altador Cup, how did you guys meet?"

"Jelly Neopets have to stick together. People don't treat us very well, they think we have all these secrets and always press us with questions about where we came from, just like you are," Wartroot said. I was taken aback by this.

"Oh, I'm sorry, no, I don't mean to sound accusatory, I just want to get to know you guys," I was trying to save the conversation at this point so they didn't kick me out. "Have you guys thought of forming your own team and representing a land in the tournament?"

"We don't want to represent and expose Neopia to Jelly Wo-" Vinarok started before Wartroot smacked him in the stomach. "Jelly Women and Men From All Over...yeah..uhh, that's our organization. It's...secret..."

I wasn't buying it.

"It's time for us to go," Wartroot said and they all turned to leave. I tried calling after them but they didn't stop or turn. I could tell they said too much but at the same time they hadn't said enough.

And so I moved on. I spent some time around Neopia Central interviewing random people. A common thing I heard about was a giant red Jelly Wocky...I didn't know what to make of it, but it made me feel all the more certain Jelly World was there. I was unable to come across this Jelly Chomby while researching, but I did find someone who said the Chomby shouts something about "blobs" while he was running.

And then, like fate, during my last interview of the day, I saw the practice team walking through Neopia Central and off into the surrounding woods. I decided to follow them, maybe they would lead me to Jelly World!! I was ecstatic at the possibility of it. After what felt like hours, I saw them break through into a clearing and jump into a hole in the ground. I thought to myself that must be it! I ran forward excitedly and without looking I jumped into the hole!! Within seconds I felt myself splash into a pit of Jelly!! I was surrounded!! There was Jelly everywhere my eyes could see, floating jelly foods and everything had a yellow tint to it!! I had discovered Jelly World!! Suddenly the light kicked in fully and I heard a voice.

"What are you doing exactly," a familiar voice said. I looked around and saw all the members of the practice team except Wartroot. They all looked distorted, yellow-ish. Is this what Jelly World did to people?

Wait...I began to realize they weren't in the jelly with me...I looked up and realized I was actually INSIDE OF WARTROOT!!!

"Ugh um...yikes, err, sorry," I stuttered to say as I was trying to crawl out of Wartroot's stomach. "I uh...I thought this was uh..Jelly World."

"That's my stomach," Wartroot said. "Jelly World doesn't exist. Leave us alone."

"I'm sorry," I was apologizing over and over again trying to swim through the goalie's gelatinous belly. Eventually I was able to break through and tumbled out onto the grass.

"Stop searching for something you'll never find," said Vinarook.

I was bright red with embarrassment and I didn't say anything else. I ran as fast as I could back into the woods towards Neopia Central. I knew in my heart that Jelly World was out there somewhere, but I was foiled again. Maybe it just wasn't meant to be for me, or anyone else, to find it. Or maybe it really doesn't exist... Regardless, I won't ever give up on it. I'm an explorer at heart, it's in my blood to discover things and all the creatures of Neopia, whether they are edible or not. Hey, if coconuts can have their own society, why not jelly? Thank you all for joining me on my research, I hope you learned as much as I have from this journey. Remember: the world is waiting for you, never stop exploring and always keep your eyes wide open!

The End.