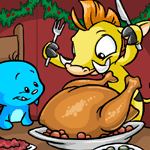 The Definitive Ranking of Neopian Turkeys

by cadetbush

--------



There is a great time of year for eating turkey, when the weather gets cold and family comes together. Guess what? It's almost that time of year again! Time to start saving up to buy mashed potatoes, cranberries, rolls, baked beans, pies, and of course, turkey! Mmm… turkey. Wait–you're not doing your shopping yet? Awkward...

Anyway, when that time comes around, as you're dreaming about the perfectly roasted turkey that you want to eat, you head on out to the food shop and… what? There's more than one kind of turkey? How are you ever going to decide? Never fear! I have created this guide to help you pick out the very best kind of turkey, starting with the worst and slowly moving up to the best. And if you're planning a party and need the perfect side dishes, you're in luck! I've included a few helpful suggestions with each turkey.

15. Plushie Turkey
Whoever invented this odd turkey probably misunderstood what stuffing is. Instead of a tasty breaded dish made with lots of herbs and seasonings, this turkey is stuffed with fluffy cotton and covered with fabric. In case you were wondering, it doesn't taste good, even if you drench it with gravy. However, it does make a good novelty gift for a host/hostess of a party. If you're feeling really generous, you might even consider picking up some Plushie Broccoli and a slice of Plushie Cake to go with it and complete the feast. All three taste terrible, but they are great for a good laugh or even a creative set of decorations.

14. Turkey With Candy Cane Stuffing
While this sounds like an unusual way to add some holiday cheer to your turkey, it's really… not. The fiery peppermint totally clashes with the mellow roasted turkey, and it totally clashes with the mushroom gravy. It is quite frankly disgusting. However, if you insist on serving this strange and repulsive dish, might I suggest pairing it with a nice Holiday Potato? Each potato comes with a lovely red ribbon wrapped around it, which adds a bit to the festive cheer, and the potatoes are pretty tasty, which may make up for the turkey.

13. Scorched Grackle-Stuffed Turkey
Charred turkey, anyone? Anyone? If not, you may not wish to serve this turkey. It has been burnt to a crisp, and you taste more crispiness than you do turkey. However, if burnt food is something that you like (I understand that some places like Moltara consider it a delicacy) you may want to consider serving it with a Designer Blackened Potato for flair, a bowl of Scorched Sutek Beans for a side, a loaf of Lava Bread because bread makes everything better, and a Deep-Fried Pie for dessert.

12. Grackle-Stuffed Turkey
While I understand that Grackle Bugs are considered a delicacy in the Lost Desert, I would like to note that Grackle Bugs are actually Petpets with a hard, crunchy exoskeleton that gets stuck in your teeth and provides an unpleasant flavour to your turkey dinner. However, it is fair to note that this turkey is cooked very nicely, and if you happen to like Grackle Bugs and turkey, this is both an affordable and fine turkey dinner. It goes very nicely with a bowl of Creamy Sutek Bean Soup and a Jacket Potato with Broccoli.

11. Orange-Stuffed Turkey with Jam Dressing
This is a very controversial turkey. You either love it, or you hate it. It's a very weird combination, and because you can never tell whether or not a person will go near it with a fork, I don't recommend serving it at a party. However, if you're having a quiet family dinner and you know that all of your pets love this turkey, I've found that it goes very nicely with an Orange Filled Jacket Potato and a Dewy Apple Roll.

10. Crystal Turkey
This turkey is quite frankly stunning. Light refracts through it and makes it sparkle like no turkey you have seen before, and if you place it in the center of a silver platter under a silver dome and lift it in front of your guests, you will be greeted with sighs and applause. However, this is not a recommended turkey. The thing that makes it beautiful is the thing that makes it impossible; it's made of ice. It freezes your mouth and fingers, crunches loudly, and melts as you eat it, which can leave a puddle on your plate. However, it is crafted from gourmet ice, so it is delicious and well made. Perhaps you should consider using it as a creative alternative to an ice tray. But, if you live in a place like Terror Mountain and want to use it as a turkey, I'd recommend pairing it with a bowl of Deceptive Soup, a Snow Loaf, some Icy Baked Beans, and some Crystal Cookies for a fabulous frozen feast.

9. Flotato-Stuffed Turkey
No one is completely sure how the stuffing for this turkey is made. There are gourmet Flotatoes in the stuffing, which add a light, juicy flavour to it, but no one knows for sure what the creamy blue stuff is. Whatever it is, it is quite tasty. This turkey is well prepared, and it goes very nicely with a Brown Sugar Sweet Potato and a loaf of Twisted Bread.

8. Omelette Turkey
While this kind of defeats the purpose of a turkey dinner, you can invite your friends over for something very unique: a turkey breakfast. However, with a turkey breakfast, you can't have your traditional side dishes like gravy, potatoes, cranberry sauce, and salad, so I did a little research and found some interesting alternatives. For starters, you can't serve an omelette turkey with the normal kinds of gravy. I suggest drizzling it with Sausage Gravy, a cream based alternative that goes very well with both biscuits and omelette. Then, for some unique sides, try using an Eggy Jacket Potato for each person instead of mashed potatoes, a fresh Cranberry Scone instead of cranberry sauce, and a juicy Fruit Salad instead of a salad made from vegetables. This will provide a delicious feast that is great for the early hours of the day.

7. Chocolate Turkey
Like the Omelette Turkey, this turkey presents a different kind of feasting challenge: a dessert feast. A chocolate shell stuffed with fluffy shortcake is a sweet entrée that none of your guests will be forgetting any time soon, especially if you can pair it with the right side dishes. You can't pair it with the traditional savoury sides, so again, I did some research to find some sweeter alternatives. Instead of using a vegetable or onion based soup, try serving up a bowl of Chocolate Soup, primarily made from melted chocolate. Sprinkle some fluffy marshmallows on top for added flavour if you want. And to go with the soup, might I suggest a Chocolate Roll, a sweet flaky pastry swirled with very creamy chocolate, a delicious Chocolate Faerie Log, and for dessert, a rich Chocolate Orange Ganache Cake.

6. Pea and Carrot Stuffed Turkey
And we're back to the traditional meat turkeys. This turkey is perfectly roasted and served with warm vegetables soaked in gravy. This turkey goes best with a large pile of Potatoes and Gravy, a thick loaf of Yeasty Bread, and a soft, fluffy Lemon Pie for dessert.

5. Turkey Monster
Now, this is a very unusual turkey. This vicious turkey causes all kinds of feasting mayhem. It flattens your fluffy mashed potato piles. It crushes your cranberry sauce. It gobbles up your gravy. And you know that Meatless Pie that someone stole the filling from? This creature is the culprit. And where paired with the Gravy Nightmare, watch out! However, it does provide some unique entertainment where you have to capture your turkey dinner, a game made even more exciting with a few choice side dishes like a Hut of Mashed Potatoes, whole Cranberries, a Pumpkin Pie, and if you really want to up your game, the Gravy Nightmare. Warning: Gravy Nightmare not for the faint of heart.

4. Potato-Stuffed Turkey
Everyone loves turkey and mashed potatoes. Did you ever think of such a thing as a turkey stuffed with potatoes? After all, the gravy gets on both things anyway. This amazingly tasty dish saves room on your plate, leaving more room for other side dishes and dessert, such as Onion and Sliced Mushroom Soup, Parmesan Herb Bread, and a Traditional Mince Pie. What an efficient entrée!

3. Turkey and Chestnut Dressing
Chestnut dressing truly is a wonderful thing to stuff a turkey with. The dressing inside this turkey tastes better than the turkey itself, which is saying something! The chestnuts may make this a better treat for the Day of Giving, but quite frankly, it is so delicious that your Neopets will want to be eating this treat year-round. I will warn you, however–if you are a person who likes white meat in your turkey, you aren't going to get a lot of satisfaction here. This turkey is 100% dark meat. This lowers its ranking a little, but it does not diminish its tantalizing flavour that goes perfectly with Garlic Mashed Potatoes, Minestrone Soup, a Giant Bowl of Cranberry Sauce, and a Fresh Baked Cherry Pie!

2. Heavenly Roast Turkey
This turkey may be pink, but you're sure to be tickled pink when you try it! This very affordable turkey simply melts in your mouth and is perfect for any family, no matter what your budget may be for the holidays. It smells mouthwatering, tastes even better, and pairs nicely with almost any side dishes you may want to set with it. However, I think you'll find that it tastes best when paired with Pink Mashed Potatoes and Soup Faerie Soup (importanted from Faerieland), along with a generous portion of Cranberry Sauce and a loaf of soft Pomegranate Bread. (Pomegranate Bread works best when you take out the seeds–seriously, those suckers are hard enough to break teeth!)

1. Turkey Dinner
This gourmet turkey dinner delight is like no other! The turkey itself is an excellent size for one hungry Neopet (Grarrls included) and is slow-roasted to tender perfection. Then, the turkey is stuffed with the finest of gourmet stuffings–I'm not sure what goes into it, but any Neopet would happily eat a plate of the stuffing by itself. And as an added bonus, this turkey comes with three delicious vegetable sides–boiled peas, hand-shucked and butter-soaked corn on the cob, and sliced sweet potatoes. That's three sides you don't have to buy! Admittedly, this delightful turkey does not come cheap, but with the money you save on sides and stuffing, it really is a bargain. This treat demands the finest of extra sides and desserts, and I would recommend Meridellian Style Mashed Potatoes, a Harvest Soup Bowl, Cranberry Jelly, gooey Royal Cheese Bread, and a Whole Jelly Pie for dessert. My mouth is watering just thinking about this treat. Once you eat a meal like this for the holidays, you will never want to eat a different meal.
Well, that concludes our definitive ranking of the fifteen types of Neopian turkeys. I hope that you have some wonderful dining ideas for the holiday now, and that your Neopian holidays are merry, when they actually come around. However, if you're going for a more expensive turkey and side dish option, it's probably best to start saving now, especially if you have a family of six. Maybe I did you a favor by releasing this article early. I apologize if it's an inconvenience to you users who have just one Neopet and don't need to do your shopping for a few months yet, however, I hope that you enjoyed the read anyway. Happy Holidays… when we get there!