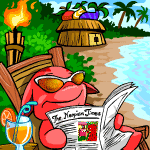 Traveller's Style Guide: Mystery Island

by corrina404

--------



It's summertime, and that makes Mystery Island the holiday destination of the moment. It's the vacation destination of many Neopets, with it's tropical climate, many beaches, and relaxing atmosphere. But visitors to the island need to make sure when they're packing for their dream holiday they've included all the necessities. No – I'm not talking about sunscreen (note: it is still a must!), I'm talking fashion!

Mystery Island is HOT, and you must dress accordingly or risk overheating (I'm looking at you, Terror Mountaineers). But, you can't wear just anything. The island has a relaxed vibe, and gowns are going to look out of place. So we've compiled this guide to get you dressed and ready from head to toe for your next trip.

Dress

Our recommendation:

Tropical Dress

A dress that will take you from sunbaking at the beach to a visit to the island market needs to be versatile and lightweight. We love the bright colours and flowy feel of this dress. I mean, the name basically gives away how perfect this dress is.

This pick sells in Unis Clothing Shop (nice and local!), for just over 5,000 NP. Bargain!

Shout-out:

Flowing Rose Dress

If you've got a special occasion on the island – this is the dress we'd wear. No lie – we bought one today! The feathery skirt is completely unique, but adds an island-y element to the dress. The pink florals are classic, balancing the bottom half.

This pick is a limited release from last year. Not easy to find or cheap, at approx. 850,000 NP. Truly an occasion dress.

Top

Our recommendation:

Crop Top Dress

With a halter-neck style, this top can take you from day to night seamlessly on the island. We especially love the tassels, making this a really cute choice. The lace applique adds another dimension to this top, adding a touch of class. Perfect for a dinner at the infamous Mystery Island Kitchen, if Mumbo Pango doesn't eat everything first…

This pick sells in Unis Clothing Shop for a bit over 7,500 NP. A savvy buy.

Bottoms

Our recommendation:

Shell Skirt

We all love wearing a classic pair of denim jeans, but on the island denim is a no-no. It's heavy, takes forever to dry, and will stick when you get hot. That's why we're loving this Shell Skirt. The skater style makes it airy, and the shells will keep you on theme!

Another limited release from last year, but you'll see this find in the Neopian markets for just over 10,000 NP.

Shout-out:

Ric Rac Skirt

You'll find plenty of these on the island. If you're itching to dress like a local, this is our pick. We especially love the pink flowers adding a pop of colour to this traditional-style skirt.

This pick sells in Unis Clothing Shop for just under 7,000 NP. Too easy.

Shoes

Our recommendation:

Shell Sandals

Shells again! We know, but these shoes will let your feet breathe in the hot weather, and the straps will keep you secure to never have to worry about them slipping off (a real worry with sandals). Also, did we mention shells!? Cute!

This pick is a limited release from 2016. You'll find it in the Neopian markets for approx. 40,000 NP.

Shout-out:

Embers Boots

For the more adventurous Neopet, the steep trek up Techo Mountain needs a steady pair of boots to get you to the top. We love the classic style of these. Added bonus! – These are heat resistant so you can get through the hike without stopping when the rock below gets hot.

This pick sells in Unis Clothing Shop for just over 1,000 NP. However, our mate the Shop Wizard has been finding these for approx. 800 NP in the Neopian markets.

Backpack

Our recommendation:

Explorer Backpack

Backpacks are a must on ANY holiday, and we love the Explorer Backpack. Big enough to carry your water bottle and towel for your trip to the beach, but durable enough to withstand it accidently being left in the sun. Plus, the classic style means this bag will get you through multiple holidays. This would be on every travellers' list we write.

This pick sells in Unis Clothing Shop for 2,500 NP. However, with a rarity of 88, if you're short on time, you can find it in the Neopian markets for a little over 21,000 NP. For this investment item, it's a steal.

Hat

Our recommendation:

Straw Hat

If you're not normally sun smart, that will quickly change on the island. Lucky for us, it's just another opportunity to show off your style! Hats are a fierce category with some wonderful choices, but we couldn't look past the classic Straw Hat. The straw ensures this is lightweight but an effective choice, and the orange strap is the perfect pop of colour!

You'll find this pick in Unis Clothing Shop for 5,000 NP.

Sunglasses

Our recommendation:

Retro Glasses

Practical? Check! Colourful? Check! Essential? Check and check! We love a classic style re-emerging, and these are iconic. Whatever you choose to do on the island, you're going to need a pair of sunnies. Our only warning – don't get too alarmed when everything looks red!

Unis Clothing Shop sells these for a little under 6,500 NP. Neopian markets will retail these at 13,000 NP. Better run to Unis!

Bathing Suit

Our recommendation:

White Flower Red Bathing Suit

Now, we've done our best to keep this guide Neopoint-centric because we know not every Neopet has Neocash all the time. When it comes to bathing suits, however, this is where we recommend the splurge. We especially love this one-piece swimsuit. The blend of bright colour and floral print means this is beautiful, classic, and tropical wrapped in one.

These beauties are a limited summer release from 2013. Get Neomailing some friends if you're keen to find a pair!

Jewellery

Our recommendation:

Barefoot Sandals

We thought about listing these as shoes, but given they don't have soles we're going to classify them as anklets. Either way, we love their boho style. The draping jewels are the perfect mix of luxury and relaxed style.

These are at Uni Clothes Shop for approx. 7,400 NP, or the Neopian markets for 10,000 NP.

Shout-out:

Painted Leather Jewelry

A lei may seem like the obvious choice for an island neck accessory, and while we love the pop of colour, they can be bulky. This stand-out necklace is a deviation from our normal jewellery picks, adding a tribal vibe to any outfit. But being made of leather, it is prone to becoming hot, so we'd only wear this beauty at night.

You'll see this find at Uni Clothes Shop for 12,500 NP.

We hope you've enjoyed this comprehensive list of our favourite items for your next tropical holiday to Mystery Island. When packing, we always recommend staying true to your personal style. Feeling confident will have you looking more fabulous than simply being on-trend.

With love,

corrina404 and corrina_rox.