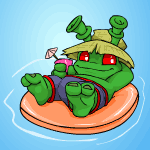 15 Awesome Neopoint Backgrounds For Summer

by carrieantonia

--------



Ah, summertime! That wondrous time of year when even Terror Mountain isn't so cold. The weather all over Neopia is balmy and beautiful, and many of us have extra free time on our hands. From lounging on the beach to sweating in the Altador Cup arena, summer is a time for fun and recreation. Why not give your Neopets a new outfit to reflect that? Even if you're short on NeoCash, there are still a ton of fantastic options available at every price point. In no particular order, here are 15 of the best wearable backgrounds for summertime, all of which are obtainable with Neopoints alone.

1. Bridge to the Orchard Background

Approximate price: 620,000 NP

What could be more summery than a stroll through a beautiful orchard? As you cross a quaint wooden bridge over a gentle stream, fruits and flowers bob in the breeze. Maybe you can bring some apples home in a basket and make a pie later. I feel relaxed just looking at this background.

2. Fyora's Balcony

Approximate price: 8,000 NP

Further downstream in the lush cliffs of Faerieland, beautiful purple brick towers are sparkling in the summer sunlight. You can smell the fragrant trees and flowers on the air as you stand on Fyora's warmly-lit balcony. Fluffy clouds float along in the distance through the brilliant blue sky. Does summer get any better than this?

3. Neopian Marketplace Background

Approximate price: 2,000 NP

Lots of Neopians are on holiday from work or school during summertime. The result? Neopia Central is bustling with activity. Take a stroll through the cobblestone streets of the Neopian Marketplace. Crowds move happily around you as you enjoy the architecture. Take a look into some user's shops, or visit the Soup Faerie to say hello! Which brings me to our next background...

4. Soup Faerie Kitchen Background

Approximate price: 500,000 NP

Summer is a great time to volunteer and help those less fortunate than yourself! In the Soup Faerie's kitchen, there's always something useful to do. Chop some fresh ingredients, or sprinkle some spices into a bubbling pot of fragrant stew. Working hard in this kitchen is sure to be rewarding for both you and your pets.

5. Romantic Sunrise Background

Approximate price: 5,000 NP

Let's move away from Neopia Central now, and take a trip down to the gorgeous beaches of Mystery Island! Mystery Island has some of the best summer sunrises in Neopia. There's nothing quite like sitting with your feet (or paws) in the warm sand, sipping a fruity tropical drink, while shades of orange and gold reflect over dancing ocean waves. Feel the sea breeze on your face. Now that the sun's up, there's a whole day of fun ahead of you!

6. Meridell Countryside Background

Approximate price: 2,000 NP

Another one of the loveliest places to spend your summer days is Meridell. The green and pleasant countryside, rolling hills and picturesque farmland are unmatched. In this background, you'll find yourself in a verdant grove with a perfect view of the stunning Meridell Castle! See it glistening white, red, and gold in the distance. I think I can almost hear the triumphant trumpets of King Skarl's court.

7. Mysterious Forest Clearing Background

Approximate price: 7,000 NP

Further into the countryside, there are acres of unspoiled forest to be explored. In this sun-dappled forest clearing, trees twist upwards into a magical canopy of leaves. Mysterious mushrooms are sprouting all around you, and a crystal-clear brook winds its way through the woods. This is the perfect place for a picnic or a nap.

8. Lonely Garden Path Background

Approximate price: 2,000,000 NP

What a beautiful hideaway! In this walled garden, fragrant magenta flowers float and sway in the warm summer breeze. Soft green grass and moss hug your feet through the cracks in a cobblestone path. Have a seat, and feel yourself become completely relaxed. The peace and quiet of this private garden is the ultimate summer luxury.

9. Altador Cup Display Cabinet Background

Approximate price: 1,800,000 NP

When it's time to come inside, the joys of summertime continue. If, like many people, you're an Altador Cup superfan, then you'll love coming home to this fantastic memorabilia display room! Golden Altador Cup trophies glisten from every cabinet around you. There's even a plush golden Altador Cup trophy rug on the floor! Best of all, this background can be customized with accessories to represent whichever team you prefer. It's an absolute must-have for serious Altador cup fanatics.

10. View of Altador Background

Approximate price: 2,900 NP

What's that you say? You haven't had enough of the Altador Cup? Just one background to show how much you love Yooyuball isn't enough for you? Take a trip to this grassy hilltop overlooking Altador to wave your team's flag and show how dedicated you are to the cup. The view is magnificent!

11. Yooyuball Graffiti Background

Approximate price: 1,500,000 NP

But wait!! There's more!! Even in your own back yard, the Altador Cup festivities don't have to end. Even if the cup is over, you can still practice for next year. This creative Yooyuball artwork is here to motivate you every time you look at your fence! Sweet-smelling flowers are blooming all around, making this garden a simply pleasant place to be, Altador Cup or not.

12. Breathtaking Night Sky

Approximate price: 725,000 NP

The summer sky is still breathtaking, even when night falls. Look up, and you'll see thousands of dazzling constellations. Shades of pink, blue, and purple dance and sway above you. It's absolutely magnificent. Lay back on your picnic blanket and enjoy!

13. Relaxing Kiko Lake Background

Approximate price: 6,500 NP

I think the theme of this list is clear. Summertime is all about relaxing. And placid Kiko Lake is the perfect place to do so! This background transports you to a grassy knoll beside the lake. Care to go for a swim? Or maybe just lounge among the pines and enjoy the cool mountain air? In Kiko Lake, you can't go wrong.

14. Secluded Bench Background

Approximate price: 5,500 NP

Every corner of Neopia is so chock full of beauty, it never ceases to amaze me. Even this tiny bench hidden away in the woods is the perfect place to take a rest and gather your thoughts. Can you find this secluded spot? Maybe pack a lunch, bring a notepad and pen, and try your hand at writing while you're there.

15. Double Rainbow Background

Approximate price: 425,000 NP

Last but not least, this background is the epitome of summertime. As you stand in the hot sun in a vast grassy field, enjoy one of life's simplest small pleasures: an amazing, vibrant double rainbow in the sky above! What does it mean? It means it's summertime, one of the most lovely seasons of all.