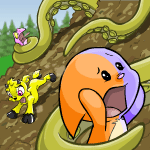 Eleven Things All Kacheek Lovers Should Own

by indebtedness

--------



Eleven Things All Kacheek Lovers Should Own

Kacheeks are arguably the cutest Neopet in Neopia. According to the Neopet Popularity page, Kacheeks are the second most created pets in Neopia! Almost three-hundred million Neopets created (not morphed or zapped through the lab ray), over seventeen million that have been created are Kacheeks! That has to count for something, right?! Each Kacheek is unique and loyal to their creator. They are shy at first, but they warm up to you quickly.

There are hundreds of Kacheek items throughout Neopia. This week Sean and I hand-picked eleven items we believe every Kacheek crazed Neopian should own!

Kacheek Book (~1,000NP)

Books are knowledge and knowledge is power! Before adopting your first Kacheek a little light reading wouldn't hurt. Learning Kacheek's behaviors and mannerisms before adopting one isn't a bad idea. This book has the ins and outs of Kacheeks. You can always refer back to your trusty book if you ever have questions or worries. Everything you need to know is here!
Cuddly Kacheek Plushie (~680,000NP)

A cuddly plush for the Kacheek crazed! When it is not appropriate to bring your Neopet out with you, you can always have this little plush to keep you company. When you hold this plush and give it a tight squeeze, it will remind you of your Kacheek. The hugs are not the same, but they are pretty dang close!
Green Kacheek Biscuit Jar (~1,000NP)

A kitchen, let alone a home, is not complete without a biscuit jar. This jar in particular sports an adorable green Kacheek eating a biscuit! Adding this small addition to your kitchen will brighten it up and let your guests know you are Kacheek obsessed! Baking fresh biscuits and then putting them in this jar sounds like a good idea to us! This jar is breakable, so we suggest keeping it to the back of your counter to prevent any mishaps.
Heart Kacheek Balloon (~56,000NP)

Kacheeks and hearts go hand and hand; they just work so well together. Collectors alike enjoy this dainty balloon because of its level of cuteness! The balloon has a prissy Kacheek inside of it which only adds to the cuteness! This is not like a snowglobe. The inside of the balloon is empty, so if you try to shake it like a snowglobe don't expect to see anything!
Kacheek Baking Set (~500NP)

If you love baking like us, you need this set for your Neohome! Baking is one of our favorite pass times and it is fun to teach others as well. This set has a rolling pin, a Kacheek stand mixer, a tray to display your delicious baked goods! This set is a must have for Kacheek lovers alike! If you don't have enough room to display all of the delicious treats you made, you can always store them in your Green Kacheek Biscuit Jar!
Kacheek Tree Sculpture (~1,200NP)

Creating a one-of-a-kind garden may seem daunting to some, but some love the challenge! If you want to spruce up your garden, try adding this lovely tree sculpture! Since this sculpture doesn't have flowers or anything extravagant, you can always accentuate it with flowers and bushes of your choosing. We suggest adding bright colored flowers around the topiary. Kacheeks are lively and cheery, so we think your garden with this topiary should be the same.
Kacheek Watering Can (~110,000NP)

Speaking of gardening here is the only watering can you need! In your Kacheek themed garden you might as well go all out right? This adorable watering can holds as much water as a normal sized watering can holds. Tending to your beautiful garden will be better with this lovely, cheerful watering can!
Painted Pottery Kacheek Candle Holders (~1,000NP)

Candle holders are a perfect decorating piece for any home. Candle holders work well in many places in any home! They work well on your table during a fancy meal, on top of a fireplace, in an office area, or a bathroom! These hand-painted and handmade Kacheek candle holders are made with special modeling clay and each pair made is never the exact same!
Blue Kacheek Teapot (~4,000NP)

Tea is one of Neopia's favorite drinks. If you love making tea at home, you need this super affordable Kacheek shaped teapot! Wake up every morning with a smile on your face, equivalent to this smiling Neopet! No morning can go wrong when you're drinking tea out of this exquisite Teapot.
Adorable Pink Kacheek Kite (~1,400,000NP)

Flying kites is always fun, but it is a blast when you use your new pink Kacheek kite! This bright kite will stick out in the sky, so you won't have to worry about losing sight of it! An expensive toy, this one is only for the true Kacheek fans or kite-flying connoisseurs.
Clay Kacheek Pot (~5,000NP)

Cooking and baking is always fun, but have a better cooking experience with this lovely Kacheek pot! This pot is perfect for your casseroles, roasts and large dinners! The design of this lovely clay pot traps in the heat and cooks your food perfect every single time! This pot is also easy to clean. Just soak it in some warm water and mild dish soap and it cleans with ease! If you take care of this pot it can last you a lifetime and then some. At such a reasonable price, any Kacheek crazed Neopian needs this. All of your dinner guests will be envious of how well your food came out!
Calling all Kacheek lovers! These items that Sean and I listed are the perfect additions to your inventory. Display them in your Neohome, showcase them in your gallery, or hoard them in your Safety Deposit Box - any way, these items are a must-have for those obsessed with all things Kacheek! Let us know which items you bought, and which items you absolutely need! We're positive that all of these items will find their way into any Kacheek lover's hand eventually.