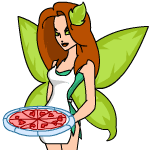 Come Dine With Us: Faerieland Edition

by mel_liew_ming_li

--------



In our next chapter of Come Cook With Us, we want to showcase some of Faerieland's most delicious edibles. Every dish tastes magical (literally!), as the faeries who make the food in Faerieland often sprinkle a bit of faerie dust or cast magic spells onto their creations. Therefore, if you want to recreate some classics with a twist, then try one of these recipes below!



Pink Mashed Potatoes

These mashed potatoes are really quite sweet tasting.


Ingredients (to serve 4 people):

1kg Battle Potatoes

1 carton of Low Fat Milk

1 teaspoon of salt

200g Cheese, grated

salt and pepper, to taste

1 vial of pink food colouring

1/2 cup of salted butter

1/2 cup of sour cream


Instructions:

Peel off the skins on your Battle Potatoes and quarter them. Place the potatoes into a big pot of boiling water and boil the them over medium heat until they are soft (use a fork to pierce the potato pieces occasionally). When the potatoes are ready, drain them of water and then place them in a bowl. Add 2/3 of the carton of Low Fat Milk, grated Cheese, salted butter and sour cream. Mash the potatoes with the ingredients and then proceed to add the vial of pink food colouring. Further mash until the mashed potatoes are smooth, add salt and pepper to taste, then call upon a Bottled Faerie for a pair of magical faerie wings to decorate your dish!



Heavenly Roast Turkey

This succulent turkey tastes simply divine!


Ingredients:

1 turkey (uncooked)

Two Garlic Bulbs

300g unsalted butter

1 Lemon

Rosemary sprigs

1 vial of pink food colouring

1 Onion

salt and pepper, to taste


Instructions:

To make the roast turkey marinade, melt the butter, along with the juice of one Lemon and the rosemary sprigs in a sauce pan. Let it cool down. Add the vial of pink food colouring. Chop up your Garlic Bulbs into small chunks and add to the marinade. Put the turkey on a roasting pan and rub down with salt and pepper. Take a basting brush and brush the outside of the turkey with the butter and rosemary mixture.


Preheat the oven to 180C, then put the turkey into the oven and roast for about 2 hours. Remove the turkey from the oven and let it rest for approximately 15 to 20 minutes.


To give your Roast Turkey that Heavenly look, you may want to consider creating faerie wings that stick onto the turkey with leftover orange peels! The food colouring will also add a lovely pink sheen to your turkey, making your dish look magical!



Faerieland Gourmet Burger

Packed full of fresh lettuce, tomato, gherkins, cheese, diced onions, and the Earth Faeries famous pickle relish.


Ingredients:

Burger buns

1 Glowing Lettuce Head

2 Baby Tomatoes

1 small gherkin

1 Ionized Onion, sliced

sliced Altadorian Sun Cheese

1 meat pattie

Smatter of Butter


Instructions:

Heat up your skillet and put a Smatter of Butter on it. Grill your meat pattie until well done, and make sure you flip half way through cooking. Set aside.


Slightly toast your burger buns on the skillet until golden brown. Using a knife, shape the buns into faerie wings. Add your meat pattie, Altadorian Sun Cheese slices, chopped baby tomatoes and gherkins, and shredded Glowing Lettuce leaves to your burger bun. Voila! Perfect for a barbecue on a warm spring day!



Vegetarian Fyora Day Taco

A healthy alternative to all those calorific tacos.


Ingredients:

Guacamole (homemade or store bought) – and as much as you like!

Soft flour or corn tortillas

1 Glowing Lettuce Head

1 can Beany Burpers

1/3 cup Corn Pyramid kernels (raw)

1/4 cup Red Scorchipepper, diced

1/2 Super Gelupepper, diced

1/2 teaspoon ground cumin


Optional taco filling ideas:

Grated Blumaroo Cheese

Sour Cream

Guacamole

Red Onions


Instructions:

Simmer the Beans Burpers, Corn Pyramid kernels, Red Scorchipeppers and Super Gelupeppers over medium heat until hot. Remove from stove and allow to cool to a warm temperature (couple of minutes).


Serve the bean filling along with other taco toppings such as those suggested above. You and your guests can then assemble your tacos with as many ingredients as you like!



Lemon Faerie Mousse

Lashings of smooth lemon mousse drizzled with hot caramel sauce.

Ingredients:

3 large whole eggs

3 large eggs yolks

3 large egg whites

2 teaspoons grated lemon zest

1/2 cup freshly squeezed lemon juice (approx. 4 lemons)

salt and sugar

2 cups heavy cream

1/2 cup bottled lemon curd stored at room temperature

caramel sauce

1/2 teaspoon vanilla extract


Instructions:

For the mousse, whisk together the 3 whole eggs, 3 egg yolks, 1 cup of sugar, lemon zest, lemon juice, and a pinch of kosher salt in a bowl. Place the bowl over a simmering pot of water on the stove and stir the mixture constantly with a wooden spoon for approximately 10 to 12 minutes, so that the mixture takes on a pudding-like consistency. Take the bowl off and set it aside for 15 minutes to cool down. Then cover and refrigerate for 1 to 2 hours.


Pour half the egg whites and add a pinch of salt into a bowl, then mix on high speed. Add 2 tablespoons of sugar and continue to mix until the egg whites are stiff and shiny. Using a spatula, carefully fold the stiffened egg white mixture into the cold lemon mixture. Using the same bowl mixing bowl, pour in 1 cup of heavy cream and mix on high speed until stiff peaks form. Carefully fold the cream mixture into the lemon mixture. Fold in the lemon curd, pour the entire mixture into a deep souffle dish, and set aside.


For the mousse topping, whip together 1 cup of cold heavy cream, 1 tablespoon of sugar, and 1/2 a teaspoon of pure vanilla extract on medium speed, gradually increasing speed until stiff peaks form. Spoon the whipped cream into a pastry bag fitted with a large star tip. To complete the mousse, pipe out the whipped topping onto the lemon mixture to decorate then drizzle hot caramel sauce on top just before serving!


We guarantee that serving any one of these Faerieland favourites at your next dinner party will cause you to be admired by all your guests, who will proceed to crown you as the next Faerie Queen of cooking. If you enjoyed this week's introduction to the kinds of foods indigenous to Faerieland then stick with us for our next chapter; we guarantee your tastebuds will be tingling with excitement when you read what we have in store for you next!