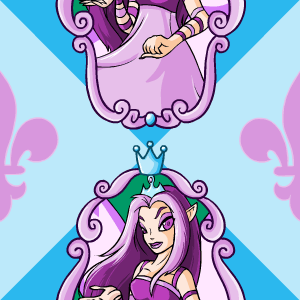 Regal Garb: Customizing Royal Neopets on a Budget

by loyalty_sustained

--------



With all the customization options on the Neopian market, it can be overwhelming trying to find the items that are right for you and your pet. Even when you have a theme in mind, realizing it can be a headache. We all know the struggle of chasing after that retired Neocash item, or trying to save up for that million Neopoint background. So when it comes to royal pets, things can get a bit complicated. We can all agree that royals should be dressed in their absolute best--so how can you make YOUR royal Neopet look good without breaking the bank?

Here are nine affordable customization options fit for a King or Queen. While this list is by no means exhaustive, it features a few carefully selected items that can be worn by any pet regardless of species. All items featured are Neopoint items and none of them cost above 100,000 NP at the present.

1. Altador Mansion Background

What's a royal without a palace? When it comes to luxurious living, royal pets know what they like. While there might be a shortage of castle and palace backgrounds in your price range, it never hurts to think outside the box. This background has a lot to offer: fine details, rich colors, and the ability to flatter any Neopet that stands in front of it. With its velvety carpet and impressive columns, this is surely a background a royal can enjoy. Pair it with an unimposing foreground to avoid obstructing the view, or add no foreground at all. This item pairs well with Danys Dress and Simple Snowflake Cape.

2. Fancy Frock Coat

When it comes to dressing your king or prince, there's no reason to stick to the traditional garb. The deep red hue and fancy golden details on this coat are well-suited for any royal. It's a look that flatters every Neopet, regardless of species. While the vibrant red might make it difficult to find matching pieces, it is by no means impossible. Layer it with a simple shirt and trousers for a put-together look. This item pairs well with Elegant Gear Boots and Golden Goblet.

3. Danys Dress

Now here is a piece that stuns. The royal blue color and shimmer around the shoulders make this dress Queen material. It might be one of the more expensive items on this list, but it is undeniably worth the investment. Even a simple look will shine when you incorporate this garment. There is also the added convenience of no need for layering; it is entirely optional whether you want to throw a cape or cloak over this piece or let the dress speak for itself. This item pairs well with Altador Mansion Background and White Lace Gloves.

4. Beautiful Columns Foreground

Interested in piecing together an outdoor look rather than confining your royal to a stuffy palace? Then this is the foreground for you! These elegant columns hint at your Neopet's regal status no matter what background you put them in front of. The winding vines and floral elements add an organic and outdoorsy feel to your customization, making your royal look right at home in a garden, on a balcony, or wherever you see fit. This item pairs well with Folding Gold Crown and White Lace Gloves.

5. Simple Snowflake Cape

If you're looking to dress your royal for the holidays or give them a more wintery look in general, then this cape will do the job nicely. The snowflake detail is kept tasteful and minimal; the real beauty of this cape is found in its pale cream color. It can be layered over a variety of looks, whether its a shirt and trousers or a fancy gown. This item pairs well with Danys Dress and Altador Mansion Background.

6. Elegant Gear Boots

What look would be complete without the shoes to match? Royal footwear selection may be limited, but look no further than the Elegant Gear Boots. Their sleek design and tiny golden buckle make these the shoe of choice for even the most kingly of Neopets. The best part is that the gold element can tie this in with just about any look, so long as you're sure to add a couple of gold accessories to match! This item pairs well with Fancy Frock Coat and Golden Goblet.

7. Folding Gold Crown

Upgrade your Neopet's crown or tiara! This stylish piece is an absolute go-to for any Neopian who wishes to forgo the usual headgear. The small details make this crown stand out, and its solid coloring makes it incredibly easy to match to other items. Overall, this crown can be paired with just about anything. However, it pairs especially well with Golden Goblet and Fancy Frock Coat.

8. White Lace Gloves

Would a queen be caught without the perfect gloves to tie her outfit together? Of course not! While finding elegant gloves on a budget can be challenging, the White Lace Gloves are up to the challenge. They offer a pristine and refined luck that is absolutely ideal for your royal pet. This item pairs well with Beautiful Columns Foreground and Danys Dress. An excellent alternative for when these don't match your Neopet's outfit are the Black Lace Gloves.

9. Golden Goblet

No customization is complete without the perfect accessory, and Golden Goblet fits the bill. Easily paired with almost any item on this list, this goblet offers a suitable alternative to a staff or sword you might find in other customizations. Refined and unimposing, the fine details give this item a luxurious feel. Who wouldn't want to drink from a goblet made of gold, anyway? This item pairs well with most everything. It pairs particularly well with Folding Gold Crown and Elegant Gear Boots.

Hopefully in these items you have found some new inspiration for customizing your royal Neopet. It is important to remember that there is also a wide variety of species-specific customization options that could help in truly pulling your Neopet's look together. And of course, always keep an eye on the NC Mall. You never know when a new item might crop up that catches your eye, and it is most certainly worth the investment if it means perfecting your royal pet's look.