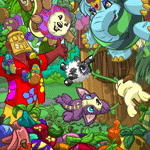 55 Halloween Costumes for 55 Neopet Species

by jellikescherrypie

--------



Jack-o-lanterns are being lit and a plethora of candy is being restocked, this can only mean one thing… Halloween is near! Okay… so honestly, Halloween is still a few days away, but there is never a wrong time to prepare; you wouldn't want to be caught without a costume the night before, would you? Of course not! Imagine frantically piecing together a ghostly costume out of sheets. That would be so embarrassing, plus you'd ruin your sheets (Neopoints don't grow on trees you know!) Never fear, with this article, Halloween costume planning will be a breeze. In this article, I've compiled a huge list of costume ideas for EVERY Neopet… that's right, every single one! So put down your scissors and white sheets and pick up your reading glasses, we've got a long way to go!

Acara- "Alice" From "Acara in Wonderland"

Ah, who doesn't love the classic tale of "Acara in Wonderland"? The main character, Alice, certainly gets lost a lot while trying to find her way home, but your Acara will be able to mimic her classic outfit without going astray this Halloween. Alice has two signature pieces to her outfit: blonde hair and a blue dress. Try a Vintage Blond Roll Wig and an Acara Festival Gown to copy this; I find that they're an ideal match. Tie around a Pretty Lace Apron and slip on some Acara Nurse Shoes for some extra flair! Can't forget accessories! The Water Faerie Eye Shadow compliments the blue dress and if you hold a Cup of Borovan while trick or treating, the look will be perfect!

Aisha- Painter Ross from "Painting with Aisha Ross"

Let's make all the stress from Halloween prep disappear and let's think sweet thoughts and paint happy trees. "Painting with Aisha Ross" is one of my favorite shows to watch from the comfort of my Neohome. The artist's voice is so soothing and positive, and WOW, that guy sure has some talent! Start with an Aisha Rock Idol Wig to copy the artist's signature hairstyle. Three key pieces go into the look: an Artist Smock, an Aisha Disco Dancer Trousers, and a Basic White Shirt. Add to the look with some super artsy accessories such as Blue Painted Feet, a Dripping Paint Brush, or Rainbow Tears Facepaint. Don't have any of those? No worries, there's no wrong way to compile this look. There are no mistakes, just happy brushstrokes and pretty art.

Blumaroo- "Red" from "Little Red Riding Blumaroo'd"

Pack up those treats, follow the mysterious path in Haunted Woods, and you're off to grandmother's house… or perhaps you'll just wear this look while trick or treating instead. "Little Red Riding Blumaroo'd" is a classic Neopian tale, any and every Blumaroo would adore this look! Let's just hope there's no Big Bad Wolf nearby. By wearing any red dress, you'll be able to mimic this costume; I personally adore the Blooming Red Dress. Pair it up with a wig and cape, such as the Mysterious Blumaroo Wig and Blumaroo Magician Cape. The Adorable Wonderland Shoes and Tights from the NC Mall are perfect and comfortable shoes to walk around in. Top off the look with some Black Eye Shadow and use a Basket of Apples to hoard all your Halloween candy in…. Hey! Save some treats for grandmother!

Bori- Library Farie

Shhh! For this look, we'll have to tone down the volume in our voices, because this look is inspired by Faerieland's one and only Library Faerie. This is a simple—yet glamorous—costume that your Bori will love! (Oops, I'm being loud again). Start off with two pieces from the Garden Tea series: Garden Tea Bori Glasses and the Garden Tea Bori Wig. Fyora and the Library faerie share similar wing patterns, so if you have any Faerie Queen Wings, they will work perfectly with this look. Put on a Sparkly Purple Tuxedo Top with White Shirt Underneath and tuck it into some Hardy Blue Trousers to mimic the faerie's everyday attire. Lace up your Basic Purple Lace-Up Shoes and keep a Well Read Book nearby for good measure.

Bruce- Grey Faerie

What's the use of Halloween anyways? *sigh* I never get any candy I like… *sigh* Feeling blue?—or in this case, grey? No worries, your Bruce can still get into the Halloween spirit while maintaining their gloom; just dress up as the Grey Faerie! An On the Go Bruce Wig looks nearly identical to the gloomy faerie's hairstyle. A pair of Grey Faerie Wings and a Grey Silk Dress go hand-in-hand to function as the faerie's wardrobe. Can't forget shoes, getting sore feet would be so sad *sigh* I suppose a pair of Stunning Bruce Shoes will do the trick. If you don't feel like crying (which you probably will) swipe some Black Eye Shadow onto the eyelids. Have your Bruce carry either a Single Grey Flower or Floating Grey Faerie Doll to complete the look. *sigh*

Buzz- "The Genie" from "Buzz'laddin"

Is your Buzz wishing for the best costume? Look no more! Grant your busy-Buzz's wish by dressing them as the legendary Genie from "Buzz'laddin"! A genie grants three wishes, and you're gonna need three things for this costume: a pair of Cosmic Space Faerie Leggings, a Buzz Musketeer Shirt, and MiniMME10-S2: Mystical Genie Wig. Keep a Golden Genie Lamp nearby for best effect. The Shining Princess Magic Swirl can go a long way in this look and helps your Buzz appear extra magical! Don't forget some Dyeworks Blue: Magical Golden Markings and a pair of Yooyu Eyes contacts to compliment the blue-tones. Ta-da! Your wish, is my command.

Chia- Meepit

Jeepers creepers and Jeepit Meepit! Whether you find them creepy or cute, dressing as a Meepit is a Halloween classic any Chia will love! Start by dressing them—head to toe—in pink attire; some functional pieces include: Meepit Costume Shoes, Basic Pink Gloves, Pastel Pink Chiffon Skirt, and Basic Pink Collared Shirt. Still not selling the look? A pair of Angry Meepit Eyes can help! They can easily be found at the marketplace or ask the Shop Wizard for help. Top the look off with a Meepit Costume Headpiece, and BOOM! Go get that candy!

Chomby- Southern Belle

Why, Halloween is so darling. All the frilly costumes sure makes me happier than a June bug in June… say, what even is a June bug? (A new petpet, maybe?) Does your Chomby adore the classic Southern Belle attire? Then why not celebrate it, Halloween is prime time to dress up anyways! Try a Chomby Belle Dress and a Chomby Belle Hat for starters, then take the look in any direction you'd like. A Floral Lace Parasol and some White Lace Gloves makes for an incredible duo! Again, the Adorable Wonderland Shoes and Tights help complete any costume. Apply some Dyeworks Silver: Rich Golden Eye Makeup alongside some Bright Red Lipstick, and your Chomby will be the Belle of the ball…Er, I mean, Halloween party.

Cybunny- Clown

Are clowns supposed to be spooky or funny? I'm never quite so sure, but if your little Cybunny is eager to dress as one this Halloween season, don't fret! It's honestly one of the easiest costumes. Be on the lookout for any rainbow themed items—such as Rainbow Sandals and a Paint Splatter—they're perfect for this look! The frilly Clown Dress keeps the costume on the cute side (thank Fyora!) and has a wide variety of colors woven into the fabric. Pop on a Freaky Factory Wig and your look is complete; just try not to carry a red balloon around… I heard it freaks other Neopians out…

Draik- "Draikella" from "The Classic Faerietale: Draikella"

Not to be confused with the other classic tale, "Draikacula", the story of "Draikella" is centered around a Draik maiden whom became a princess all because she fit a shoe (lucky, I can barely find shoes that fit… let alone a prince!) If your princess adores this tale, she may want to dress as "Draikella" too! The costume is simple, start with an Evening Draik Wig along with a Birthday Princess Dress. The MME20-S4a: Winter Princess Cape is a nice touch too, in case there's a chill in the air come Halloween night. Step into some Shining Princess Shoes—but be careful not to lose them! Finish the look with White Lace Gloves and some Air Faerie Eye Shadow. Now your Draik is ready to trick or treat all night… just be sure to be home before midnight!

Eyrie- Sports Player

Even if Altador Cup season is far away, your Eyrie can still show off their sporty style with this super simple Sports Player costume. Start with a Camp Wannamakeagame Cap and Wig; the hat and wig combo is a nice touch. Keep a Cwin Eyrie Bat nearby and pull out that Vintage Darigan Altador Cup Jersey! Add a Bouncing Tennis Ball (don't worry, it will follow you while you trick or treat) and slip into a pair of Khaki Trousers. Slide on your favorite pair of shoes; I like the Neopian Times Eyrie Shoes (I wonder why *wink*). This look is sure to score your Eyrie a ton of candy, just don't eat too much! Training starts next week!

Elephante- "Queen of Hearts" from "Acara in Wonderland"

OFF WITH THEIR---- ooh! Is that chocolate?! Of course, your Elephante won't receive any candy without a costume. Don't break their heart, instead, suit them up in this classic costume inspired by "Acara in Wonderland". The Queen of Hearts is such a fancy look to embrace, and is perfect for this time of year! Starting with a Fancy Elephante Wig, pin any loose hair down, and have your Elephante hold an Elephante Ballerina Rose. A combination of the Queen of Hearts Dress and a pair of Diamond Heart Tights and Shoes is the perfect duo for this look. Top of the costume with some makeup: a Heart Beauty Mark, Black Eye Shadow, and some Bright Red Lipstick. A look fit for a queen!

Flotsam- Reaper

When most Neopians think of Halloween, a Reaper costume comes to mind. The look is so classic, I couldn't ignore it on this list. Your Flotsam will flip for this eerie look. The Dystopic Flotsam Hoodie serves as a good base to work around and can be enhanced by some Skeletal Face Paint and Bone Chest Paint; just be careful not to get any paint on the hoodie! A pair of Flotsam Band Leader Trousers alongside some Dystopic Flotsam Shoes really ties the look together. Add an Island Mystic Bone Stud and pop in a pair of Undead Contacts for a creepy touch. Find your favorite Toy Scythe of Dread, and ta-da! Your time is near… I MEAN… your look is complete.

Gelert- Sock Hop Waitress

In my last article, I brought light to a Sock Hop Waitress inspired costume for Poogles, but this look is great for Gelerts too! Your Gelert will twist and shout for this costume. Take a Gelert Race Cart Driver Scarf and Slushie Slinger Waitress Wig and put them on. Then, tuck a Basic White Shirt into a Lovely Pink Ruffled Skirt and add some Figure Skating Skates and Tights. Keep a Neopian Serving Cart by your side and put on a pair of Wonderland Gloves. Apply a small amount of Bright Red Lipstick and Fyoras Eyeshadow to complete the look. You're looking swell!

Gnorbu- Cheerleader

Two! Four! Six! Eight! What do we appreciate?! Halloween! Your Gnorbu can cheer the night away as a cheerleader this season. The costume is both easy and comfy. Start off with an Adorable Gnorbu Wig (the ponytail look is perfect) and carry around a Gnorbu Ring Master Megaphone and Cheering Pom Poms. I find that the Grey and Purple Color Block Skirt along with a Dyeworks Purple: Games Master Challenge 2010 Lulu Shirt gives the appearance of a cheerleader uniform without having to make a team. Finally, add a Cheering Sound Track for extra effect and then you're---WHAT? HUH? I CAN'T HEAR YOU OVER ALL THIS CHEERING!

Grundo- SkeithBucks Barista

If your Grundo can't make it through the morning without their daily cup of coffee, this look is for them! Dressing up as a coffee shop Barista is one of the easiest costumes of all time, not to mention it's a pretty cheap option. Go ahead and start with a Grundo Programmer Mug; sure, it's just an accessory but it really is the center of the look. Most SkeithBucks employees wear green, so find an I Club Sloth Grundo T-Shirt—its dirt cheap at the marketplace! Pair that up with some Grundo Lunch Lady Shoes and a Curled Updo Wig to add some glam. Don't forget your Grundo Chef Apron and an Ancient Altador Uniform Trousers! Is your Grundo a little clumsy? Add a Spilt Coffee into the look. Ta-da! Ready to brew some coffee and misspell names!

Hissi- Witch from "The Wonderful Yurble of Oz"

I'll get you, my pretty… and all your candy too! *Evil laugh* the classic story of "The Wonderful Yurble of Oz" wouldn't be complete without its main villain, the witch. If your Hissi feels like stealing some sparkling shoes and riding broomsticks, this look is perfect! Of course, the witch's shoes aren't as pretty as the heroine of the story, so seek out some basic shoes, such as Colourful Female Hissi Dancer Shoes. The Charming Witch Dress from the NC Mall is perfect for this look, just add a Black Hissi Choker and add an Autumn Witch Wig. For some instant glam, be sure to indulge in makeup. Wearing green is ideal; try out some Spooky Witch Makeup, Bright Green Lipstick, and Earth Faerie Eye Shadow. Now grab a hold of your Hovering Broom and FLY! FLY MY PRETTIES! FLY! *Myncis dramatically fly by*

Ixi- Hanso

Being a HUGE fan of the Faeries Ruin, I knew I had to add some characters from the plot. Hanso is a daring thief (and hero) that your Ixi will love to dress up as! Start with Hansos Thief Jacket and Hansos Collectors Wig; these two pieces are crucial to this look. If you're going to be stealing candy, be sure to wear comfy and functional attire. Try some Casual Ixi Trousers and a pair of Ixi Archer Boots. Alas! Can't rescue the faeries without an accessory! Tie an Ixi Aviator Scarf around your Neopet's neck—it's a nice touch. Think you're going to trick-or-treat in peace? Think again! With those wraiths lose again, there's not a chance they'll back down from your Ixi if he's dressed as Hanso (they're seeking revenge!) Ward them off by giving the illusion that other wraiths are already following you by wearing Dark Faerie Magic Effect and Surrounded by Wraiths. All set! Just don't turn to stone!

Jetsam- Isca

Whom doesn't adore Isca? Her design is so simple but lovely; have your Jetsam embrace this look by dressing as Isca this season! There are some Isca merchandise looming around Neopia already, so let's start with those: the Isca Wig and Iscas Dress. Spruce the look up with some special accessories and makeup. Try out some Water Faerie Eye Shadow and Sky Blue Lipstick; don't forget to wear a pair of Jetsam Lunch Lady Shoes and a Jetsam Maractite Armoured Tail Guard. Need some extra flair? Add either the MiniMME9-B: Splashing Puddles or an Isca Halloween Ghost on a String. Now go make a splash this Halloween!

Jubjub- Pumpkin

Sure, you could take your Jubjub to the Rainbow Pool, toss him in, and make him Pumpkin, but that's a lot of work (and tossing him into body of water seems a little mean…) If you don't have an opportunity to visit the Rainbow Pool, don't fret! This costume will allow your Jubjub to fool his friends into thinking he truly is a Pumpkin! Pick up a Pumpkin Hat and Pumpkin Faerie Dress from the NC Mall and then head to the marketplace for a pair of Illusens Laced Slippers. Add some color by applying some Light Faerie Eye Shadow and Jungle Foliage Face Paint. Ta-da!

Kacheek- Fyora

The Queen of the Faeries is one of the most memorable Faeries in Neopia. She was a little busy investigating the destruction of the Faerie Festival to lend her fashion advice, but don't fret! With my help, your little Kacheek can look like Fyora in no time! The Faerie Queen wears pink and purple colored clothing, so I've kept that in mind while shopping; both the Lovely Kacheek Dress and Lovely Kacheek Tail Cover are the perfect shade of pink for this look! Tie on some of Fyoras Arm Wraps, and apply Fyoras Eyeshadow. Fyora Collectors Staff is a perfect touch to this look and looks great alongside a Fyora Wig. Pop on some Kacheek Farm Girl Shoes and a pair of Translucent Faerie Wings (just try not to flutter them too much!) Voila! Fyora herself would be impressed! Maybe your Kacheek could fill in for her, I'm sure she'd love a break.

Kau- Fortune Teller

In your future I see… *waves hand over an magic orb* …lots of candy! Your Kau can secure this prediction by dressing as a Fortune Teller this Halloween! It's easy, start with a Kau Fortune Tellers Collectors Blouse and a MiniMME10-S2: Mystical Genie Wig. Tuck the top into a pair of Dashing Kau Trousers and slide on some Pretty Kau Cloud Shoes. Feeling adventurous? Add some fun extras such as: a Swirl of Magic, a Fortune-Telling Crystal Ball, or add a touch of Fyoras Eyeshadow.

Korbat- Ballerina

This next costume is on pointe! …Get it? It's a dance pun because I'm gonna explain how your Korbat can dress up as a Ballerina! Find a Flowery Korbat Dress along with an Elegant Ballerina Wig. Now tie up some Illusens Laced Slippers—they're great for twirling! Finally, apply some Dyeworks Pink: Rich Golden Eye Makeup and you're ready to dance the night away!*

*Eating candy while dancing is not advised.

Kougra- Mummy Queen

This look will have your Kougra claiming you're their "favorite Mummy!" Get it?! I should stop with the puns… This costume calls for a Zombie Mummy Wrap Dress; you can find it in the NC Mall! Add a Rough Game Bandage, Dueling Decks Mynci Wrist Wrap, and Dusty Sand Dune Foreground for some extra coverage. Dress it up with an Exquisite Queen Necklace and a pair of Golden Goddess Sandals. That's a wrap, this costume is done!

Kyrii- Mermaid

Life is better, down where it's wetter. If your Kyrii agrees with the previous statement, perhaps they'd love to dress as a Mermaid this Halloween! The Maraquan Maiden Dress is a great place to start, simply add a Kyrii Sea King Trident, some Water Faerie Eye Shadow, and gently apply a small amount of Maraqua Team Glitter Face Paint. Finish off the costume with some Gold Starfish Sandals and a Golden Chain Bracelet. Don't forget your Healing Springs Collectors Wig! It's waterproof!

Krawk- Feline

Meow? More like MeWOW! Every Krawk will appreciate this simple Feline costume. Start with a Feline Krawk Wig and add some Raindorf Facepaint to their scales. I find that the Court Dancers Collectors Eye Shadow and Contacts gives an eerie yet glamourous touch to this look. Add a Clawed Glove along with some Pointy Claw Slippers and slip on your favorite Tyrannian Fake Fur Toga! Wouldn't wanna be caught in the dark! Have your Krawk carry a Handheld Meowclops Torch for extra safety.

Kiko- The "Swan Princess" from "Swan Kiko-Lake"

Ah, "Swan Kiko-Lake" is a beautiful ballet in which a Kiko is transformed into a swan! (What even is a swan anyways? A new type of Petpet?) Nevermind, anyways, if your Kiko is a fan of ballets, this costume is a great match! Start with a Ballet Kiko Dress; while you're at the store, pick up some Ballet Kiko Eye Makeup too! A Spiked Crown and Wig is ideal, as the updo will stay in place all night. Fluff those feathers and add some fun accessories! Try out any of the following: Black Lace Gloves, Black Kiko Plaster, Velvet Black Lipstick, Feather Shoes, or Feathery Gothic Wings. Don't lose any feathers while trick or treating!

Lenny- Plague Doctor

Who would survive longer, all of Neopia or a sick Petpetpet? Let's not take any chances… have your Lenny dress as a Plague Doctor this season! It's an eerie yet simple look; purchase a Lenny Plague Doctor Mask along with a Daring Adventurer Lenny Wig and Cloak. While shopping, be sure to pick up a MME19-S4: Plague Doctor Incense Staff and a Lenny Time Traveler Skirt too! Slide on some Lacy Skeleton Gloves and find your favorite pair of shoes—I like the Simple Brown Lenny Shoes in regards to this look. Now go get some candy…. Do I hear coughing? Don't touch me! Ah, germs!

Lupe- Princess

All hail… your Lupe! A princess costume is great for any busy Neopian, as it won't cost much or require much sewing. Be sure to have some Lupe Dance Show Makeup and seek out both a Royal Princess Gown and a Birthday Tiara and Wig. Slide on a fancy pair of shoes, such as the Golden Flower Heels! Find a pair of Garden Tea Gloves at the marketplace and add an Elegant Gold Necklace around your Lupe's neck. Don't lose your tiara while trick or treating!

Lutari- Sailor

Out to sea! If your Lutari loves to float in a blue lagoon, maybe a Sailor costume would be awesome this Halloween! The look only requires four things: a Lutari Sweet Little Sailor Wig, a Fancy Sailor Dress, some Colourful Boat Shoes, and a Beached Sailboat. Just don't fall overboard!

Meerca –Cupid

Love is in the air, and candy is in your trick-or-treat bag! If your Meerca is afraid of spooky costumes, hit up this subtle Cupid costume. The retired Maid of Hearts Dress from the NC Mall is a great place to start, we'll just spruce it up with some accessories. Look out for anything pink, red, or garnished with hearts. I feel like the Cupid Meerca Balloon, Missed Cupid Arrows, and the Arrows of Happiness are great additions to this look. Attach some Cherub Wings and—if you're Meerca isn't embarrassed—add a Cherub Wrap. Top off the look with an Adorable Pink Heart Wig!

Mynci- Pajamas

Not feeling like dressing up in a costume? Don't sweat it; on Halloween EVERY thing is considered a costume! Aim for a comfortable look that your Mynci will love, such as this pajama look. Start off with a pair of Mynci Spa Slippers (almost every Mynci has some!) Put in some curlers—the Elderly Female Mynci Wig has some great ones. Toss on your Mynci Spa Cucumbers and grab a hold of a Fluffy Feather Pillow (plus, the pillow case can be used to carry candy!) Slip into a Slumber Celebration Pyjama Top and Slumber Celebration Pyjama Bottoms and you're ready to collect some candy… just don't fall asleep along the way.

Moehog- Flapper

Move it, shake it, and dance the night away! Much like the Sock Hop costume, a Flapper costume is a Halloween classic! Your Moehog will adore the fringe and colors in this look. Start off with some basics from the flapper collection: a Moehog Flapper Headband, some Moehog Flapper Shoes, and Moehog Flapper Gloves. Add your own personal touch to the look with glam accessories that are already in your closet; I've added a Tiffanys Moehog Necklace, White Moehog Boa, and a Black Sparkle Moehog Dress. Now go twirl and carve some pumpkins!

Nimmo- Shenkuu Tourist

Ah, who doesn't adore the beautiful scenery of Shenkuu? If your Nimmo is a fan of this location, she'll love this Shenkuu inspired look. A Nimmo Shenkuu Dress is required for this look, but the rest will be optional; just look for any clothing items that seem luxurious and exotic. I've found that the Stately Nimmo Gloves and Stately Nimmo Necklace match up perfectly to the dress. And a Funky Shenkuu Wig adds the perfect touch. Purchase a pair of Barefoot Sandals and—if you have some extra Neopoints—opt for a Lovely Shenkuu Fan or Dark Faerie Eye Shadow.

Ogrin- Evil Queen

Mirror, mirror, on the wall… who's the fairest of them all? This Halloween, your Ogrin can be the fairest in Neopia with this Evil Queen costume. The look only requires a few items, and most of them are Neopoint items (hooray!) Purchase a Purple Ogrin Dress for this look, and be sure to seek out a cape as well; I adore the Dark Mystical Cape. Pin a Princess Wig with Iron Crown into place so it doesn't wobble or fall off of your Ogrin's hair. Finally, spruce up the look with some additional accessories such as Fabulous Ogrin Earrings or Dark Faerie Eye Shadow. Hm… you kinda look like Anti-Fyora in this look…

Peophin- Winter Court Leader

Just because it's fall now, doesn't mean winter won't sneak up on Neopia. If your Peophin is looking to rule winter—and you're looking to reuse this outfit come December—dressing up as the Winter Court Leader for Halloween will be perfect. There are SO MANY snow and ice inspired clothing items, so mix and match whatever makes you happy; I enjoy the Silver Wig and Icicle Crown, Ice Queen Gown, Sparkling Ice Staff , and Wings of Ice. Running low on NC? Don't sweat it, search for blue items to mimic ice and snow; the Flowing Peophin Necklace and Shimmering Blue Peophin Bracers are a great example. Now let it go and go get that candy!

Poogle- Schoolgirl

Sure it's a holiday, but school is still a priority. Even if fall rings in the scent of candy corn and falling leaves, it also means school is right around the corner. If you're too busy searching for a school uniform for your Poogle instead of a costume, don't fret! Just wear the uniform for Halloween! A Schoolgirl is a simple costume that Poogles love! Start with Cheerleader Poogle Dress as well as a Sweet Poogle Wig. Adorn the look with School Girl Shoes and Smart School Girl Eye Glasses. Add an Abandoned Backpack or Green Skeith Pencil Case to finish it off!

Pteri- Constellation Maiden

Need some costume inspiration? Look to the stars… no, seriously. If your Pteri is obsessed with astrology or dreams of soaring into the night sky, have them dress up as a Constellation Maiden this year! The look is easy, search for any items that are garnished with stars, such as the Starry Tights and Shoes, Shimmery Star Dress, Silver Star Bracers, and Moon and Stars Facepaint. Pull out your Pteri Lunar Maiden Wand and Pteri Lunar Maiden Wig out from your SDB and treat your Pteri to a Bright Star and Light Arch from the NC Mall to complete the costume.

Quiggle: Quiguki Doll

Is your Quiggle a HUGE Quiguki fan? Who isn't?! They're much cooler than Usukis anyways… Embrace their love for these collectable dolls by dressing as a Quiguki Doll! Start with some key pieces: a Prissy Miss Usuki Collector Dress and a Usukicon Y9 Magical Hair Usuki Mask. Carry either a Special Limited Edition Fair Maiden Quiguki Doll or a Soft Magical Hair Usuki Plushie (I think it's obvious what you should choose *cough* the Quiguki…) Grab your Usukicon Y9 Attendee Badge and swipe on some Bright Red Lipstick and you're all set! What a doll!

Ruki- Cupcake

Attention all Rukis! Do your owners think you're sooooo adorable that they could "just eat you right up"? Weird… but sweet? Be even sweeter in this Cupcake inspired costume! The look is colorful and smells like vanilla! Hunt the marketplace for some Ruki Strappy Pumps and Ruki Jester Gloves, they'll add hints of color to the look. Stop by the NC Mall to pick up a Pink Frosting Wig and Birthday Cupcake Dress to complete the look. Feeling undercooked? Sprinkle on some delicious extras such as a Cupcake Wand or Sugar Frosting Face Paint (just be careful not to lick it off!)

Scorchio- Court Dancer

Whom can resist dancing with the Court Dancer? No one! Who can resist giving candy away to a Court Dancer look-a-like? No one! That's why this costume is perfect for your Scorchio! Start the look with a Scorchio Forest Archer Wig, Scorchio Folk Dancer Dress, and a pair of Scorchio Masquerade Shoes. Add some flair by popping in some Court Dancers Collectors Eye Shadow and Contacts and find a Magical Tambourine! Not getting enough candy? Just sit outside a Neo-Home and shake your Magical Tambourine like crazy, they'll be annoyed soon enough and relinquish the candy—it truly is magical!

Shoyru- Knight

Who doesn't love a knight in shining armor? Any Shoyru would love to feel strong in this costume. Try on a Shoyru Warrior Armour alongside a Shoyru Knight Cape. These pair nicely with a Shoyru Gladiator Sword and some Shining Shoyru Shoes. We're not finished yet! Score a Blue Summer Shoyru Wig from the marketplace and make a trip to the NC Mall to grab a Carved Sand Castle Shield. Charge on!

Skeith- Aethia

The Battle Faerie, Aethia, is one of the most inspiring Faeries in all of Neopia, so if your Skeith absolutely adores her, why not try out this Aethia inspired look? Unfortunately, there is a lack of Aethia themed merchandise looming around Neopia, but no matter! Let's use what little we have: the Aethias Collectors Shield and a Battle Faerie Top. Aethia and Fyora have similar wings, so the Faerie Queen Wings will be perfect for this look! A Dyeworks Purple: Isca Wig is an incredible match to Aethia's hairstyle! Toss on some Khaki Trousers (they're super affordable!) alongside some Glamourous Skeith Shoes. Put on your best warrior face by applying some Dark Faerie Eye Shadow. Now go defend all of Faerieland and Neopia…. And get some candy too!

Techo- Altador Fanatic

The Altador Cup may be a few months away, but that doesn't mean your Techo can't celebrate early; dress them up as the iconic Altador Fanatic! You'll need a Techo Fanatic Megaphone, Pop-up Techo Fanatic, and Techo Fanatic Plushie to start, so you may need to make a trip to the NC Mall or make some trades on the Neoboards. Pop in some Bloodshot Eye Contacts—it gives the appearance that your Techo truly hyped about the big game. Put on the vintage 2015 Altador Cup Jersey along with some Altador Cup Rain Boots and Mad Tea Party Trousers. Add a Cheering Sound Track for best effect. And now you're---WHAT? I CAN'T HEAR YOU OVER THE CROWDS! JUST GO GET SOME CANDY!

Tonu- Hippie

Peace, love, and Tonus… they go hand in hand, right? If your Tonu rejects the cliché and spooky costumes, a Hippie costume may be ideal. When shopping for this look, keep an eye out for colorful items such as a Blue and Red Dip Dyed Wig, Chalk-Dyed Chiffon Shirt, or a Rainbow Codestone Lei. A pair of Tonu Hippie Shades are absolutely PERFECT for this costume! Add some Basic Orange Trousers and a pair of Crochet Sandals then the look will be complete!

Tuskaninny- "Mariel" from "The Little Tuskaninny"

Mariel is just a lonesome, little Tuskaninny who dreams of having legs and leaving Maraqua in order to explore places like Neopia Central, Altador, and the Haunted Woods. If your Tuskaninny can relate to this classic tale—or they just feel like a fish out of water—this Halloween costume would be perfect! Start with a Sleek Maraquan Tuskaninny Dress, it's vital for this look! A Water Faerie Wig is optional, as you could substitute any wig, but I adore the seashell clip! Add some magical accessories such as a Tuskaninny Tourist Earring, a Tuskaninny Tourist Necklace, some Water Faerie Eye Shadow, and a Starfish and Coral Staff.

Uni- Brynn

Ah, another of the Faeries' Ruin's heroes, Brynn! If your Uni adores Brynn's bravery, they can pretend to be her this Halloween! Grab Brynns Brightvale Tunic (but good luck! They're flying off the shelves these days!) Add a Demure Uni Wig to mimic Brynn's updo. Add some Uni Garden Boots and Basic Black Trousers for best affect. Need an extra touch? A pair of Hazel Contacts works great with the look!

Usul- Pop Star

Sing it loud and proud! Are there even any Halloween songs….? No matter! Your Usul can multitask this Halloween by singing and collecting candy while wearing this Pop Star costume! Any vibrant color wig is ideal, I enjoy the Perry Usul Wig. When it comes to a dress, pink is preferred; try the MME12-S3: Musical Notes Dress. Add a Rock Star Microphone and a Musical Notes Shower for extra flair. Let's get your Usul all dolled up! Add a Perry Usul Shoes and apply some makeup; Purple Lipstick is preferred and pairs nicely with some of Fyoras Eyeshadow!

Vandagyre- Kau Girl

Ye haw! Vandagyres have a very limited selection when it comes to purchasing costumes for Halloween; however, this Kau Girl look will appeal to any and all Vandagyres! Start with a Toyed Up Vandagyre Wig—we'll be centering the whole look around this hat-and-wig combo. Apply some Bright Red Lipstick to match the vibrant colors in the hat. Now for the actual outfit! Use a combination of a Crop Top Dress, a Construction Safety Vest, Vandagyre Boy Folk Dancer Shoes, and Trendy Vandagyre Trousers. Add a Baby Haystack for good measure.

Wocky- Seashell

Is your Wocky's taste in fashion…. obscure? Do they reject cliché attire and opt for something out of this world? Sure, this Seashell costume is not practical, but I can guarantee your Wocky will win any and all Halloween costumes this season! A Lovely Wocky Dress has a beautiful variety of shades and colors woven into the fabric; if you pair it with some Elaborate Shell Wings, they'll look like the most unique shell. Add a Healing Springs Collectors Wig and Gold Starfish Sandals for an extra touch. Into makeup? If so, try a combination of Premium Collectible: Mermaid Face Paint, Air Faerie Eye Shadow, and Sky Blue Lipstick. Ooo la la!

Xweetok- Xandra

Told you there would be more from the Faeries' Ruin! However, this will be our final costume from the plot. Xandra is one of Neopia's most famous Xweetoks, so if your Xweetok admires her, don't freak out; fuel the desire by completing this look. Xandra already has some merchandise released—Xandra Collectors Dress and Xandras Cunning Disguise—so go ahead and grab those. An Isca Wig is almost identical to Xandra's hairstyle, so add that as well. Time for some finishing touches! I've added some Dark Faerie Eye Shadow, a Slothy Smile, and a Bundle of Books. And you're finished, just try to not release any wraiths.

Yurble- Oz Seeker from "The Wonderful Yurble of Oz"

Weeeeee'rrrreeee off to see the Yurble, the Wonderful Yurble of Oz! *sings off pitch* Looking for Oz? Don't fret, as long as your Yurble wears this look and follows the yellow path, they'll be off to Oz in no time! The look is dependent on a pair of Sparkling Crimson Slippers; you can find them at the NC Mall, they're a best seller! Any type of plaid attire will be ideal for this look, I've used a Plaid Summer Dress. Tie your Yurble's hair in pigtails or purchase a Snarkie Pigtail Wig. Add some makeup to the look! I enjoy some Bright Red Lipstick and Fire Faerie Eye Shadow!

Zafara- Split in Two from "Dr. Techo and Mr. Hyde"

Wanna experience the best of both worlds? If your Zafara loves the horror novel, "Dr. Techo and Mr. Hyde", they may want to dress up as the doctor or monster in the story… or they could be both with this look! We're going to be using items that have multiple features or appear to be split in two. Purchase a Day and Night Wig from the Trading Post or marketplace and pin it in place. At the NC Mall, pick up some Sugar and Spice Wings and a Sugar and Spice Dress. Apply some Dual Personality Makeup for the ultimate touch and then slip into some Gypsy Zafara Shoes.

Whew! There you have it folks, a list of costumes for any and all Neopets! Happy Halloween!