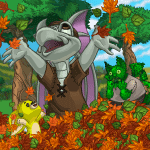 Festive Items to Put You in the Fall Spirit

by ilovemykitties12

--------

The month of Gathering is one of my favorites for multiple reasons. For starters, we Neopians get quite the array of events to celebrate! Within this month, Neopians join together to celebrate Draiks, Techos, Poogles, and Skeiths – a combination of some of the most adored and least appreciated pets, all which deserve their special days. We also get to celebrate the wonder that is chocolate with the Annual Chocolate Ball…I mean, is there really any day that can top honoring one of the finest treats in Neopia? I think not. This year, we also get the Faerie Festiva, making September even more exciting than in the past!

While these are all great reasons to celebrate within the month, my absolute favorite time of the month of Gathering begins when the sun shines a little less brightly across Neopia. That's right: the transition from the heat of summer to the cool of fall. As the month progresses, the temperatures get cooler and the winds pick up, leading us into the beauty that is fall.

Well the truth is now out: I love September because it means fall has arrived! If you are anything like me - an autumn-loving, pumpkin-admiring Neopian – this is an exciting time! In order to show my love for autumn, there are items I like to gather just because I want to be festive! These items range from fall décor to clothing items for our pets and beyond! Here's a list of the items you'll find me adoring all autumn long!

1. Fyoras Autumn Floral Bouquet

As we leave the month of Hiding, my taste in flower choices begin to change from brighter florals and lilacs such as a Delicate Bouquet of Flowers to warm, autumn-inspired bouquets like this one. You had better believe, the first moment I accepted that fall was arriving, I swapped out my old bouquet for Fyoras Autumn Floral Bouquet. If you can get your hands on one of these beauties, I recommend placing it at the dinner table within your Neohome! Perhaps you first put a maroon-colored tablecloth down and have yourself a beautiful, warm, autumn display on your kitchen table.
2. Autumn Pennant String Lights

Just as I change the flower bouquets at the dinner table in order to bring in more warmth to my color pallet, I like to change the décor around my Neohome by adding some string lights. While these are technically a Neocash item within my pets' closet, I steal them to get a little creative! With these Autumn Pennant String Lights, there are SO many options as to how they can be utilized! Some of my favorite ideas are lining them along the entrance to your Neogarden or hanging them from your mantelpiece. Personally, in the past I've strung them around the gazebo in my back yard! Even if you don't keep them lit, the pennants add the festive flare needed!
3. Fall Sprinkle Cupcake

Desserts are something to be enjoyed and consistently indulged in all year round. However, when autumn rolls around, these cupcakes are always at the top of my list! From the sweet yellow cake to the golden frosting, the taste of the Fall Sprinkle Cupcake alone puts it at the top of my and my pets' all-time favorite dessert list. On top of that, the leaf sprinkles bring the extra fun touch of celebrating the fall season, with the leaf topper pulling the whole cupcake together! A tasty, beautiful autumn cupcake – what more could you ask for? I bet these will be the highlight of autumn parties!
4. Extra Plaid Scarf

Just about any fashion-forward neopet will remind you that scarves are a big piece of fall fashion! A scarf can be the piece that pulls a customization together, bringing in a fun pattern or complementary colors! Additionally, as the autumn breeze blows through Neopia Central, leaves rustling in the wind, our neopets need scarves to keep them warm! Luckily, this Extra Plaid Scarf covers both of those factors! Its orange, brown, and blue stripes can help it pair with a variety of outfits, all while keeping your neopet snug and warm!
5. Fall Leaf Pen

As I said, my love and desire to celebrate fall runs deep – I just can't keep myself from almost obsessing about it when the season initially changes! With that being known, I admit to even changing my pets' writing utensils! The moment I laid eyes on this pen, I knew my pets had to have it because it fit so perfectly for the season. The orange exterior color provides a fun touch without being too bright, and the charms show the festive autumn spirit! On top of that, the fun yellow-orange color of the ink is so unique; my pets have so much fun writing with it!
6. Fall Leaves Book

One of the biggest reasons I love the fall season so much is that the leaves change colors in certain parts of Neopia. The process of watching leaves go from yellow to orange to red is so beautiful and brings so much warmth to our neighborhoods. My pets share this interest with me, and asked if we could take a look through the Fall Leaves Book! It contains information on different types of leaves as well as countless pictures of the different types. This is a fun, informative book – plus, it's a beautiful one to keep on coffee table in autumn!
Honorable Mentions:
In my opinion, the above are the just some of the highlights of autumn items, as they're the most fun and festive! However, there are a few other items I think deserve a shout out for their autumn-spirit. These ones aren't must haves, but they are still great additions!
Autumn Guitar

This will be useful for those who know how to play the guitar, but it's not entirely necessary as it is a decorative addition to a normal guitar. I will say, it would be a beautiful display piece, too!
Thoughtful Gnorbu Autumn Card

This card is such a fun one to send to a neofriend with a nice message, and the pumpkins bring a fun, autumn-filled touch!
Now that you have been introduced to a variety of autumn items that may have been hiding away all year long, hopefully you can come up with some fun ways to turn your focus to fall! The month of September has been a great introduction into fall, and while we have a host of Halloween items coming around rather soon here, it has been fun to be fall-festive so far! Whether you like to celebrate by changing décor, reading up on things about the season, making themed desserts, or anything else, now is your time to do so! Enjoy your fall season!