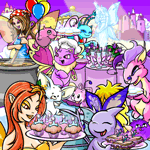 The Faerie Festival Potluck: Land Quest Edition

by pikachu315111

--------

There are many traditions the Faeries follow for the Faerie Festival, one being the potluck. While there are some years where Faerieland Castle handles all the catering, what more often happens is certain Faeries are assigned to bring food (paid for by Faerieland Castle). Last year (which was privately held Faerie Festival, sort of a test run for when they make the next one public) it was decided that the quest giving Faeries would provide the potluck, but with a twist: they each must bring a dish from another Neopian land that isn't Faerieland which they feel represents themselves or their element. After some discussion (and squabbling), each Faerie chose their land and set off to find their dish. Inside sources said each Faerie had their dish so, with a promise this article won't be published until right before the next Faerie Festival, let's find out:

The Faerie Festival Potluck: Land Quest Edition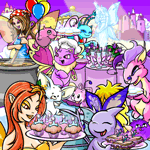 Sixteen Faeries mean sixteen different dishes,
They needed longer tables for that year.
Faerie: Air Faerie
Land: Shenkuu
Food: Misty Shenkuu Mountain Soup
Food's Description: The mist adds to the taste.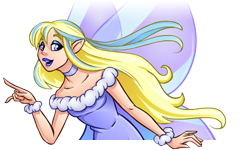 "This was a particular difficult challenge for an Air Faerie. Find a dish representing the element of air from another Neopian land? The only land floating in the sky now is Darigan Citadel and I don't see it having any food I'd describe as 'airy'. And no, Kreludor and especially Virtupets Space Station don't count as they're in space, you know, where there is no air. I went to the next best thing which is a land on a mountain, Shenkuu being the only option with Taelia having firmly claimed Terror Mountain. But I got to say I'm kind of glad I did. I knew of Shenkuu's misty valleys but didn't think much of them. However after having visited there and actually flown through the mist, I would suggest my Air Faerie sisters to give it a try. You get this sort of mystical, tingling feeling, and the valleys winds make it feel like you're afloat. It felt exhilarating. Of course I was there to find a dish for the Faerie Festival, so when I heard they've made a soup using the mist I knew I had to bring it. Tasting it gives me that same tingling feeling, though this time inside my body." *gives a pleasant sigh as her attention seemed to have wondered off*
Faerie: Dark Faerie
Land: Haunted Woods
Food: Monster Cake
Food's Description: Eat it before it eats you!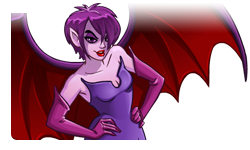 "Pfft, we Dark Faerie know why they issued this challenge. They didn't want us bringing our usual tricks to the potluck but couldn't exclude us outright, so instead they tried finding a way to prevent us messing with the party. Well the joke is on them! They let me choose the Haunted Woods, a land with food much worse than a Dark Faerie would usually cook up. Sure, some previous Dark Faerie dishes we've brought to the Faerie Festival had pranks to them like turning your skin and hair purple for a few hours or one of the key ingredients being chocolate flavored laxatives, but at least they didn't try to eat you. Same can't be said about the Monster Cake though, I'm only buying one but that's because we'd only need one, HA! *I point out the dish was supposed to represent their element* Don't you tell me what to do! Though I do feel the Monster Cake perfectly represents us Dark Faeries, inside we are sweet *she covers her heart and gives an innocent face, but than twists into a sinister expression*... but we come with a nasty bite."
Faerie: Earth Faerie
Land: Mystery Island
Food: Fruity Bread Salad
Food's Description: What a delicious looking salad. I wonder what goes into it...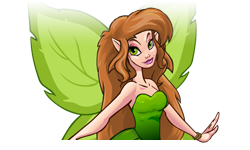 "Hey, Earth Faerie here, also known as the only Faerie who's probably going to bring some healthy fruits and vegetables to this party. Oh don't give me that look, we Earth Faerie know how to have some fun, but you can't have fun without a steady amount of energy to burn. Really there was only two lands I've could have gone: Mystery Island or Brightvale. I felt Brightvale was too close to Illusen's choice, Meridell, surprise, surprise, so Mystery Island it was. They had plenty of fruit baskets but I wanted some greens because, well, Earth Faerie. And to my surprise I not only found a salad with fruit and vegetables but also pieces of bread! Carbohydrate! I asked what fruits they used but they said each one is made up of different blends. But you can't fool an Earth Faerie; I can tell all these berries are from last year's Gadgadsbogen. But no big deal, they've been preserved meaning they still hold their nutritional value as the day they were picked."
Faerie: Fire Faerie
Land: Lost Desert
Food: Grilled Ummagine Chips
Food's Description: Grilled ummagine is quite good for you.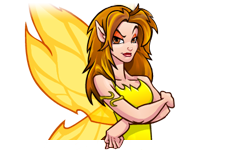 "Honestly anything that's been cooked would have worked, so I needed to give myself an extra challenge. I decided that the dish I'd bring would have been cooked in a different way than just searing it in a flame. I figured the Lost Desert would be the easiest place to look; they would have plenty of sun-baked goods. Turns out I was half-right, the term I should have used was sun-burnt. Most vendors I'd go to would try selling me something that has been burned black and crispy. Like why would I buy that to eat? But I persevered and found two food items matching what I was looking for. One was a Sakhmet dish of Grilled Ummagine Chips and the other a Qasalan dish of Desert Sun Dried Tomatoes. I was tempted to go with the tomatoes but, thinking about how they were cooked, something baked by the sun sounds more like a Light Faerie's thing. I know, should have thought it through first, yada yada. But the Grilled Ummagine Chips are made on a grill over a flame so it all worked out in the end."
Faerie: Light Faerie
Land: Altador
Food: Altadorian Sun Cheese
Food's Description: The official cheese of Altador always comes in the shape of the sun.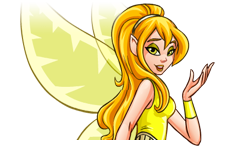 "For a dish representing light, one should go to the city of light! Altador had many dishes to consider, I was having a difficult time choosing. Go with one of Altador's LIGHT and fluffy breads? Go for a dish made with Altador's LIGHTly sweetened honey? Okay, I'll stop. But any dish could have done, especially when made in the shape of Altador's sun symbol. I thought about what my other quest sisters would bring. At least one would bring some kind of fruit and bread and a few no doubt would have something sweet. I needed to think outside the box, something that my sisters wouldn't first think to get. And that's when I came across it: Altadorian Sun Cheese. A unique dish shaped as a source of light for unique Faeries who are a source of light! It was perfect."
Faerie: Water Faerie
Land: Maraqua
Food: Seaweed Surprise
Food's Description: A tangy twist made from seaweed extracts.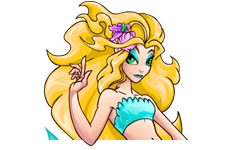 "With so many great foods it's easy forget you also need to drink. But that's why I'm here and why I went to Maraqua. At least that's what I thought. As the old maritime rime goes: water, water, everywhere, but not a drop to drink. Actually that's a misquote, but we won't get into that. Point is Maraqua may be underwater but it's lacking in drinks. I guess it makes sense, when you're constantly breathing in water than drinks kind of lose their purpose. Also it's difficult to have a liquid remain separate from another liquid. But it can be done, as Kelp has proven with its drinks. Actually, Kelp is the only place in Maraqua with drinks. Many of them are made from tropical fruit, but one that caught my eye was the Seaweed Surprise. A drink made from seaweed, you can't make a drink that's any more underwater than that. Ordering enough for the Faerie Festival got a tad bit pricey but that's what you get for adding in a bit of class. Maybe it'll also convince my non-Water sisters to actually try it."
Faerie: Aethia, the Battle Faerie
Land: Tyrannia
Food: Ransaurus Steak
Food's Description: Ransasauri are hunted by the residents of Tyrannia due to the great taste of their meat.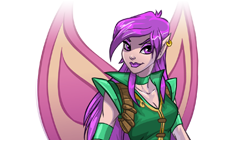 "Yes, let's go on a food quest for the Faerie Festival while Faerieland is still stuck in a crater. Sorry, I shouldn't be that pessimistic to a civilian. *Aethia recomposes herself* It was during a Faerie Festival when it happened, all us Faeries were turned to stone statues and when we woke up we found Faerieland has fallen and our magic waned. Worst yet, we couldn't do anything about it, all our magic and strength taken down by one spell done outside Faerieland's walls. *While she didn't lose her posture, her eyes showed a mixed of nervousness, frustration, and anger. But in a single blink it was gone* But you're not here for that, you want to know what I got cooking for the potluck. One word: meat. We may be weakened but our enemies aren't and I want to show them just because our magic is weakened doesn't mean we're lacking muscle. Tyrannia knows their meat, Ransaurus Steak isn't only delicious but full of protean. If you were afraid of a Faerie wielding a wand, you may want to run if you see a Faerie wielding a blade."
Faerie: Mira, the Space Faerie
Land: Kreludor
Food: Kreluberry Fruit Drink Punch
Food's Description: This drink is packed full of vitamins and tastes great.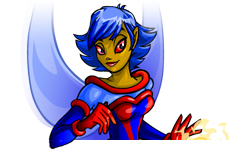 "I cheated a bit with my dish. I was either going to get something from the Virtupets Space Station or Kreludor; decided on Kreludor as I know some of my sisters are still weary of anything Virtupets. A lot of Kreludor food is made from edible rocks so I needed to make sure what I got would be something my sisters would eat. The Earth Faeries probably would try it, but if it's not normal food, from Faerieland, or made of their element you'd be surprised how picky Faeries can be with their food. So I used my telepathic powers to read the other quest Faerie's minds. Before you criticize me, and I know if you are, I have my reasons. I didn't have a problem bringing in a similar dish, I read what the others were bringing to provide an alternative if theirs didn't sound appetizing. As always, the Dark Faerie was going to stir up trouble with a Monster Cake so I was going to bring Space Floss... until I read the Water Faerie's mind. I get her sentiment, but not everyone is looking for a green drink. So I'm bringing Kreluberry Fruit Drink Punch, it comes in handy packets and as a bonus aren't made from seaweed or rocks. If that's still not a Faerie's choice of drink I think the Grey Faerie is bringing a tea or coffee, I couldn't tell, her thoughts were loud and racing."
Faerie: Naia, the Fountain Faerie
Land: Kiko Lake
Food: Sparkle Berry Kiko Candy Floss
Food's Description: Eat up quick before the bag paddles away!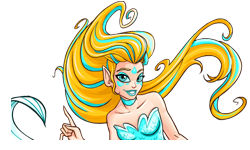 "While my other Water Faerie sisters prefer the seas and oceans, I've always been more fond of the enclosed water bodies. I've been to Kiko Lake before and its lovely, I could just gaze at their colorful coral reef all day and how it shimmers from the sunlight shining through the crystal clear water. Since Kiko Lake has a candy shop I wanted something from there to be my dish. I initially was looking for rainbow colored candy and they had. Fruity Kiko Necklace, Yummy Gummy Chews, Kiko Fudge Sundae, though that last one is more the bowl than the sundae. However, as chance would have it, a ray of sunshine came through the window from the corner of my eye I saw a rainbow flash. It came from the Kiko Candy Floss, but none which were rainbow colored. I lifted the bags to a nearby lantern one by one until I found the culprit: the Sparkle Berry Kiko Floss. Though it's a clear crystal, when it reflects light it acts like a prism separating the light into a rainbow! What a perfect representation for Kiko Lake and myself, the Faerie of colors! Granted, I would rather look at it than eat it, but taste some I did and if my sisters aren't impressed by the display of colors they'll like the sweet and surprisingly salty flavor."
Faerie: The Soup Faerie
Land: Neopia Central
Food: Whole Chili Deluxe Pizza
Food's Description: Extra spicy with fresh chilli, chilli flavour hot dogs and jalapeno peppers!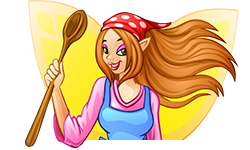 "I know what you're thinking. With my kitchen settled in Neopia Central I'm bringing either one of my soups or another food I provided a recipe for. But if I did that I would be quickly found out, all my sisters are familiar with my cooking, after all I've been the head caterer for the Faerie Festival a few times before. Instead I wanted to give them a taste of Neopia Central, I am a part of it and I feel more at home there than Faerieland. I could have gotten anything the massive Food Shop but I wanted something more specific, something you can't get anywhere else. Pizzaroo's pizza and Hubert's hot dogs have been given many awards as Neopia's most iconic food shop, but I could only pick one. Luckily Hubert told me that he and the Pizzaroo had once made a pizza that uses his hot dogs: Whole Chili Deluxe Pizza. At first I was worried about it being too spicy but the cheese and hot dog's meat made it more savory with a tingling feeling, though your face would still turn a bit red."
Faerie: Baelia, the Grey Faerie
Land: Roo Island
Food: Rainbow Coffee
Food's Description: Something to make your day with the first sip.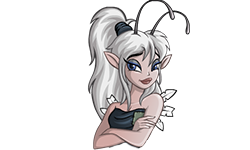 "HI! SO, LIKE, I JUST KNEW EVERYONE WAS GOING TO BE LIKE 'OH, THE GREY FAERIE, PROBABLY GOING TO BRING SOMETHING DULL' SO I WANTED TO PROVE THEM WRONG! I NEEDED A LAND THAT WAS BRIGHT AND COLORFUL AND IF YOU LOOK AT THE MAP LOGO FOR EACH LAND YOU'LL SEE ROO ISLAND'S HAS A COLOEFUL BORDER! WELL, SO DOES NEOPIA CENTRAL, EVEN MORE SO THAN ROO ISLAND, BUT SOUP FAERIE ALREADY CALLED DIBS ON IT. BUT I LIKED ROO ISLAND BETTER BECAUSE IT WAS THE LAND OF GAMES AND I WAS TRYING TO PROVE I COULD BE FUN AND EXCITING! WHOO! BUT WOULD YOU BELIEVE THEY DON'T HAVE A FOOD SHOP THERE!? LIKE, HOW ARE THE GAMING NEOPIANS GOING TO KEEP THEMSELVES FUELED!? BUT TURNS OUT THEY HAVE A COFFEE SHOP, BUT IT ALSO SELLS TEA AND BISCUITS AND OTHER FOOD STUFF! LOOKING FOR SOMETHING COLORFUL I WAS GONNA BRING A RAINBOW BUBBLE TEA WHICH I LIKED BUT THEN I SAW THE RAINBOW COFFEE AND TRIED IT! NOW I CAN'T GET ENOUGH OF THE STUFF IT'S MY NEW FAVORITE DRINK! YEAH! WHENEVER I DRINK IT I FEEL LIKE A NORMAL FAERIE AGAIN BUT I NEED TO KEEP DRINKING IT CAUSE OTHERWISE I..." *Suddenly Baelia puts her head down on the table and falls asleep*
Faerie: Delina, the Crafting Faerie
Land: Moltara
Food: Frost Center Molten Enchilada
Food's Description: The outside is mouth-burning hot, and the inside is tooth-shattering cold!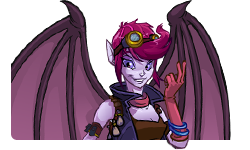 "Yeah, so, I kind of never did this before. Oh, I attended plenty of Faerie Festivals, way before I became the Crafting Faerie, but I never brought any food except that one time we Dark Faeries all got together and, haha, oh you had to be there. But that wasn't my idea, this time I'm on my own. Throwing a wrench in the mix, or maybe jamming it in further, is that I also needed to do this land challenge and Soup Faerie already claimed Neopia Central and no one wanted to back me up that the NC Mall could be considered its own land. So now I had to pick a land that I could relate to. Thankfully Moltara was still available. A land of gear and steam and elbow grease, sounds like my kind of place! Course, I then learned that's what their food was made of too, plus whatever critter they could catch and plant they could grow. I wanted something that looked like it was combined together, like you took these two different things and made them into one. Well, after not being able to find something like that I just chose the Frost Center Molten Enchilada. Close enough to what I wanted, plus should be funny to see my sisters try eating it."
Faerie: Illusen
Land: Meridell
Food: Marrow Pie
Food's Description: Aye, a good heaping portion of marrow will keep the doctor at bay!


"Didn't have to go far from home for this! I did pause to think what I could get to represent how Meridell had affected me and my beliefs. It didn't feel right for me to choose a dish that was made in my honor, not to mention I've brought some of them to previous years Faerie Festival. But when I looked out into Meri Acres Farm that I remembered all the times I used my Earth Faerie magic to make the crops grow. Tomatoes, potatoes, cabbage, corn, berries, Juppies, Marrows... and that's when it hit to me, figuratively of course though Jhudora would probably have liked one to actually hit me: Marrows! Meridell's most famous crop. A staple vegetable in every Meridellian's diet. There's no home you won't find a Marrow product of some kind. My own Glade has Marrow oils, extracts, and seeds as it's such a versatile vegetable. And every harvest festival I marvel at all the foods they make out of it. Marrow Loaf, Marrow and Rice Sundae, Berry and Marrow Casserole, and my personal favorite: Marrow Pie. Believe me, it's MARROW-velous! *Gives a big, cheesy smile*"
Faerie: Jhudora
Land: Darigan Citadel
Food: Darigan Salt and Pepper Shakers
Food's Description: The perfect evil addition to any salt and pepper shaker collection.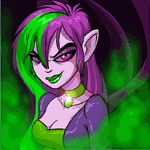 "How frustrating, I swear Fyora did this just so I couldn't bring any of my mushrooms; not all of them are poisonous. Oh, but this did give me a chance to slight Illusen, or could have. With Illusen choosing Meridell, because she's boring like that, I chose Darigan Citadel thinking I could maybe find something that would spoil Illusen's dish. But annoyingly, Darigan food is hard to come by. There was some like Darigan Loaf, Darigan Hot Dog, and Thoughtful Darigan Chocolates, but nothing that went with Marrow Pie. Hm? How do I know what Illusen is bringing? Because she's as predictable as she is boring. Also I have some Bartamus spying on her, but mainly the former. Well then, if I can't spoil Illusen's dish I can at least try spoiling as many of my other sister's. While I didn't find any food, I found these loathely pair of Darigan Salt and Pepper Shakers. I was warned that the shakers had a nasty habit of easily getting mixed up, possibly ruining what you were trying to spice up. Sounds good to me! Petty? No, had Illusen just chose something I could have spoiled than none of my other sister would have to worry about it happening to their dish. Illusen can be so selfish sometimes."
Faerie: Taelia, the Snow Faerie
Land: Terror Mountain
Food: Plain Shaved Ice
Food's Description: Mmm... tastes like... frozen water.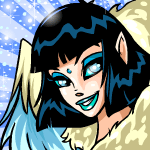 "Mira chose Kreludor, Soup Faerie chose Neopia Central, Illusen chose Meridell, I don't see any reason I should break the mold and not choose Terror Mountain. And I had an ulterior reason; I'm not the only Faerie on Terror Mountain. Kari, better known as the Negg Faerie, runs the Neggery below in the Ice Cave. Oh, and let's not forget her young Faerie assistant, Zaira. Eitherway, I was hoping to get a Negg to represent all of us. However that plan fell through as we couldn't find such a Negg. Back on my own, I went to the Super Happy Fun Ice... the Super Happy Ice Fun Snowy... the snow foods shop to pick up an ice cream or Chia pop. But what flavor? It had to be representative of me and what flavor I'm in the mood for depends on the day. I could have picked something made of snow or ice, but I wanted something that was more adaptive. And that's when I came across the Plain Shaved Ice. While it may be shaved ice without the flavoring, it's easy enough to add your own flavor. I being a Faerie of snow and ice who needs to be adaptive in a harsh environment and tastes change on a whim, I felt it best represents me."
Faerie: Queen Fyora, the Faerie Queen
Land: Brightvale
Food: Passionberry Jam
Food's Description: This jam is quite delicious but it stains easily. Take care when you eat it!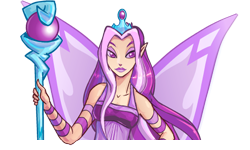 "Well of course I'm participating, I am a quest Faerie after all. But to answer the first question on your mind, the male Faerie thing was a joke. Now to answer the second question on your mind, why did I have the quest Faeries find a dish from different worlds that represent them? Aside to have a little fun and food variety, it never hurts to have a moment of self reflection. It's certainly a question that makes you think: if you were a food what would you be. Instead of just looking at food as something to eat, you start seeing food in how they relate to you and what it says about you. You'll may even realize something about yourself, be it a hidden layer or a behavior you wish to correct. And forcing them to look outside of Faerieland really has to make them think where to go. For myself, I went to Brightvale as it's the world of wisdom. For what I got, I chose Passionberry Jam as it's used to enhance the flavor of other foods such as how I like to help enhance the capabilities of my sisters. As for it staining easily, I tend to rub off on others." *gives a soft smile and giggle*
Are you full yet? That's all sixteen Faeries from the basic elemental Faeries to Queen Fyora herself. With sixteen very different dishes sounds like the Faeries will have their plates and stomachs filled for this Faerie Festival. But not just that, the quest Faerie themselves had an interesting journey of introspection... well, at least some of them. Let us end this on the same question that began all this: if you were a food item, what would you be?