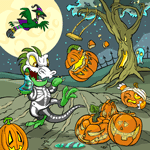 11 Overlooked Spook-Worthy Wearables

by 09004888

--------

Who said September was too early to start planning for the fright-fest we all adore? Any NC-Addict worth their salt knows that if you want that perfect customization to happen by the time Halloween rolls around, you need that early start!

But before you agonize over the kerfuffle of trading, it may be worth giving the NC Mall a second glance for these commonly-overlooked-but-still-active wearables that can certainly add some pizzazz to any dark look.

11. Brilliant Candle Display (NC Mall: Trinkets Section)

While the Eerie Candle Foreground has always been a popular Halloween staple since its release in 2013 from unlocking a Green Luminous Cask during the War for the Obelisk, the item has grown to be somewhat difficult to attain. Rather than shelling out a hefty custom for it, consider instead the modest Brilliant Candle Display: although it may not encircle your pet in the same manner as the former, the candles boast the same eerie irregularity and flickering flames that would suit a chilling haunted mansion or domicile of a sorceress. The translucent purple and blue candle holders even allow for it to work with muted backgrounds like Xandras Library Background and warmer toned backgrounds like the Whimsical Pumpkin Hill Background.

10. Dark Shimmery Lantern String Lights (NC Mall: Trinkets Section)

Another often overlooked gem is the Dark Shimmery Lantern String Lights. If the likes of the ever popular Luminous Pumpkin String Lights and other similar garlands have always been far too busy for you, then these lights might just be for you. Subtle and classy, with an eerily slow pulsing glow, these delicate dark glowing baubles suit the likes of dark backdrops, such as Step Into the Haunted House Background or even the Thieves Guild Background. The beauty about this item is you'll often encounter it in 2:1 sales with many traders, and it's worth keeping for its versatility even beyond Halloween, as it pairs beautifully even with the Starry Glowstone Path Background.

9. Sparkling Multi-Strand Gothic Necklace (Speciality: Elite Boutique)

Your account will need to be at least 48 months old before you'll find access to the Elite Boutique (otherwise, you simply won't encounter the link in the NC Mall's navigation bar). However, for those who do have access this charming Gothic accessory boasts a tiny skull pendant that adds a little voodoo charm to any look. While I may be biased in thinking the item looks particularly darling on Aishas, I also feel that it works amazingly well with the Decorated Witch Hat and Wig which features its own dangling skull charm. Unfortunately, the necklace is No Trade, meaning you will have to purchase it for the account you would like it on.

8. Scenic Purple Dusk Background (Key Quest: Purple Scorchio Key Quest Token)

Key Quest may still be momentarily unavailable to users, but the NC Mall still carries a menagerie of Key Quest Tokens, each featuring its own fixed NC prize. In this case, the Scenic Purple Dusk Background remains one of the most popular and sought after items of the available tokens in the mall, and for good reason. The dreamy blend of pinks and dark purple lend to a surreal evening landscape, with a quiet full moon lingering overhead with lively sprigs of dandelion tufts floating around. It makes an ideal setting for any fantasy look and pairs well with Dyeworks Purple: Feet in the Clouds Foreground.

7. Dark Prismatic Flowers Foreground (Dark Prism Mystery Capsule)

The Dark Prism Mystery Capsule has been active since July 2014, and the capsule contains several overlooked treasures. One item in particular I'm personally fond of is the Dark Prismatic Flowers Foreground. While historically, multicoloured foregrounds have never gone down well with most customizers (I'm looking at you MME21-S5: Crystal Candles Foreground), the items from this capsule offer a coherent look with background and higher foreground options to pair. Even so, the blend of red, blue, green and magenta coupled with unearthly glowing elements help make this unusual item well suited to use with dark backgrounds like the Altador Forest Background, alongside with the Dark Prism Side Tree. Additionally, the bold colours of the foreground help to complement boldly coloured outfits, particularly rich reds and royal blues.

6. Black and White Makeup (Wonderclaw: Skeletal Machine, Bronze Tier)

The Gothic Inspired Makeup is often highly sought after, particularly for use on Transparent Aishas along with Big Doll Eyes Contacts. While this item may not serve as perfect alternatives to it, it has definitely earned its place in being an overlooked accessory. The Black and White Makeup boasts a very elegant smoky eyed look with glittery accents, and pairs exceedingly well with Dyeworks Black: Rich Golden Eye Makeup (on White Aishas at least) or Black Eye Shadow (on every other species) for the perfect Goth miss.

5. Dark Mystical Gown (Dark Sorcerer Mystery Capsule)

The Dark Sorcerer Mystery Capsule has been active since February 2015, and is definitely chalk full of Halloween-worthy items. The Dark Mystical Gown is a bonus item and works as a pretty and much cheaper alternative to the ever sought after Dark Lace Dress. The Dark Mystical Gown features a tightly ruched center-knot bodice and flowing skirt with a glittering hemline, shown off wonderfully on Rukis and Blumaroos , and delicate sleeves that are shown off most elegantly on Aishas. The dress pairs beautifully with the bonus Spiked Crown and Wig should you be fortunate enough to win it.

4. Jars of Magic Foreground (Dark Sorcerer Mystery Capsule)

Another gem from the Dark Sorcerer Mystery Capsule, the Jars of Magic Foreground may not be as overlooked as some of the other items to make this list, although it certainly is a gem of an item to work with any spectral customs for the Jack-o'-lantern season. The foreground works well with the Spectral Pumpkin Path Background, Dark Ritual Background, Sunset Cove Background and the Stone Statue Garden Background just to name a few that fit with Halloween.

3. Dramatic Forest Gates Background (Patapult: Silver Tier)

The Patapult Game in the NC Mall boasts a lot of little forgotten treasures, and unlike Mystery Capsules, Wonderclaw and Shenanigifts, your chance of setting a goal and attaining it does not have impossible odds and is quite often worth the gamble. Sitting pretty in the Silver Tier, is the Dramatic Forest Gates Background. This background features a dark and gloomy pathway to a battered iron gate on a stormy evening, lightning flashing as a cold drizzle falls in silence. It's moody, and the setting is reminiscent of a cemetery and would make an ideal setting for a ghostly bride or a wandering zombie.

2. Tree of Hearts Foreground (Patapult: Bronze Tier)

Another gem from the game is the Tree of Hearts Foreground – while hearts may typically be associated with Valentine's day, there's no mistaking that the air of this lower foreground accessory is ominous, with its subtle red burning edges with a modest golden twinkle. The item frames the subject and may just be that finishing touch you were looking for, especially for backgrounds that lack a lot of foreground detail such as the Nightmare Cloud Castle Background. I would recommend pairing it with a dark higher foreground item such as the Gnarled Tree of Barbats to cut down some of the heat from the burning red glow.

1. Hands of Fiery Energy (Patapult: Bronze Tier)

Last but certainly not least are the Hands of Fiery Energy. An ideal alternative to Darkest Faerie Collectors Dark Magic Hands, Igneots Flaming Collectors Gloves and Ghostly Blue Gloves, this glove-zone item sets hands ablaze, radiating gentle glowing sparks and charming up your sorceress or wizard with an air of power that should certainly complete their Halloween ensembles.

So there you have it – a small compendium of items that you may want to pick up for yourself ahead of the October rush, or at least to purchase before it's out with the old and in with the new in the NC Mall. My hope is that there's at least one item you've seen that will soon find its way into your looks, both sinister and somber alike! Good luck, and happy customizing!