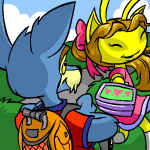 Back to School Must Haves

by bubblegum_girl230

--------

It's that time of the year again, time to prepare yourselves to head back to school! It is the time of the year to make fresh starts as you are beginning a new semester of classes. Summer is ending and it was probably a fun and exciting one going to the beaches of mystery island and soaking up the sun. But alas, school is starting and you must get prepared so you can have a great year! I am going to list very important must have items for you to have a successful first day back to school.

Pink Kadoatie Background
This stylish backpack will be the most popular of the year with all the girls returning to school! Restocking in the Neopian School Supplies Shop, it is one the more popular items this school season. Lines have been seen forming outside of the shop in hopes to find this cute and pink backpack.

Jeran Backpack
I know what you were thinking. What about the boys heading back to school, are there any cool backpacks for them? Fear not! The Jeran Backpack is another top seller this season for all returning back to school. The booksack is lightweight and has enough room to fit all your supplies and books! Make sure to add this stylish bag to your back to school shopping list!

Rainbow Glitter Pens
These pens are a must have for anyone returning back to school. Glitter pens are not only fun to look at, they make taking notes look extremely fun. You can switch up between pens for different classes! These pens will get you excited for note taking this year. It has been proven that using different color pens when taking notes has helped you study better and retain more info!

Yellow Star Notebook
You are going to need a fabulous new notebook to use your super fun and new Rainbow Glitter Pens in. This fun notebook can make anyone smile when pulling it out of their backpack. The bright yellow star on top of the aqua blue is very cheerful and pleasant to look at. This sparkly star notebook will have you excited to take notes in it. There are also some fun doodle pages at the end of the notebook to help when boredom strikes on breaks!

Altador Cup Lunchbox
What better way to continue the celebration of the Altador Cup then by packing your lunch in your super cool lunchbox. With the altador cup ending a little over a month ago at the end of June, what better way to keep celebrating the winners and participants of the cup. Everyone will be jealous of your lunchbox and wish they would have bought one for themselves.

Sloth School Supplies
It wouldn't be a successful school year without stocking up on the rest of the supplies to make it a smooth year for you. Sloth claims that these supplies are for the strong but anyone can stock and use the super cool items. The glue and scissors will make you extremely prepared for any projects you may need to turn in this semester. Combined with the rainbow glitter pens and I know a work of art can be made!

Fyora Summer School Bulletin Board
This bulletin board is the talk of the town and the #1 way to get yourself organized this school year! You can hang it in your room and put all of the due dates of upcoming homework, tests and projects you may have coming up. You can even hang fun pictures to keep you motivated. This item is one of the funner purchases you can make to keep yourself organized and have a successful school year.
School Books with Strap
You wouldn't make it through the first day of classes without your School Books that come with a strap! The school is handing out a new book belt with the purchase of all of your books. This neat belt will keep all of your books together so you can stay organized all year. It keeps them secure so you always have them together. You don't want to be known as the student who lost their books the first week of classes!
Gothic School Girl Dress
Go back to school in style this year with this stylish pink and black school dress. You will be the talk of the hallways with this new outfit. The plaid design is one that many have been choosing to go with these days. Don't be the last to the store for this one!

Juppie Smiley Snack
Going back to school may not always be the funnest times, especially one you get through the first month. Juppie Smiley Snacks are the perfect item to pack in your new Altador Cup Lunchbox. On recess pull out this snack to help perk you up and give you the energy you need to make it through the rest of the day. This strawberry cream covered snack has the perfect amount of flavor to give anyone some pep in their step! All of your friends are going to be jealous and asking for your snack. Sooner than you know it everyone will start to pack this yummy snacks in their lunch boxes!
Note that as all of these items are a must need for any successful back to school year, there are also many other things you can buy so you can guarantee yourself a fun year. Remember to bring treats for your teachers as a welcome back gift and get ready to see all of your neofriends you may have not gotten to see over the summer! The school year is a fun time to learn and have fun while doing it.
Stocking up on all of these listed items can help guarantee you have an extremely fun and successful year. Your glitter pens and sparkly notebook will surely have your friends jealous and wishing they had as cool of items as you!
Remember to have fun and enjoy the year!