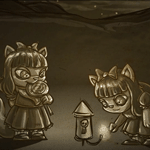 Talking War with Lanie and Lillie

by indebtedness

--------

Battling is one of the more popular activities on Neopets and many users spend an obscene amount of money on codestones, rare weapons, and Neggs that help train their pets. The Battledome is a place that is mostly friendly, unless we are waging a war against a grand foe like the Rock Beast and Dr. Sloth's armies. There are rewards to be won by completing battles every day and it has become a very viable daily activity, especially if you are a premium member and can win nerkmids in the Space Dome.

Currently there is an ongoing activity in the Battledome known as "skirmishes". These are small, almost practice, battles that involve those that were in the Battleground Of The Obelisk war. This is a great way to practice for upcoming plots, and a great way for Neopians to battle against each other to see who has the best team in the Battledome. Every couple weeks a new round begins where you can select a faction to battle with and compete against Neopians battling with the other teams. There are plenty of rewards at the end, the most prized being a "boon" that will give bonuses to other areas of the site. To talk battle and get you a more in-depth idea of the Battledome, I chatted with Lanie and Lillie, the leaders of The Awakened and the top ranking members of that faction. They are...creepy at best, horrifying at the worst. They resemble two young children but they are identical twins and during the interview they spoke the same words at the same time. I initially thought I'd get a different perspective from both, but they can somehow read each other's minds and speak in unison...lucky for you you only have to read what they said.

Reporter:

Thanks for taking time out of your busy battle schedule to talk with our newest Battledome recruits.

Lanie And Lillie:

Of course, we are honored to help influence the next wave of Awakened fighters.

Reporter:

Well, they may not team up with the Awakened. They haven't decided yet.

- At this point Lanie and Lillie's eyes started to glow a cold blue color. -

Reporter:

You know what, actually they are all hoping to become strong enough to join the Awakened after all...I must have misread my notes.

- The twins eyes return to their semi-normal state. -

Lanie And Lillie:

How can we help you?

Reporter:

Maybe you can talk a bit how people should get started in the Battledome?

Lanie And Lillie:

Training. Training is key to good performance. There are many ways to train your pets, from the training academies to the lab ray. We suggest using a few different avenues as that will train your pet the fastest. Pick which pet you'd like to use in the battledome and start zapping him with the lab ray, this will give an option of increased stats at rapid rates. At the same time you'll want to utilize the training academies because that will keep your stats in unison. Solely training with the lab ray will cause your pets stats to become very uneven.

Reporter:

Are there other ways to build stats?

Lanie And Lillie:

Yes.

Reporter:

...okay...what are they...?

Lanie And Lillie:

Oh, of course. Many events around the site, such as the different luck based "wheels" can give stat increases. You can also visit Count Von Roo in the middle of the night to gamble with levels. Another great option is to complete Faerie quests. They'll reward you with different stat increases depending on the element of the Faerie. You can guarantee quests by using special cookies found in the NC Mall, these are an excellent way to supplement your training.

Reporter:

After you are all trained and strong, what's next?

Lanie And Lillie:

Building a set of weapons is very important. You'll want a healing item, two main damage dealing weapons, a "bomb" which is a one-use item that inflicts a large amount of damage, and if your budget allows you will want to obtain a "freezing" item. A freezing item will stop your opponent from being able to attack on their next turn, we like to use a Moehog Skull for this.

Reporter:

How much will this all cost?

Lanie And Lillie:

It really depends what you want. You can get started for very cheap, we're sure there are articles in the Neopian Times that will give you a list of cheap weapons to begin with. But the price can go from the thousands up into the millions. What we mentioned before, the Moehog Skull, can go for hundreds of millions of neopoints. You don't have to start with items like this though, you can work your way up and buy as you can.

Reporter:

Okay, I have my weapons and my pet is trained. Now what?

Lanie And Lillie:

Faerie abilities are very important. They act similar to another weapon slot, allowing you to do more damage or more effects against your opponent. The best is Solar Flare, which you get at level 50, which will blind an enemy and render them useless for a turn. Blessing your pet with bottled faeries will earn you these coveted powers.

Reporter:

Wow, there is a lot that goes into a good fighter. No wonder you two are the masters of the Battledome.

Lanie And Lillie:

Thank you. Finally you want to practice as much as possible. Participate in the Battleground Of The Obelisk skirmishes, with the Awakened, and win. Challenge tougher and tougher opponents as you feel more confident and it will give you a good idea what you can handle in the future. The strongest opponents seem intimidating at first, but once you get the hang of your weapon set and abilities, as well as what kind of things the enemy uses, you'll be able to breeze through them with ease. Never give up, keep fighting, and keep winning. No matter how small and adorable your enemy is, don't get lazy and think they are weak, that is how we win a lot of our battles...people underestimate us.

Reporter:

With the reputation you two have for squashing Neopets into dust, I'm surprised people are still underestimating you. Thank you for coming and giving us a nice little run down of the Battledome. I'll see you out in the field!!