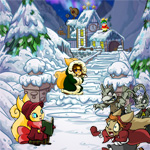 Terror Mountain: The Perfect Summer Getaway

by karate

--------

As the Month of Relaxing comes to a close and the Month of Swimming begins, many Neopians are taking their annual summer vacations. Some of the most popular vacation destinations around Neopia are the sandy beaches of Mystery Island and the relaxing shores of Kiko Lake.

But there's an often-overlooked destination for vacations: Terror Mountain. It may not be the first place to come to mind when Neopians think about summer getaways, but it should be. Terror Mountain is a wonderfully underrated destination. If you're still stuck at home and wanting to get away, here's why you should plan your next summer trip to Terror Mountain:

Beat the Crowds

The beach can be so crowded during the summer that you may not be able to find a place to lay your towel. The pyramids of the Lost Desert are flocked by so many tourists wielding cameras that you won't even be able to get a proper view of them. And don't even think about trying to get a reservation at Kelp in Maraqua during the summer months...

In Terror Mountain, you won't have to worry about any of those problems. Happy Valley, normally crowded during the holiday season in the Month of Celebrating, has a much more mellow vibe during the summer months. You can stroll around the charming town and admire the scenery in peace.

Good Weather

If you aren't a fan of sweltering hot summer days, then Terror Mountain is just the place for you. While it can still be cold on the mountain during the summer months, the sun shines brightly almost every day and there are nowhere near as many blizzards as there are during the winter season.

Some days, it even warms up enough that the locals venture outside in shorts… Most days, however, you will be fine wearing long pants and a light jacket.

Lower Prices

Since summer is the off-season for Terror Mountain, prices are much lower than they are during the winter holidays, and you will get better deals here than you will at the more popular summer destinations.

Tired of feeling ripped off when buying cheap souvenirs at places like Tiki Tack? In Terror Mountain, you can purchase unique souvenirs that won't break the bank at the Igloo Garage Sale. Similarly, you can find nice accommodations at a reasonable price instead of paying a fortune to stay at a resort.

Ready to pack your bags and head to Terror Mountain yet? Before you go, here are some important things to know about planning your trip:

Where to Stay

The best hotel in Terror Mountain is the Mountain Lodge. At just 30 NP per night, this rustic yet homey mountain hotel is a great value for travelers.

The rooms are very comfortable and each one includes its own fireplace. Some of the hotel amenities include a cozy library, a restaurant offering 24/7 room service, an outdoor hot tub, and a sauna. The hotel has a great location too. You are only a few minutes away from all the activities at the top of the mountain and the Ice Caves, and you're just a quick ski-lift ride away from Happy Valley.

Another popular choice for visitors to Terror Mountain is renting a cabin. Renting a cabin is perfect for those who want to have a quieter vacation or get off the beaten path. Most cabins are self-catering, so remember to bring your own food and supplies if you plan to stay at one!

Where to Eat

Most restaurants in Terror Mountain serve hearty lunches and dinners consisting of hot soups, meat pies, and fresh-baked bread. A delicious meal like this is perfect after a long day of hitting the slopes or ice-skating in Happy Valley, because no doubt you will be tired out after a long day of fun!

However, if you would like to try a more unique local cuisine, you can stop at the Super Happy Icy Fun Snow Shop on top of the mountain. Here, you can sample delicacies such as Snowghetti and Meatballs or a Snow Submarine Sandwich.

For snacks, the best place to go is the Slushie Shop in Happy Valley. Popular with locals and tourists alike, this may be one of the only places in Terror Mountain that has a line out the door during the summer months. It's well worth the wait—these are the best-tasting slushies in Neopia!

What to Do

Terror Mountain truly has something for everyone.

Adventure lovers can still ski and snowboard during the summer months on the snowy peaks of the mountain. You can rent equipment during your stay, or bring your own. Summer is a great time to visit for beginners wanting to try their hand at skiing or snowboarding, because there are less people on the slopes. You can also schedule lessons with local instructors if you really want to perfect your skills!

There are plenty of activities for children as well, such as ice-skating and snowball fights in Happy Valley. One tip for traveling with children is to gather up any old or broken toys before your trip and bring them with you to Terror Mountain. Why? Because you can take them to Donny's Toy Repair Shop and the handyman will fix them for you at a fraction of the cost of buying new ones!

For those who love to shop 'til they drop, there are plenty of places to go in Terror Mountain. The Igloo Garage Sale can reveal some hidden treasures for dedicated bargain-hunters, while Tarla's Mystery Shop offers a unique shopping experience with an element of surprise. Don't forget to pick up a stylish new outfit from Merry Outfits before you leave!

And if you just want to relax, Terror Mountain is perfect for that too. Take a stroll around town and admire the year-round festive decorations. Or spend some time watching the ice-skaters on the rink in Happy Valley. And at the end of the day, you can curl up by the fire with a good book.

Whatever you want out of your vacation, you can find it in Terror Mountain!

Travel Advisories

Be careful if you choose to visit the Ice Caves. Not only can the caves be easy to get lost in, they are also home to the Snowager! It is not recommended to visit the sleeping beast unless you are a particularly daring soul, as he can get awfully angry if he is awakened.

Make sure to pack a pair of sturdy snow boots for your trip if you plan to do much trekking around on top of the mountain. Pack extra socks too.

In conclusion, Terror Mountain is a fantastic destination for your summer vacation! It has so much more to offer than just the Advent Calendar and festivities during the Month of Celebrating. It is the perfect place to go if you want to beat the heat and have the most memorable vacation of a lifetime!