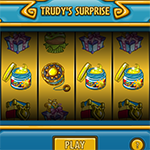 Talking Surprises with Trudy

by indebtedness

--------

Ixi day has arrived in Neopia and many of those hooved creatures have trotted their way into the training schools for free training, people are hunting down paint brushes for their new colors, and lots of wearables have been released and new customizations are popping up everywhere. And one Ixi in particular has skyrocketed herself to fame, a charitable lass who spreads her wealth all around to players regardless of ability, through a game of luck. I'm talking about Trudy and her surprise.

Trudy's Surprise debuted a couple years ago, in the summer, and featured a slot like game. Every player gets one free spin per day, and is reminded of it through a notification as each Neopian day begins. You get various prizes for matching up the icons, most notably Neopoints but there is an option for another item. We'll let Trudy herself tell you all the details.

Reporter:

Happy Ixi Day Trudy, I'm sure you are very busy with both the festivities and your slot machine. How are you doing?

Trudy:

I'm doing amazing! *she smiles wide* I love my job, I get to help out Neopians everywhere while they are on the quest for their dream items. Some people find my notifications annoying, but it's important to remind them that free money waits for them. *laughs*

Reporter:

Let's talk about the Trudy's Surprise event a little bit. You mention that it is free money?

Trudy:

Yes. I believe that there are so many ways to lose Neopoints out there, from Brucey B Slots to the Wheel Of Extravagance, that I wanted to make a way people couldn't do anything but win. Not to sound narcissistic, but I'm very wealthy. I've made some very good investments in the NeoDAQ and different stamps where now I have a LOT of Neopoints. More than any one person should have. Because I have so much money I wanted to spread the wealth around, I've already been able to achieve all my financial dreams and I wanted to help those around me. I have crafted this "slot machine", if you will, where you can spin once every day for free and I reward Neopoints for matching symbols. Even if you don't match, I will still hand out a prize. If you are doing especially poorly with matching, I will hand out a "bad luck bonus", a large sum of NP that is even higher than if you matched all four symbols. I want everyone to have a chance to make some money.

Reporter:

That is so generous of you, people are very grateful for what you have done for the economy. A lot of the older games, non-flash games don't reward many Neopoints and so it has become hard for players that are bad at restocking to obtain a lot of money. This is a great boost on top of playing flash games every day.

Trudy:

That is the goal! To inject new life into the economy and balance things out a bit, we don't want a massive wealth divide between players where no one can exist in the middle.

Reporter:

It seems that every day a different amount of Neopoints are given out, can you explain the prize system to us a little?

Trudy:

Yes, yes. The basic idea is that the more symbols you match, the more money you will earn. You will earn Neopoints regardless, not to worry. I also give out something like a loyalty bonus, as a way to entice people into visiting and spinning every day. For every consecutive day you visit me, I will boost the winnings up. For example: one your first day, I will pay anywhere from 1,500 to 4,000 NP. But if you visit me 16 days in a row, I'll pay out between 18,500 and 21,000 NP depending on your luck. These rewards keep increasing until you visit me 25 days in a row, at that point you hit a VERY BIG jackpot and will take home a lot of NP. I won't reveal that exact number here, you'll have to visit me 25 days in a row for that. After day 25 I reset your count and it starts the reward tiers over again.

Reporter:

Wow, if my math is right then people can earn over 400,000 Neopoints every month if they visit daily. That really is a generous contribution to the people of Neopia. I remember years ago people would struggle for years to achieve their first million, now it can be done in only three months without doing anything but your Trudy's Surprise.

Trudy:

Yes, it helps a lot. It's important to only use my event as an additional source of income though. While you can win a lot, you can make more from other things around the site like restocking and flash games. Being an active participant in many aspects of the site is the best way to become wealthy like I have. I didn't have such an easy rode with free spins every day, I had to work very hard, and still today people have to work very hard to become rich. I'm just here to make it a little easier and to level the playing field a little bit.

Reporter:

Can you give us any quick tips for how to make a lot of money?

Trudy:

Investments are always a good idea. Once you've earned a bit from Trudy's Surprise and flash games, take a look at what rare items are being released and if they are limited edition. As an example, the Altador Cup stamps are released yearly and only that one time. That means in a few years those stamps will become very valuable as new ones aren't coming into circulation. That is one of the easy investments, you know the price will go up as people add more and more to their stamp albums. Collectable cards seem to be a good investment as well, as the future of cards is unclear. Possibly an avatar will come? Some people like to invest in harder to sell items, like TCG cards and plushies, these can be very worthwhile because new collections start up every day and someone will need them eventually. Invest a little of your money in smart items, and in the stock market, to grow it over time. I prefer to have a lot of items that are going to raise in price than a lot of cash that is barely gaining interest in the bank.

Reporter:

Thank you so much for these financial tips. They helped me out and I am sure they will help out our readers. Thank you for coming by, and I'll see you tomorrow when I come to spin the wheel!!