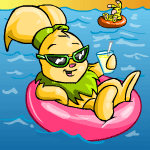 Spring's Top 20 Beauty Buys

by itsmeganduhx

--------

Spring's Top 20 Beauty Buys

April showers bring May flowers, and what do May flowers bring? New make-up, and loads of it. With a new season approaching, it's time to throw out those heavy creams and vampy make-up. Clean out your cosmetic case (or just get a new one) and toss away any products that have gone long past their date. Vienna Luxx here, bringing you the hottest new products to hit the shelves of the Neopian Bazaar Grooming Parlour. The future of beauty is now, and you're looking fabulous.

1. Breeze

Whether you blow-dry or air-dry, Breeze works under any circumstance. It weighs down flyway's and baby hairs while adding shine. More flexible than a wax, it's water-soluble so it will wash out with just water.

2. Cucumber Eye Patch

Skin around the eyes is very vulnerable to the environment and stressors. Breathe new life into the think skin around your eyes with the power of oxygen and boost circulation with caffeine. Meanwhile, cucumber works to instantly energize and revitalize tired eyes.

3. Cucumber Melon Shampoo and Conditioner

After a long winter, your hair still needs some major TLC. This shampoo and conditioner duo exposes shine, softness, and strength thanks to cucumber extract and watermelon seed oil. These classics continuously top every beauty list because they afford intense moisture while detangling hair to give it more bounce.

4. Eggnog Conditioner

The key ingredient of this conditioner provides your hair with all natural proteins to stabilize damaged hair. Revive lifeless strands and give them new life with protein-packed egg yolks. Give the sun some competition with your new gorgeous, glossy locks.

5. Emerald Face Cream

Make your skin shine bright like an emerald with this new face cream. Crushed emeralds take on dull skin like nobody's business. It acts like a body guard for your face, working slowly yet noticeably.

6. Fire Faerie Hairspray

Bring on the fierceness of a fire faerie with this hairspray. There are a billion types of hair spray on the market, but this is the only one that's actually endorsed by a faerie. The formula isn't sticky, so you can mist a hairstyle and still run a brush through, yet it's strong enough to hold everything in firm place.

7. Fyora's Eyeshadow

This purple palette has a corresponding balance so you won't fall for just one shade and ignore the others. The color combination includes sheer, satin, sparkle, and shimmer, giving you different textures to create a million different looks. The pearlized powder brushes seamlessly onto skin and stays right where you want it all day long.

8. Go Glow

Make it until you fake it with Go Glow, rich in vitamin C, vitamin D, and Cheops oil to boost firmness and skin elasticity. Made with the actual flecks of a Glowing paintbrush, Go Glow will sculpt your cheeks to new heights. Mix two drops into your moisturizer to create a subtle, yet natural glow.

9. Golden Negg Perfume

Your beauty routine is never complete unless you smell as good as you look. Enter Golden Negg Perfume. One of the top sellers at the Grooming Parlour, Golden Negg Perfume is no joke. One spritz can last up for 12 hours.

10. Jubjub Loofah

The Jubjub Loofah is a dual-sided triple cleansing threat: not only does it deliver a deep clean, but it hydrates and exfoliates at the same time. Just add water and allow the exotic scent of chartruse flowers to literally wash over you. It creates a satisfying later and can be used up to thirty washes.

11. Kau Milk Face Wash

Kau Milk Face Wash is made with all natural ingredients, not plastic microbeads. One glance at the active ingredients list will have you head over heels for joy.

12. Kohl

Used by the ladies of Qasala for centuries, Kohl is now finally available to the rest of Neopia. A shimmery liner with a pivoting wand will definitely demand attention. Use with the Lost Desert Eyeshadow to really make your eyes pop.

13. Korbat Face Mask

Don't let the ingredients scare you. The face mask starts out as a powder, turning to a paste when it hits contact with water. Linger in the shower for just a minute longer so that the steam and heat will activate the active ingredients. Delivering antioxidants for smoother skin and smaller pores, you'll peel the mask off to reveal a flawless foundation.

14. Lost Desert Eyeshadow

Want to indulge in this spring's hottest new color trend? Look no further than this dazzling trio with all you need for at a moment's look. Easy to apply, fans of the eyeshadow rave about the intensity of the coverage, which can go from light to as dark as you please. The golds can also double as a blush and a highlighter.

15. Mushroom Moisturizer

Is your favorite face cream just not cutting it? Layer this fragrance-free moisturizer underneath: it attracts moisture like a magnet. Enriched with the same ingredients found in Altadorian yogurt, it immediately saturates skin with top-tier nourishment. Who knew a fungus could do so much work?

16. Ruby Eye Cream

An excellent complement to the Cucumber Eye Patches, the Ruby Eye Cream contains a cocktail of powerhouse ingredients, namely the dust of crushed rubies, which packs a K.O. punch into a single dab. Tchea fruit extracts firm and tone while shimmery seaweed plumps and brightens.

17. Ruki Mascara

This lash-doubling formula keeps us coming back, tube after tube after tube. The over-sized brush ensures each lash is equally coated. Puny lashes are turned into a fabulous fringe without turning into a clumpy mess. Look for up to 5 times your normal volume.

18. Pumpkin Lip Gloss

Even though we still have a ways to go before hitting fall, you can smooth those wind-chapped lips into a pretty pout for this summer with Pumpkin Lip Gloss. In addition to offering a serious SPF, each tube is full to the brim with honey and Qando oil. It's available in three different shades that enhance natural lip color.

19. Sandy Body Wash

Although the name doesn't sound very user-friendly, your doubts will soon cast away after one us of this fabulous body wash. Treat yourself and your skin to its intoxicating mix of sands straight from the tombs of Qasala. Make scrubbing a more friendlier task and make your skin shine bright like the pyramids of the Lost Desert.

20. Acne Cream

Acne is never fun, but you can make your life a lot easier with Kiko's Acne Cream. Apply up to three times daily for an almost instant change in appearance. It used to be available only through prescription, but a breakthrough in Kiko's Labs last year has made it now available for over-the-counter use.