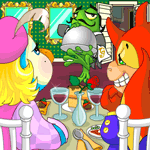 Where to Eat Neopia

by itsmeganduhx

--------

Where to Eat Neopia: The Culinary Queen's Go-To Guide for Eating Out

The last thing anyone wants to worry about on vacation is finding the local hot spots, haunts, and hideaways. Ginger Luxe brings you her annual restaurant guide, connecting you with eateries from Terror Mountain all the way to Maraqua. Restaurants are categorized according to destination and include price points, the most popular entrees, and vegetarian options. Let the eating begin!

1. Exquisite Ambrosia, Altador

Rumored to have been in the inspiration behind the lost city of Atlantis, Altador became one of the hottest destinations on the map since reappearing in 2006. Because of its perfect weather and year-round temperate climate, Altador is well-known for its locally grown figs and olives. Exquisite Ambrosia has been serving heroes for over 1,000 years and is a local favorite when thousands of fans descend upon the city for the yearly Altador Cup. The city's very own Herbalism Club hosts a cooking competition during the Cup to showcase up and coming culinary talent.

Try This: Altadorian Olive Salad, Calamari Pita Wrap, Hermiteese Salad, Hero Gyro

Vegetarian: Honey Filled Olives, Spinach and Feta Pie, Dolmade, Fig Ice Cream

Price: Moderate

2. Brightvale Fruits, Brightvale

Sometimes overshadowed by its glass window industry, Brightvale's food industry is becoming a hot topic. Now a top contender when it comes to exotic cuisine, fruits produced here can be found nowhere else in the world thanks to its fertile soil. Food concessionaires also appreciate the succulent jams available in a wide variety of flavors. Check out one of the oldest farming institutions in the region, Old Follies Farm, to see where most of the magic happens. No animals were harmed in the making of these products, making Brightvale a vegetarian's paradise.

Try This: Dewy Apple, Jipple Pear Jam, Sauteed Purblare Slices, Florange

Price: Moderate

3. Faerie Foods, Faerie City

"Heaven has never tasted so good," declared Fyora when Faerie Foods reopened its doors after a major renovation following the fall of Faerieland in 2010. Obviously a favorite of the faeries, Illusen and Jhudora are sometimes spotted in the kitchen (gossip has it that the two even have their own, private entrances) baking treats for those who help her on her numerous quests. Nova pops are one of the most popular items on the menu, available in five different flavors. But be quick – they usually sell out as soon as the doors open.

Try This: Bacon Belly Buster, Illusen Ice Cream, Fire Faerie Fondue, Heavenly Roast Turkey

Vegetarian: Fluffy Faerie Pancakes, Flaming Fire Faerie Pizza, Vegetarian Fyora Day Taco, Raspberry Faerie Crepe

Price: Moderate to Expensive

4. Spooky Food, Deserted Fairgrounds

Such a strange place for a café, but don't let the darkness stop you! Spooky Food has a reputation for carrying "unique" delicacies, but hands down has the best candy in all of Neopia. When October rolls around, Spooky Foods throws the best Halloween parties and is available for private parties and also offers catering. Seating goes quick, so reservations are a must. Frequented by Edna and the Esophagor, Spooky Food has everything a body would die for.

Try This: Blumaroo Steak, Sun Dried Techo Claw, Rest in Peace of Chicken, Roasted Spyder on a Stick

Vegetarian: Apple-free Apple Cobbler, Cheese Ghostkersandwich, Count Cross Buns, Pumpkin Pie

5. Kiko Lake Treats, Kiko Lake

Situated on the shores of Kiko Lake, Kiko Lake Treats is loved by locals and tourists alike. Outdoor dining provides a serene view of the lake, and dinners are hosted nightly through Glass Bottom Boat Tours. Popular coral lollys are fashioned after the beautiful corals that call the lake home and are available to ship worldwide. Kiko Lake Treats also offers cooking classes throughout the week so that you may create your very own fudge and cupcakes at home.

Try This: Clam Chowder in a Bread Bowl, Chocolate Starfish, Freshwater Kelp Burger

Vegetarian: Peanut Kiko Apple, Caramel Kiko Popcorn Ball, Kiko Fudge Sundae

Price: Inexpensive

6. The Golden Dubloon, Krawk Island

Be treated like a pirate king at the Golden Dubloon. Reservations are definitely needed for the Dubloon, as the restaurant is situated in an authentic pirate ship and can hold only up to 100 guests at a time. The only currency that is accepted are dubloons, and most cannot walk through the door without flashing a bit of silver. Captain Hackett and the Fontaine sisters run a tight ship and the food never ceases to amaze. This four-course meal must be consumed in limited time or else you may be made to walk the plank.

Starters: Double Stuffed Guppy, Oyster Obsession, Caesar Salad*, Tropical Breeze, Tomato Cannon Ball*, Crusty Clam Surprise, Shiver Me Shrimp

Main Courses: Baby Bloater, Slithering Squid Surprise, Barnacle Bills Belt Busting Burger, Bilge Rat Madeira, Cap'n Threelegs Cutlass Crusade, Headless Horsefish, Loretta Fontaine's Perfect Pizza*, Our Famous Krawk Pie*

Dessert: Squid on a Stick, Blueberry and Oyster Ice Cream, Kraku Berry Cove*, Berry Joy Fun Pop*, Chocolate Joy Fun Pop*, Mocha Joy Fun Pop*, Forbidden Plunder*, Pinanna Paradise*

Cocktails: Bomberry Grog*, Cannon Fodder*, Cherry Pop*, ErgyFruit Grog*, Grape Pop*, Grog Light*, Krakuberry Grog*, Keel Haul, Land Lubber*, Lemon Pop*, Man-O-War*, Raspberry Pop*, Hogshead*, Walk the Plank*, Tchea Grog*,

*Marks a vegetarian option

Price: Expensive

7. Café Kreludor, Kreludor

Café Kreludor was opened by a former employee of Grundos Café. From the start, it has been in neck-to-neck competition with Gargarox Islafuhlarg. Although it imports a large amount of its ingredients, Café Kreludor is the exclusive producer of orange chocolate. The café is family owned and operated, and its close proximity to Booktastic Books makes it a favorite of Kreludor College students.

Try This: Meteor Meat Pie, Orange Rambus Burger, Sentient Stew, Half Grundo Sandwich

Vegetarian: Planetary Pizza Ring, Bag of Space Dust, Grundo Orange, Orange Moon Rock Pie

Price: Inexpensive

8. Kelp, Maraqua

Kelp has had a months-long waiting list since its debut in April 2012. Caution: before you dine in, make sure your bank account has enough zeros. Kelp is very expensive and a declined credit card could be very embarrassing. The prices are well worth it though. Kelp is the only restaurant to be given five stars by the NeoFood Council. The service is impeccable and compared to the Golden Dubloon, guests are encouraged to relax in the lounge after completing their dinner. The four-course offering is a critic's nightmare, and one can choose from over a dozen dishes. Reservations are a must at Kelp.

Appetisers: Fresh Oysters, Succulent Cheese Dip*, Maraquan Cream Broth, Kelp Gazpacho*, Mixed Green Salad*, Angel Hair Salad, Tropical Fruit Bowl*, Pate a la Kelp*

Main Course: Filet of Beef, Spicy Radish Salad*, Stramberry Sausages, Ocean Platter, Fish Special, Braised Turkey Cutlet, Whole Roast Pheasant, Luxurious Vegetarian Star Pie*

Dessert: Kelps Signature Ice Creame*, Honeyed Horn of Plenty*, Coral Cake*, Octopi Souffle, Peachpa and Stramberry Shell*, Triple Chocolate Shell*

*Marks a vegetarian option

9. Molten Morsels, Mortara

Molten Morsels is currently one of the hottest restaurants below the surface. Warning: the food isn't for the faintest of heart. The food is spicy and the atmosphere is even spicier. Not only does Molten serve up fantastic food, but the entire restaurant is only lit up by lanterns containing fire faeries. It's the perfect destination for date night after relaxing in the nearby Magma Pool. All meals are served hot and may melt your taste buds.

Try This: Triangle of Ham, Molten Lasagne, Seared Lava Fish, Frost Center Molten Enchilada, Lava Chilaquitas

Vegetarian: Boiling Hot Lava Soup, Roast Root Platter, Fried Ginger, Moltaran Bak Lava

Price: Moderate

10. Tropical Food Shop, Mystery Island

Mysterious? Yes. Mediocre? No way. The Tropical Food Shop is one of the longest lasting bistros in all of Neopia. Recently rising crime rates have given Mystery Island a bad name, but Tropical is located in one of the nicest sections of the city. Tropical also is one of the few places on the island that has air-conditioning which is a must during the humid summers. Visit during the Gadgadsbogen Festival, when the shop hosts a slew of parties, cooking classes, and themed-dinners. Being the first to try the first of the year's crop will definitely earn you bragging rights.

Try This: Famous Crab Burger, Fresh Lobster Tail, Mystery Island Tiki Burger, Lobsterclaw Salad

Vegetarian: Cheesy Cod and Tofu Burger, Blurf Coconut Milk, Kelpcakes with Green Sauce, Honeyplume

Price: Expensive

11. The Bakery, Neopian Bazaar

A loaf a day keeps the doctor away! There's no better place in Neopia to start your day at, preferably with a doughnut and a steaming cup of coffee. Doughnuts come in a plethora of flavors, with pink sprinkle, strawberry frosted, frosted chocolate being the most popular. Come in early because they fly off the shelves quick! The quaint bistro also offers a variety of breads and sandwiches and offers catering at a very affordable price.

Try This: Tigersquash Mince Pie, Boiled Egg on Toast, Banana Crème Pie, Croissant

Vegetarian: Cheese and Tomato Sub, TeaLeaf Sandwich, Honey and Wheat Baguette, Banana Blumaroo Waffles, Dark Nova Sponge Cake

Price: Inexpensive to Moderate

12. Chocolate Factory, Neopian Bazaar

The Chocolate Factory is another one of Neopia's longest-standing institutions. Nobody ever comes in, nobody ever comes out! Well, unless you're on the lucky few who wins one of the few golden tickets released to the public once a year for a top-secret tour of the underground factory. The tickets are so rare, one was accidentally placed in the Auction House several years ago and went up to over 10 million Neopoints before it was ultimately pulled. The recipes are so closely guarded that the same families have been employed in the factory since it opened. The factory mass produces over 1,000 types of candy daily, including milk chocolate, orange chocolate, dark chocolate, and white chocolate. All products are meat-free.

Try This: Zeenana Krawkberry, Chocolate Flakes, Orange Cream Techo Truffle, Banana Gummy Slorg

Price: Inexpensive to Expensive

13. Fresh Smoothie Store, Neopian Bazaar

You never need an excuse for wanting a smoothie. Neopia's own Smoothie Store has delicious, nutritious smoothies ranging in flavors from bleu cheese to popcorn. Every smoothie is freshly made and whipped up with fruits being shipped in every morning from Mystery Island and Brightvale. Most smoothies are gluten-free, meat-free, and cruelty-free, and are customized to order. Due to popular demand, the owners of Fresh Smoothie are planning to expand their business over the course of the next several years. Who knows – your neighborhood may be on the list!

Try This: Jelly Doughnut Smoothie, Mega Neggnog Smoothie, Small Bamboo Smoothie, Asparagus Protein Smoothie

Price: Inexpensive to Moderate

14. Neopian Health Foods, Neopian Bazaar

Nowhere is healthier in all of Neopia then Neopia's own Health Foods. If it grows in the ground, you can be sure to find it among the dozens of shelves showcasing fruits, vegetables, smoothies, and juices. Trying to lose a few pounds after the onslaught of the holidays? The café offers an in-house nutritionist who will meet with you and design a personally tailored meal plan. The Neopian branch of the Herbalism Club also holds their meetings here monthly, which are free to the public.

Try This: Koi Kelp Wrap, Orange Honey Sticks, Burger Stuffed Orange, Acara Fruit Salad

Vegetarian: Uni Veggie Yogurt, Grilled Veggie Bowl, Healthy Veggie Deluxue Sandwich, Jacket Potato with Nachos

Price: Moderate

15. Hubert's Hot Dogs, Neopian Bazaar

Need a break from all the health food? Hubert's Hot Dogs has you covered. If you're going to have a cheat day, cheat with a delicious hot dog covered in delicacies such as caviar or nacho cheese. Can't make it to Altador for the Altador Cup? Hubert's offers the games televised live with over two dozen televisions inside and out.

Try This: Bacon Deluxue Hot Dog, Mozzarella Basil Hot Dog, Neopian Central Dog, Sausage and Chips Hot Dog

Vegetarian: Fruit Stuffed Jacket Potato, Veggie Corn Dog, Cucumber Hot Dog, Angel Hair Jacket Potato

Price: Inexpensive

Stayed tuned for part two, coming soon to a newsstand near you!