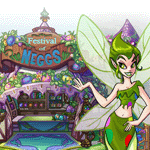 A History of Festival of Neggs Prizes

by andrewo94

--------

As springtime rolls around in Neopia, flowers begin to bloom and Neopians everywhere enjoy the wonderful warm weather after a frigid winter. One thing that can always be counted on during this time is the Festival of Neggs, the annual negg hunting event, which puts Neopians' detective and searching skills to the test. This event, formally introduced in 2010, is one of the most significant indicators that spring has finally sprung in Neopia. While Neopians everywhere have been enjoying this lively celebration for many years, the festival and its prizes have evolved over that time. In this article, I would like to go through the evolution of prizes and prize types for the Festival of Neggs. I have thoroughly enjoyed taking a trip back to the past and going through the memories and prizes I have from each edition of this special event. While going through these prizes, I would also like to share some of my favorite prizes from each year of this event, since they are such cheery and pleasant items! Now, let us take a trip to look at a history of prizes from the Festival of Neggs.

Note: I will only be looking at prizes that are non-Neocash items from each edition of the event. This list will only include any Neopoint prizes that were won from daily quests, event quests, and final prizes that are exclusive to the Festival of Neggs. Enjoy!

The Precursor: Neggtacular Springtime Celebration 2009

Prize Breakdown:

Clothes, Gardening, Gift: 3

Book, Toy: 2

Candy, Furniture, Gross Food, Mystical Surroundings: 1

While not technically a Festival of Neggs celebration, I feel like it would be wrong not to include the Neggtacular Springtime Celebration in this list. The Neggtacular Springtime Celebration in 2009 is a precursor for the actual Festival of Neggs event the following year. This event introduced us all to Rosie, the grarrl who loves the wonderful springtime and of course, neggs. Each day of this event, Rosie would give out a negg-themed or spring-themed item to users who came to visit her. On a few days, Rosie would ask users to go on a small quest and would reward those users with an extra prize. While this event was a quick two-week celebration of spring, it was also the start of an annual spring event for years to come.

My Favorite Prize: Negg Nobody Found Last Year

I love this item because of how appropriate it is to any negg hunt. There is always that one negg that nobody finds until the next year and by that time, maybe it should be left unfound. At any rate, this item makes me laugh and is one of my favorites of this event.

Festival of Neggs 2010

Prize Breakdown:

Food: 9

Clothes: 5

Book, Gift: 4

Toy: 3

Mystical Surroundings: 2

Altadorian Food, Baked, Brightvale Fruit, Candy, Furniture, Jelly Food, Medieval Food, Special: 1

In 2010, Neopia was officially introduced to the Festival of Neggs. Kari, the Negg Faerie who runs the Neggery on Terror Mountain, ran this event. This festival's format included daily prizes from a large prize pool awarded simply for visiting Kari each day and then prizes from completing various quests for Kari in order to help prepare the Festival. The prize breakdown shows that food was clearly the most awarded prize for this year, which makes complete sense considering neggs are food and this festival was all about neggs. This year's event was all about neggs with a sprinkling of other food items, clothes, and other prizes. Neopians everywhere enjoyed this event, which led to its reoccurrence in subsequent years.

My Favorite Prize: Festival Negg

Who could not love this item from the first Festival of Neggs. This negg was the embodiment of the entire event and the design of this item is extremely beautiful to look at. This prize is a great reminder of where it all started from the very first edition of this exciting event.

Festival of Neggs 2011

Prize Breakdown:

Clothes: 6

Food, Toy: 5

Book: 4

Battle Magic, Furniture: 3

Gift, Mystical Surroundings: 2

Candy, Desert Scroll, Meridell Potion: 1

The second edition of the Festival of Neggs had a similar format to the first edition with a few changes. The daily prize for simply visiting Kari each day was replaced with a daily negg hunt where Kari would hide certain patterned neggs around Neopia. If Neopians collected four of each type of patterned negg, they would be able to choose from a selection of four negg-themed items for each of the four patterns. Along with this negg hunt, the regular quests from Kari to help prepare for the festival returned with all new prizes. Also with these two elements of the festival, a third element, the community challenge was also present. If Neopians were able to collectively find five million plain neggs around Neopia by the end of the event, a bonus prize would be awarded to all who participated. Unfortunately, we came up just short and did not receive the bonus prize. However, despite this, the 2011 Festival was a very fun event with a couple of fun shake-ups from the first edition.

My Favorite Prize: Giant Partially Painted Negg

This prize was an option for collecting all four of the swirly neggs during this year's event. I mean who would not love a giant negg in their Neohome, even if it is only partially painted! One could even add their own style or designs to complete the piece if they wanted! This item is a perfect way to celebrate the Festival of Neggs!

Festival of Neggs 2012

Prize Breakdown:

Book: 6

Battle Magic, Clothes, Food: 5

Gift: 3

Furniture, Plushies: 2

Magic Item, Mystical Surroundings, Toy: 1

Festival of Neggs 2012, run once again by Kari, was similar to the Festival of Neggs in 2011 in some ways and very different in other significant ways. First, the hunt for patterned neggs each day was the same as the previous year with a selection of prizes for finding all four patterned neggs. There was also a hunt for plain neggs each day, which offered a selection of non-Festival of Neggs exclusive items. The big twist in this year's festival was the discovery of some strange scrolls by Kari's assistant Zaria. This revelation led users on a dramatic hunt that led to an eventual showdown with the Neggbreaker. Reflected in this year's prize breakdown is the inclusion of Neggbreaker puzzle. Many books and battle magic items were included in this year's prizes to aid users in the Neggbreaker puzzle and subsequent battle. This Festival of Neggs also gave users a new daily with negg puzzle portion of the event becoming a permanent feature. This year's Festival of Neggs sent users scrambling to decode the various clues of the scrolls and is one of the most memorable editions of this event.

My Favorite Prize: Ancient Negg Scrolls

These scrolls were an integral part of the Neggbreaker puzzle for this Festival of Neggs. This prize is so mysterious and intriguing that it is almost impossible not to be enthralled with them. I believe this item to be one of the most interesting and exciting prizes to be awarded during the festival.

Festival of Neggs 2013

Prize Breakdown:

Book, Food: 5

Clothes: 4

Toy: 3

Battle Magic, Furniture: 2

Mystical Surroundings, Petpet: 1

After the excitement of the Neggbreaker quest during the prior year's Festival of Neggs, it is understandable that Kari made the Festival of Neggs 2013 was a slightly smaller affair. This year's event once again included patterned negg hunting and plain plastic negg hunting. The prize pool for this year included many negg-related foods and books, which were excitedly welcomed by all negg hunters. The final prizes for this year also included the first petpet awarded by the festival, the Spring Babaa. This Babaa was exclusive the event and was not obtainable through any sort of paint brush, which made this special little petpet a very unique prize. Overall, the prizes for this year were excellent items for celebrating the coming of spring!

My Favorite Item: Magical Spring Vine Wings

Of the five wearables awarded for this festival, my favorite has to be this pair wings that were offered for finding all four plaid neggs. These wings have a delicate pattern that go very well with any type of pet. If one is looking to complete a fresh springtime celebration customization, this just might be the perfect item!

Festival of Neggs 2014

Prize Breakdown:

Book: 6

Gift, Plushies, Toy: 3

Battle Magic, Food: 2

Brightvale Potion, Faerie Petpet, Mystical Surroundings, Sea Shells: 1

The 2014 Festival of Neggs had an essentially identical format to the 2013 festival, albeit with a slightly more diverse prize pool. Once again, Kari centered the festival around finding daily patterned neggs for exclusive Festival of Neggs prizes and finding plain plastic neggs for non-exclusive prizes. The prizes for patterned neggs included a set of plushies featuring Festival of Negg-themed pets enjoying the annual event. Books were prominently featured in this edition of the event, with at least one book being awarded for each set of patterned neggs as well as one for the final prize. Another spring petpet was also awarded as a final prize for this event this year in the form a Faellie. This year's edition featured a solid prize pool for negg and spring lovers alike!

My Favorite Item: Negg Decorating Kit

Negg decorating is always a favorite activity during the springtime. This prize made the decorating fun and easy with helpful guides on how to make neggs beautiful in time for the festival. Negg lovers everywhere will find this prize as a perfect addition for any negg-related collection.

Festival of Neggs 2015

Prize Breakdown:

Toy: 8

Book: 5

Candy: 5

As can probably be seen by the prize breakdown for this year's event, Festival of Neggs 2015 underwent some major changes, the least of which was the introduction of a new host. This year, Kari decided to take a break and handed over the running over the festival to Topsi, a negg-loving Cybunny. For each day of this event, Topsi hid neggs around Neopia for hunters to find. Once found, Topsi would offer each user a choice of a book-filled negg, a toy-filled negg, or a candy-filled negg. Each negg had the chance to award one of five prizes depending on which type of negg the user chose. Thus, prizes for this year included only toys, books, and candy. Along with the themed neggs, Topsi would also randomly award negg baskets to users that, if opened, would give out other negg and spring-themed items. Among those items were five items exclusive to those baskets that I have not included in the prize breakdown. These items were five wearables: a background, a bouquet of flowers, a wig, a shirt, and a skirt. These items and all others awarded throughout this event were an exciting change from previous Festival of Negg events and gave a new feel to the event.

My Favorite Prize: Baby Pteri Basket Book

This prize, awarded from the book-filled neggs, just seemed like a perfect combination to me. Baby Pteris are eggs and eggs are very similar to neggs. In all honesty, I would have expected a Festival of Neggs prize that connected baby Pteris and neggs a long while ago but I am very glad it finally happened here!

Festival of Neggs 2016

Prize Breakdown:

Gift: 6

Clothes: 4

Food: 3

Book, Candy, Plushies, Stamp, Toy: 1

Topsi was back in 2016 for the Festival of Neggs with a slightly different event format from the previous year. Similar to 2015, Topsi would hide neggs around Neopia for users to find. Once found, Topsi would allow users to select which negg type they would like, with the prizes awarded by each negg type different from the others. However, this year's negg prizes were not based on item type but were different item types that were connected by the common theme of the negg. The negg types for this year included carrot neggs, chocolate neggs, Cybunny neggs, flower neggs, and food neggs. For example, items rewarded by the carrot neggs all related to carrots in some way but were not all necessarily food. This led to a much more diverse prize pool than the previous year's event. These themed prizes were all very fun and unique additions to the history of Festival of Neggs prize pool.

My Favorite Item: Easter Treats Stamp

The first stamp awarded by the Festival of Neggs was a good one. This stamp combines all the elements of spring, neggs, and candy that make the festival what is so great. Any stamp collector found this prize a great inclusion into an ever-growing stamp album.

There it is! A complete history of all Festival of Negg prizes up to this point. The event itself along with the different types of prizes awarded have all evolved throughout the years. I hope you all have enjoyed this look through of the various years of the Festival of Neggs. As the 2017 edition of the event begins, we can all expect that the prizes offered this year will be just as good (or maybe even better!) as the previous editions of this great springtime celebration.