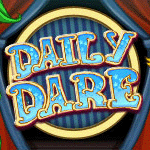 A History of Daily Dare Prizes

by andrewo94

--------

Daily Dare 2017 marks the 10th anniversary of the first time Aristotle A. Avinroo graced Neopia with his month-long challenges to test the gaming skills of Neopians across the land. These challenges forced many to practice for hours in an effort to prove to themselves and others that AAA's scores were not unbeatable. While all of this dedication and effort ultimately led to a sense of pride and self-achievement, another motivating factor existed to push players that extra step…prizes. Daily Dare prizes have always been coveted due to the struggle needed to obtain them each and every day of the event. As Daily Dare has evolved over the years, so have the types of prizes that AAA (and Abigail) award to those who can achieve the required scores. I found it very interesting to look back at how daily prizes have evolved over each edition of the Daily Dare and thought it a fine idea to share my findings in this report. I have also chosen my favorite daily prize from each edition as an added bonus to this article! Now let us take a look back at the history of Daily Dare prizes.

Note: I am only looking at daily prizes for AAA, Abigail, Chadley, and in one case Lulu that can be purchased with Neopoints for the purposes of this article. Final event prizes and Staff Tournament prizes are not included in this analysis.

Daily Dare 2007

Prize Breakdown:

Toy: 22

Food: 9

Gardening: 8

Furniture, Plushies: 5

Clothes: 4

Book, Gift: 3

Candy: 2

Baked, Battle Magic, Defense Magic, Petpet Supplies, School: 1

The first edition of the Daily Dare featured a wide range of items that AAA and Abigail rewarded as prizes. As can be seen from the breakdown, toys were by far the most awarded prize type, which makes sense considering this was the initial outing of a games challenge. Many users including myself were delighted to receive themed prizes each day that directly related to the game of the day. A noticeable feature that is missing from this year's prizes are the appearance of wearables. Wearables were not distributed during this Daily Dare as customization was not released until later in 2007. In subsequent Daily Dares, wearables became a main staple of daily prizes. The 2007 Daily Dare prizes were an excellent introduction to what Neopia could expect for future Daily Dares and each of these daily prizes had its own unique charm to them.

My Favorite Prize: Destruct-O-Munch

This prize is slightly nostalgic for me as it came from the first day of the challenge and thus is the first item I ever won from the Daily Dare when I exceeded Abigail's score. Who doesn't love a good pun either?

Daily Dare 2008

Prize Breakdown:

Toy: 16

Food: 11

Clothes, Plushies: 7

Book, Gift, Mystical Surroundings: 6

Baked, Grooming, School: 1

With the 2008 Daily Dare, Neopia saw the introduction of wearables into the prize pool along with some interesting changes from the previous Daily Dare. Toys and Food continue to be the top prize categories but Furniture and Gardening items, two popular categories from Daily Dare 2007, are nowhere to be seen. With the addition of wearables, Clothes and Mystical Surroundings both became significant areas for giving out prizes. Neopians received some wonderful game-related wearables that were (and still are!) perfect for any Neopet who loved gaming. The 2008 Daily Dare also included the Roothless challenge, whose prizes are not reflected in the prize breakdown but nonetheless gave out more wearables featuring the evil king. AAA and Abigail continued to deliver exciting and appealing daily prizes this year with the added bonus of giving out wearables for certain challenges.

My Favorite Prize: Underwater Shipwreck Background

When I first saw this background I was completely enthralled by the elegance and colors throughout. This piece has been a constant in my customization endeavors and in my opinion is one of the best backgrounds from the Daily Dare. Good job AAA!

Daily Dare 2009

Prize Breakdown:

Clothes, Toy: 23

Gift: 11

Furniture: 10

Mystical Surroundings: 6

Gardening: 5

Plushies: 4

Book, Candy, Food: 3

Grooming, School: 1

The 2009 Daily Dare brought many interesting developments to the daily prizes awarded by AAA, Abigail, and this time by Lulu. The prize breakdown indicates some significant changes with Toy now sharing the top spot with Clothes. This shift shows the solidification of wearables as a staple Daily Dare prize. In fact, 22 out of 30 daily prizes awarded by AAA this year were wearables. Only three Food prizes were awarded this year, exclusively by Abigail, and the Furniture and Gardening categories make their triumphant return thanks in part to the introduction of Neohomes 2.0 in 2008. The Double Dare was also established this year, allowing players to receive both AAA's and Abigail's prizes on certain days. In my opinion, the biggest change to this year's Daily Dare was the inclusion of Lulu, AAA's and Abigail's cousin. By purchasing tickets from the NC Mall, players could challenge Lulu for an additional prize each day. These prizes were exclusively wearables and Neohome items. While typically these prizes would be classified as Neocash items since they required a ticket purchased from the NC Mall, in 2009 Lulu's prizes were able to be sold by players for Neopoints and thus included in the prize breakdown. Lulu's prizes were typically some sort of animated version of a wearable or Neohome item awarded by AAA. In subsequent Daily Dare's Lulu's prizes were reclassified as Neocash only but the fact that they were able to be sold for Neopoints in 2009 makes this edition of the event one of the most unique.

My Favorite Prize: Lighted Faerie Bubble String Lights

This prize was awarded by Lulu during the Faerie Bubbles challenge in 2009. I immediately loved the AAA prize for this day and when I learned of this animated version from Lulu, I knew I had to have it. This item remains one of my favorite wearables to this day.

Daily Dare 2010

Prize Breakdown:

Clothes: 14

Toy: 12

Gift: 9

Food, Plushies: 6

Book: 5

Furniture: 4

Candy, Gardening, Grooming: 2

Mystical Surroundings, Tropical Food: 1

Daily Dare 2010 shared a similar structure to Daily Dare 2009 with a few significant changes. AAA, Abigail, and Lulu all returned for this edition of the Daily Dare however, the prizes for meeting or exceeding Lulu's scores were solely classified as Neocash items. This meant that they could not be purchased from other users with Neopoints and are not included in the prize breakdown. Speaking of the prize breakdown, an important change occurred in the category rankings, with Clothes taking the top spot from Toy after Toy had claimed the top position for the prior three years. This change demonstrates an even further link between wearables and the Daily Dare. All but five of AAA's daily prizes were wearables (with Abigail not giving any wearables this year), giving users a multitude of opportunities to dress their pets in the perfect gaming garb. AAA and Daily Dare wearables were here to stay and Daily Dare 2010 solidified this situation.

My Favorite Prize: Black Market Grundo Plushie

This prize awarded by Abigail has to be one of the most squishable prizes ever from the Daily Dare. The plushie almost makes me want to forgive that grundo from ruining countless games of Freaky Factory for me…almost!

Daily Dare 2011

Prize Breakdown:

Toy: 19

Clothes: 17

Gift: 11

Food: 10

Book: 4

Furniture: 3

Mystical Surroundings, Plushies: 2

Candy, Medical Cures: 1

Toys are back on top! The 2011 saw the return of the Toy category to the top spot a year after it relinquished the position to the Clothes category. However, this return does not indicate a lack of wearables for this year as many of these toys and gifts were wearables given out by both AAA and Abigail. This year also included another daily prize for completing each challenge on the day of release. However, since these release date completion prizes were not unique to the Daily Dare, they are not included in the prize breakdown. Team Challenges also made their debut in this edition of the Daily Dare, allowing players to team up for an extra prize once a week if they were able to defeat either AAA or Abigail. The prizes awarded for these challenges are very unique since they require two people in order to receive them. Team Challenge prizes are included in the prize breakdown. Lulu also made an appearance this Daily Dare, offering only Neocash items similar to 2010.

My Favorite Prize: Looming Balthazar Shadow

I love this item! It is so cool and frightening and works with so many customization combinations. I remember the excitement I felt when I received this item from AAA. It was an extremely unique item at the time and still is a great piece for customization.

Daily Dare 2012

Prize Breakdown:

Gift: 13

Book: 10

Toy: 9

Food: 8

Plushies: 5

Clothes, Furniture: 3

Battle Magic: 2

Desert Petpet, Grooming, Instrument, Island Merchandise, Mystical Surroundings, Stamp, Usuki Doll: 1

The prize pool for Daily Dare 2012 was extremely diverse with many different prize categories awarded for completing each challenge. As mentioned previously, Daily Dare 2011 began the practice of awarding release date prizes and while those were not unique to Daily Dare in 2011, in 2012 each release date prize was exclusive to the Daily Dare. These prizes are reflected in the prize breakdown and offered users an extra incentive to complete each challenge on the release date. Team Challenges and Double Dares were also a feature in this edition of the Daily Dare making 2012 one of the most comprehensive prize years in Daily Dare history.

My Favorite Prize: Hiding from Clowns Blanket

I could not think of a more appropriate expression of how I feel when evil clowns are about. This prize perfectly captures the fear inspired by the clowns from Carnival of Terror and is an excellent item for protecting oneself from their scariness.

Daily Dare 2013

Prize Breakdown:

Gift: 17

Book: 11

Toy: 8

Food: 6

Plushies: 5

Magic Item: 3

Grooming: 2

Altadorian Petpets, Baked, Battle Magic, Candy, Clothes, Coffee, Desert Scroll, Exotic Foods, Haunted Weaponry, Instrument, Island Merchandise, Space Defense, Ugga Shinies, Usuki Doll: 1

Chadley made his debut in Daily Dare 2013 along with a slew of new prize categories. AAA, Abigail, and Chadley awarded prizes in a whopping 21 different categories, the most of any Daily Dare thus far! An interesting addition to this Daily Dare was the ability to swap certain daily prizes for stats on one's active pet. This allowed users who prize their pet's stats to forgo their release date prize in exchange for those stats. AAA and Chadley gave out fewer wearables this year compared to prior years but made up for that fact in the variety of prizes they gave out instead. Gifts and Books were the most abundant prizes this year but overall this edition of the Daily Dare had prizes to satisfy almost anyone!

My Favorite Prize: Jazan and Nabiles Memory Book

Abigail gave out a wonderful prize this year for the Team Challenge in The Great Qasalan Caper. This item brings me back to one of the first plots I participated in when I first joined Neopets and is a perfect reminder of two of my favorite Neopians.

Daily Dare 2016

Prize Breakdown:

Gift: 27

Clothes: 12

Food: 7

Battle Magic, Book: 6

Special, Toy: 2

Petpet, Plushies, Robot Petpet, Stamp: 1

Daily Dare made its triumphant return after a three-year absence in 2016. As one can see from the prize breakdown, gifts dominated the prizes awarded by both AAA and Abigail, although these gifts encompassed many different types of items. Prizes for this Daily Dare were awarded in an almost identical fashion to 2013. In my opinion, the release-date bonus prizes were the best they had ever been in this edition of the Daily Dare. These prizes were often beautiful wearables that users had been missing while the Daily Dare was on hiatus for a few years. Along with the wonderful wearables, the 2016 Daily Dare also offered a large amount of Battle Magic items for those who enjoy testing their mettle in the Battledome. The prizes awarded for this Daily Dare were a welcome addition to the history of prizes awarded throughout the years.

My Favorite Prize: Lost Desert Vase

I remember during this edition of the Daily Dare, I was working on a desert-themed customization and this release date prize was just the item I needed to complete the entire look. This vase was one of many fantastic release date prizes from the 2016 Daily Dare.

Well there you have it! A short history of the prizes given out for each edition of the Daily Dare. It is hard to believe that Daily Dare 2017 will mark ten years since the inaugural Daily Dare all the way back in 2007. I hope you all enjoyed taking a look at how prizes have evolved over the years and getting a little peak into some of my favorite prizes as well. As we look towards this year's Daily Dare, one can be sure that Daily Dare 2017 will add to the legacy of prizes that has developed throughout the history of this great event.