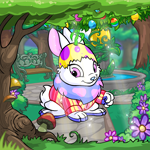 Top 10 NC Spring Wearables

by paraxeno_daimonio

--------

Good day Neopia! Ahhh, the winter… indeed a lovely season. All the snow, the fir trees, the Day of Giving is all marvelous. The season when the whole Neopia seems to go to sleep. Some love the cold weather though and of course it can be very satisfying. Since there is little else to do on winter, most Neopians spend their time on working hard and collecting their precious Neopoints and Neocash. But enough of winter! The spring is here and this article is exactly about how can we start it off on the right foot.

How else can we show our friends that we are ready for a season if not by wearing the proper seasonal clothes? If you wanna look fancy and get ahead of everybody else, there's only one place you should go: the NC Mall! But don't let all the excitement rush you. Before going to the NC Mall, you wanna know exactly what you are looking for.

So here it is, a Top 10 NC wearables for this spring break!

10th Place:

Beach Picnic Background (150 NC – can be found on NC Mall)

Ahh, what a perfect start: a picnic at the beach! Since spring break has everything to do with beaches, a good start would be taking your Neopet to a beach picnic with his friends. What I personally like about this background is that you can watch the ocean slightly moving on the horizon as you can enjoy eating your tropical fruits.

This item can be achieved through the Tribal Mystery Capsule, which is worth 150 NC. So, why don't you try your luck today?

9th Place:

Beach Umbrella Trinket (retired on Y18)

I know. Summer is coming.. after three months hiding from the snow and the cold, everyone wanna go out and enjoy the sun. But we must be careful! The sun might be too strong and hurt your Neopets skin. You don't wanna spend the whole spring at the Neopian Hospital, do you? So, a good way to protect yourself from the sun and to look fancy at the same time is wearing the beach umbrella!

8th Place:

Meridellian Spring Background (200 NC – can be found on NC Mall)

And of course we could not talk about spring without bringing up on of the famous places of Neopia, Meridell! With its endless forests and grass fields, it is the perfect place to go play with friends and meet people! With all the snow gone, you can take your time to admire the true beauty of Meridell.

7th Place:

Miniature Spring Negg House (100 NC – retired on Y14)

I'm sure your Neopet has a Petpet, right? Don't you think he would get.. hmm, let's say, a little bit jealous with all these gifts bought for his owner and nothing for him? Also, I think that every Neopet wants to see his Petpet as happy as he is! So, no worries, your Neopets' Petpet can also enjoy the new season with this Petpet spring themed house!

6th Place:

Spring Flower Corsage (150 NC – can be found on NC Mall)

Ok. So your doesn't like extravagant items. I have the perfect solution for this! Right now on NC Mall you can find this simple and discreet corsage to give just the final touch for your customization! What I personally like about this item is that both boys and girls can wear it.

5th Place:

Laced-up Spring Shoes (150 NC – can be found on NC Mall)

One important thing about the upcoming summer is that the sun can heat the floor at a point that it can hurt your Neopets feet. So, how can we prepare for that, you may ask? With these spring shoes, you can protect your feet from the heat and also look really cool.

4th Place:

Pink Sunglasses (100 NC – can be found on NC Mall)

You wanna be prepared before going to beach and having your picnic. One way of doing so is to buy these awesome glasses today at the NC Mall

3rd Place:

Floral Spring Dress (retired on Y14)

If your Neopet is a little girl, she will be enchanted with this piece. With this dress, your Neopet feels comfortable enough to play outside and run through the grass fields. With this flower pattern on the design, she can find the necessary courage to go on an adventure by herself. A flower catching adventure is a good tip!

Green Spring Romper (retired on Y13)

And who said that only girls can enjoy a good and well-made piece of cloth? The daisies on this romper were designed exclusively for the spring and is a must for every Neopet boy.

2nd Place:

Blooming Spring Frame (retired on Y13)

Spring is really a much happier season, just by looking at this frame, the other Neopians can already tell how much you love this time of the year! Cause, as the iem description of the item says itself: "The flowers are blooming, the Beekadoodles are singing -- it must be spring!"

1st Place:

Candlelit Beach Background (retired on Y17)

My favorite one. Spring nights can be as fun as it is during the day. It's a perfect spot to share your spring stories with your friends and to possibly camp for the night. The bonfires help to set a luau theme around the place and I love it. I'm sure the other Neopians will love it to!

So that's pretty much it. That finishes my Top 10 NC spring wearables article. I hope you all enjoyed it. I'd like to remember that this Top 10 was made by myself, so it takes exclusively my opinion into consideration. If you feel that you found a better NC item than those listed here, that's cool with me! As long this article helped you finding that item, I'm happy. I have looked into hundreds of items in order to make this list. So, what are you waiting for? Go look for the NC items and have a wonderful spring time!