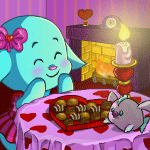 Valentine's Recipes To Melt Your Heart

by marbear_4u

--------

It's here, it's here, the most lovely day of the year! It's Valentine's Day, the day that we celebrate the love we have for our family and friends by exchanging tacky, homemade cards covered in big pink hearts and red ribbon wrapped boxes filled to the brim with delicious dark chocolates. Bonbons and pink bows galore, we're going to dive deep into the decadence of this holiday and learn some new recipes for your repertoire that you can whip up for all your best Neofriends. Did you think this special day was celebrate in real life only? Valentine's Day on Neopets is crazy big, just like the immense adoration you have towards the site!

These recipes are easy to recreate at home! Don't forget to ask for the help of an adult before using an oven, safety first. Before you know it, you'll be a master baker impressing everyone you love with a big plate of sweet desserts. Here is a collection of my favorites for Valentine's Day. We tried to find the most suitable recipes for every person and Neopet alike!

Banana JubJub Muffin
What better way to wake up than with a fresh baked banana jubjub muffin! Muffins are just great when you don't feel like baking small cupcakes. If you want something small because you are preparing a big meal later, these are perfect to hold you over!
Serves 12
Ingredients
2 Neggs
1 1/2 cups of Wheat Flour
1 Bag of Sugar
A Sprinkling of Salt
A Smatter of Butter
A dash of Vanilla Negg Cream
2 Mashed Bananas
1 Cup of Kau Kau Farm Soy Milk
1 Chocolate Chip Cookie Square (optional, but everyone loves chocolate on Valentine's Day)
1 JubJub laughter
Preheat the oven in your NeoHome to 375 degrees.
Sift together flour, sugar, neggs, and salt until completely combined. In a separate bowl, whisk together the butter, vanilla cream, bananas, and soy milk. Combine wet and dry ingredients and mix until well combined, creating your batter. On the side, mash the cookie square until it breaks off into fine chunks. If you decide to add chocolate, gently fold the chips in now. Distribute your batter into a muffin tin, filling each spot about 2/3 full.
Bake for 20 minutes or until a toothpick inserted into a muffin comes out clean.
Borovan Layered Cake
This is a wonderful cake that will blow every other recipe out of the water. You can't even find this in the acclaimed booktastic book 10,001 Chocolate Cake Recipes. You don't need to replicate the exact same cake design we've shown you on the illustrative picture, but we highly encourage you to try your hand at cake decoration! Any Borovan lover will just scream for it.
Makes three 8" cake layers
Serves 24
Ingredients
2 Neggs
1 Bottle of Water
2 cups all-purpose Chia flour
1 Bag of Sugar
1 Cocoa Juppie
A Sprinkling of Salt
1 cup of Vanilla Flavoured Borovan
Preheat the oven in your Neohome to 350 degrees Fahrenheit. Spray two 8" cake pans with non-stick spray and line with parchment paper.
Sift flour, sugar, neggs, and salt into a large bowl. On the side, slice up the cocoa juppie until it's in very fine pieces. Slowly add the water while whisking. Add in the vanilla flavoured borovan and whisk to combine. Divide into the cake pans and bake about 25 minutes, or until a toothpick comes out clean.
Valentines Cookies
Cookies, cookies, COOKIES *hands cookies* This is a must-have food you have to prepare for Valentine's Day. Nothing can go wrong with these beautiful, heart-shaped chocolate cookies. If you don't have a heart cutter, you can just make them plain rounded! What matters is the flavor and that you made them yourself.
Serves 24
Ingredients
2 Neggs
2 cups of Wheat Flour
1 bag of sugar
A pinch of salt
A dash of Vanilla Negg Cream
1 Chocolate Apple
An ounce of love
Slice the apple in half, and then slice in quarters. Keep slicing the apple until it becomes small chocolate chunks. In a large bowl, stir together the neggs, wheat flour, salt, and sugar. Keep stirring until all of the ingredients are mixed well and the mixture becomes dark yellow color. Add a dash of vanilla negg cream to the mixture, pour the chocolate chunks in, until everything is well blended. Take your grundo chef spoon and create tablespoon ball size with the dough. Gently place them on the tray about an inch apart. Put them in the oven for 20 minutes or until the bottoms are lightly browned.
Chocolate Dipped Marshmallow Grundo
What a perfect way to surprise your favorite Neopet than with marshmallows! Who doesn't love marshmallows anyways? Just make sure you don't eat a Marshmallow Grundo by accident - They are Neopets! - Chocolate plus marshmallows plus Valentine's Day. If there's a perfect moment, a perfect day to have such delicious treats, it's definitely today!
Serves 12
Ingredients
12 Marshmallow Grundo's
1 Silver Chocolate Fountain
Line the marshmallows on a tray, about an inch apart each. Then take each marshmallow and dip under the fountain until covered in chocolate. Place the tray into the fridge, and allow to cool for 2 hours. Enjoy!
(No Grundo's were harmed in the making)
Twirly Fruit Blend
Instead of spending all of your Neopoints at Kelp, why not relax in your Neohome with this fruity drink! This one goes to all the Neopians out there with a lot of Neofriends, the ones who will be spending the Holiday alone. There's no reason you should miss out on a sweet treat, just do it for yourself! You deserve it
Serves 1
Ingredients
1 Squibble Berry
1 Bubbly Twirly Fruit Juice
1 Twirly Fruit
All you need for this recipe is a green kacheek blender, it's fairly easy that a Grarrl could do it! Cut up the fruit until both of the berries become fine chunks, add all of the ingredients into the blender. Double check to make sure that you have the lid on! Turn the setting on high and blend for 5 minutes.
(CONCLUSION)
We hope these five different valentine inspired treats were what you were looking for! While it might take some time for the cookies to bake, or to decorate the great borovan cake, nothing shows true love than homemade food! If you ever have any questions regarding the cooking instructions or the ingredients you need for each item, please contact us through our cooking Neopets website. We hope to hear from you all soon! Happy Valentine's Day 2017!