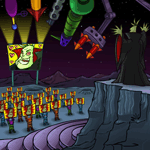 Celebrating Sloth Day In Style

by blackroseofwisdom

--------

14th day of Sleeping, Y19. Arguably, one of the best days of the year. Sloth Appreciation Day. The one day of the year where Dr. Frank Sloth, infamous evil scientist and leader of Virtupets Corp. gets the attention and admiration he deserves. So sit back, grab a notebook, and prepare to take notes on the best ways to celebrate Sloth Day in style! (Warning: This guide is not intended for Grundos or owners that look like Grundos.)

The Look

As soon as the alarm clocks starts ringing, it's time to celebrate! Starting with the best is the only way to look your absolute best. So jump out of bed and grab your Dr. Sloth floss and hydroslothic acid toothpaste to prepare your brilliant Slothy smile. (Both items come standard in the Sloth bathroom set. Get yours today!) It can make anyone look like they've turned evil, so smile proudly when showing off your Sloth spirit to your friends.

The second step to the perfect morning routine is perfect, green, spiky hair. (All in three easy steps, as outlined in Sloth Hair Tips! On sale now!) Most neopians can achieve the unique and stylish look using the Dr. Sloth hair comb combined with Dr. Sloth Hair pomade. A word of caution, only Neopians with the most stubborn hair should ever consider using the Sloth approved hair gel- it's so strong it will make your hair and everything else stand still! (Lesser Neopians will be frozen for the entire day.)

Once your smile and hair are styled to a sloth-like perfection, it's time to decide on what to wear. The key to celebrating Sloth Day in style is having an outfit that's perfectly on point. From your head (careful not to mess up your gently tousled locks) to your feet. The entire ensemble should make Neopets around the world jealous of your fashion sense. This article has helpfully supplied one such outfit for our reader's consideration.

The Outfit

The first step to making sure you are dressed in stylish Sloth fashion is checking this shirt off your wishlist. Unfortunately, Sloth's future fashion shirt is retired and can no longer be bought in the NC Mall. Neopians looking to add this special Slothy must-have to their closets will need to head over to the NC trading boards to find one! (It was released as a limited edition item from the Sloth's Victory Mystery Capsule in 2013. However, at 1-2GBCs in value, it is completely worth it!) Just remember that there is no future like Sloth's future.

As a main staple in many Neopian's closet, the black unility trousers are a stylish addition to this outfit. Surprisingly comfortable, their distressed appearance adds a dramatic flair to any occasion. These are available in the NC Mall for only 150 neocash, what a steal!

Another closet mainstay is a pair of basic black lace-up shoes. These shoes are very shiny, easy to tie, and roomy enough to be comfortable with or without socks. They also match with anything and everything else a Neopian could ever dream of owning. And as a small bonus, they are available in the NC Mall for only 75 neocash.

This is the most important part of the whole outfit! The I Heart Dr. Sloth thought bubble will help keep you focused on the true meaning of today- Sloth and his greatness. This retired item can be found on the NC trading boards, but be ready to offer up a hefty 20 GBCs!

Your plan for joining the ranks of Dr. Sloth is one step closer to being complete with the Sloth clone make-up kit! Anyone who is a VIN (Very Important Neopet) will be wearing this, so best make sure you get yours! This item can be found on the NC trading boards for around 1-2 GBCs. Nice and cheap!

The Extras

If you can't get your hair styled correctly or you're not a very attractive Neopet, then the Sloth clone helmet is your key to celebrating Sloth Day in complete style! Unfortunately, this helmet is a retired item and can no longer be purchased at the NC mall. It can cost a pricey 8-10 GBCs on the NC trade board. It's worth it though, you will feel just like one of the minions with this green helmet. (Perfect for a Grundo in disguise, but you didn't hear that from us!)

The I Club Sloth Grundo T-Shirt. This is another one for you secret Grundos out there (not that we are trying to give away your secret.) For only 4 Neopoints you can show off this green sloth shirt! Pairing this shirt with the helmet above is a very stylish way to celebrate Sloth Day AND it hides the fact you're a Grundo!

This is only for those with extreme Sloth appreciation! If you really love Sloth, or if you really just want to show off in front of your friends, this is the tattoo for you! For only 5 Neopoints you can wear this fake Sloth tattoo all day long!

The Celebration

The final step to celebrating Sloth Day in style is to throw a lavish party. Pair your stylish looks and special outfit with some perfect decorations and delicious food. Your guests will be envious and you'll be the talk of Neopia. Make sure you have plenty of "I Support Sloth" badges to hand out as party favors at the end of the night. Your guests will be thrilled to receive such a thoughtful gift.

There's a whole line of "I Love Sloth" decor that is simply perfect for such a party. Casually add a few I Love Sloth cushions next to your I Love Sloth bean bags. Both are soft, squishy, and add maximum comfort for your guests. They both look fantastic around the I Love Sloth rug. Take exceptional care to hang your I Love Sloth posters straight, and not block their view behind an I Love Sloth lamp. Take care to make the decorations noticeable, but not so over the top that your guests get lost in them. (Don't turn your decor into a cramped fire hazard!) Your party isn't complete without a Robo Sloth butler carrying around hors d'oeuvre and waiting on your guests in complete Sloth style. Everyone will know how you feel about Dr. Sloth from the moment they step into your neohome!

Finally, the food. What you serve at a party is just as important as the decor. Make sure you thrill your friends with a feast fit for Sloth himself. Tease their appetites with some lucky Slothy Day dip. No one's really sure what it's made of.. But that just makes it a unique menu item! Then fill them up with some Sloth Day burgers and nachos. Or, for the picky vegetarian in the mix, make sure to have a vegetarian Sloth wrap available. (These will all be sure to thrill your friend's taste buds as long as no one asks about any of the ingredients.) Round out the meal with a delicious radioactive Sloth cake (complete with a miniature Sloth cake topper!) and a healthy helping of berry Sloth ice cream. Your friends won't be able to forget the wonderful flavour of the berry ice cream (the mind control potion will see to it!)

Hopefully you have taken notes since that concludes our guide on how to celebrate Sloth Day in style. Don't forget to celebrate our glorious Dr. Frank Sloth on the 14th day of Sleeping. He will be watching! We hope to see you celebrating it in style!