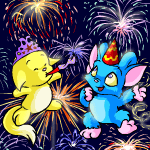 New Year's Outfit Options

by earthiness

--------



It's almost that time of year again! Time to rustle through your closets to find the perfect ensemble for that exclusive New Year's Eve bash. Does your pet have their look ready? From their hat to their shoes? If not, this article may be able to help out! Here you will find top-notch suggestions that are perfect for any type of pet and any kind of gathering they are attending. Going to an elegant dinner party? Or maybe a crazy gathering with friends? No problem, we've got you covered for all possibilities. So start digging for all your sequin tops and sparkly hair bows and let's get started.

The "Standard" New Year's Options:
Almost every year TNT releases some form of New Year's Eve wearables, from the New Year Celebration Wig (complete with three dyeworks options), to the Shimmering New Years Flower Dress. And let's not forget all the New Year's backgrounds, one made specifically for each land! These items are lovely, and definitely bring the New Year's spirit, but they're all a bit.. common. I mean how embarrassing would it be if you show up to a party and see someone else wearing the Black and White New Years Dress with New Years Hat of Love just like you, yikes! To make sure no such tragedy happens, it's best to stay away from these more standard New Year's wearables.
Hair Accessory/Hat/Wig Options:

- Pink Bow and Sparkles Headband, Golden Snowbunny Ears Headband, Sparkling Red Hair Bow: Who doesn't love a good sparkling headpiece? These standout hair accessories are the perfect items to make any outfit pop. The Pink Bow and Sparkles Headband is a good option for your super girly neopets, those that will be wearing all pink for the holiday and who are looking for that perfect accessory to complete their look. If your neopet is a bit eccentric you should opt for the Golden Snowbunny Ears Headband. This headband might be a bit unconventional but with the right outfit your pet will be the talk of the party (in a good way!). The Sparkling Red Hair Bow is also a great headpiece option but beware.. it's very, VERY sparkly. If your pet wears this hair bow to their shindig they are sure to mesmerize anyone they meet.

- Gold Sequin Top Hat, Red and Gold/ Sparkly Pink/Black and White Neopets 8th Birthday Hat, Elegant Black Feather Hat: The Gold Sequin Top Hat may be a bit over the top, but if your neopet is a bit ostentatious then this is the perfect hat for you. And the neopoint 8th birthday hats aren't just for b-days anymore! These fun party hats come in a variety of colors to go with almost any outfit, and they are sure to get your pet in the partying mood. But if sophistication is what you're after when it comes to picking a party hat, look no further then the Elegant Black Feather Hat. This feather covered hat will boost any look you pair it with.

- Dazzling Midnight Wig, Starry Auburn Wig, Sparkling Ponytail Wig: The Dazzling Midnight Wig, complete with three dyeworks options (black, green pink), is the best choice for a bolder pet, a pet who is not afraid to be the life of the party. The Starry Auburn Wig is for your classier, higher brow pet. This sleek updo wig instantly turns any mundane outfit into one of elegance and prestige. Finally, the Sparkling Ponytail Wig is a great possibility for your more laid back neopets, the ones that are happier to chill drinking eggnog then to be the center of attention.
Shirt/Trouser & Skirt/Dress Options:

- Shimmery Rose Top, Sparkly Golden Shirt, Sparkly Purple Tuxedo Top with White Shirt Underneath: The Shimmery Rose Top is great for a more elegant and old-fashioned party. It is also another item that has three accompanying dyeworks options, and pets can choose from blue, orange, pink, or classic white. The rose top with its jagged cut bottom and beaded neckline is sure to wonderfully match any trouser or skirt. For a more casual party, the Sparkly Golden Shirt is the way to go. The lightness and billowiness of the top pairs great with leggings and is comfortable enough to be worn all day and night. Trying to find the perfect top for your loud and crazy male neopet? Look no further then the Sparkly Purple Tuxedo Top with White Shirt Underneath. This top screams New Year's and is a great choice for either a formal or a crazy get-together.

- Golden/Green Sparkle Trousers, Starry Night Sky Skirt and Tights, Dainty Faerie Wing Skirt: If you have your sparkly hat and top ready to go, next thing you'll need is some sparkling trousers! The Golden and Green Sparkle Trousers can help you with that, although the latter is substantially glitterier. The Golden Sparkle Trousers give the same over-the-top sparkle effect as its Green counterpart, but only on blumaroos.. boo! If you prefer to stick with darker hues, and are planning to attend a more casual event, Starry Night Sky Skirt and Tights are the ones for you. The black skirt with shimmery white and blue hues is a nice, understated piece that would pair well with a basic top. Finally, this list wouldn't be complete without a good tutu option, enter the Dainty Faerie Wing Skirt. And, surprise, it has three dyeworks options (green, grey, and orange)! This magical looking skirt if perfect for the pet that sees New Year's as an opportunity to dress a little more costumey.

- Black Ruffled Dress, Emerald Taffeta Gown with Jewels, Ombre Glitter Dress: Oh, look, another dyeworks option! Your pet can sport the Black Ruffled Dress not only in its traditional black, but also in blue, red, purple, and pink. This short party dress is sure to please the younger crowds and is great for any semi-formal events. The Emerald Taffeta Gown with Jewels just oozes classiness with its green statement color and off the shoulder sleeves. An expensive looking diamond necklace also comes attached, so no need to hunt for the perfect jewelry! If you're looking for something a little in-between the previous two gowns, then the Ombre Glitter Dress might be the right fit for you. This shimmery strapless dress is sure to win over the younger and hipper generation, while its length and golden brown hues will also please a more mature crowd.
Finishing Touches:

There's so many more items to cover, but so little time! You must make sure your pet is dressed and ready to go before that clock strikes midnight. So here I add just a few more suggestions for items such as shoes, earrings, necklaces, handhelds, gloves, and makeup! Sparkling Gold Bow Shoes are a must have for any gold color scheme outfit. Their big bow and shimmering color will look amazing on the dance floor of any party. The shoes also happen to pair well with the Sparkling Emerald Earrings, a great glistening item that will appropriately accent your more stylish outfits. For a necklace your pet should try out the Golden Dubloon Necklace or Silver Dubloon Necklace, depending on the outfit color he or she is sporting. Both necklaces are big enough to add a bit of glitz to your look, but subtle enough to not overpower it. A purse is a nice option for a handheld item because it will give your pet the space needed to stowaway some of the cookies that are bound to be at the party. One such purse option is the swanky Green Glitter Eye Clutch Handbag. Another handheld option is the Father Times Watch, so your pet can be ready to start the countdown to midnight. Gloves are an essential add on item for any glamorous party outfit. White or Black Lace Gloves are a cheap option to ramp up any look. And, finally, makeup. For pets that like to stand out make sure to try a sparkly facepaint like Stars and Glitter Facepaint or Glittery Feather Facepaint. For a more understated makeup, be sure to check out the neopoint options for Eye Shadows and Lipsticks.
Hopefully these item suggestions have helped you come up with the perfect New Year's ensembles for your pets. Just remember to include in your look some sparkle and shimmer to make it festive, but also keep in mind that a little glitter goes a long way!