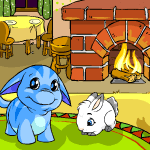 Festive Fun and Foods to Eat

by sunwreaths

--------

Autumn's transition into winter is one of the most beautiful times of year, filled with colour, festivity, and fun things to do. Whether you're kicking your way through piles of red and golden leaves, carol-singing with friends, or curling up in front of a cosy log fire, there is one more thing necessary to complete your experience – some wonderfully delicious seasonal food or drink! There are so many tasty snacks in Neopia that it can be difficult to choose, so this list helps you with that – pairing exciting wintery activities with the perfect meals to make every day memorable.

1) Playing outside in the falling leaves

Is there anything more perfect at this time of year than watching the leaves slowly turn red, orange, yellow, and brown on the trees that were so green just a few weeks earlier? Once the leaves begin to fall to the ground, playing in them is absolutely irresistible. Hiding in the piles to jump out at your friends, kicking your way through them, and best of all, running around and hearing them crunch underfoot is one of the most fun and simple activities you can do. A lovely walk around Neopia breathing in the fresh, crisp air is wonderfully peaceful and helps get you in the mood for the festive season ahead. In order to have all the energy you need for a day playing in the chilly outdoors, you and your neopet need a warming, wholesome breakfast. With its delicious, filling creaminess and hint of spice, Cinnamon Oatmeal is the perfect way to set yourself up for a fun-filled day.

So you don't have to go back home if you're too busy having a great time, it's best to take a packed lunch with you. There is a vast array of different sandwiches in Neopia, from the delicious to the disturbing, and you can choose whatever you and your neopet like the best. However, my suggestion is a tasty Fig Sandwich – though a little unusual, its rich flavour and colour make it a fantastic accompaniment to a cold autumn day.

Then, of course, comes the afternoon snack. By this time you'll probably be worn out with rosy cheeks, sitting amongst the beautiful leaves with your neopets. If you feel tired, but not yet ready to go home, something sweet to nibble on will give you just the boost you need to stay outside long enough to watch the sunset. A particularly festive option is the Autumn Usuki Cake, a deliciously sweet and succulent spice cake decorated with a cute usuki wearing a crown of autumn leaves. Perfect!

2) Berry picking at the farm

Though the month of Collecting is over, there are still plenty of delicious fruits and vegetables growing all over Neopia. Picking berries at Meri Acres Farm is a great way to spend some quality time with your neopets. You can play some unique farmyard games such as Potato Counter, or head into Meridell itself and explore the castle, have a try at rolling cheese, or visit Illusen in her beautiful glade. However, the berry picking is the main event, and it's particularly special at this time of year, when the rare Autumnberry is available at Pick Your Own – it can only be found in the months of Collecting and Storing, and so is quintessentially autumnal – good luck finding one! To spur you on in your hunt – and to make you feel better if you don't find one – take an Autumnberry Slushie with you for a real taste of the season.

Once again, you'll want to either buy your lunch in Meridell or take it with you so you can stay there for the whole day – and as Meridell doesn't really have any food shops, you'd better take a snack unless you want to rummage around in the Rubbish Dump. A perfectly portable and delicious meal that will warm you from the inside out is a tasty Pumpkin Bread, adorably shaped like the most seasonal of fruits. It will also be a great reminder of all the fun you had at Halloween. If you can manage to win a cheese from Cheese Roller, you'll have a perfect combination!

After a long day pushing your way through brambles and getting stuck in the mud, a hot, delicious drink is exactly what you need to bring you back to room temperature. Once your back home and curled up with your neopets, you can pour out a lovely Blazing Stone Mug of Borovan. It'll warm your fingers as well as your throat!

3) Snuggling up by the fire

What better way to escape the cold outdoors and impending snow than snuggling up in front of a blazing fire? Whatever you choose to do – reading a story, playing games, or simply sitting and having a chat – there is nothing more cosy and festive than the warm glow of crackling logs in your fireplace. The only way such a lovely scenario could possibly be improved is with equally warming foods to fill your belly and make your cheeks rosy! Whenever you think of foods that make autumn and winter seem cosier, the first thing that comes to mind is of course soup! There is none better to make you feel content than Soup Faerie Soup, which not only tastes delicious but reminds you of how lovingly it has been cooked by the Soup Faerie herself.

Soup is delicious on its own, but if you feel like something a little sweeter as an afternoon snack, then something baked and delicately spiced with cinnamon is ideal. With so much candy and chocolate around at this time of year, it's easy to get tired of sweet things – which is why the pleasant heat of a soft, crumbly Cinnamon Spice Scone is perfect for the season.

The scone's description says it is perfect with a nice cup of tea, which is certainly true, but if you want to add a little something extra to your drink then Spiced Pomegranate Tea is the way to go. Wonderfully fruity with just the right amount of spice, it will complement both the other snacks you're eating and the warmth of the beautiful fire.

4) Throwing a seasonal dinner party

If you need a way to channel your excitement as autumn reaches its peak and the festive season approaches, throwing a seasonal dinner party for your friends and neopets is a great way to spread the joy and send quality time with the ones you love, all the while enjoying tasty food which makes the atmosphere so much better. As the month of Celebrating approaches, it's good to invite everybody over now before they're inundated with other invitations to parties and gatherings! You can decorate the table with seasonal things like pine cones, pumpkins, and lots of candles, and your guests will have a brilliant time. To get them even more excited about the festivities to come, why not serve some Snowflake Bread before the meal? It's pretty shape will have everyone reminiscing about all the fun they've had playing in the snow.

For the first course of your seasonal dinner party, soup is a must – just like it's perfect for sitting in front of the fire, imagine sitting in the glow of the candles and sipping some delicious tomato soup. Spicy Tomato Soup is perfect for this, as it will get everyone's tastebuds tingling, and even comes in a big tomato-shaped bowl which can be eaten once the soup is finished.

After the soup comes the main course, and at this time of year everybody expects some succulent turkey! There are many different ways to serve turkey - with mashed potatoes, stuffing, and a huge array of vegetables to name a few. But one of the most important decisions is how to cook the turkey itself, and whether to add a little something to make it taste even more wonderful. Though this depends on your personal preference, a winning combination is Turkey and Chestnut Dressing, the perfect way to bring a little festivity even into the recipe itself.

At the end of your meal, when everyone is stuffed full but of course have room for dessert, you should bring out a Vanilla Seasonal Pudding as a stunning finale to your meal. The seasonal pudding comes in a few flavours, but vanilla is a great choice as the chocolate sauce and decorative holly berries really stand out against the smooth, white surface. Present it with a flourish, and your guests will be awestruck at how beautiful your food was – it will be a dinner party they'll never stop talking about!

5) Visiting somewhere warm

The final seasonal activity you should think about doing in order to make the most of these festive months is to actually escape the festivities! Though the snow, frost, and falling leaves are beautiful, sometimes you just want to go somewhere warm and colourful for a little while. What better way to soak up some sunshine than to visit Mystery Island for the day? It's a fascinating place filled with sights to see and interesting characters to meet. You can take a Tiki Tour, or visit the Island Mystic to have your fortune told! You might even win something at the Tombola! The food you choose to take with you on this trip can make it even better, by reminding you of the beauty of the season even as you paddle in the ocean. Any visit to somewhere warm has to involve ice cream – so choose a Pumpkin Ice Cream to remember all those delicious pumpkin pies you've been eating recently. Ice cream can be a bit too cold to eat at this time of year, so make the most of being somewhere hot and enjoy it!

For your lunch, a good idea would be to take a sandwich. They're brilliantly portable, and you can fill them with whatever you like! One suggestion is a Roast Chestnut Sandwich, a nice way to incorporate chestnuts into your picnic. This will remind you of the excitement to come, all the beautiful lights and decorations, while still fitting in with your little holiday.

Finally, you'll want something to wash down your tasty lunch, and for this you should definitely sample some of the local options. Try the Tropical Food Shop for a Coconut Cocktail, a refreshing, juicy delight that will make a good day even better. After all, not everything has to be festive!

At the end of your vacation day on Mystery Island, you'll be more excited than ever about the festive months and will be desperate to get home and enjoy the snow, presents, and dark, cosy evenings again! Enjoy the next few months, and do your best to make them memorable so you can think back later in the year to this lovely time.