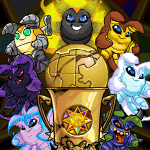 The 7 Yooyus

by jmo7692

--------

It is that wonderful time of year again, folks. No, sorry, but I am not talking about Christmas, I am talking about The Altador Cup! Woot wooot woooot!! It is finally here and it is hotter than ever before this season. Neopians from all over the globe, far and wide, gather together for a full month of their absolute favorite game, none other than Yooyuball of course.

In order to really enjoy a game of Yooyuball though, and to have the chance to rack up lots points for your favorite team, one needs to truly know how each unique Yooyu really works while out on the field during a fun game of Yooyuball.

Have no fear though. You have nothing to worry about though, because I am here to help you out and to tell you all about them, so please read on.

There are a total of 7 different Yooyus that could be in each game when you play a fun game of Yooyuball, and those 7 types of Yooyus are called: a Regular Yooyu, a Snow Yooyu, a Fire Yooyu, a Robot Yooyu, a Faerie Yooyu, a Mutant Yooyu, and a Darigan Yooyu.

Each of the 7 Yooyus that I mentioned just above work very differently than one another, and they also even work very similarly to one another. I will go very much into detail and explain how each and every single one of them work and explain what makes them unique from each other.

The Regular Yooyu:

A Regular Yooyu is just your average Yooyu. It has the regular speed and goes in a straight line when it is thrown.

The Snow Yooyu:

A Snow Yooyu is the slowest of all the 7 Yooyus. You will need to put lots of power into it to make it go far. With very little power, it will hardly move at all. Just like the Regular Yooyu, it also goes in a straight line when it is thrown.

The Fire Yooyu:

A Fire Yooyu is the fastest of all the 7 Yooyus. Very little power will need to be put into it to make it go far. With full power, it could easily go across the entire Yooyuball field. There is a major caution though to take note of when handling on of them. If it is held for too long, then a player will flat out drop it because of its excessive heat and it may go in a direction you did not want it to go in, so make sure to be very quick when handling one. Just like the Regular and Snow Yooyus, it also goes in a straight line when it is thrown.

The Robot Yooyu:

A Robot Yooyu is quite similar to a Regular Yooyu and has the same regular speed while out on the field. There is one thing that though that makes it very different from a Regular Yooyu and that one thing that makes it different is that it will EXPLODE like a bomb shortly after it starts moving. Be VERY quick scoring a goal with it before it goes away and before any players that are close to it get blasted across the field by its force. Just like the Regular, Snow, and Fire Yooyus, it also goes in a straight line when it is thrown.

The Faerie Yooyu:

A Faerie Yooyu is a bit different than all the other Yooyus because it curves when it is thrown unlike going in a straight line like the others just above. It can be a bit tricky scoring a goal with this Yooyu but with some practice, you should be just fine when handling it.

The Mutant Yooyu:

A Mutant Yooyu is also a bit different that all the other Yooyus. When it is thrown, it could go in a straight line or perhaps it will curve slightly. You never really know what these guys plan to do when they get thrown, so be a little careful with them.

The Darigan Yooyu:

A Darigan Yooyu is one word, plain and simple, and that one word is: EVIL. Why is that? Well when it is thrown, it will go in a completely random direction. It is very difficult to score with these evil guys, so let's hope you have some luck on your side if you come face to face with one during a game play.

One other thing I would like to mention about these 7 Yooyus during a game is which ones you will encounter during a game. The 1st Yooyu will always be a Regular Yooyu. The 2nd Yooyu will be any of the other 6 Yooyus. It is completely random for which of the other 6 you might get, so if you are hoping for a certain one, or not for a certain one, like Darigan, then hope as hard as you can and cross your fingers that you will or will not get it. The 3rd Yooyu will be another Regular Yooyu. The 4th Yooyu will be another random of the other 6 Yooyus. The 5th will yet again be another Regular Yooyu.

As you can see, this is a pattern that goes on. Each and every single game that you play will end up like this, so you never have to worry that you might get so unlucky and have an entire game of Yooyuball be of just Darigan Yooyus. If that were to ever happen, that could hands down, be the most difficult game of Yooyuball to ever be played. I for one would never want that to happen to me, so I am very happy that the pattern happens. I think it would be boring to have the same Yooyu over and over again, so it is nice to have it mixed up.

So, now that you know all about the 7 Yooyus, what are you waiting for? Go on now and play your heart out!!!!!!! Yes, you have an entire month to play, but it will be over sooner than you would ever realize. So, GO GO GO!!!!!!!