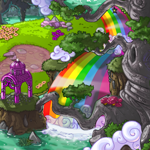 Y17 In Colour

by aleu1986

--------

Another year has gone by, and Y17 certainly gave us a lot of nice Neopet colours. It saw the release of a brand new Paint Brush, and most Neopet species were treated to two lovely new colours at the Rainbow Pool. Looking back through the entire year, at all the new colours, I have chosen my favourites from each month. So not all colours and species will be represented in this list, which is just made up of my personal opinions. They`re not ranked, simply listed in order of release.

The Month of Sleeping

Wraith Aisha
The Wraith Paint Brush is one of the relatively new additions to the Rainbow Pool. Well over half of the Neopet species have been released in this colour, and for me personally, there are only a few Wraiths I really like. Depending on the species, some are too solid-looking, while others simply don`t look very frightening.
The Aisha is up there with the Gelert and Usul as one of my favourite Wraiths. It`s nice and swirly, meaning you can imagine it sort of like a ghost – materializing then vanishing in thin air, or floating like a shadow. It`s also got fangs, which just add to the creepiness of this evil-looking Neopet. Also the Wraith Aishas tail looks like the curly hill from a certain nightmarish holiday feature.
Also released: Pastel.
Gnorbu: Swamp Gas and Biscuit.
Eventide Buzz
I`m a big fan of the Eventide Paint Brush! I know there are divided opinions on this colour in general, but I for one really like it, even the standard Eventide Neopets which others may not find very exciting.
This Buzz is a perfect example of an Eventide Neopet differing from the standard expectation of the colour. The swirls on the wings are a beautiful detail, and I really like how the starry night dominates the head/face and the back while the lower jaw, belly and feet are filled with the sunny dawn. I certainly hope many players who need the Buzzin avatar use their FFQ to paint their Buzz Eventide – it`s so beautiful!
Also released: Stealthy.
Elephante: Water and Sketch.
Camouflage Kacheek
Camouflage is an older colour, and it was nice to see the realistic approach the TNT artists took with the Kacheek, rather than going with the standard green or brown camo look. I like how the Kacheeks belly and muzzle are clean white, and the lighter areas on his face just adds to the cuteness. The stripes look beautiful, it`s easy to imagine this look being a clever disguise amongst vegetation when the light filters through leaves and branches.
The Camouflage Kacheek is amongst several Neopets who have a more realistic camouflage look, including Cybunny, Krawk, Ogrin, Chomby and several others.
Also released: Stealthy.
The Month of Awakening
Zafara: 8-bit and Dimsensonal.
Polka Dot Lenny
I wanted to add an honourable mention to the Polka Dot Lenny, being the first Neopet available in this new paint brush colour. Tonu, Koi, Vandagyre, Mynci and Ogrin were also made available later the same year.

Also released: Maractite.
Stealthy Chia
This is an interesting colour, and the Chia differs from the other Stealthy Neopets by looking more like an army general than a ninja. The helmet makes me think of Hubrid Nox and Lord Darigan, and I like the dark blue and purple tones. The metal shoes look clunky and neither very comfortable or stealthy, but overall this is a great addition to the colour. And that means a lot coming from me, as Chia is one of my least favourite species.
Also released: Dimensional.
Zombie Tonu
Tonu Day saw two great colours last year, and choosing between them was difficult. I really liked the Pastel, but the Zombie was so impressive I couldn`t pass it up. There are quite a lot of Zombie Neopets available, many of them with some great details and thought put into them. Strangely enough, they`re all wearing male clothing, but I won`t complain about that. The Zombie Tonu is wearing overalls, which might suggest he was a farmer before he joined the walking dead.
A striking feature to any Tonu is his mane. Looking at other Zombie Neopets with manes, such as Uni and Peophin, their manes have been given a dull, grey colour. Certainly life-less, but nowhere near as gross-looking as this Tonus mane. The hair/fur looks rotten, like fermented grass, and his tail tuft looks dry and wilted. I also love the great details of his broken horn and cracked nails, not to mention his expression. There are some great Zombie Neopets, but for me, the Tonu is up there among the absolute best.
Also released: Pastel (which was very pretty!)
Elderly Boy Mynci
Along with Royal, Elderly is the only colour where the males and females are given different base colours (usually) and clothing. Elderly is a fun contrast to the cute Baby colour, and while I can`t claim to be a huge fan of the Elderly Neopets, there are some of them I really like, the Elderly Boy Mynci being one of them. Not too many Neopets have been released in this colour so far.
Looking at this old Mynci, I can`t help but think he`s a retired fisherman or sailor. I can picture him sitting by the docks on Krawk Island (along with the Elderly Tuskaninny) swapping stories and mending fishing nets. My favourite feature to him is the wig and beard. The only thing he lacks is a cane to shake at those darn trespassing kids!
Fun fact: Although the colour is called Elderly, the Paint Brush is named Get Off My Lawn Paint Brush, so keep that in mind if you want to search for one on the Trading Post.
Also released: Elderly Girl.
The Month of Running
Uni: 8-bit and Biscuit.
Woodland Scorchio
When choosing which Neopets to put in this article, I initially didn`t want to feature a species more than once. I had to abandon that idea, as I was afterall choosing my personal favourites, and in The Month Of Running the Scorchio ended up outshining several other colours/species.
Woodland is an interesting colour. Some Neopets are quite standard when painted this colour, others look quite beautiful and spectacular. The Scorchio is one of the most unique and outstanding Woodlands. An eye-opener for sure! The colours and texture are great, the stripes really add something new and exciting, plus the branches with leaves replacing the Scorchios wings are a nice touch. Upon release, I wasn`t sure how I felt about this, but now I think it`s great!
Shoyru: Elderly Girl.
Stealthy Gelert
This is a colour many users appreciate. The base colour is great for customizing, and each Stealthy Neopet has several pieces of PB clothing that you can combine to your hearts delight. I prefer the base colour over the clothes in Stealthy`s case, but the Gelert is so awesome there`s no way I`m leaving him off this list. The wait for him to arrive at the Rainbow Pool was definitely worth it!
His clothing set consists of an impressive six (6) pieces. The blades on the tips of his ears and tail make this Neopet both swift and deadly. The white wig (which comes with the cape) is an especially nice touch, setting the Gelert apart from the other Stealthy pets. Just the blades and the cape/hood alone make for a great look, I like the detail of the belt buckle keeping the hood and cape connected. This is in my opinion one of the best Stealthy Neopets.
Also released: Pastel.
The Month of Eating
Tonu: Polka Dot
Krawk: Woodland and Sketch
Water Kougra
This is one feline that certainly don`t mind getting wet! I`m no artist myself, but I can easily imagine that Water is a paint brush colour it`s hard to do, and do well. The Kougra hasn`t got crashing waves or floating bubbles, because he doesn`t need any of that. There is plenty of beauty in the great play of light and shadow and the ripples in the water.
Also released: Transparent
Lutari: Dimensional and Wraith
Sponge Cybunny
When the Cybunny Carnival rolled around, we were only treated to one colour, but for one was pleased to see some attention given to this lab-only colour which only fourteen (14) pets now including the Cybunny are available in, at the time of writing. The Sponge colour has been around for a long time, since before the conversion, and so you might see UC Sponge Neopets around.
The Lupe and Aisha are also pink, but the Sponge Cybunny is the first to sport this darker shade. I personally would have preferred if the Cybunny was the same shade, because this pink reminds me too much of the Jelly Cybunny. It`s still very cute!
The Month of Hunting
Wraith Lupe
I featured the Aisha earlier in this article, but the Wraith Lupe also deserves some attention. I think the feline and canine species of Neopet fit especially well to this colour. The Wraith Lupe balances nicely between being too solid and looking like a demonic ghost. I especially like the swirls on the tail and the sharp ears. Something that can make or break a Wraith Neopet is their expression, and the Lupe has a good one, with his toothy grin and slightly narrowed eyes. This is a spectre you don`t want to chase you through a dark forest!
Also released: Transparent. Chocolate Lupe was released in The Month of Gathering.
Chomby: Strawberry and Water.
Hissi: Water.
Moehog: Ice and Striped.
Polka Dot Koi
The Koi was the third species to be released in the new colour Polka Dot. The Tonu was released in this colour in The Month Of Awakening, and with them the pink theme was introduced. On a bulky species like Tonu, however, both the pink and the polka dots are represented well. On a small Neopet like the Koi, the pink steals most of the focus. It may have been a better choice to switch the placement of the colours, meaning the Kois fins sported the dots and their body was pink. I don`t mind personally, as Koi is my favourite Polka Dot so far, simply due to me loving pink... also I found this new paint brush colour rather underwhelming. Nevertheless, I look forward to seeing where the TNT artists go with the Polka Dot Neopets in the future!
Also released: Pastel
Ice Yurble
We got two Ice Neopets this month, and I choose to spotlight the Yurble. This is a beautiful example of a Ice Neopet, I love the shading, and the Yurble`s mane is perfect for this colour, it`s nicely jagged and spiky. The sharp corners and square patterns make this Neopet look like an impressive ice sculpture. It really looks like someone cut this out from a block of ice, which is exactly how we like our Ice Neopets!
Also released: Dimensional.
The Month of Relaxing
Jubjub: Biscuit and Invisible.
Zombie Quiggle
The Month of Relaxing didn`t feature any pet colours that were very exciting or refreshing. The best one was definitely the Zombie Quiggle.
The striped shirt is nice, and I like the mesh on the legs despite it not making much sense. The stitching is interesting, and the eyeballs are satisfyingly creepy. They`re not completely blank, the pupils are just so tiny they`re hard to make out. They`re also facing in two different directions, which is a nice touch. Not that a Zombie has very good eyesight anyway.
Also released: Biscuit.
Nimmo: Snow
Kau: Silver and Gold.
The Month of Swimming
Flotsam: Water and Swamp Gas.
Ixi: Transparent and Wraith.
Chocolate Tuskaninny
I was quite eager to see a new Chocolate Neopet released last year, and to my great delight we got two! The Tuskaninny was the first, released on their pet day. Only a few Chocolate Neopets feature no cream of any kind, but most have a dash of cream on top of their head, complete with a cherry on top. The Tuskaninny is no exception, and on this species the cream fits naturally in place of their usual tuft of hair. I appreciate that it`s not too large or runny, as on for example the Draik. The extra cream on the tail is cute. I like the swirly decorations but wish the Tuskaninnys front had been given some attention. The Chomby and Shoyru both feature beautiful decorations, and with a bulky Neopet like this it would make sense to put some icing or swirls on the chest or belly. That said, I like the detail that this Tuskaninny has been given, and I think it`s a really cute Chocolate Neopet.
Also released: Silver.
Dimensional Peophin
Despite not enjoying this paint brush colour much generally, I had to feature the Dimensional Peophin here due to it being the first in this gorgeous dark blue shade. I love it! It`s easily my favourite Dimensional Neopet, and the blue colour makes sense as this is an aquatic species. This was quite well recieved upon release, which is more than can be said for the other Peophin colour announced in the New Features the same day, which brings me to the next colour on this list:
Transparent Peophin
The new Peophin that arrived at the Rainbow Pool is perhaps the most awesome Transparent Neopet released this far. It looks quite impressive, well drawn with a skeletal structure that makes sense for the species and nice details. Thank you for listening, TNT!
Kiko: Woodland and Eventide. (Both colours were slightly altered after being announced).
Ruki: Pastel and Sketch.
The Month of Hiding
Blumaroo: Dimensional.
Stealthy Grundo
I`ll just get my single complaint about this Stealthy Neopet out of the way first: The horn is confusing to me. It`s clearly not part of the Grundos body, but why add it? With that said, this is a good addition to the colour. I like the bandages on the ears and hands, and the cloth in front of his mouth makes him look like a sneaky bandit. Compared to some other Stealthy Neopets, the Grundos clothes are light (they also look nice and warm) which allows for quick, silent movement. His clothing set consists of mask, shirt, pants and shoes.
Also released: Biscuit.
No colours were released for Kyriis.
The Month of Gathering
Biscuit Draik
This month started where the previous left off, with another Biscuit Neopet! There are a handful of Biscuit Neopets that look terribly bland, as if they`re made from sand rather than cookie dough. There are also many that look wonderful, with lots of chocolate chips and nice texture. The Draik thankfully belong to the latter. It`s not among the best (Cybunny and Ixi are my personal favourites in this colour) but it`s still very nice. I would have preferred more dark chocolate, perhaps on the Draiks belly or wings, rather than just on his toes. Dark brown eyes would have been cute as well. The Biscuit Draik has plenty of chocolate chips, and I like the neat placement of them on the wings, whereas on the rest of the Neopets body they seem randomly placed, which is a nice touch. The large chip in the ear is quite charming!
Skeith: Wraith.
Chocolate Lupe
I was thrilled to see a new Chocolate Neopet released for the Annual Chocolate Ball! This is one of my favourite colours, and the Lupe was a species I was looking forward to seeing in Chocolate form. The Chocolate Lupe is a pretty standard Chocolate pet, nothing new, but it`s not boring either. The cream on the tail is a bit too much for my liking. It looks too big and solid, it would have looked better if it was smooth, like the cream on the Chocolate Kougra and Aishas tails. It could have used some more chocolate sprinkles too. The cream on the inside of the ears is a nice detail, and the dash of cream on top of the head is ever present. Considering the amount of cream on the tail, I like the small portion on the head, though I feel the cherry could have been skipped here. Finally, the inside of the Lupes ears, his muzzle and belly are all different shades of brown. We`ve seen both better and worse in this colour, and I personally think the Chocolate Lupe is a decent addition.
Water Techo
I would not pass up a chance to praise the Water Techo! There are many wonderful Water Neopets, and the Techo is a very good one. Most Neopets have tails, and some have wings, and the TNT artists have creativly incorporated crashing waves into the design of these species in Water. The Techo`s tail has been made into running water, and it looks amazing. I like the pale eyes, and the bubbles and nice shading make the Water Techo eyecatching and beautiful.
Also released: Pastel.
No colours were released for Poogles.
The Month of Collecting
Tyrannian Grarrl
If there`s one colour I was not expecting to see released for Grarrls, it`s Tyrannian. How do you make a prehistoric Neopet look more prehistoric? Tyrannian Neopets in general are usually shaggy, equipped with horns, fangs or both. The Grarrl isn`t exactly furry, but he`s got some impressive gnashers in place already that don`t need improvement. I really like the horn and the spikes on his tail, they both give him a threatening appearence, plus his eyes are downright evil-looking! The dusty brown colour makes perfect sense for the Tyrannian plains, and the brown spots are nice.
Also released: Swamp Gas.
Eyrie: Dimensional and Transparent.
Stealthy Bori
With several Stealthy Neopets already mentioned in this article (it was frequently released last year) I`ll try to be quick with this one. The Ixi was the first Stealthy Neopet to wear purple clothing, and I`m glad to see the trend continue with the Bori. His clothing set consists of armour and mask.
You can clearly see this Bori is ready for a fight. Considering how well he is protected, I`d say he`s a winner, too! Overall there is a great attention to detail here, which I love. The mask has something that looks like a pair of Wocky ears sticking out from the sides, which is.. well, really cute! The armour is cool, I especially appreciate the pattern on the back mimicking the Boris scales, plus the spikes, particularly the ones on the tail are just fantastic.
Jetsam: Stealthy and Eventide.
Koi: Zombie.
8-bit Korbat
This was one 8-bit Neopet that was recieved quite well by users. Many agreed that it`s really cute, and I share the excitement. I`ve never wanted to own an 8-bit Neopet, and the Korbat is not enough to convince me, but it is one of my favourites in this colour so far.
Due to the unique pose of the Korbat (hovering in flight rather than standing like the bird Neopets do) it makes perfect sense for it to be facing forwards rather than be shown in profile like most other 8-bit Neopets. The yellow feet are a trademark of this species, and the light blue wings are nice, making this look like a basic blue Korbat. I like the simplicity of that, also there are nine other Korbats with blue wings of different shades, so it`s a natural choice. Another thing that makes the Korbat unique amongst 8-bits is the fact that this is the first female Neopet in this colour. She wears a dress, where all other 8-bits wear trousers and shirts.
The Month of Storing
Biscuit Pteri
I`ve already mentioned the Biscuit Draik, but the Biscuit Pteri is so nice I have to spotlight that one too. It`s seriously yummy looking – the chocolate chips are all placed perfectly, and the colours and texture of this Neopet is just wonderful. All Biscuit Neopets should look like this.
Also released: Strawberry.
Shoyru: Elderly Boy
Pastel Acara
We`ve seen green Pastel Neopets before (Aisha, Draik, Kougra, Gnorbu and Hissi) but they`re all in different shades, and the Pastel Acara brings a new colour combo to the table. It`s nice and fresh without being too pale. There are some light purple accents here and there, it`s subtle enough not to be distracting or annoying. Usually the Acaras chest and belly are a lighter shade of their base colour, but keeping it white in this case was the right choice. The yellow eyes are unsettling to me, but that can be fixed with contacts. I personally think green, blue or even purple eyes would have looked nicer. Other than that little complaint, I think this is a very pretty pastel Neopet.
Blumaroo: Strawberry
8-bit Cybunny
The fourth 8-bit Neopet released this year, the Cybunny follows the Korbat`s example and face you directly rather than sit in profile. I don`t think a pixelated Cybunny would look good in profile at all, so this choice makes perfect sense. The 8-bit Cybunny is proper old-school, but a tad too simple. I do miss the cute pink spots on his neck ruff, but I am glad TNT made him white, and not purple or pink all over. If I were ever to get an 8-bit Neopet, this would clearly be my choice.
Meerca: Water
Purple Vandagyre
Remember how Purple Neopets used to look like? Yeah, the combination of purple and orange wasn`t fabulous, but purple mixed with pink or yellow looks quite nice, in my opinion. After the conversion, Purple Neopets became just that. No weird orange spots or stripes, even the Hissis belly got changed from orange to yellow. (Which looks so much better!) Up until the Purple Vandagyre was released, the Acara alone sported the purple and pink combo, but I was very pleased to see the Vandagyre in their new plumage. I was expecting a basic colour for Vandagyre Day, and assumed that if TNT did release Purple, it would look like the regular basic coloured Vanda, which is to say purple and white. That would have looked great too, but I`m personally thrilled they went for this combination. It`s so cute!
Baby Vandagyre
This was one of the colours I was REALLY hoping to see on Vandagyre Day. It was released the day after, and I think many players found it to be worth the wait. I saw more than one Baby Vandagyre around the Neoboards the same day. I do think it`s cute, those large eyes are irresistible, though I confess I think it would have looked better if it was sitting down. One of my favourite things are the Vandagyre`s fluffy ears, and on the Baby they look like pigtails, which is very charming. Going back to my remark about the pose, some think the Baby Vandagyre looks curious, like he`s tilting his head, whereas I personally think he looks about to topple over. Gotta learn to walk before you can fly, I guess. I`m certainly not disappointed in this colour, and I look very much forward to seeing the colours for the next Vandagyre Day!
Also released: Polka Dot.
Mynci: Polka Dot.
Ogrin: Polka Dot.
The Month of Celebrating
Bruce: Water
Mutant Wocky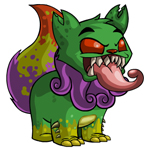 There are only a handful of Mutant Neopets that I really like, and the Mutant Wocky is an honourable mention to that list. I do wish this Wocky`s body had been mutated properly, so its stance wasn`t so stiff and standard, it would have looked better if he had seemed bigger than normal, perhaps standing with his back arched and hissing. But that is really a minor complaint. Overall I think this is a pretty cool Mutant. Several Mutant Neopets feature a combination of different elements that by no law of nature should be found on one and the same animal, such as tentacles and spikes, and some even resemble hybrid creatures.
Luckily the Mutant Wocky is not over-the-top nor underwhelming in my opinion. The colourful tail is a tad confusing, but other than that the different elements all work well. The jagged ears, the scary spiky teeth, the icky tentacle mane and the spiked feet, not to mention the evil red eyes! The large, long tongue is quite eyecatching – other Mutant Neopets that stick their tongue out include the Grarrl and some poses of the pre-conversion Flotsam.
Also released: 8-bit (which was really cute!)
Usul: Dimensional
Christmas Hissi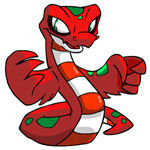 It`s Christmas! It`s the best, most wonderful time of the year, and lucky us, we got a new Christmas Neopet at the Rainbow Pool! There is a handful of pets in this colour that have no clothing of any kind (not counting lights or sprigs of holly) and while some may feel cheated that this Hissi is not wearing a cute hat or even a scarf, I personally think it looks nice without it.
The rich, deep red colour is lovely, and the signature Christmas colours are complete with the green spots (and green eyes!) My favourite feature to this Hissi is the candy cane theme on his belly, very cute and creative. Several other Christmas Neopets already feature this pattern in some form, like Blumaroo and Eyrie. The Christmas Hissi brings nothing new to the colour, it`s a standard Christmas Neopet, but I am very pleased with it and think it looks very nice!
Ogrin: Checkered and Disco
Maractite Xweetok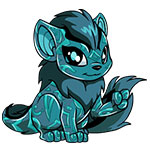 An interesting colour, Maractite looks, in my personal opinion, usually best on the larger Neopets such as Elephante. On a small Neopet like the Xweetok, the patterns can easily look too crowded, but the artists have done a good job with this species. The symbols are evenly spread out without being too busy. The dark mane and tail look very nice.
Due to not being active at the Rainbow Pool at the time of submission, I`ve used the smaller New Features images for the latest Neopets.
This concludes all the Neopet colours that were released in Y17. Did I feature any of your favourites? Have you painted any of the new colours released this year?
I want to direct a heartfelt thank you to the hard-working, creative artists behind the wonderful and colourful Neopets.
Feel free to check out my other articles, and please Neomail me with any comments.