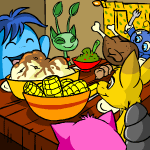 A Neopian Day Of Giving Feast

by wokitana

--------

The month of celebrating (December) brings about a magical time for the young and also for the old. It is a time for love, sharing and giving. A time for decorating our homes and preparing all sorts of foods, treats and candies. It is potentially a time of family and friends gatherings. It is definitely a unique sensation filled with mixed emotions of hope and high expectations and having a great and memorable feast is the best way to celebrate it. For the first time in Neopian history you can celebrate your Day of Giving Neopian style! Here is a list of mouth watering foods for your feast, complete with recipes!

Starters

Cream Cheese Dip - This dip is perfect for those with voracious appetite, while waiting for the main dish to be served. Serve chips, biscotti or gressini along with it and watch all of the guest licking and munching greedily. Before you know it, this dip will be gone. This recipe allows for twenty servings but you may want to double it, because who eats just one serving!

Ingredients:

1 tablespoon vegetable oil

1 medium shallot, chopped

16 ounces ground beef

4 (8 ounce) packages cream cheese at room temperature

1 litre milk

8 ounces Cheddar cheese, crumbled

Garlic salt to taste

1 tablespoon chopped fresh parsley

Directions:

1. Cook the shallot in the preheated oiled pan, until translucent.

2. Add the ground beef and fry until brown. Set aside until cool.

3. Place the cream cheese in a bowl.

4. Mash the cheese with a fork, while gradually pouring in the milk to make a smooth mixture.

5. Stir in garlic salt to taste.

6. Stir in the beef and cheddar cheese crumbles and garnish with parsley.

Pumpkin Spice Soup - Yum! You've probably never had soup like this before, but we bet you'll be coming back for more. This soup is very easy to make and very, very tasty! The amounts shown in this recipe are ideal for four servings.

Ingredients:

2 ½ cups chicken broth

1 (15 ounce can) pumpkin puree

½ cup chopped shallots

1 clove garlic, minced

1 teaspoon Cajun seasoning

½ cup heavy cream

Directions:

1. Heat chicken broth, pumpkin puree, shallots, garlic, and Cajun seasoning to a boil in a saucepan over medium-high heat.

2. Reduce heat to low and simmer for 45 to 60 minutes, stirring every 15 minutes.

3. Stir in heavy cream before serving.

Main Dishes

Vegan Turkey Dinner – This recipe for stuffed tofu turkey is perfect for your vegan guests. It is so delicious that even your meat eating guests will want to try it. The results are so amazing that even the most skeptical guests will be coming back for more. You can serve all the other vegan approved side dishes you made with this too. Absolutely wonderful! Serves 12.

Ingredients:

4 (16 ounce) tubs extra-firm tofu

2 teaspoons ground dried thyme

2 teaspoons rubbed sage

1 teaspoon onion powder

2 (6 ounce) packets vegetarian stuffing

½ cup soy sauce

¼ cup olive oil

½ teaspoon sesame oil

Directions: The night before:

1. Let three tubs of tofu come to room temperature. Squeeze tofu into small bits with your hands, mixing in thyme, sage and onion powder as you squeeze.

2. Wet a piece of cheesecloth, wring it out and smoothly line a colander with it (no wrinkles). Dump in the crumbled tofu, and press it into sides and bottom of colander, making a bowl within a bowl. The "tofu bowl" should be about one inch thick and almost reach the top of the colander.

3. Find a bowl that will fit perfectly inside the tofu bowl. Gently press it into the colander. It will make an expressive sound. Find something heavy (can of peaches) to press the bowl into the tofu bowl to help tofu drain.

4. Tuck corners of cheesecloth over top of tofu to keep edges from drying out. Stand the colander/cheesecloth/tofu/bowl/weight construction in a dish to catch liquid. Refrigerate overnight.

The following morning:

1. Preheat oven to 375°F.

2. Prepare stuffing according to package directions. Remove weight and bowl from colander. Fill tofu hollow with stuffing. Crumble remaining tofu, and use to cover stuffing, pressing flat to the edges of the colander.

3. Find a large oven baking dish. Place dish over colander. Hold tightly and invert colander so tofu-turkey drops gently onto dish. Peel off cheesecloth.

4. Combine soy sauce, olive oil and sesame oil in a bowl and coat the tofu-turkey with a brush. Bake for fifteen minutes. Coat again with this mixture and reduce oven temperature to 350°F, and bake for one hour, brushing more liquid along the way.

Ham and Turkey Feast - These easy to make ham and turkey recipes are great for beginners, but experts will find it equally delicious. Adjust the cooking time for different sized turkeys and serve with the baked ham for which we are giving a simple, two-ingredient glaze to make it a snap to prepare. The ham and turkey can be roasted side by side (in separate pans) in the same oven, provided they are not too big to go in together. Each of these recipes should suffice for eight people.

Ingredients (for ham):

1 large ham, ready to cook (about 10 to 12 pounds in weight)

1 cup peach preserves or peach jam

2 tablespoons spicy brown mustard

Directions:

1. Heat oven to 350°F.

2. Place the ham on a rack, fat side up, in a large baking pan or roasting pan. Score the ham lightly all over with a sharp knife. Add 1½ cups of water to the pan and cover tightly with foil.

3. Bake the ham for about 18 minutes per pound.

4. Meanwhile, combine the preserves and mustard to make the glaze.

5. About 20 minutes before the ham is done, brush the ham all over with the glaze ingredients.

Ingredients (for turkey):

12 pounds whole turkey

1 (6 ounce) package dry bread stuffing mix

1 cup water

1 tablespoon butter

1 cup chopped celery

¼ cup chopped shallot

4 slices toasted white bread, torn into small pieces

Salt and pepper to taste

2 tablespoons vegetable oil

Directions:

1. Preheat oven to 350°F.

2. Rinse turkey, remove giblets and place in a shallow roasting pan.

3. Prepare stuffing according to package directions. Mix in water.

4. Melt butter in a medium saucepan over medium heat, and slowly cook and stir the celery and shallots until tender.

5. Mix celery, shallots, and toasted bread pieces into the stuffing, and season with salt and pepper. Loosely scoop stuffing into the turkey body cavity and neck cavity. Rub the exterior of the turkey with vegetable oil.

6. Loosely cover turkey with aluminum foil, and roast for 3½ to 4 hours in the preheated oven, until the thickest part of the thigh reaches 180°F and the interior of the stuffing reaches 165°F. Remove foil during the last half hour of cooking to brown the turkey.

Sides

Cranberry Sauce - This sauce is a delightful classic that goes hand in hand with any festive turkey dinner. For those with a sweet tooth this recipe is a "definitive" elixir.

Ingredients:

12 ounces cranberries

1 cup white sugar

1 cup orange juice

Directions:

1. In a medium sized saucepan over medium heat, dissolve the sugar in the orange juice.

2. Stir in the cranberries and cook until the cranberries start to pop (about 10 minutes).

3. Remove from heat and place sauce in a bowl.

4. Cranberry sauce will thicken as it cools.

Cheesy Carrot Chunks – Awesome! This recipe will be a big hit with everyone! You will most definitely make it again. The mild-tasting carrots are wonderfully enhanced by the mouthwatering creamy cheese sauce in this super side dish. The serving bowl is always empty at the end of the meal. This recipe makes 4 to 6 servings.

Ingredients:

1 (16 ounce) package frozen sliced carrots, thawed

1 (10 ounce) can cream of celery soup, undiluted

8 ounces Cheddar cheese, cubed

½ cup dry bread crumbs

2 table spoons butter, melted

Directions:

1. In a bowl, combine the carrots, soup and cheese. Transfer to 1½ litre baking dish.

2. Bake uncovered at 350°F for ten minutes.

3. Toss together the breadcrumbs and the butter, then sprinkle on the top of the carrots.

4. Bake for a further ten minutes until carrots are tender and the mixture is bubbly.

Garlicy Mushrooms - These are super easy, and make a great side dish for your mushroom loving guests. This recipe is cooked in the oven but you can also cook it up on the stove in a frying pan, which we think it's much easier and gives you more room in your oven for all the other dishes you are making! Serves 8.

Ingredients:

2 tablespoons butter

1 tablespoon olive oil

5 cloves garlic, sliced

40 large white button mushrooms

1 tablespoon balsamic vinegar

2 tablespoons chopped fresh parsley

Directions:

1. Preheat oven to 350°F.

2. Combine butter, oil and garlic in an oven dish and cook for a couple of minutes without stirring, until translucent.

3. Stir in the mushroom and cook for ten minutes.

3. Stir in balsamic vinegar and parsley, and cook for further two minutes.

4. Season with salt and pepper and serve hot or at room temperature.

Caesar Salad – This Caesar salad will satisfy even the pickiest guests as it is super delicious. It makes your mouth water even by going through the recipe. It's just the perfect balance of all the ingredients. Oh...and the homemade garlic croutons…they are very appetizing! Try this recipe and you surely won't regret it! You will never buy Caesar dressing in a bottle ever again. This recipe allows for 6 servings.

Ingredients:

6 cloves garlic, peeled

¾ cup mayonnaise

5 anchovy fillets, minced

6 tablespoons shredded Parmesan cheese, divided

1 teaspoon Worcestershire sauce

1 teaspoon Dijon mustard

1 tablespoon lemon juice

Salt and ground black pepper to taste

¼ cup extra virgin olive oil

4 cups day-old bread, cubed

1 head lettuce, torn into bite-size pieces

Directions:

1. Mince 3 cloves of garlic, and combine in a small bowl with mayonnaise, anchovies, 2 tablespoons of the Parmesan cheese, Worcestershire sauce, mustard, and lemon juice. Blend all ingredients until smooth. Season to taste with salt and black pepper. Refrigerate until ready to use.

2. Heat oil in a large pan over medium heat. Cut the remaining 3 cloves of garlic into quarters, and add to hot oil. Cook and stir until translucent, and then remove garlic from pan. Add bread cubes to the hot oil. Cook turning frequently, until lightly browned. Remove bread cubes from oil and season with salt and pepper.

3. Place lettuce in a large bowl. Toss with dressing, remaining Parmesan cheese, and seasoned bread cubes.

Plain Mashed Potato - Great recipe for "good old fashioned" mashed potatoes! It's straight forward and just plain delicious. Always heat up the milk and add it to the potatoes. Sometimes you can use thick cream to make them creamier. You just can't go wrong with this classic recipe for comfort food! Allows for 4 servings.

Ingredients:

2 pounds baking potatoes, peeled and quartered

2 tablespoons butter

1 cup milk

Salt and pepper to taste

Directions:

1. Bring a pot of salted water to a boil. Add potatoes and cook until tender but still firm, about 15 minutes then drain.

2. In a small saucepan heat butter and milk over low heat until butter is melted. Using a potato masher or electric beater, slowly blend milk mixture into potatoes until smooth and creamy. Season with salt and pepper to taste.

Baked Pumpkin Bread - This is simply scrumptious!!! Below is how this recipe turns out moist, spicy, and DELICIOUS!! You will make this recipe again and again! Makes 3 (7x3 inches) loaf pans.

Ingredients:

1 (15 ounce can) pumpkin puree

4 eggs

½ cup vegetable oil

½ cup sweetened applesauce

2 cups sugar

3 ½ cups flour

2 teaspoons baking soda

1 ½ teaspoon salt

1 teaspoon cinnamon

Splash of vanilla

¼ teaspoon pumpkin spice

1 teaspoon nutmeg

½ teaspoon cloves

¼ teaspoon ground ginger

Directions:

1. Preheat oven to 350°F.

2. Grease and flour three 7x3 inch loaf pans.

3. In a large bowl, mix together pumpkin puree, eggs, oil, applesauce and sugar until well blended.

4. In a separate bowl, whisk together the flour, baking soda, salt, cinnamon, nutmeg, cloves and ginger. Stir the dry ingredients into the pumpkin mixture until just blended. Pour into the prepared pans.

5. Bake for about 50 minutes in the preheated oven. Loaves are done when toothpick inserted in center comes out clean.

Desserts

Pumpkin Cookies - These cookies are superb, soft and cake-like, not at all dense or sticky. They take on a beautiful shape while baking. The icing simply looks beautiful. No frog surprise in these ones! So good! This recipe makes 3 dozen cookies.

Ingredients:

2 ½ cups all-purpose flour

1 teaspoon baking powder

1 teaspoon baking soda

2 teaspoons ground cinnamon

½ teaspoon ground nutmeg

½ teaspoon ground cloves

½ teaspoon salt

½ cup butter, softened

1 cup white sugar

½ cup light brown sugar

1 cup canned pumpkin puree

1 egg

1 teaspoon vanilla extract

2 cups confectioners' sugar

3 tablespoons milk

1 tablespoon melted butter

1 teaspoon vanilla extract

Directions:

1. Preheat oven to 350°F.

2. Combine flour, baking powder, baking soda, cinnamon, nutmeg, ground cloves, and salt. Set aside.

3. In a medium bowl, cream together the ½ cup of butter and all the sugar. Add pumpkin, egg, and 1 teaspoon vanilla to the butter mixture, and beat until creamy.

4. Mix in dry ingredients and work into a sticky dough.

5. Drop on cookie sheet using a tablespoon (heaped), flatten slightly.

6. Bake for 15 to 20 minutes in the preheated oven. Cool down on a wire rack.

Directions to make glaze:

1. Combine confectioners' sugar, milk, 1 tablespoon melted butter, and 1 teaspoon vanilla. Add milk as needed to achieve consistency.

2. Drizzle glaze on top of the cookies using a fork.

Apple Cherry Tarts - This spiced old fashioned recipe is a perfect finish to your holiday meal. It is so delicious, your guests will ask for the recipe. You can serve these tarts warm or at room temperature. Makes 12 (4 inch) tarts.

Ingredients for the crust :

3 cups all-purpose flour, plus more for rolling

¾ cup confectioners' sugar, sifted

1 pinch salt

9 ounces (1 stick 2 tablespoons) unsalted butter, chilled and cubed

6 tablespoons ice water

1 pound frozen cherries

18 small red cooking apples, half diced, half sliced

3 tablespoons raw cane sugar

1 ½ tablespoons cornstarch

1 teaspoon ground cinnamon

Splash of vanilla

1 tablespoon of water

1 tablespoon lemon juice

12 fresh cherries (optional) to garnish

6 tablespoons apricot conserve

Special equipment: 12-count tart 4" pan

Directions:

1. Pulse the flour, confectioners' sugar, and salt in a food processor until just combined.

2. Add the butter and process until the mixture resembles coarse bread crumbs.

3. Add the ice water gradually and process until the dough holds together when pressed between two fingers.

4. Form the dough into a disk, wrap it in plastic wrap, and chill for 30 minutes.

5. Preheat the oven to 350°F.

6. Lightly grease the cups of a 12-count tart pan and line the pockets with strips of parchment paper hanging over the edges. These will help you lift out the tarts.

7. On a lightly floured work surface, roll out the pastry dough until it is 2/8 inch thick. Cut out 12 pastry circles, and use them to line the tart pan cups. With a fork, poke holes on the bottom layers to prevent them from lifting.

8. Put the dish in the oven, and blind bake for 15 minutes. The baked crust should be lightly golden, firm, crispy and smelling delicious! Set aside when ready.

9. Peel and dice 9 apples, then toss with the frozen cherries, sugar, cornstarch, cinnamon and vanilla in a large pan along with water and lemon juice.

10. Simmer over medium heat for 10 minutes. Cook further until the mixture has the necessary consistency (about 15 minutes).

11.Spoon the compote into the crusts, then top them with apple slices from the remaining apples.

12.Bake the tarts for 15 minutes, until crust becomes golden, making sure the top layer of apples doesn't burn or get too dry. Remove from oven.

13.In the meantime, heat up the apricot conserve over low heat, to make it more fluid.

14.Once the tarts are out of the oven, brush the top layer with the apricot conserve to give them a glaze and top each tart with a fresh cherry in the middle.

Special note on blind baking: Many recipes for pies and tarts call for "blind baking," which refers to prebaking the crust before adding the filling. This process helps to prevent a soggy shell, producing a flaky, buttery crust instead. The unbaked crust is lined with foil or baking paper and filled with pie weights (beans), which keep the crust from bubbling and help prevent shrinkage. It is then baked until the crust is firm and light brown.

Drinks

Hot Apple Cider - Simple spiced apple cider! This is great for any occasion or get together all year round and the slow cooker keeps it warm, so guests can enjoy it through the night. When it's done, it's great mixed with a slice of orange! Leftover cider is great cold too with topped ice cubes! Makes 8 servings.

Ingredients:

1 (64 fluid ounce) bottle apple cider or apple juice

3 cinnamon sticks

1 teaspoon whole allspice

1 teaspoon whole cloves

⅓cup brown sugar

Directions:

1.In a slow cooker, combine apple cider and cinnamon sticks.

2. Wrap allspice and cloves in a small piece of cheesecloth, and add to pot.

3. Stir in brown sugar and bring to a boil over high heat.

4. Reduce heat, and keep warm if serving the drink hot.

Cranberry Flavoured Borovan - Borovan is a hot drink unique to Neopia, and because of this we created this recipe for an equally exclusive drink. The blend of ingredients combined with cranberry juice is so unique, you won't taste anything like it… ever! We guarantee it! Makes 6 cups.

Ingredients:

16 ounces jellied cranberry juice

⅓cup firmly packed brown sugar

¼ teaspoon ground cinnamon

¼ teaspoon ground allspice

⅛teaspoon ground cloves

⅛teaspoon ground nutmeg

⅛teaspoon salt

2 cups water

2 cups unsweetened pineapple juice

Butter

Directions:

1.Crush cranberry sauce with a fork and mix with sugar, spices and salt.

2. Add water and pineapple juice and cover.

3. Simmer for two hours.

4. Ladle into mugs and float a pat of butter in each serving.

Ginger Green Tea - You will love the aroma that fills your kitchen when you make this aromatic tea. Both ginger and green tea are very good for a healthy digestion. This recipe makes one Serving.

Ingredients:

½ inch fresh ginger, sliced

1 cup water

1 green tea bag (or 1 tablespoon loose green tea leaves in a tea ball)

2 tablespoons fat-free milk (optional)

1 teaspoon sugar or honey (optional)

Directions:

1.Bring 1 cup water to a boil.

2. Add the ginger and boil for 30 seconds more.

3. Remove from heat, and add the tea bag or tea ball.

4. Steep for 2 to 3 minutes then stir in the milk and sugar, if using.

Mulled Fruit Juice - Everybody loves a good mulled fruit juice and nothing beats a mug of this aromatic drink on a cold wintery day! This drink can be stored in the fridge for up to one week. Makes around 25 servings.

Ingredients:

2 litres orange juice

1 ½ litres apple juice

1 litre cranberry juice

1 ½ litres water

18 ounces caster sugar

4 sachets of mulling spices

1 large orange studded with around 30-40 whole cloves

2 cinnamon sticks

Few drops of red food colouring - optional

1 orange cubed

1 apple cubed

Directions:

1. Mix all ingredients (except food colouring, cubed orange and cubed apple) in a large stock pot, bring to the boil and simmer for 30 minutes.

2. Leave overnight for flavours to infuse.

3. Remove spice sachets, orange and cinnamon sticks. Sieve to filter out cloves and cinnamon stick shards. Add the food colouring if desired.

4. Add apple and orange cubes and reheat gently, then serve.

At this point there is only one word we would like to say…Congratulations! You planned the perfect Day of Giving party just in time for this special festive holiday! You bought the turkey and baked the ham and cooked everything to perfection. You can now speak of the gratitude for both the large and small gifts that you and your family have gained throughout this blessed past year. Finally, the party will end with everyone sharing what they are thankful for. This Day of Giving party will be the best yet, and it is all thanks to you!