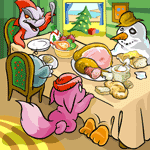 Homemade Recipes for the Holidays

by josephinefarine

--------

The holidays can be a stressful time for anyone—what with shopping for gifts, attending countless holiday parties, and having to sit through carol after carol, it can be difficult to find the time—or leftover Neopoints—to take care of yourself. I'm as busy as anyone during the holiday season, and year after year, I've realized, much to my dismay, that all of my savings have been spent on gifts, with little left over for food. As much as I would like to splurge on a massive feast for my family, I can rarely afford such a luxury. To remedy this predicament, I've come up with several recipes to prepare at home. Not only do they save me countless Neopoints, they also provide a wonderful, authentic alternative for my Neopets to enjoy. I will be sharing some simple recipes in the hopes that you too, can worry less about funds and marvel in the comfort of preparing these holiday favorites.
Roast Chestnut Neggnog
Neggnog is the perfect beverage to enjoy around a roaring fire during the nippy weather or to serve at a small gathering. I love drinking this stuff over a book, and the roasted chestnuts just had to its festive aroma. This drink is worth a hefty price at the Shop Wizard, but preparing it from scratch requires much cheaper ingredients. To prepare six cups of this neggnog, you will need:
4 neggs
⅓ cups of sugar
1 pint of Kau Kau Farm Milk
1 cup of Kau Kau Half and Half
1 teaspoon cinnamon
Roasted Chestnuts
Combine the sugar and neggs in a bowl and mix until they are completely dissolved. Add the milk, half and half, and cinnamon, and whisk the ingredients into a frothy mixture. Present the neggnog in a mug and top it off with a handful of roasted chestnuts.
The warm alternative: Combine the neggs and sugar and set them aside. In a pot, combine the milk, half and half, and cinnamon and boil on a stove. Remove this from the heat and slowly add it to the neggs and sugar. Cook everything once more and then set it aside to cool. Add a handful of roasted chestnuts to each mug you present.
Borovan
Ah yes, Neopia's most famous and festive drink! There are many forms of borovan that can be purchased throughout Neopia, but I prefer preparing it right at home. Borovan is easy to make: it's a combination of hot chocolate and asparagus, but you can personalize your cup with whatever extra ingredients you like. I personally love adding a sprig of mint to my cup, as it adds a breath of freshness to the drink. To make one cup of borovan, you will need:
2 tablespoons of Chocolate Flakes
1-2 tablespoons of sugar
A pinch of salt
1 cup of Kau Kau milk or water
A Handful of Asparagus
Apple slices, a sprig of mint, cranberries, or other ingredients, to your taste
Whisk together the chocolate flakes, sugar, salt, and milk (or water) in a pot over the stove until the sugar and chocolate are dissolved. Let the drink cook over low heat as your grate one or two sprigs of asparagus. Mix in the asparagus and stir. Pour the drink in a cup and let it cool a little before adding whatever ingredient you desire. Remember not to add an excess of that ingredient so as not to hide the taste of the asparagus.
Warm Plate of Holiday Cookies
Making cookies with my Neopets is nice, but making them during the holidays is even better. There's just something about pulling out batch after batch of gooey, warm, chocolatey goodness from the stove while it snows outside that makes me smile. Cookies are perfect for every occasion: you can hoard them, share them, decorate them, and most importantly, eat them! Alas, purchasing a warm plate of holiday cookies from the Shop Wizard is not a fun experience for your wallet. The recipe I've come up with is not only a cheaper alternative, but also a lot more fun to prepare and consume with your family! To prepare two dozen cookies, you will need:
2 Sticks of Butter
2 cups of sugar
2 neggs
2 teaspoons of vanilla extract
2 ½ cups of Wheat Flour
1 teaspoon baking soda
3/4 teaspoons of salt
2 cups of Chocolate Flakes
Blend the butter and sugar in a bowl until the mixture is light and fluffy. Mix in the neggs, one at a time, and then add the vanilla extract. Mix the Wheat Flour, baking soda, and salt in a separate bowl. Slowly incorporate the two mixtures together, and then stir in the Chocolate Flakes. Create about 24 balls of dough and space them evenly on an oven plate. Bake the cookies until the edges start to brown—in about 15 minutes. Serve warm and with a glass of Kau Kau milk.
Caramel Apple Mince Pie
In my opinion, no holiday meal is complete without a delicious, hot pie to end the feast. Pies come in all flavours and assortments, but my personal favorite is the Caramel Apple Mince Pie. This dessert oozes with warm, gooey caramel and chunks of apple. Served either hot or cool, this pastry is simply delicious, and very easy to prepare. You will need:
3 Sticks of Butter
1 cup of sugar
¼ cup of water
¼ teaspoon of cinnamon
A pinch of salt
5 Red Apples
2 handfuls of Caramel Creams
1 Pie Crust (I recommend a Meatless Pie)
Cut the Red Apples into smaller slices. Combine the butter, sugar, water, cinnamon, caramel, and salt in a saucepan and bring the mixture to a boil; then, set it aside. Place the pie crust in a pie plate, then pour in the apple slices. Pour the hot mixture you set aside into the pie next. Bake the pie in an oven for fifteen minutes, then reduce the heat to allow the pastry to bake for 40 minutes, or until the crust is a golden brown and the apple filling is bubbling. Allow the pie to cool before eating.
These were a few recipe alternatives to the more expensive holiday treats. They are all simple to prepare and taste much like their originals. I hope you enjoy preparing any number of these recipes. Remember that these are not the only foods you can prepare with your Neopets at home. There are a number of others, and I encourage you to expand your horizon and experiment with your own cooking. These recipes are all cheaper than the actual foods, and you won't have to worry about overspending. Rather, focus on the enjoyable experience of cooking with your family, a surefire way of bringing everyone closer for the holidays!