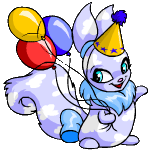 Celebrate Usul Day

by gattacaa

--------

We've reached that time of year when we celebrate the wonderful Usul species. This article is full of suggestions to help you celebrate Usul day, whether you own a Usul already, or are thinking about owning one. Plushies, paint brush colors, food, weapons and books galore! There are so many options to celebrate Usul day this year.

Delicious Goodies

When celebrating any special occasion, it is essential that you have a stack of delicious goodies to devour! Whether you enjoy different flavours or the colors of the scrumptious cakes, there is a dessert for everyone on this special day.

The Chocolate Usul Cupcake is one of my favorites, as I LOVE chocolate. You can do no wrong with that amount of whipped cream and it even has a cherry on top. Yum! The next item on the list to help us celebrate is the Deluxe Strawberry Usul Cake. It lives up to its name, with an impressive amount of strawberry topping and it has its own bow. Pretty stellar I say. I can tell it will take a while to consume, and those are the best types of cakes, let the party live on! The Pink Usul Pastry Cake is brightly colored and Usul shaped. It looks completely enticing. Mmmm. The Starry Chocolate Usul Cake has three tiers, so you know it will be an amazing cake worthy of Usul day. Complete with a Usul head on top! Winner. The final food item to help celebrate Usul day in style is the Cloud Usul Ice Lolly. Brilliant blue colors and a Usul shaped dessert that can bring about a lot of happiness.





Paint a pair!
Some of the most wonderful Usul paint brush colours come in pairs. I particularly love the Royal Pair, so why not save up and paint a pair of lovely Usuls on Usul day? It would sure be a grand way to celebrate the day. You can't go wrong with a lovely royal pair of princess and prince. The Royal Girl Usul colors are just astounding, with just the right mixture of purple and pink. Not only do the colors blend so well, but her mane/neck fur makes it all more wonderful. The same can be said for the Royal Boy color too, as the fur blends superiorly and the matching spotted lining of the clothing is very cute. Not to mention that super small goatee the RB is sporting, making him look supremely royal indeed. Another pair of magnificent Usul colors to try on this special day is the Usuki Paint Brush colors. The male Usuki has a dashing debonair hat, and his musketeer tunic tells you he is up for any fighting challenge! He also has a small goatee that makes him look rather adventurous. The female Usuki has fantastic flowing purple and green hair, and a beautiful pink dress. Her colors blend very well with many NP and NC items, making her perfect to dress up in different outfits.
Collect some Plushies
Why not celebrate by collecting some marvelous Usul themed plushies? There are some brilliantly designed plushies out there, some are unbelievably cute. Big bright eyes and attractive colors are all the rage with Usul plushies. They would go together well in a gallery, or when playing with your new Usul.
Baby Usul Plushie is first on the list. Big eyes and cute purple bows, this baby is very realistic, as it looks almost exactly the same as the actual Baby Usul. Those little guys can be pretty adorable. The Gothic Usul Plushie is for all of you out there who don't mind a little mix of melancholy and grey colors. The cute little guy even has a downturned mouth, he doesn't look like he is enjoying Usul day, but nonetheless he is one to add to the collection. He is completed with a red bow and small skull. My favourite of the plushies listed here today is the Mutant Usul Plushie. It has three eyes all looking in different directions, which is pretty rad. I also find it to be super cute despite the fact that it is mutant themed, and it also represents its real mutant Usul counterpart quite well. It would be a fine addition to any plushie collection. The Royal Boy Usul Plushie and Royal Girl Usul Plushie work so well together, and look so squishy and adorable. The Royal Boy plushie has a sly little smile and has a wonderful looking crown. The Royal Girl plushie has very soft facial features which adds to the overall charm of her design.





Into the Battledome
Feeling fierce? Try outfitting your Usul with the following Battledome items specifically designed for their species. Celebrate Usul day by going a few founds in the Battledome with your new pet. You can't find a more appropriate Usul themed Battledome item than the Full Usul Armour. It has a very accurate description: remarkably sturdy and fashionable too! So true. It will aid your Usul in any Battledome fight. The next item on the list is not to be underestimated! Because of its color, it usually is. The Hand Stitched Usul Hammer is pink, has fluff and doesn't really look all that intimidating, but will surely help your Usul win the fight. The Usul Axe is next up on the list. It looks pretty scary, but has a bow down the bottom and Usul ears on top, completing the Usul theme on the weapon. The Usul Helmet will help make any Usul look stylish whilst fighting in the Battledome, and opponents will run in fear! The mouth is a little creepy looking, so hopefully that will put your opponents off long enough to cause some damage. And last, but certainly not least on the Battledome weapon list for this special day, is the Ornate Usul Sword. No epic fight is complete without a sword, and now you have one. Good luck!





Grooming Items
When celebrating an important day such as Usul day, you have to look your very best. The Pink Usul Soap will help you with that, and it has a giant bow on it, making it all the more special to use on this day. Usul Tail Shampoo will help your Usul have the best looking and cleanest tail in all of Neopia. Hair on the frizz? Look no further! The Cloud Usul Brush is the perfect accessory to use in this case, ready for you to use at a moment's notice. Gold Usul Nail Polish is next up on the list with a fabulous gold color that makes anyone look good! Bonus: the bottle is shaped like a Usul, yeah! Last on this grooming and pampering list is the Pink Usul Perfume. It is so pretty! A lovely pink bottle with bow included, and wonderful big and bright eyes just for you.





Books to Read
Maybe you would like to spend some time relaxing and reading? It has always been a fun pastime of mine. If you like to read too, how about reading the following books to your lovely new Usul? First up on the list is Pink Usul: A Backwards Tale. The title seems to make sense. You cannot get a cuter themed Usul book. It has a big bushy tail and it is pink colored! Winner! Next up is Spooky Usul Stories. This large novel will take some time, but definitely worth the read! Anything you could ever want to know about spooky Usul stories is located here. The Misadventures of the Yellow Usul will be a magnificent read, I can guarantee. Usul ears and tail project from this book, along with a big yellow bow. Let's not try to cringe at ALL the misadventures listed in this book. The Grand Usul Adventure is up next on the list, after just reading about misadventures, why not try the opposite? This book is particularly large, and will take some time to complete. Last on the list is The Usuls Almanac. Everything your new Usul needs to know to live in Neopia. It's cheap and easy to read and has many exciting Usul facts.





Morphing
If you do not want to create a new pet this Usul day but have the perfect pet in mind to morph, consider the following morphing potions. They bring new colors, change and fun. The Pirate Usul Morphing Potion is first up. Can I get an arrrr matey? Pirate Usuls are pretty cool, they have a scarred eye and a feather in their pirate hat. Everything you need to make an awesome pirate right at your fingertips. Another cute color to try on this special day is the Plushie Usul Morphing Potion. Plushie Usul's have the cutest smile and look so squishy. Not to mention the purple base color is divine! The Water Usul Morphing Potion is my favorite in this category. The colors are just magical. Changing blues, waves and a beautiful tail all come with this morphing potion. I highly recommend it; the base water color is so fun to customise. Next up: Baby Usul Morphing Potion. Look at this little cutie. Those big purple eyes and cute ear bows? Inspiring. My second favorite pick of these morphing potions.
Finally we have the Maraquan Usul Morphing Potion. You can't get much better than an actual snail, which is what this potion will do to your pet. Underwater creatures are the best!





We've reached the end of this list. I hope I have given you some fresh and inspiring ideas to help celebrate Usul day this year. Enjoy the day and Happy Usul Day to all!