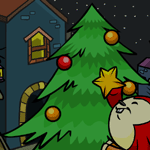 Preparing for the Month of Celebration

by yuri445

--------

Halloween has come and gone and for those who aren't fans of that holiday, you can breathe easily now. The month of celebration is a time to be merry, eat, give, and be together with loved ones. My favorite time of the year is almost upon us and I can't wait to celebrate this festive occasion with everyone. People celebrate the month of celebration in different ways. You can decorate your neohome and garden with festive decor, colors and lights. Don't forget that planning a special meal for the big day is a must. You will need a few things to get into the mood for next month's celebrations. It's time to dust of your Christmas tree in the back of the closet, get out all your Christmas ornaments, untangle your Christmas lights and garlands, and start thinking of all the gifts you'll be giving your loved ones. I know it is a little bit early for the month of celebration, but if you love it as much as I do, here are a few things you can do to start the best month of the year.

Decorating for the holidays is for those that do it all the time. However, if you don't have a clue on what to do and how to start, here are a few books to get you started. For those that call themselves professionals, don't forget that you can always learn something new by reading some books. With books you can prepare yourself mentally for the hectic month coming up next. The books I would recommend you read to get started are the "Its Beginning to Look A Lot Like the Month of Celebrating", "Holiday Decorating Hints", "The Agatha Prim Guide to Decking the Halls", "How to Avoid The Holiday Rush", "Very Long First Day of Celebrating", "Countdown to the Holidays", and "Ponderings for the Holidays". These books would help you have a successful and beautifully decorated Christmas neohome. Reading these books now would prepare you for the holiday chaos that starts on the month of celebration. Believe me, after you finish reading all these books, you'll be a real pro at decorating for the Christmas holiday.









Christmas Tree
Christmas without a Christmas Tree is no Christmas at all. Whether you buy a fake tree or trot down to a Christmas tree farm to cut down your own, you need a Christmas tree of some kind. Now is the time to focus on everything that goes over, around, and under a Christmas Tree. From the tree itself to decorations; lights, garlands, ornaments, and last but not the least, the presents that go under the tree, all these items need to be ready for when you decide to decorate. Finding the perfect Christmas tree is an ordeal you shouldn't take lightly. There are many Christmas trees in Neopia, so for the traditional Neopian, I would recommend the Sparkly Decorated Tree, the Gigantic Decorated Christmas Tree, Icy Decorated Tree for a snow covered tree or Decorated Tree.




For the nontraditional Neopian, the perfect tree to consider would be the Modern Christmas Tree, Metallic Holiday Tree, or Stone Christmas Tree.


For those looking for minimum work when decorating a tree, getting the Pathetic Christmas Tree or Snot Holiday Tree is the way to go. The Snot Holiday Tree is so slimy that you can't keep anything on it without it sliding down.




Christmas Decorations
Next comes the ornaments. Did you know that the very first decorated trees were adorned with apples, white candy canes and pastries in the shapes of stars, hearts and flowers? Well, it's true and a tree without ornaments is breaking tradition. Toppers are really important because it draws your eyes to the top of the tree, so getting the very best one for your tree is essential. For the absolutely perfect tree topper I would go for the Shining Star Tree Topper or the Jewel Encrusted Christmas Ornament.


Hanging ornaments are an essential part of the tree decoration. Without hanging ornaments the tree would be bare and unappealing. You would need lots of hanging ornament to fill out your tree and give it a sophisticated look. The ornament you decide for your tree would depend on the theme you've decided on. Going for an Island themed Christmas tree, I would suggest the Tiki Christmas Decoration. You can also consider going for edible ornaments and use Chocoball Decoration or Gnawed Gingerbread Grundo Ornament.


As you can see, your theme dictates what kind of ornament to use. Of course you can go without having a Christmas themed tree and just put whatever ornament catches your fancy. In that case there are a wide range of hanging ornaments at your disposal. Some of my favorite hanging ornaments are Feepit Heart Ornament, Festive Ornament, Holiday Bruce Glitter Ornament, and Porcelain Snowflake.




Let's not forget about all the pretty garlands that fill up the tree and gives it its full body. My personal favorites are the Bell Garland and New Year Garland. Going for an underwater theme tree, then look no further than the Kelp Holiday Garland or Seaweed Garland. Looking for garlands you can make with your neopet? Then consider the Snowman Garland or Snowflake Garland. They are made of paper and very cute to put together. As part of your edible themed tree, going with Popcorn Garland would look great and delicious at the same time.






All of the Light
To be honest with you I think a Christmas tree without lights might as well not be called a Christmas tree at all. Back in the olden days they used candles instead of fairy lights. Without lights your tree would be very dull, plain, and unattractive to look at. The soul of your tree are the lights. You need the shine and twinkle to bring your tree to life. You can't start your Christmas lights decorations without reading Decorating with Lights. This is an essential read for anyone serious about having and hanging the perfect lights. If you like lots different of colored lights I would recommend the Holiday Light String Lasso or String of Lights. For lights with only one color, the Holly Light String or Candy Cane Light String are the best. These lights also have a very festive Christmas look. You do have quite a few options when it comes to choosing the perfect light for your tree.






Presents
While you don't have to get your presents now to put under the tree, it is definitely time now to think about what you'll be giving your loved ones. To get ideas on what to give, how to give it, and how to wrap the perfect gift, it is highly recommended that you read these books, "The Presence of Presents", "How to Wrap Oddly Shaped Gifts", "Giving Not Gifting", and "How to Give Gifts". Reading these books will put you ahead of the game. I would suggest getting your presents now to avoid price hikes in the shops.






Finished!
After you're done decorating your beautiful tree and maybe your whole neohome for the coming month of celebration, it is time to sit back and relax on your warm cozy sofa near the fire and enjoy your hard work. Grab a warm cup of tea or hot chocolate and some cookies. Read the 'Holiday Naughty List" and "Holiday Nice List" to make sure you're on the right list, hopefully the nice list. Also, start practicing your Christmas carols with "Neopian Carol Book".






Thank you for reading my article. It is to help you get in the mood for the coming month of celebration. The tree is the most consuming part of decorating for the holidays. So starting early is the best way to go. You can leave decorating your whole neohome for later. But having the tree already done would give you more time to relax and get ready for the month of celebration. Of course while decorating the tree if you feel like decorating your whole entire neohome in the process, be my guest. I think starting with the tree is the best way to start the festive month. Don't forget the food and reading materials that would surely get you in the Christmas spirit.