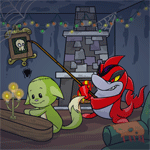 Splurge or Steal: Neohome 2.0 Halloween Decorating

by a_ramsell

--------



Halloween is just around the corner, and many Neopians enjoy getting into the spirit by dressing up their Neopets, creating spooky avatar and font combinations, or decorating user lookups. While these are all fantastic ways to celebrate the occasion, Neopians often overlook their 2.0 Neohomes when preparing for the big day, possibly because decorating a Neohome sounds like such a daunting task. With hundreds of items to choose from, ranging from super-cheap to extra-pricey, it's enough to make anyone want to throw in the towel.
It's time to rest easy, Neopia; this article is here to help you with your Halloween decorating needs, no matter your financial situation. Listed below you will find expensive "splurge" items paired with great, affordable "steal" alternatives that fit even the smallest budget.*

Splurge: Meepit Chair
Cost: 50,000 NP
This adorably ferocious chair is the perfect addition to any spooky Neohome. Who wouldn't want their guests to experience what it would be like to sit inside the toothy open mouth of the Haunted Woods' most notable Petpet? Try grouping a few together in a dimly lit corner of your Neohome for maximum effect. You could even buy the matching Meepit Bean Bag and Meepit Lamp if you're so inclined. However, at approximately 50,000 Neopoints, not everyone can afford the Meepit Chair.

Steal: Comfy Pumpkin Bean Bag
Cost: 10 NP
What this squishy bean bag lacks in ferocity, it makes up for in versatility. While the ridiculously wealthy Neopians are busy packing away their Meepit Chairs, you'll still be lounging around for another month in your cozy little pumpkin chair, since it works well all through the months of Gathering, Collecting, and Storing. Arrange them near a fireplace for a cozy lounging space.

Splurge: Orange Spyder Candle
Cost: 2,000 NP
Spyders ooze Halloween spookiness, and the pumpkin-coloured candle is the perfect finishing touch to this amazing accent piece. The Spyder is so lifelike, all your Neohome guests will either want to take a closer look or run screaming for the door. The Orange Spyder Candle is a rather large item, so place it on a surface that has plenty of room, such as a dining table or desk.

Steal: Spooky Green Candles
Cost: 10 NP
These wall-mounted candles lack the exquisite detail of the Orange Sptder Candles, but you can't argue with the price. For the cost of one Orange Spyder Candle, you could buy 200 Spooky Green Candles. Now that's a steal! Plus, mounting them on the wall is a great space-saver. The vivid color of the candlesticks will make Edna green with envy. For a really eye-catching look, consider mounting several sets close to each other, such as four rows of four. Just a word of caution before you try this look, though— have a fire extinguisher ready, just in case!

Splurge: Eliv Thade Rug
Cost: 7,000 NP
If your Neohome is lacking a touch of evil this Halloween, an Eliv Thade Rug is just what you need. The green and purple background colors are a refreshing change from the traditional orange and black color scheme, and the picture of Eliv Thade in the center makes this item a real statement piece. The craftsmanship of the rug Is top-notch, and the furry texture is so luxurious you'll never want to wear shoes again. For the Eliv Thade fanatics out there, you'll be glad to know you can buy a matching lamp, chair, and curtains.

Steal: Oozing Mutant Rug
Cost: 200 NP
If, for some silly, totally irrational reason, you don't relish the idea of having the portrait of a mad, long-gone Kackeek grace your floors, no worries! The Oozing Mutant Rug is the perfect alternative. It, like the Eliv Thade Rug, is purple and green (well, sort of), but it doesn't depict any crazy, ghostly puzzle-solvers. It might not make a great bath mat, though, you know, because of the whole oozing-slime thing. Anyway, with all the Neopionts you've saved thus far, you could even buy the matching Mutant Sofa for about 5,000 Neopionts.

Splurge: Open Grave
Cost: 40,000 NP
No scary Neohome would be complete without a ghostly exterior, and the addition to an Open Grave to your yard really does the trick. Just picture the reaction you'll get from your Neofriends as they unsuspectingly walk up to your front door and you jump out and scare them! Unfortunately, this fun little item comes with a hefty price tag, and it might not be in everyone's budget.

Steal: Mossy Gravestone
Cost: 2,500 NP
The Mossy Gravestone lacks the spooky curb appeal the Open Grave has, but the price is to die for. They're inexpensive enough that you could really make a statement by grabbing a stack or two and placing them in rows in front of your Neohome. They even come with that distressed, worn look that can often cost an arm and a leg.

Splurge: Illusen Halloween Pumpkin Decoration
Cost: 200,000 NP
This charming winged pumpkin is a great balance of cute and scary. It is a very rare item, though, because it was only available when redeeming a Neocash Card in the Month of Collecting in Year 11. If money is no object and you just have to have one, maybe you can score a good deal on this item at the Mystery Island Trading Post.

Steal: Angry Pumpkin
Cost: 20 NP
If snagging an Illusen Halloween Pumpkin Decoration will break your bank, fear not! The Angry Pumpkin is so affordable that it seems too good to be true, but really, it's true! A quick crunching of the numbers shows you could buy 20,000 Angry Pumpkins for the price of a single Illusen Halloween Pumpkin Decoration! Now, I'm not saying you should buy 20,000 Angry Pumpkins…okay, never mind, you totally should. In case you're wondering, this item's image does not have the Neohome 2.0 icon that indicates it can be used in Neohomes 2.0, but rest assured, it doeswork in Neohome 2.0.
Hopefully this article has shown you some great decorating ideas that fit your budget, and has inspired you to spookify your Neohome. What are you waiting for? Halloween is nearly here, so grab your pocketbook and get to shopping!
*All prices are approximations based on the Super Shop Wizard.