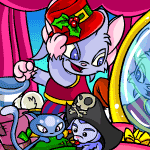 20 of the Best Wearables for 700NP (Or Less!)

by auraichadora

--------

By now, most people know how intricate and expensive customisation can be. Whether it's NP or NC, trying to create the most perfect outfits can take a lot of time, a large amount of patience, and a large amount of funds. Then spreading that across your possible 20 (or 21, if you're a Premium member) pets... it's definitely no easy feat!

However, there are many of our most commonly needed wearables – clothes, backgrounds, foregrounds, and accessories – that not only can complete many of our pets' many outfit choices, but will also not break the bank. These wearables can be bought with the NP you win from playing Fashion Fever everyday; sounds like a really good deal, right?!

This special list is my choices in these four common categories that you can get for 700NP or less, with my "Top 5" of sorts in each section. However, this list does have a few stipulations as to what will not be placed here. These include paint brush, species-specific, or color-specific items (ex. Baby, Maraquan, or Mutant). Also, all clothes and accessories listed will likely not fit Vandagyres, as many of these items were released long before their release. The biggest stipulation is you. All items listed and ranked are based on my own personal opinions; what you feel fits your pets and their outfits and characters is entirely up to you! So now that we have the ground rules established, let's get this list started, shall we?

Clothing

Basic White Shirt – Stocked in the Ever Stocked General Store for 140NP

Can't get any more simple than a plain white shirt! The collar adds a bit of sophistication while its overall basic color can be used in nearly any sort of outfit. So whether you're needing a solid-colored shirt to match a tricky patterned skirt or just want to "dress down" your pets for a time, this is a shirt that has multiple uses AND it won't break the bank!

Khaki Trousers/Khaki Skirt – Stocked in the Ever Stocked General Store for 616NP and 479NP, respectively

I know this is technically cheating, as this defeats the purpose of having only five items on each section, but I couldn't really rank these higher or lower than each other. No matter the gender of your pet, these solid color bottoms will fit them just right. They're "fancy" enough to add a bit of flare to an outfit, but plain enough to allow a crazy-patterned shirt to shine. Also, like the Basic White Shirt, they're cheap and are always stocked in the General Store. Which means no need to wait for a restock at Uni Faboo to try and obtain them!

Jazzmosis Hat – Price at time of writing: 200NP

Your pet having a bad hair day? Cover it up with a hat! This noir-inspired hat is sleek and fashionable, and its simple color scheme can work well with most outfits. It's also more gender-neutral, compared to other hats under 700NP that are more girly. If you can't figure out the perfect wig for your pets or don't want them going out "bald", give this hat a try!

Blue Shoes – Stocked in the Ever Stocked General Store for 259NP

Of course, no pet should go out in Neopia without shoes on! After all, you'd never know what you could step in. Luckily, for the budget-conscious owners out there, these blue gym shoes are there to protect their paws from dirt and dung. Their simplistic design fits with all types of casual and sporty outfits with ease. So if your pet is ready to head out the door, have them slip on these shoes and go-go-go!

Patterned Pyjama Bottoms – Price at time of writing: 330NP

The day is done, and your pet is ready to relax and read a book before bed... time to slip into some comfortable pyjama pants and a t-shirt and kick their paws up. These particular bottoms seem rather ordinary, but there's a cool thing about them that placed them on this list. The pattern changes depending on the species wearing them; how awesome is that!? I couldn't resist placing these on my list because of that interesting and unique feature. They're also very cheap. A unique-featured item for under 700NP? Yes please!

Backgrounds

Moon and Stars Background – Price at the time of writing: 5NP

This is a really simple background, but I love its nighttime motif. If your pet is a fan of star gazing, this background depicting an open field with the stars and full moon above may just be right for them! Your pets will appear bright against its dark colors, as if the moon light is illuminating them. The background itself is also a very cheap substitute for expensive and/or NC counterparts like Star Gazing Background or Moonlit Ruins Background.

Courgette Field Background – Price at the time of writing: 5NP

Does your pet have a green thumb? Do they love working out in the fields picking things like berries, flowers, and courgettes? Then this background is perfect for them! With the right outfit and tools, your pets can go out and pick out the veggies they want for their next meal. Or, if they prefer, they can just enjoy a relaxing stroll through the fields on a beautiful day.

Piles of Apples Background – Price at the time of writing: 15NP

If you own a Kyrii, I'd recommend keeping them far away from this background. Well, unless they're trying to picket it, I mean! This background brings forth images and memories of fresh apple pie, warm apple cider, and the late summer and early fall months when I see the apple trees produce their crops. If you and your pets are loves of all things apples, this background with an abundance of apples is perfect for you!

Brightvale Books Background – Price at the time of writing: 700NP

Are your pets lovers of books? This is the place for them! Your pet can read to their hearts' content in the land that's built upon knowledge. If your pet is needing to catch up on their reading, or wanting a new book to add to their collection, make sure to have them stop at Brightvale Books before the sun sets!

Brightvale Mansion Background – Price at the time of writing: 50NP

Like things that are spooky and creepy? Do you have an adventurous pet that likes things dark and mysterious? This is a great setting for them! Explore the haunted halls and creaky stairways of one of Brightvale's many mansions and see if you can unravel the mysteries of why this place has been plagued by ghouls. Maybe you'll even run into the Ghoul Catchers while you're there!

Foregrounds

Altador Cup Colosseum Archway – Price at the time of writing: 5NP

While this isn't as intricate as some other more expensive or NC archways (like Beautiful Columns Foreground or Blue Stone Archway Frame), this is still a nice frame to add to any customisation. Whether you're entering into the Colosseum itself or using it to frame a garden scene, this is a nice foreground that can help break up some of the emptiness between your pet and the background you choose.

Pick Your Own Foreground – Price at the time of writing: 20NP

Mmm... fresh berries, straight from Meri Acres Farm! This can add a bit of green and charm to your overall outfit, as well as help cover up any small annoyances with your background. It's also a cheap substitute for a foreground like Shrubbery and its colored variations. Also if your pet gets hungry, they can grab a snack of berries; how convenient!

Stately Tree Foreground – Price at the time of writing: 100NP

Ah... how nice is it to just lay under a tree, sunbeams shining on your face as you take a break from the world? It's a wonderful feeling, isn't it? Now your pets can experience that anytime they want with this foreground! Its simplicity adds a calming and colorful punch to any spring, summer, or home garden scene. Perfect for taking a nap, reading a book, or having a picnic or chat with friends.

Snowflake Frame – Price at the time of writing: 380NP

Out of all of the frames available, this is definitely one of my favorites. It's bright and beautiful, and can either be bold around your pets with a darker background (like Scenic Mountain Top Background) or almost subtle and hidden with a more snowy background (like Winter Landscape Background). Frame your pets' adventure in the snow with this adorable piece, and perhaps you'll also love it as much as I do!

Strange Yellow Mist – Price at the time of writing: 375NP

Ooo... how spooky! This interestingly colored mist can add a pop of mysterious color to your outfits, especially if you're going for a spooky or Halloween theme. Are you sure your pets are brave enough to figure out where it comes from? There's only one way to find out! In addition, this is only one of four colored mists you can choose from. However, the other three in this series – green, blue, and red – don't fit the criteria for this particular article.

Accessories

Single Grey Flower – Price at the time of writing: 10NP

It's sad, but it's so cute as well! You can't help but want to hold it and give it love! Perhaps once your pet holds it, it'll perk up. It's always worth a try! If your pet loves to hold flowers, but you can't afford other similar lone flower accessories (like Pretty Little Daisy or its recolored versions), this is a great – although sad – substitute.

Slorg Handheld Plushie – Price at the time of writing: 25NP

Can't stand the sliminess of Slorgs, but can't help but love their goofy expressions? This plushie is just right for you! Now your pets can have a cute friend to cheer them up or join them on their adventures around Neopia, but without all of the mess that comes with owning a real Slorg. Thank goodness!

Black Eye Shadow – Price at the time of writing: 600NP

When wearable eye shadows were first announced, it was something that I – and many other customisers - were estatic about. Sadly, almost all of them are expensive... except for this one! The solid black color for this eye shadow fits so well with all kinds of outfits. Casual, fancy, spooky, gothic... you name it, it likely will fit. If you want to give your pets a bit of beauty and class to your pets' eyes, make sure to give this a try!

Gormball Necklace – Price at the time of writing: 530NP

While I usually don't enjoy large-charm necklaces, this one is so adorable that I can't help but love it. It fits right on many pets that I've tried it on – although if you have a pet like a Jubjub or Kiko they hold it rather than wear it – and its colors fit well with many different outfits and themes. Another plus: unlike with actual gormballs, the one in this necklace won't explode on you. Whew!

Black Jewelled Collar – Price at the time of writing: 400NP

Add a bit of edgy flare to your pets' outfits with this collar. The addition of the gems gives the collar some color while still keeping the "punk" aspects intact. The only thing I feel that it's missing is a charm of some kind in the middle, like a skull or heart. However, even with that missing piece, this collar is a nice, finishing addition to an outfit missing a matching accessory.

And that's it for my list! I hope that these little pieces will help you with customising while not breaking the bank. Happy Customising!