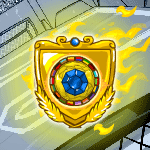 The Top Ten Emotions of Altador Cup All-Star Hopeful

by josefine378

--------

The combination of a shiny trophy and the rank "All-Star" emblazoned on one's user lookup, permanently displaying a player's dedication and skill, is enough to convince many Neopians that they will make it to All-Star during these AC X games. Of course, attempts in the past might have failed – but you weren't dedicated enough! Your Yooyuball technique hadn't been perfected! You just didn't have the motivation! All that has changed this year. This year, a decade in the making, you will become one of the elite All-Stars!

I'm right there with you, friends. I've dabbled in the AC before but I never had the drive to make it to All-Star. This year things have changed. I've calculated how many games it will take to move me through the ranks. I have Shootout Showdown down to a science (tab space space tab space tab tab space enter repeat.) I can sling slushies with the best of them, and I always remember to end my game exactly on the 270 point mark to maximize my efforts. Make Some Noise? MARAQUA, HEAR ME ROAR!! I set aside time in my daily schedule to complete my rank-a-day strategy, and I've kept up with it this whole first week of the Cup. In fact – I didn't sit down to write this article until I got my games of the day in!

But – the real question comes to mind. Is it enough? The All-Star rank is aptly named. I am currently rank 7 and the challenge feels daunting, the goal still so far from my reach. As the number of games between ranks increases I can't help but wonder if I've made a mistake. Can I do this? Do I have enough time to compete in the Altador Cup, let alone go about my daily tasks in Neopia? And how in the Blumaroo blazes are people already rank 10 and higher? As I've gotten deeper and deeper into the Altador Cup I realized there are a lot of emotions we experience as players. It's a lot to handle – but I truly believe we will prevail. I give you the top ten emotions of Altador Cup All-Star hopefuls:

1) Excitement -

The cup is here! You're bright eyed and bushy tailed and ready to take on the world! 400 games of SOSD? Easy peasy! You knocked it out before breakfast! Rank 2 by noon! Oh boy it is exciting to be participating in the Altador Cup fully for the first time! Look at that – you scored your first goal in Yooyuball! Alright go team! Go offence! How have you never been into the Cup before? What took you so long! You can't believe there's anyone in Neopia who isn't completely into the Altador Cup!

2) Joy -

I'm rank 1! I'm rank 1! This is the farthest I've ever gotten in the Altador Cup and I feel amazing! Look at my lovely shield – the gem is such a lovely colour! I can't wait to make it change colours again! I am helping my team so much! Go Maraqua!

3) Anxiety -

Ranking up is starting to take a little longer. That's ok, right? I still have what it takes, don't I? I mean, I may not be the most elite Neopian, but everyday people can become All-Stars. It's just a mindset. I'm playing quickly enough, aren't I? What if TNT changes the way scoring works? They won't, right? Oh Fyora, I don't know if I am good enough at games for this! How do I go from Rank 1 in AC IX to All-Star Rank the next? Am I nuts?

4) Fear -

OH MY GRUNDO AFTER RANK 4 THE NUMBER OF GAMES BETWEEN RANKS INCREASES? THERE ARE 2,200 GAMES BETWEEN RANKS 19 AND ALL-STAR!?! IT AVERAGES OUT TO 800 GAMES A DAY FOR 20 DAYS?? I WAS NOT PREPARED FOR THIS!!!! I HAVE TO RETHINK MY ENTIRE STRATEGY! I DON'T KNOW IF I CAN DO THIS! I DID RESEARCH – HOW AM I FINDING THIS OUT THE HARD WAY? WHAT DO I DO? WHAT DO I DO??

5) Boredom -

Tab space space tab space tab tab space enter repeat. Tab space space tab space tab tab space enter repeat. Tab space space tab space tab tab space enter repeat. Tab space space tab space tab tab space enter repeat. Tab space space tab space tab tab space enter repeat. Tab space space tab space tab tab space enter repeat. Zzzzzzzzzzzzzzzzzzzzz……

OH! I'm awake! I'm up! Asleep? Me? No!

6) Doubt -

Wow. Some people are rank 10. Rank 10! Oh my Grundo is that person rank 12? I thought I was working hard! Am I going too slowly? Should I be playing more games of SOSD instead of writing this article? That's impossible – I maxed out today. But what about the other games? Can I do this? Is my one-rank-a-day plan rigorous enough? Am I setting myself up to fail?

7) Distraction -

I really want to go play some Dice-A-Roo. Ohh or maybe chat on the NCC! I could do some trading, that would be fun. My neohome really needs some sprucing up. Or maybe I can work on my gallery. Shop stock needs pricing too… How about I do a quick little quest for Edna and then we can get back to this? Yes, a little break would be nice and I am working on that avatar after all…

How did I end up in Tyrannia? Oops. Back to Slushie Slinger!

(Five minutes later I was on Krawk Island. Honestly, I don't know how it happened!)

8) Trust -

Oh! Ok. My system must be solid. Some people who want All-Star are still ranked lower than me. That makes me feel better. I must be somewhere middle of the pack. Come on, you knew you'd never be first to All-Star. That's not the goal here. You have a solid plan in place. You've done the math. What was all that worrying about? Even if you can't knock it out in 20 days that gives you plenty of wiggle room. That was on purpose remember? Plan for the worst, hope for the best. Honestly I don't know why I got so worked up. I just need to trust my plan.

9) Anticipation -

One more game and I'll be at the next rank! Ok angry Peophin customer – just two more slushies and I will be there to help y—no! Why did you have to leave? I was so close! Drat, 251 points. Not quite enough to count. *sigh* Guess I shouldn't count my Peadackle's before they hatch. Alright – one more game for real this time!

10) Pride -

You did it. You made it! Ok maybe it is only rank 7 so far, but you've kept up with your schedule, played your games and helped your team! If this is rank 7 I can only imagine what All-Star rank feels like. A lot of things could change between now and then, but nothing can take this feeling away.