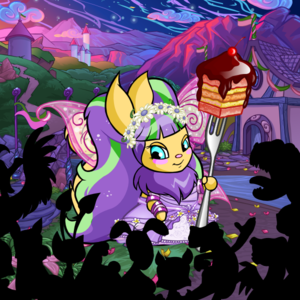 The Definitive Guide to Fyora Fashions

by oreo2135

--------

I know what you're thinking: How can I be more like Queen Fyora? It's easy to don a Fyora Wig and Fyoras Collectors Dress and call it a day, but where is the variety? And might I remind everyone that it is not Halloween every day!

As one of Neopia's leading fashionistas, leading leaders, and the biggest advocate of the colour purple, it is not difficult to see why one would want to emulate the Queen Fy. However, with so many wearable options lately, this has become quite a challenge. Well, fear no more! If you are a fan of the Queen and want to show your pride on your sleeve, quite literally, mix and match the following pieces in this guide to create the ultimate Fyora fan outfit!


1. Faerie Queen Wings + Translucent Faerie Wings
In order to channel our inner Faerie Queen, one must first become a faerie. Pets painted faerie may choose to skip this step though I advise against it. The easiest way to join the faeries is to strap on a pair of wings and what could be more perfect than wings approved by Fyora herself? With a price tag above 100,000 NP, however, the Faerie Queen Wings are not an easy purchase. At around 5,000 NP, the Translucent Faerie Wings are a much cheaper alternative that doesn't give up any of the flawless factor.


2. Faerieland Altador Cup Jersey + Altador Cup Faerieland Frame
Fy Bees know best how big of a fan the Queen is of Team Faerieland. So with Altador Cup festivities in full swing, don't be surprised if you see Fyora decked from head to toe in Team Faerieland regalia. Follow suit by purchasing a Faerieland team jersey at the NC Mall! For those of you who don't have NC, the Altador Cup Faerieland Frame is a great –and practically free! – alternative that still shows your support for Team Faerieland and Queen Fyora! These items also look great together!


3. Sparkly Pink Neopets 8th Birthday Hat + Pink 9th Birthday Cake Hat
Queen Fyora's birthday just passed but that doesn't mean you should stop celebrating! It's Fyora Day all day, every day for true blue Fy Bees (Fyora fans, for the unitiated)! Join the festivities with the Sparkly Pink Neopets 8th Birthday Hat or the Pink 9th Birthday Cake Hat! Both hats scream festive and feature Fyora's second favorite colour: pink! Sadly, not only do both these hats carry quite a hefty price tag, it may even be hard to find one on sale. But don't fret, dear readers! Keep reading to find more amazing hat options!


5. Neopets 10th Birthday Celebration Cake + Forkful of Cake
No celebration is complete without a cake or two! And lucky for us, at around 3,000 NP each, the Neopets 10th Birthday Celebration Cake and the Forkful of Cake are both affordable and adorable options for any pet! The Forkful of Cake is especially fitting as it resembles a staff. For added festivity, consider including both cakes in your outfit!


4. Colourful Negg Hat + Earth Faerie Daisy Ring
Answer me these questions: Is it your goal to look like Queen Fy? Are you tight on neopoints? If you answered yes to one or both of these questions, then these hats are the hats for you! The Colourful Negg Hat clocks in at around 11,000 NP and closely resembles the one the Queen likes to wear on her days off. In similar fashion, Fyora loves to wear a bed of flowers on her head from time to time so the Earth Faerie Daisy Ring, retailing at around 2,000 NP, is a fantastic substitute for any casual Queen look.


6. Lavender Faerietale Dress + Fancy Pink Gown
A purple dress is practically synonymous with Queen Fyora. As her go-to outfit of choice, most Fyora fans tend to wear purple dresses on Fyora Day, and you should be no exception! Though retired from the NC Mall, you may be able to find the marvelous Lavender Faerietale Dress on the NC Mall boards! For those of you worried about the other dress, don't panic! Despite its name, the Fancy Pink Gown is closer in colour to purple than pink, and at around 100 NP, is an excellent and economical choice for any Fy Bee!


7. Grundo Admirers Foreground + Special Event Foreground
Wherever Queen Fyora goes, an entourage follows. Emulate the look of a crowd gathering at your feet by using either the Grundo Admirers Foreground or the Special Event Foreground. At around 5,000 NP, both are inexpensive options that add a lot of pizzazz to any outfit.


8. Premium Collectible: Heart Contacts + Heart Shaped Sunglasses
Let your love of Fyora show on your face, too! For NC item collectors, the Premium Collectible: Heart Contacts is the perfect item for the job! For the rest of us, the Heart Shaped Sunglasses are a super cute and super affordable option. As an added bonus, the sunglasses keep the light that constantly radiates from the Queen from blinding you!


9. Sugar Plum Faerie Shoes + Plushie Skeith Socks
No outfit is complete without some footwear! Whether you are a busybody who loves to spend your time outdoors, or a homebody who enjoys staying cozy inside, I have got you covered! The Sugar Plum Faerie Shoes is an NC item but you get what you pay for, as they are extremely comfortable to walk in. True comfort however comes in a pair of 800 NP Plushie Skeith Socks. The purple colour as well as the twee wings definitely makes these socks Fyora-approved.


10. Discovery of Faerieland Day Background + Nostalgic Faerieland Background
Finally, one of the most important, if not the most important, part of any customization is the background! The Discovery of Faerieland Day Background is a beautiful background celebrating Faerieland Day … but can easily pass as Fyora Day festivities! The Nostalgic Faerieland Background is a splendid background that older Neopians may appreciate more as it is reminiscent of what Faerieland used to look like.
And finally, here is a list of customization don'ts on ANY day, but particularly on Fyora Day:
Sinking Faerieland Trinket, The Sinking Clouds of Faerieland, Faerielands Destruction Background, Xandra Mask, anything wraith
Too soon? Definitely too soon.
I hope you have enjoyed reading The Definitive Guide to Fyora Fashions as much as I had writing it! Now go enjoy some Fyora fashions!