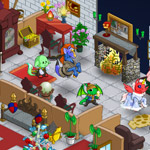 Designing a Neohome on a Budget

by guineagymnastics

--------

Everyone loves to visit a well-designed Neohome. The right combination of furniture and accessories, coupled with a creative and well-executed theme will easily make your home the talk of the neighbourhood. However, many 'pets and their owners complain about how expensive it is to fully furnish their Neohome 2.0. If you've found yourself bleeding your bank account dry trying to create an impressive abode for your pets, then this article is for you. It's time to forget the days of a nearly-empty Neohome (save for that Rainbow Bath Tub in the corner- you know, the one you spent nearly one million Neopoints on *cough*) and say hello to a stylish, well-decorated one that won't break the bank!

The Items

Chalkboard

At only 85 NP, this item is a steal. While a chalkboard itself might not fit well into every Neohome, just flip it over to create a nice room divider. Using the chalkboard as a divider allows you to break up your Neohome into rooms and hallways, creating a more realistic and functional living space. Rooms allow you to create the Neohome of your dreams- anything from a quaint cottage-style home with only the essentials (such as a kitchen, bathroom, living area, and bedroom) to an extravagant network of well-furnished hallways, courtyards, and chambers becomes possible.

Also, don't feel you need to limit yourself to just rectangular rooms. With a little bit of creativity, you can fashion your chalkboards into a maze or spiral shape, or stack a few on top of each other and place the stacks side-by-side to create structures such as walk-in closets. Anything is possible with chalkboards- even the most creative designer will be able to find a use for this deceptively simple item!

Ornate Faerie Pottery

Don't let this item's flowery name fool you- this vase could work well in nearly any Neohome. Placing one atop a dining or coffee table can add a splash of colour to a monochrome room, and adding a few flowers from your Neogarden to the vase can create a lovely springtime theme. Conversely, you could consider using it as a planter in your garden- its lovely purple colour would bring some cheer to your backyard. Or, if you're the collector type, you can showcase this piece of pottery on a pedestal in your hallway or living area- no guest would be able to tell you only paid 270 NP for it. In fact, they might even become inspired to pick a few up for themselves!

Mushroom Soup Lamp

A neutral cream colour, this lamp adds a touch of sophistication that would suit even the most minimalist of Neohomes. It would look suave perched atop a clean, clutter-free side table in the living room, or add the perfect finishing touch to a refined 'pet's bedroom. A very versatile piece, you could even stack a rug or low coffee table atop it to create a unique-looking dining table that would be the talk of your dinner party! See what you can do with the Mushroom Soup Lamp- costing only 400 NP, you may want to splurge and buy a set to play around with. You never know what creative looks you can make with this seemingly simple (yet sophisticated) lamp!

Decorative Bowl of Fruit

Every Neohome needs a kitchen, and what better way to stock up that kitchen than with a bowl of healthy, delicious fruit? Sure, your Neopets can't actually snack on this item, but why would you want them to? The bright blue bowl adds a pop of colour to an otherwise plain interior, and the lush assortment of fruits and berries looks almost too good to eat! And this item isn't only for kitchens or dining rooms- it looks elegant enough to fit right in a Lost Desert themed Neohome- after all, what King or Queen of the desert wouldn't want to display a tantalizing fruit display in the scorching desert heat?

You could even get creative with the Decorative Bowl of Fruit; in a nursery, it could work well as a toy for baby Neopets who love to play pretend. And with a price tag of 450 NP, you don't have to worry about this centerpiece (or potential toy!) breaking the bank.

Snowager Chair

This icy blue throne looks fit for a king- or maybe just sitting around your dining table. If you already have a dining set, you could also use the Snowager chair as an elegant writing chair. Its icy blue colour would make a statement against a plain wooden writing desk, and its creative design is sure to give you inspiration for your next piece of prose. With carved legs, sloped sides, and lovely detailing, this intricate piece is sure to wow your guests. What'll wow them even more is the fact that it only cost you 300 NP- a deal that would make the Snowager himself proud!

You know, if the Snowager himself is capable of feeling emotions other than pure rage and anger. Moving on...

Spring Birch Tree

An item for your garden, the Spring Birch Tree will add a touch of class and elegance to any well-groomed yard. With a tall, slightly curved stem and bright green leaves, this tree would look spectacular placed next to a meandering stream or a stately bench. You could even create a forest or grove of trees, adding a little bit of depth and mystery to an otherwise ordinary Neogarden. With a 450 NP price tag per tree, a forest of Spring Birch Trees would be a small investment to make to create a captivating place for young Neopets to play and older ones to admire.

Chestnut Tree

Another outdoor number, this broad tree is an excellent addition to any Neogarden. With a hearty stem and lush, shady leaves, you will find yourself drawn to this tree on especially sunny days. If you have a pool, I suggest placing these trees along the edge- they will add some welcome shade, as well as provide a fun place for rambunctious 'pets to jump off of and make a splash during the heat of the summer. A little bit pricier at 1300 NP, this tree is well worth the cost- you may even want to consider starting your very own chestnut grove!

Biscuit Bed

What Neohome is complete without a bed? Not a comfortable one, that's for sure! This one costs 1500 NP, and while a tad more expensive than some of the other items on this list, is still a bargain for what you get. The bed itself is decked out in a quilted, tawny orange duvet that is subtle enough for even the most muted and traditional of homes. It even comes with two delicious-looking biscuit shaped pillows that are sure to please any 'pet. Now you can pretend you're sleeping on a giant cookie- YUM!

If you have multiple Neopets who share a bedroom, you can add a creative touch to their room by elevating one bed above the other to create bunk beds, or placing them side-by-side to create a long, comfortable bed perfect for lazing on and reading a favourite book.

Casket Table

At first, the name might creep some more sensitive Neopets out. A casket!? Ew! However, I can assure you that this item is an excellent choice to add to any Neohome. A sensible brown colour, this table is large enough to host a small family of 'pets, and by buying a few more and flipping them so the pointed ends mesh, you can make an even longer table that's perfect for dinner parties! At a mere 3 NP, you shouldn't hesitate to pick a few of these up. You might even be able to coax your terrified 'pets into eating at it by assuring them that it's just an empty old casket... we think.

Elegant Wooden Desk

The most expensive item on this list at 2,100 NP, this carved desk is well worth the price. It blends in with nearly any type of decor, and its sophisticated style will have guests in awe. You're sure to be inspired while sitting at such a classic desk, and it has plenty of room to hold your favourite tabletop accessories. This desk's carved feet will add a touch of antique charm to your Neohome, while its sleek surface is still modern enough to prevent your home from looking dated.

So there we have it- a list of ten suberb Neohome 2.0 items that look expensive and stylish, but certainly won't hurt your budget. Use this list as a starting point to designing the home of your dreams, but don't forget that it's okay to splurge every once in a while! If you find the perfect piece that you just know will add that special touch to your abode, go for it! By having a smart mix of classy, inexpensive items, you'll know that any expensive ones you do decide to buy will stand out even more.