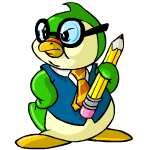 Flaunt Your Nerdiness: A Customization Guide

by mustang1772

--------

Ahh, customization. This addition to Neopets has been both a blessing and a curse since its arrival. On one hand, customization is fun and addicting! There is a sense of joy and pride that you feel when you see your precious pet decked out in the finest customization. Each design is entirely unique and reflective of the pet's character. On the other hand, customization can be tricky and complicated in the beginning. There is a whole wide world of wearables out there and at first it can be confusing to navigate. My goal is to make customization a little bit easier, with helpful suggestions and customization themes. Soon, you too can make sure your pet is as spiffy as can be!

I've compiled a simple list of items to help you get started. My theme this week is geeky chic. The title of nerd was once a shameful nickname, but now it is worn as a badge of pride. The nerd subculture has grown tremendously over the years. Now your neopet can also revel in their own nerdiness with a wide array of wearables. Perhaps you can even sport matching pocket protectors, eh?

Clothing:

A staple to any wardrobe (at least hopefully…), there are many stylish, nerdy clothing options available all across Neopia. From general to species-specific items, there is bound to be an item to tickle your fancy.

Neopoint Items-

404 Shirt-A simple shirt, with a nice text appliqué, a must for the computer nerds.

I *heart* Lord Faeriegan T-Shirt-Character tees are a classic addition to any wardrobe. Now you can sport your love for the fantastic Lord Faerigan.

Collared Shirt with Altador Cup Logo-This one is perfect for everyday wear, or for a day at that fabulous cubicle job. As an added bonus, you can show off your love for the Altador Cup. It's a win-win for everyone.

Pretty Pink Bruce Sweater-Now your Bruce can look like the classic prep-school nerd. The soft pink color is both simple and feminine. To be worn during a day on the town or to a hard-core study session.

Buzz Librarian Blouse and Jacket-This neat outfit is a must for any buzz librarian…or for the average library fanatic.

Blue Uni Sweater Vest and Shirt-Now Neopia's vainest creatures can rock the nerd style, with a simple, yet dapper sweater vest.

Yurble Librarian Blouse-Yurbles rejoice! The adorable blouse will have everyone admiring you for your brains.

Green Suit Tuskaninny Trousers-A practical choice for everyday wear.

AAA Host Trousers-Now everyday can feel like Daily Dare! This piece is especially great for the gamers.
Neocash Items-

Basic Mint Green Cardigan-From the Basics Collection at the Neocash mall, this comfy cardigan comes in a variety of colors. Feel free to choose from black, blue, green, grey, lavender, mint green, pink, or yellow. You could have a different cardigan for every day of the week!

Blue Argyle Sweater Vest and Shirt-This charming piece of vest-wear will ensure that you will be the best dressed Neopian at the Scholastic Decathlon.

Dark Multicolour Suspender Ensemble-Holy suspenders, Mynci Defender! The suspenders add a the perfect touch of color to your outfit.

Basic Orange Trousers-Another delightful piece from the Basics Collection, these trousers are available in black blue, green, orange, and pink.

Brown Corduroy Trousers-A sensible choice for a day spent hitting the books.

Polka Dot Blouse-This blouse has a wonderful vintage charm to it. Pair with your favorite skirt or slacks.

Rainbow Cardigan-Warm, comfy, and colorful! What's not to love about this cardigan?

Smart School Girl Shirt-Lead the book club with poise in this cute shirt.

Fancy Lab Coat-For the science enthusiast, nothing can top a good lab coat. This one is both fancy and practical!
Backgrounds:
Backgrounds are my favorite customization item. They can be as range from simple to intricate. Each background sets the scene for the theme you're trying to create with your pet. With the right background, you may not even need fancy clothing, foregrounds, etc. to get your idea across.
Neopoint Backgrounds-

Ultimate Fan Room Background-The title of the background speaks for itself. The setting is perfect for the ultimate fan amongst your pets.

Spaceship Interior Background-This is an excellent choice for the space or Sci-fi nerd in your life.

Lawyerbots Number One Fan Background-What would Neopets be without Lawyerbot? Use this to show off your impressive collection of Lawyerbot memorabilia.

Neopets Office Background-This option is great for the smart pencil-pusher. Not a sticky note out of place!

Classroom Background-Is there a better place to be than in the house of learning? I think not.
Neocash Backgrounds-

AAAs Room Background-Show off your gaming gear and knickknacks! This is one of my favorite backgrounds for the nerdy Neopians. Though it is a tad bit unkempt…

Lawyerbots Office Background-This background is simple, organized, and full of collectible Usukis!

Games Master Background-A great selection for the gaming-inclined.

Commemorative Neopets Games Room Background-Bring back a bit of nostalgia with this iconic background.

Quest for Knowledge Library Background-As a nerd, your quest for knowledge never ceases. Use this scene to show off your bookish side.

Scholars Lounge Background-With this background, no one will ever doubt your superior smarts. One look at you in this fancy chair will have every neopet doubting their I.Q. score.
Accessories:
These little touches can help pull your whole look together. While it is important to not go overboard, one must never underestimate the power of the small details.
Neopoint Accessories-

Black Square Glasses-Simple, slightly hipster, and 100% nerd approved. These glasses really make you seem smarter.

Brainy Uni Glasses-These glasses not only make you look office-ready, they also give off that vintage grandpa vibe!

Roothless Tilt Maze Game-This is a neat little accessory for the pet that can't fit enough gaming into their day.

Piles of Books Foreground-Whether you are knee-deep into your studies, or you are just an average bookworm, this foreground certainly makes a smart statement.

Well Read Book-We all have that one favorite book. Now your neopet can don their own favorite story and relive the fun and adventure.

Research Desk Foreground-Now you can engage in your favorite academic pursuits with this fantastic workspace. This is a really nice foreground without a high price tag.
Neocash Accessories-

Dueling Decks Hand of Cards-I have yet to meet a nerd who didn't like a good card game. This one is perfect for the pets who love to play and trade with their friends.

Bundle of Books-Now your neopet can tote around an excellent reading selection wherever they go!

Games Master Headset-Take your gaming up a level with this stylish headset that is sure to make everyone jealous.

MME10-S3c: Neopian Dream Collection-This string of photos of your favorite heroes and musicians allows you to decorate any room in the house with images of your Neopian idols.
Congratulations! Now your neopet is free to flaunt their nerd style. The most important thing to remember about customization is to have fun! Dressing up your pet is ultimately about reflecting your own style. Just relax and roll with it! You will pick up the perfect idea in no time at all.