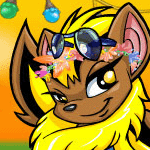 Favourite Summer Wearables For Everyone

by wokitana

--------

Everyone loves to dress their Neopet pretty and cool for summer and there are so many choices and colours in our wardrobe to choose from. With this article we will do our best to pick the best clothing and accessories for your favourite Neopet, or maybe for the whole family. We also have included a few sets of clothing to fit the special types of pets, mainly the babies and the maraquan pets.

This set of wearables will have any baby girl Neopet ready to play everywhere. Wait...why are you still outside! It is way past your bedtime, you little rascal! Off to bed NOW!

Baby Ruffle Pants – Made from soft quality fabric these pants are perfect for cool weather or for just looking cute! These pants come in a red and white polka dot pattern!

Baby Floral Shirt – This charming sleeveless shirt comes in a floral pattern which is trendy and ready to match all cute baby bottoms. This shirt is made with a high quality light weight fabric.

Baby Bob Wig - This Bob Wig is an ideal short haircut for females (and occasionally males) in which the hair is typically cut straight around the head at about the jaw-level.

Baby Summer Wings - Now your baby has the perfect wings for summer! They are hand-made with shimmering delicate fabrics. They are also lightweight, soft and easy to wear.

Baby Bubble Wand - A gust of air will make all those bubbles flow, so blow and blow and let those shimmery bubbles flow!

Baby Rosy Cheeks - This special face paint comes with a handy soft brush and a mirror and will give your baby rosy cheeks!

Brilliant Fireworks Shower - The locals gather together in the park and soon loud music is heard and the fireworks have started! And what amazing fireworks they are! Everyone looks shocked and amazed every time a rocket goes up and explodes in front of the dark curtain that is the night sky.

Summer Fireworks Background - Everybody gets excited and is in a very festive mood. These amazing lights come in red, blue, and white...every colour.

Let's all go to the amusement park! Here comes a set of wearables ideal for an adventurous baby boy playing at the park. Sadly, there are not much wearable shirts for baby boys so our set feels just a little incomplete, but it's still a wonderful set!

Baby Anchor Trousers – Made with 100% pure organic cotton for extra coolness and has elastic waistband. Everyone knows little boys love to keep all sorts of strange and exciting goodies in their pockets; this pair of trousers has two pockets for all those treasures. These trousers are wonderful for any activity your precious boy has!

Baby Bandana Bib - This handy bib is made of very absorbent multi-coloured cotton and has been fashioned into a bandana shape.

Baby Mop Wig - A thick mass of blonde hair which any loving parent or adult would enjoy ruffling...but don't worry it is always cute!

Baby Pull Along Train – This train is an adorable push train that features three of babies' favourite animals, Noils, Taigars and Polarchucks, oh my! Your baby will certainly love the bright colours.

Scattered Light Shower - Red, orange, yellow, green, blue, indigo and violet...all beautiful colours of the rainbow!

Amusement Park Background - Ahoy, maties! Be ye ready for adventure? Thar be treasure just waitin' to be plundered! Oooh! I'm so excited!

Next comes the under the sea theme. Although very few pets are Maraquan and even fewer wearables are available, we have managed to give you a luxurious set of wearables for your maraquan pet to wear during summer time...or in any other season! You decide!

Golden Maraquan Trident – This trident is made up of pure gold and is great if you want to feel like the king or queen of the sea.

Maraquan Fin Wings - These wings are actually more like extra fins and are made of thin bony spines covered by a very fine silk like material for extra lightness. These fins are very similar to flippers.

MME6-S2: A Bunch of Popping Bubbles - As you watch the bubbles form, light catches them and a hint of all the rainbow colours begin to appear. Then pop! And it all mystically disappears!

MME7-S5: Undersea Coral Garden Foreground – Fragile and highly complex, these corals come in all shapes, colours and sizes. Who needs flowers when you live down here under the sea?

Maraquan Summer Cloak – This long green cape with hood is handmade with gold trimming embroidery and a golden shell to fasten it with. It flows perfectly around your body and does not interfere with your swimming and diving.

Underwater Background - Just look at the world around you, right here on the ocean floor. Such wonderful things surround you...What more are you lookin' for?

This set of wearables is good for just about any male Neopet (excluding baby, maraquan and mutant colours). This male Neopet has gone camping! Here is an attractive set of wearables best fit for the more thrill-seeking type of male Neopet.

Blue Summer Trousers - Lightweight cotton canvas to keep you cool in the warm weather. They are washed for remarkable softness from the very first wear. This is a classic fit that sits at the waist, relaxes through hips and thighs with straight legs.

Basic Black Collared Shirt – This is a well-made quality shirt with a normal collar. It should be dry-cleaned to retain its "crisp" look. Also available in blue, green, lavender, mint, orange, pink and white if you prefer a little more colour.

Hazel Contacts - Green contacts, errr brown contacts. Actually they're a bit of both. When jovial they're warm, lively, and sparkle with mirth. When downcast they seem to grow dim and dark. The smooth green on the edge contrasts beautifully with the amber colour in the middle, capturing the heart of anyone.

Welcome to Camp Wannamakeagame – You know you are finally at camp when you see this sign. Come along and join us, we are cooking sausages and smores on the campfire!

Camping Background - Camping is a relaxing hobby that almost everyone enjoys. It gives a wonderful feeling of appreciating nature at its best right in the middle of nowhere.

Basic Khaki Lace-Up Shoes - Crafted of khaki suede and leather, these sneakers are finished with edgy khaki rubber midsoles. They are easy to tie and come in black, blue, brown, orange, pink, purple and white in case you don't like khaki colour!

Bone Necklace - These bones are hand carved to look like teeth. The string is made of leather and can be adjusted for extra length.

Garin Wig – This wig is naturally blond and fringed with a jagged edge. It has smooth layers which distribute the volume equally around the head and the hair is long enough to style into trendy, wispy strands.

Grass Foreground - This grass is lush and pretty, but it might make you feel a bit itchy! It is rustling in the breeze becoming damp with the mild dew and is a beautiful expanse of uniform green.

Ship Ropes Handheld – Let's make a ropes course and divide into teams and see who will win!

Friendly Glowing Lantern – Made of brass, this lantern is environmentally friendly and is great for any camping trip.

Last of all we would like to present the three best outfits for female Neopets. With so much lovely wearables to choose from we couldn't pick just one. All three of these sets will work on just about any female Neopet besides baby, maraquan and mutant. This first set is perfect for a relaxing day at the beach.

Brown Tropical Wig - This enchanting wig fits right in with the look of Mystery Island! The gorgeous, chocolate coloured hairstyle is perfect for fun summer occasions. The look is polished yet full of whimsical texture. Sleek strands are waved to perfection for a lovely shoulder grazing style.

Orange Island Dress - A bright and cheerful dress that is perfect to wear when you visit Mystery Island or anywhere else you decide to go this summer. It is also glamorous and elegant, beautiful and unique in style, designed with a full length skirt.

Summer Fun Beach Background – Take off your sandals and feel every grain of sand between your toes. The gentle breeze carries a hint of salt from the sea which you can taste as you lick your lips. This is the best way to spend a peaceful relaxing summer day.

Golden Dubloon Necklace - It is said that these dubloons were found in a ship wreck. This stunning necklace is a must have! Quality like this is rare. Grab it while you can! You're going to love it!

Sparkling Emerald Earrings - These beautiful earrings will surely catch anyone's eyes. They have a brilliant green to grass-green transparent type of beryl and are the loveliest earrings around. Any Neopet would love to have these.

Bright Sun Patterned Wings – These lovely wings are adorned with an array of bright colours merged together. They seem to light up the air around you as if lit by the sun.

Contacts of the Cosmos - These contacts are positively bursting with colour! The profound opacity of these precision-crafted lenses will revamp even the deepest-coloured eyes into wildly vibrant blue eyes.

Tote Bag – This bag is light and sturdy and ready to hold all your beach stuff and more!

Sun Shower - Ahhh! These vibrant sun shine rays feel so nice and warm.

This second set of wearables is for the elegant female. The way you dress communicates to everyone around you. It tells them what you think about yourself so it is very important to dress appropriately for every occasion.

Lacy White Summer Dress - This breezy fabric is just the thing for a sweltering hot day! This dress has all of the details you're looking for in a summer dress. The embroidered halter neck is made with crochet knit lace and the skirt is made of beautiful pure white lacy layers.

Shimmery Summer Wings - Breeze through summer with these enchanting wings. These faerie like wings are the perfect addition to any Neopets wardrobe. These wings are the palest of blues, iridescent, graceful, elegant and mystical.

Illusens Collectors Contacts - The finely detailed speckle patterning and soft colour-blending of these lenses gives your eyes an exciting, yet gorgeous looking makeover.

Colourful Cherry Blossom Necklace - This gorgeous necklace glimmers and glistens with many hues, from light pink to dark purple. It is perfectly complemented by the set in leaf design to add extra sparkle. The Cherry Blossom Necklace is perfect for day or evening wear.

Blonde Tropical Flower Wig - Soft, shiny and healthy hair is on trend no matter what time of the year it is. This wig features an elegant up style which is teased at the roots to add height and lift to the top.

Blushing Birch Tree - The pink leaves make the tree look like it is blushing! Landscapers continue to grow these trees because of their beauty although they are very difficult to care for.

Charming Summer Garden Background – Summer gives life to all gardens. New energy greets you flowing out of the plants and animals. Look closer at your yard, at your trees and your plants and your petpets - for they are there, waiting to be discovered!

Flower Jewelled Sandals – This sandal is irresistibly sweet. Dazzling jewels embellish the stylish woven straps of this airy sandal, perfect for parties and comfy enough for everyday wear too.

Fancy Diamond Drop Earrings – These dazzling diamond earrings are masterfully crafted by the hands of the world's most talented artisans.

Illusens Potted Orchid - Orchids are some of the world's most popular and lovely flowering plants. Whether cultivated in greenhouses or admired in the wild, tended on windowsills or cut for corsages, orchids reward admirers' devotion with their beauty.

Finally, we have a set of wearables featuring a female Neopet at home on a summer day. You can have a good time even in your very own back yard!

Cheery Polka Dot Dress - Shine bright in this summer dress! This sassy dress features a square neckline, sculptured bodice and it is sleeveless, completed with semi-sheer mesh panelled skirt with a frilly skirt underneath.

Pink Lulu Contacts - Illuminate the eyes with a pink colour by adding a subtle shimmer and mysterious glowing effect. These contacts will make any Neopets eyes a rather pretty shade of pink.

Floral Bandana Braided Wig - Gorgeous combination of colours that will look fabulous on your head on casual days as it scrunches up like a thick headband, for a dressy look. It fits perfectly with the braided hair style for all kinds of fashionable looks!

Backyard Summer Background – Here in my little garden everything is bathed in golden sunlight, which makes it a truly mesmerizing sight to behold. Summer is here and I can hear the bees humming restlessly in this busy season so long-awaited.

Queen Buzzer Wings - Beautiful and graceful, varied and enchanting, small but striking, these butterfly wings lead you to the sunny side of life. Everyone deserves a little sunshine.

Jewelled Green Shoes - Beautiful emerald green, jewelled satin, flat ballerina shoes wonderful for any fancy occasion or for even just a day at home.

Beaded Shell Necklace - A tasteful collection of beads and shells makes this a fun necklace to wear!

Beaded Shell Earrings – Shells are painted to match the necklace and then gracefully strung into jewellery.

Baby Kadoatie Carriage - Designed after vintage prams, this sturdy toy stroller will delight children while they take their favourite plushie kadoatie on leisurely walks. It features large wheels that can accommodate bumpy sidewalk strolls.

Festive Summer Picnic Table - Be ready for outdoor dining and backyard get-togethers with this attractive easy to assemble picnic table. It has sustainable wood that is naturally resistant to decay and insects. Oh look! It's already been filled with all sorts of delicious treats and goodies! Anyone want a picnic?

Butterfly Shower – these beautiful butterflies are fluttering their wings, hovering above your favourite flower and occasionally flying all the way up to the sky.

That's it for now! We trust that all this will help you choose your favourite outfit for your beloved Neopet, for every type of summer occasion you could encounter. Don't forget you can always play with your wearables and make the theme your own by changing one or two little things. Each Neopet has several wonderful sets of wearables that only they can wear and many of them would make great summer clothing. Have fun wardrobing!