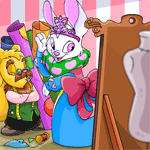 Species-Specific Fashions You Didn't Know Existed

by ccr153lucky2

--------

A lot of hardcore customizers get so caught up in the world of Neocash that they often forget about species-specific wearables that are released for each pet on their designated day.

You've probably seen them advertised in the news - Magician garments, Fancy styles, or On the Go. Since these items are exclusive to only one species, we often choose to overlook them, because they aren't as versatile and may not be worth the Neopoints. The items often come in a set, intended to be used together to produce a desired character or look, which deters a lot of people who want to produce their own characters.

However, I'm here to show you the different possibilities. Just because the item has the title "Fancy" doesn't mean you can't use it as part of a casual outfit. It's time to think outside the box, and mix and match items to produce entirely new looks!

Because of article limits, this article will only cover the first five species in alphabetical order - the Acara, Aisha, Blumaroo, Bori, and Bruce. Future articles will feature the rest of the Neopets.

1. Acara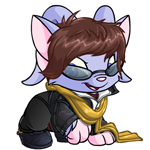 Featured Colour: Royal Boy
Featured Items:
Trendy Acara Collar and Scarf
Suave Acara Wig
Sleek Acara Shades
Acara Rebel Jacket
Lovely Acara Shoes
Sleek Acara Trousers
My favourite part of this outfit is the scarf, which loosely wraps around the neck and falls to the floor, giving off the "I don't care" look, but in reality, you secretly do care. The rest of the outfit is kept simple - I chose to utilize black clothing from different sets to put more emphasis on the scarf, and topped off the outfit with some Sleek Acara Shades. Perfect for casual wear, but fancy enough for a more sophisticated party.
The Acara currently has 14 different specific sets, with a couple of miscellaneous items. They are:
Adventurer, Festival, Nurse, Rebel, Swim, Treasure Hunter, Wanderer, Warrior, Fashionable, Lovely, Mysterious, Sleek, Suave, and Trendy.
2. Aisha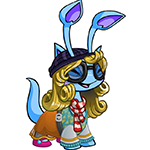 Featured Colour: Striped
Featured Items:
Aisha Rock Idol Glasses
Trendy Aisha Hat and Wig
Stylish Aisha Dress
Trendy Aisha Scarf
Sakhmet Aisha Dancer Slippers
This outfit contains a cute wig, with the use of large, thick-framed glasses. Here, we aren't afraid to use an abundance of colours to bring the outfit together. Your Neopet can claim she just "threw on the first things she found", but in reality she spent a good four hours choosing her shoes and tying her scarf juuuuuuust right. Perfect for going to that coffee shop that she hangs out at a lot, pretending to read her favourite book.
The Aisha currently has 14 different specific sets, with a couple of miscellaneous items. They are:
Disco, Maiden, Rain, Rock Idol, Warrior, Wizard, Eccentric, Fancy, Fashionable, Jungle, Ritzy, Sakhmet, Stylish, and Trendy.
3. Blumaroo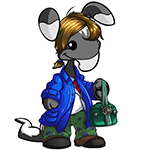 Featured Colour: Skunk
Featured Items:
Blumaroo Magician Shirt and Jacket
Casual Blumaroo Jacket
Elegant Blumaroo Wig
Fancy Blumaroo Purse
Colourful Patterned Blumaroo Trousers
Neovian Blumaroo Gentleman Shoes
Time to go to work, but not sure how casual you're allowed to dress without looking like a total slob? If you want to still look professional without your pants constricting your tail, perhaps this outfit is meant for you. Put on a standard dress shirt, complete with a tie and some nice shoes, and top it off with your favourite casual jacket, to go from formal to semi-formal. Take it a step further and put on some pants with a fun pattern to show your personality, and turn a semi-formal look more casual.
"Oh, these patterned pants? Yeah my grandma bought them for me," your Neopet lies, while secretly hiding the receipt of the store they bought it from.
The Blumaroo currently has 13 different specific sets, with a couple of miscellaneous items. They are:
Farmer, General, Jester, Magician, Shepherdess, Casual, Dancer, patterned, Comfortable, Elegant, Fancy, Mysterious, and Neovian.
4. Bori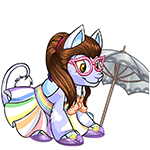 Featured Colour: Cloud
Featured Items:
Orange Bori Bow
Lovely Bori Shoes
Garden Tea Bori Wig
Festive Bori Parasol
Garden Tea Bori Glasses
Bori Rainbow Dress
After a long, cold, and grey winter, it's time to get ready for the summer! Use bright colours to fashion your outfit and have all eyes on you this summer. Or just wear every colour of the rainbow with the Bori Rainbow Dress to cover all your bases. Draw attention to your eyes with the Garden Tea Bori Glasses (or wear them because your eyesight has gone bad from looking at other unfashionable Neopets) and then open up a Festive Bori Parasol to stay out of the sun.
"I made this dress myself," your Neopet claims, even though you just saw her add a bow to the already existing dress you bought her last week. But you'll just shrug and say nothing because she just sharpened her claws this morning and you are rather fond of your natural face.
The Bori currently has 16 different specific sets, with a couple of miscellaneous items. They are:
Detective, Engineer, Flower Girl, Gnome, Miner, Rainbow, Wool, Dapper, Festive, Garden Tea, Jazzy, Lovely, Maractite-Lined, Moltaran Gentleman, and Orange.
5. Bruce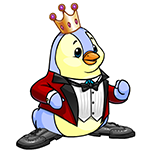 Featured Colour: Christmas
Featured Items:
Bruce Noil Tamer Jacket
Bruce Tooth Faerie Crown
Bruce Tuxedo Shirt
Cool Bruce Trousers
Stylish Bruce Shoes
"Mom/Dad, I need to look like a host on stage about to present some awards but I also really like crowns," your Neopet whines. "Why aren't there any-"
"Say no more!" you exclaim, because your Neopet is a huge chatterbox and you haven't had a moment of quiet in a long time. You thank Fyora that you read this article instead of going straight to the comics section of the Neopian Times like you always do, and recall the perfect outfit for your pet.
Your Neopet will thank you in the future as they waddle out on stage with their big Stylish Bruce Shoes. They might not publicly thank you on stage because they think you're a huge embarrassment, and they might not thank you immediately afterwards either, but definitely years down the road your Neopet will tell you "thanks" for no reason and you'll pretend it was for this specific event, and you'll shed a single tear.
(This story is purely fictional and is in no way a recollection of true events.)
The Bruce currently has 14 different specific sets, with a couple of miscellaneous items. They are:
Buzzer Keeper, Noil Tamer, Tooth Faerie, Tuxedo, Wizard, Chic, Cool, Elegant, Lovely, On the Go, Pretty Pink, Safari, Stunning, Stylish
Don't own any of these species? Tune in next week (or perhaps a few weeks later) for our next featured pets, and perhaps you'll find a style that suits you!