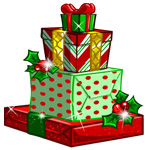 A Holiday Gift Guide for the Last-Minute Shopper

by amory_vain

--------

'Tis the season for appreciating our Neofriends and showering them with love and surprise gifts, but what can you do when your friends are already swimming in enough NP to buy anything they want? Or worse, what can you do when your own budget is tight?

Well, that's what I'm here for! I've put together several unique gift sets under 4000 NP that will warm even the frostiest Terror Mountain resident's heart this Day of Giving.

Note that price estimates are based on my own Shop Wizard searching, and prices are subject to change over the course of time. I can't predict the results of any frantic last-minute holiday shopping sprees!

The Gift Wrapping Kit (2285 NP)

A simple Thanks Card might get the message across loud and clear the other eleven months of the year, but what's a Neofriend to do when it comes time to send a gift to the top-notch gifter on their Neofriend list? Here's a subtle way to say "hey, thanks!" without actually having to type the words "hey" and "thanks!"

Holiday Wrappings, 35 NP
At only 35 NP, Holiday Wrappings is a steal! It's really the centerpiece of this gift set - the bright, fun colors will definitely make it stand out in your friend's item transfer log!

Tower-o-Boxes, 100 NP
Gift wrap is useless unless there's something to wrap in it, and Tower-o-Boxes is perfect for the person with a lot of names on their gift list this year.

Turbo Scissors and Mallard Tape, 380 NP
Scissors and tape are as essential to gift wrapping as balloons and darts are to a round of Kiko Pop - you just can't do it without them! Snow Scissors might seem like the most seasonally-appropriate choice until you think about the dire consequences of a meeting between melting ice and patterned paper. Pass those by and pick up the trusty, reliable Turbo Scissors.
Finally, aside from being the most economical tape purchase you could make, Mallard Tape has the distinction of being by far the most festive option on the market! Its green hue will really distinguish it against the most vibrant red sheet of paper your Neofriend might select.

Fir, 90 NP
What's a pile of gifts without a tree to put them under? This little guy will make an excellent guardian for presents. From what I hear, he promises not to shake the boxes or peek under the paper, not even a little bit! Each Fir even comes in a pine fresh scent that's certain to delight any gift recipient.



Shining Star Tree Topper, Candy Cane Light String, and Half-Filled Box of Holiday Decorations, 1680 NP
Make that little Fir feel like he's been painted Christmas! Grabbing some final decorations will add that last special detail to the whole collection and allow your Neofriend's home to sparkle as brightly as their holiday spirit.
"Bake Your Own" Holiday Cookie Set (3705 NP)
An armload of tissue paper and boxes takes care of the gracious gifter on your list, but what about a Neofriend who's more of a crafty, creative genius, or a collector of the many beautiful baked goods available in shops all over Neopia? You could simply send over a baker's dozen of their favorite muffins... or you could aim for a bigger surprise!


Chefs Kit and Apple Mitts, 350 NP
Aside from being elements of a fabulous clothing ensemble, a good apron, hat, and oven mitts are important for safety in the kitchen; no baker should be without them.


Plain Wooden Bowl and Set Of Spoons, 980 NP
Now that your would-be chef is outfitted in only the most stylish kitchen wear, they're going to need some tools to work with! A no-frills mixing bowl and spoon set are just what they need to be whipping up seasonal delights like Chef Bonju himself. Now for some ingredients!



A Dozen Neggs, Wheat Flour, Bag Of Sugar, and Stick of Butter, 1325 NP
Flour, butter, sugar, neggs: stock your Neofriend's pantry with everything they'll need to craft a batch of holiday cookies for the Advent Calendar Aisha to enjoy!


Seasonal Candy Corn and Candy Stars, 1050 NP
As the finishing touch, make sure to throw in a candy assortment for decorating your Neofriend's cookie creations. Seasonal Candy Corn and Candy Stars are the obvious choice both for price and for style - just what you need to decorate a sheet of Abominable Snowball cookies.
The Ice Caves Explorer Collection (635 NP)
Maybe you have folks on your Neofriends page who would rather be outside during the Month of Celebrating! In that case, consider helping to make sure they stay toasty and have everything they need to make the most of each snow flurry.

Pink Earmuff & Scarf Set and Carassas Coat, 485 NP
Those Terror Mountain slopes can be frosty! Make sure even the most intrepid adventurer is cozy and chic with a fluffy jacket and warm knit scarf with earmuffs. Your Neofriend and their pets will be the envy of the slopes!

Sand Sled, 30 NP
Wherever your friend is going, help them get there in style. Just make sure they hold on to their Pink Earmuff & Scarf Set - I hear those Terror Mountain foothills can be bumpy!



Itsy Bitsy Tiny Snowball, Failed Snowball, and Ugly Snowball, 15 NP
Even the most experienced Snow Roller sometimes makes mistakes! Remind your gift recipient to have a sense of humor and roll with the punches (and yellow snow patches) along the way. If nothing else, even failed snowballs can still be thrown at passing Chias!


Bag of Coal and Stack of Slightly Used Carrots, 95 NP
With these items in hand, your Neofriend will always be ready to take advantage of any convenient snow drifts they might land in. Who knows, that mound over there could be their next sculptural masterpiece! Or wait, I think that's actually a Bruce. Whatever, just give this stuff to your friend and let them put it to good use wherever they travel this season!

Hot Apple Cider, 10 NP
Wrap things up finally with a warm drink for your friend to enjoy at the end of a long day's winter adventure.
And If All Else Fails... (25 NP)
Still scrambling for ideas, even after all that? Don't let anyone else in the Gift Givers' Guild know that I told you this, but there is one final, deeply secret option. Just be careful with it. It's powerful, and in the hands of someone like Jhudora I shudder to think what could happen to Neopia as we know it.

Holiday Potato, 25 NP
Here it is, folks: the holy grail of Neopets item gifts, almost too perfect to even look at directly. Everyone loves potatoes! Everyone always has room for one more potato! They have so many uses: food, children's toy, fashion accessory, paperweight... the list goes on as long as your recipient's imagination does. This particular spud comes already tied up in a festive bow, practically prepared for holiday dinner already! Bacon and sour cream not included.
Consider the lists above when you do your shopping - gift selections like these should make anyone on your list feel valued (or at least hungry) this time of year, no matter the number of Neopoints in your bank account. Make sure not to forget that, ultimately, it's the thought that counts, not how much you have to spend. And don't forget, your opportunities to show how much you love your Neofriends won't end after the 25th of December!