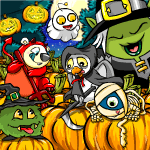 The Pumpkin Patch Volume One

by ilovezacandhsm

--------



As you all know, Spooky Day is right around the corner; the time to start preparing for this holiday is now! Dust off the costumes and the decorations and break out the pumpkins because this year is going to be the best Spooky Day you've ever had! This week, we'll be putting together some of our favorite pumpkin related foods, decorations, wearables, and more! Next week, be on the lookout for some last minute costuming ideas! Without further ado, let's carve into our countdown! (Items listed are in no particular order!)

1. Candy Pumpkin Latte – Around 3,500 – 5,000 Neopoints
With the cold weather approaching Neopia, what better way to start off the fall season by having a mug of Candy Pumpkin Latte! Each mug comes filled to the top with a special blend of pumpkin coffee that is topped with whipped cream, two pumpkin candies and a spoonful of cinnamon; the perfect fall drink for any pet! The original recipe for the coffee can be tasted in the Coffee Cave in Roo Island, the best coffee spot in Neopia! Although it is on the pricey side for a coffee, the Candy Pumpkin Latte is a must have for the season!

2. Pumpkin Spice Soap – Around 5 Neopoints
The Grooming Parlour has the season's latest "It Product" for fall! Pumpkin Spice Soap is the latest blend of spice and sweet and it smells just like a freshly baked pumpkin pie! The soap comes in a bar form and practically melts in your hands when you use it! The scent is long lasting and is guaranteed to put you in the mood for fall and Spooky Day! Although the bar smells like warm and edible pumpkin pie, please do not try to eat this product; it will taste like soap, and not pie. Bummer, we know.

3. Comfy Pumpkin Bean Bag – Around 50 Neopoints
Perhaps the comfiest (and least expensive) pumpkin that you will dare to come across is the Comfy Pumpkin Beanbag! This bean bag chair was originally sold at the Spooky Furniture Shop in the Haunted Woods, AKA the best place for any Spooky Day themed decorations and furniture! It restocks there for about 1,000 neopoints, but is only around 50 Neopoints in the Marketplace. Each of the bean bags are paw cut, sewn and stuffed to perfection! If you are in the market for cheap, and functional decorations for fall and Spooky Day, make sure to pick up a Comfy Pumpkin Bean Bag!

4. Pumpkin Lip Gloss – Around 500 – 1,000 Neopoints
Fall is the season for chapped lips! Pucker up with Pumpkin Lip Gloss! The Grooming Parlour sells the pots of pumpkin heaven year round, but they fly off the shelves around this time of year. The rich, creamy formula glides on lips, providing them with a soft orange color and a ton of moisture. The lip gloss also tastes and smells like a fresh pumpkin pie! If your lips are in need of some TLC, make sure to pop into the Grooming Parlour for a pot of Pumpkin Lip Gloss!

5. Pumpkin Negg – Around 16,000 Neopoints
Neggs have always been a collectable item with one for almost every holiday! Spooky Day is no negg-ception! Pumpkin Neggs are some of the oldest neggs around, but they still continue to perch on windows year after year. The Pumpkin Negg is grown to perfectly resemble a jack o lantern, even with a smiling face! Each negg is grown under top-secret conditions and the only one who knows just how to grow a perfect negg is the Negg Faerie herself! This year don't have the only neohome on the block without a Pumpkin Negg in the front window!

6. Pumpkin Top Cymbals – Around 30,000 Neopoints
Spooky Day isn't just for scaring anymore! These days, sweet, pumpkin-y music can be heard filling the streets during the celebrations. Don't be the only one without a fall related instrument! The Pumpkin Top Cymbals are just the thing you need to get into that holiday spirit! Each cymbal is a hand grown pumpkin that has been sliced at the top and covered with a special material to prevent the pumpkin from spoiling. When hit, the sound is a lower pitched, almost scary sound, perfect for Spooky Day! The Neopian Music Shop occasionally restocks them for less than 1,000 neopoints, but they will be extra hard to get this season, so get them before they are sold out!

7. Silly Pumpkin – Around 500 Neopoints
Perhaps this Spooky Day your costume will be more silly than scary; then the Silly Pumpkin is the decoration for you! This jolly pumpkin comes precut to perfection; the face is sliced into a large, friendly grin with happy looking eyes and a tiny triangle nose! Possibly one of the least frightening things to purchase from the Spooky Furniture shop, the Silly Pumpkin is perfect for any pet that prefers laughs to screams!

8. Organic Korbat Pumpkins - Around 10 – 20 Neopoints
If you are decorating on a budget this year, the Organic Korbat Pumpkins are the perfect item to pick up for Spooky Day! They come in a set of two medium sized gourds each with a leaf on each side to resemble Korbat Ears; one set of leaves is green and one set is red! For the pair, the price is around 20 neopoints, which is super affordable for the quality for the duo!

9. Pack o Pumpkin Seeds – Around 20 Neopoints
Do you want a very own pumpkin patch of your own, or maybe just a quick and easy fall snack? Well pop to the shops to pick up a Pack o Pumpkin Seeds! The unsalted snacks are perfect for planting and eating! Each seed is infused with yummy pumpkin flavor and is guaranteed to satisfy any pet's hunger!

10. Pumpkin Pie – Around 40 Neopoints
Perhaps one of the most iconic fall time foods is definitely Pumpkin Pie! Each pie is handmade with only the finest pumpkins, spices, and crust! The top of the pie is decorated with cinnamon to resemble a jack o lantern's face! For only 40 neopoints, you and your friends can celebrate the season with a slice of heaven!
We hope you enjoyed this issue of The Pumpkin Patch! Be on the lookout for our last minute costume ideas! Thanks for reading and have fun getting ready for Spooky Day!