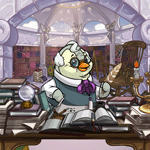 Dressing for Brightvale University

by martia_elior

--------

Brightvale is the main center of knowledge and erudition. King Hagan, the illuminated ruler of this land, has always been known as a very clever and wise character. It comes with no surprise that the most famous – well, it seems to be the only one – University in the whole Neopia is in Brightvale! Many members of the Seekers probably teach in there, Professor Lambert included.

So I thought, how does a regular teacher or a student look? I tried to create both the customisations using neopoint multispecies wearable items only, giving alternatives for many pieces of clothes to meet different tastes.

BRIGHTVALE UNIVERSITY PROFESSOR

If you'd like to dress your pet up like a Brightvale University teacher, here you can see what I came up with. If you have an Elderly painted pet, then I strongly recommend you to use them to create your look. Elderly pets are ones of the most respected, and wise Neopets around, so they look great into a professor's shoes!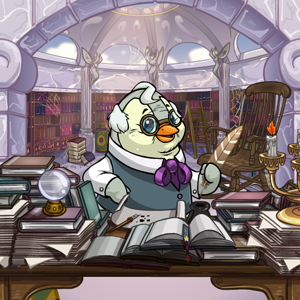 Scientific Wig
This very cheap accessory is hardly chosen by customisers, probably because of a lack of hair on it. A real intellectual doesn't think of their hair, though! This item was awarded during the Daily Dare in 2011, but if you missed the event, you can easily find it in shops for around 500 neopoints a piece.
Since the Scientist Wig doesn't look nicely on every Neopets species, there are a couple of interesting alternatives: the Grey Moustache and Wig and the Long Silver Wig. The first one perfectly suits a spiffy, male teacher with a passion for moustache (and a Prussian look!), and can be bought in shops for around 1,600 neopoints. The other suggested wig is for female teachers of every age! It is very detailed, and elegant, so that every lady will probably like it. You can find it for around 30,000 NP each.
Spectacles of Perception
The Spectacles of Perception were released as an award at the end of the Journey to the Lost Isle plot, during 2007. Due to their rarity, you can find them at the Trading Post for around 600,000 neopoints. They are made by dark wood and glass – obviously! -, have a rounded shape and make your Neopet appear as they are very clever, smart and cerebral. This pair of glasses looks actually great on many different Neopets species, and can be used for both students and teachers, nephews/nieces and grandmothers/grandfathers; they really suit well every age!
If the Spectacles of Perception cost too much for you, a cheaper but still nice alternative is the Xandras Cunning Disguise. This wearable can be occasionally found at 99k with the Shop Wizard, though it generally sells for around 120,000 neopoints at the Trading Post.
If you don't want your pet to wear any kind of glasses and prefer adding a male detail, then you can choose an extraordinary well-looking beard, like the Spellseeker Wizard Beard. This wearable is really versatile and can be used in various ways; it was awarded during last year Daily Dare, but if you missed the event you can buy it for around 50,000 neopoints a piece.
Fance Top
This quite rare piece of clothes looks great on both female and male pets. It is a well refined garment composed by a white collared shirt with long sleeves, a grey waistcoat and an elegant purple bow tie. It's not very easy to find it at the Trading Post, and its price generally fluctuates between 180k and 250k, but with its elegance, the teacher will conquer every student!
A cheaper alternative can be the Brown Suit Coat, which is composed by a white collared shirt, a red tie and a brown jacket. It can be easily found in shops for around 3,000 neopoints each and will be much appreciated by every Neopet who loves wearing polished, sophisticated outfits.
If you'd prefer a more feminine outift, I can suggest you to use the Fancy Pink Gown, a very elegant dress in an old-rose pink shade, for around 500 neopoints. Another lovely option for female pets is the Fancy Brightvale Gown, which has a high wearability and the colours of the University where the teacher works! It'll cost you around 9,000 NP each and the Dean will be very pleased to see at least one of their professors wearing it.
Hardy Blue Trousers
This pair of trousers easily reminds us of jeans; it's a simple, versatile garment which can be used in different occasions and from both male and female pets. They look very comfortable, and their dark shade of blue easily matches many shirts and jackets! This item will cost you around 4,000 neopoints a piece, and it's a real bargain; I'm pretty sure you already have a pair of them in your closet, ready to be worn!
If you chose the Brown Suit Coat, though, I suggest you to match it with the AAA Host Trousers. This elegant garment comes in a particular shade of brown which matches perfectly with the coat; moreover, it is very refined and dandyish. It was a neopoint prize released during the 2011 Daily Dare. If you missed the event, you can buy a pair of these trousers for only 13k in shops.
AAA Host Shoes
Released together with the trousers mentioned above, the AAA Host Shoes look very comfortable, and their brown colour goes well with both the pair of trousers suggested. Thanks to their shade, they are versatile and can be used in lots of different outfits. If you missed the 2011 Daily Dare, you can find them in shops for around 28,000 neopoints.
If your teacher is a female and loves the Fancy Brightvale Gown, then she can match her dress with the Illusens Laced Slippers; this lovely pair of shoes is made of the same green fabric of the dress and costs around 2,000 neopoints each.
Neopian Times Writing Quill
The perfect hand held item for a Brightvale University professor is the very rare Neopian Times Writing Quill. It was released twice only, awarded to those Neopians who were published in the Neopian Times issues 450 and 550. It's unique and actually expensive, but it's the only wearable pen/quill around, unfortunately. If you can't afford its price, the only alternative is the Stack of Tax Return Forms, which costs around 20,000 neopoints a piece. Please, notice that this item occupies many different layers of customisation: right hand item, background item and lower foreground item.
Another cheapish option for a hand held item is the newish Handwritten Letter, which costs around 36,000 NP. Every teacher receives tons of mails every day, so it's not unusual seeing them reading letters!
Xandras Library Background
This lighted, gorgeous indoor background can be found at the Trading Post and costs around 250,000 neopoints. It represents a library, which is the perfect place where you can find a lecturer. It's made of the finest white marble and the shelves are made of a tough wood, so that they can spport all the tomes. You can find a spider web here and there to give the idea of an ancient place, but there aren't any real spiders, I can assure you.
Old Fashioned Rocking Chair
Even a professor needs a place to rest and relax during the lunch break! This old, wooden rocking chair is very comfortable, it doesn't creak when you sit down and your pet will like it a lot. It costs less than 1,000 neopoints, so it's a real bargain!
Please, notice that if you decide to use the Stack of Tax Return Forms, you can't add the Old Fashioned Rocking Chair to your look.
Research Desk Foreground
Recently released, the Research Desk Foreground is a stunning wearable item, representing an enormous desk full of pieces of paper, books, and an animated candleholder on the very right of it. The flames on the candles actually move, which is an almost unique feature for a neopoints item! Due to its rarity (r93) and the fact that it came out during last August, it's quite difficult to find it on sale. It seems to be in the 600-800k neopoints range at the moment.
If you don't manage to find one of those fabulous foregrounds on sale, you can replace it with the commoner (and much cheaper!) Piles of Books Foreground, which will cost you around 9,000 neopoints. This wearable could be obtained by redeeming a particular rare item code, but it's very easy to find in shops.
BRIGHTVALE UNIVERSITY STUDENT
Have you ever thought of how your Neopet would look like before an university examination? Here below you can find the answer (or, at least, one possibility)! Your Neopet is looking exhausted, but they are still reviewing what they studied for days, or weeks.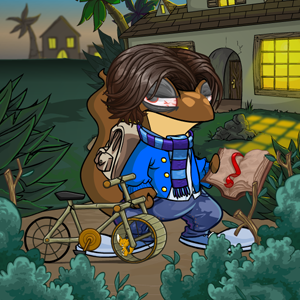 Suave Dark Wig
This brown, stylish wig can be used by both male and female pets, as it looks actually unisex (note to the editor: can I write "unisex"?). You can find it in shops for around 3,000 neopoints a piece and I can assure you that you'll be really satisfied with it, as it is suitable for almost every look and situation! If you prefer hats, instead, you can consider both the Blue Newsboy Hat and the Brown Newsboy Hat. They look exactly the same, but in a different shade. They both have a comfortable peak, so that your pet is protected from direct sun rays, or gusts of wind, and they look nicely on almost every species! The Blue Newsboy Hat will cost you around 7,000 neopoints, while the Brown one around 4k.
Tired Eyes
Did your pet spend a sleepless night before the exam? Or did they sleep so badly having nightmares about their future test? The Tired Eyes is the perfect wearable needed, then! The combination of bloodshot eyes, heavy eyelids, and dark circles under the eyes makes the desired effect indeed! This wearable was one of the prizes for the 2014 Altador Cup IX Staff Tournament, but if you missed the event or did not earn enough points, you can buy it in shops for only 24,000 neopoints. Wearing these contacts, your pet will actually look exhausted and consumed by their studies!
School Girl Shirt
This item seems very girly from its name, but fortunately can be used by male pets without looking too weird, or eccentric. It represents a simple, well refined white shirt, with a blue string under the collar. It's not the cheapest shirt out there, costing around 99,000 neopoints a piece; so if you'd prefer something less expensive I can suggest both the Basic White Shirt, for 150 NP, or the Snazzy Bowling Shirt, for around 300 NP.
School Girl Jumper
Despite its name, the School Girl Jumper can be worn by both female and male pets, like the previous wearable. It looks comfortable, warm and stylish, and it comes in a neutral shade of blue. This Jumper will certainly get your pet's friends talking! This nice piece of clothes can be found in shops for around 70,000 neopoints each.
If the weather is too cold for this simple blue jacket, there are a couple of heavier (and more expensive!) ones, which are the Altador Cup Collectors Jacket and the Its Too Cold In The Office Jacket. The first one was released in the price shop of the Altador Cup V, and will cost you some millions. The Its Too Cold In The Office Jacket was awarded at the end of the 2011 Daily Dare Staff Tournament and it's much cheaper than the previous one, costing around 225,000 neopoints. Both of them will keep the student warm even at the lowest temperatures!
Tarlas Scarf
With the autumnal cold gusts of wind, your pet needs to have their neck protected if they don't want to catch something! The Tarlas Scarf is a simple but not trivial wearable, which comes in similar shades of the outfit we chose. Made of 100% wool, this scarf will warm even the most sensitive to the cold. This item was awarded during the 2010 Tarla's Tour Of Mystery; if you didn't participate to the event, you can buy it for around 15,000 neopoints.
There also are two alternatives, in case you don't like the Tarlas Scarf; the Snowager Scarf – 13,000 NP - and the Snowy Scarf – 3,000 NP. If you decided to use the Altador Cup Collectors Jacket, you may like the Scarf Blowing in the Wind, a yellow scarf made of wool given out as a prize for Altador Cup VII in 2012, which costs around 50,000 neopoints.
Hardy Blue Trousers
There's a lack of multispecies neopoints trousers, especially in dark shades, unfortunately, so I have to suggest this pair of jeans again. Please, have a look at my comment about the professor's outfit.
Blue Shoes
A pair of sneakers is what every teenager or young adult really likes. They come in a neutral colour, they are cozy, sturdy and even waterproof! Moreover, they can be used to create many, different outfits. The Blue Shoes probably are the cheapest items of this customisation, costing around 200 neopoints only.
Well Read Book
Almost every student has a last look at their textbook before their exam, so they won't own a new, unopened book, but a well read one. This one comes with a red, stylish bookmark in it, so your Neopet will never lose the mark! This very helpful hand held item can be found in shops for around 55,000 neopoints a piece.
If your pet is very sleepy, though, they'll prefer to hold a Bottomless Coffee Mug for sure! This animated (spilled coffee from the top of the picture, steam coming out from the mug) right hand item is perfect to keep the student awake. It was released as an award at the end of the 2014 Altador Cup IX Staff Tournament, but you can also find it in shops for around 23,000 neopoints.
Swashbuckling Academy Background
Despite its name, this building can be placed anywhere, even in Brightvale. The lights are soft, like if it's very early in the morning. Is your Neopet ready for their test? Were they so anxious that they arrived at the University at sunrise? The lights inside are on, so someone arrived before them for sure! You'll find this background in shops for around 1,000 neopoints.
If you're looking for something different, then you may like the Brightvale Books Background. This scene can represent the library where the student borrowed their textbook, or the building where the exam will take place. This well detailed, bright background is a real bargain, as you can buy it for 1,000 neopoints only as well!
Dark Green Shrubbery
The Dark Green Shrubbery is one of three brand new colours of the original Shrubbery that TNT released during this year. This really versatile, nice item costs around 50,000 neopoints. I think that it can be a great closet investment because you can use it to create many different outfits. Its deep, dark shade of green perfectly matches with the Swshbuckling Academy Background colours.
If you chose the Brightvale Books Background, I suggest you to use the original Shrubbery instead of the Dark Green version. The classic Shrubbery costs around 6,000 neopoints and it's one of the most popular and loved items in all of Neopia.
Wheelers Coconut Bike
The Wheelers Coconut Bike is the last item we need to complete our customisation. The student wanted to be the first who arrived at the examination, so they chose a quick vehicle like their bicycle. This pretty animated item also has a cute, running Faellie in the front-wheel, which can help the pet riding even faster. This fun, nice bike was awarded during the 2009 Daily Dare, but you can handily find it in shops for around 47,000 neopoints. Moreover, it can be used in many different outdoor outfits, whenever your pet needs to move fast!
If you chose to use the Brightvale Books Background, you can add an Apple Tree. This very cheap background item only costs 1,500 neopoints a piece and can help our student protecting them from the direct sun rays. It also adds a touch of colour and help completing the scene.
This brings the article to a close. I wanted to find a different way to celebrate the Brightvale University and have fun creating a couple of customisations about it. I hope you liked my idea and discovered at least one wearable you hadn't considered buying before!