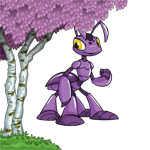 The Best Wearable Items From The Last Twelve Months!

by martia_elior

--------

During the last year TNT released 155 new multispecies neopoints wearable items. Some of them were awarded for completing some events like the Spooky Food Contest, the Games Master Challenge or the Coincidence, while others were normally released with the news, mostly on special days. They are actually a lot anyway! But, among all of them, which ones are the most loved and used, and can't absolutely miss in your closets? Let's have a look at the newer wearables I thought are the most interesting around Neopia!

1.

The Secluded Bench Background was released on July 4th 2013. It shows a really romantic, peaceful scene, with a bench made of stone surrounded by greenery, pink and white roses. This gorgeous background can go well with both female and male outfits; it is the ideal place for Valentines dates, or just for spending some time alone surrounded by nature. You can easily find it in shops for around 35,000 neopoints a piece, and it's a bargain!
2.

The Heavy Meridellian Cloak is an elegant, warm piece of grey cloth made of both wool and velvet, and refined with soft fur coat. It can be bought in shops for around 95k each. This woolen, dark wearable was surprisingly released during the end of July 2013, so it wasn't judged as a very fashionable item at the beginning. Its popularity increased a lot during next Autumn and Winter, because of its high wearability; in fact, it fits almost every species very well and it's particularly loved by dandy, aristocratic pets of both genders.
3.

If you'd like to build a tropical customisation, then the Island Plants and Torches Foreground is a must! This colourful, bright lower foreground item was rewarded for completing a Daily Dare challenge during August 2013; if you missed the event, you can find it at the Trading Post for around 100,000 neopoints a piece. With its big, green leaves and its flaming torches, it easily gives the idea of an exotic, relaxing place, where your pet can taste a cold drink while wearing a grass skirt and a pretty flower lei around their neck! It sounds inviting, doesn't it?
4.

The Spellseeker Wizard Beard was a real success among male Neopets! There was a lack of great looking NP grey beards and only a few species had their own specific fake beards. It can be used for every magician, elderly or noble male outfits. As the previous item, also this one was released as a prize for completing a challenge during last year Daily Dare. But if you weren't around during that event, you can handily buy one of them in shops for around 12,000 neopoints each. It's a bargain, isn't it?
5.

The Glowing Spell Runes Foreground was another very appreciated wearable item from the Daily Dare. It comes with no surprise that it's a sought-after unbuyable item, though its current price seems to be too high anyway. Every aspiring wizard would love to be able to surround themselves with such a powerful, impressive circle of blue light! The black runes above the foreground add a touch of mysticism and mystery that can make your pet look even more interesting. The Glowing Spell Runes Foreground has been one of the commonest wearable item worn by the Customisation Spotlight winners since it was released during August 2013.
6.

Almost every player with female pets fell in love with all the Faerie Eye Shadows! They were released on September 20th 2013 in six different shades, during the annual Festival of Faeries event, and their popularity have never decreased since then. They are quite sought-after items, often given out by the Wishing Well; it comes with no surprise, since they fit almost every species very well, giving your pets a charming, appealing look! Their prices fluctuate a bit nowadays; if you're lucky, you can find the cheap ones (Dark, Earth, Fire and Light) in shops for around 99k each. The Air one seems to be settled around 160k a piece, while the Water one is more than 240k at the moment. A special mention should go to the Air Faerie Eye Shadow, because it was designed by a different artist; this means that it's worn by pets in a slightly different way than the others.
7.

During last October, the Apple Bobbing daily started rewarding a bunch of new items, and among them there was this glasses-zoned wearable, the Possessed Eyes. This frightful pair of yellow contacts gives a brownish-red halo around our pets eyes, so that they can look even scarier or more enraged! They can be used for many zombie-, mage-, war-, or Halloween-related customisations. If you don't feel comfortable doing that daily, because of the risk of getting a disease from it, you can buy these in shops for around 4,000 neopoints a piece. Like the Glowing Spell Runes Foreground, these contacts have been worn by many winners (fifteen!) of the last year Customisation Spotlight, so they are really trendy!
8.

The first actually interesting and sought-after wearable of Y16 was the Blushing Birch Tree. Released at the end of January, this lilac lower foreground item adds an elegant, graceful touch to every outdoor scene we'd like to represent. Due to its rarity (r92) it can't be wished for at the Wishing Well, unfortunately. You can try to restock it at Ugga Shinies or, if you don't feel like restocking, you can find it at the Trading Post for around 400k. Its soft purple and white shades make this tree perfect for many different nature-, Faerieland-related customisations. Please, consider buying it if you haven't it in your closet yet!
9.

The magnificent, amazing (I could keep praising it for hours, as I love it way too much!) Sky Full Of Stars is a background item released at the beginning of March. It conquered many souls since it came out, and was often seen among the items won from the Wishing Well. This wearable is very detailed and well designed, its colours are bright and very well blended together. It portrays a beautiful spiral galaxy with all its dust and stellar remnants, and a luminous star in the middle of it. Every pet would love to have a trip in space and admire this fantastic sight! You can buy your Sky Full Of Stars at the Trading Post for around 300k a piece, or try restocking it at Ugga Shinies. It's not the cheapest wearable around, but I can assure you that you'll be highly satisfied with it!
10.

If the original Shrubbery has been one of the very favourite foregrounds around for years, these recolours of it may even beat it! The Dark Green, Deep Dark and Autumn Shrubberies were released on March 19th 2014 and you can buy them for respectively 45k, 250k and 60k each. Being very versatile, they can be used for different outfits, where the classic Shrubbery shade wouldn't go well with the other wearable pieces. Moreover, the Dark Green and the Deep Dark Shrubberies perfectly fit for nocturnal customisations, whether the Autumn Shrubbery can be used to create fall-related outfits, as its name suggests.
11.

Every year on June 2nd, TNT releases a special lilac wearable item inspired by the Queen of the Faeries, Fyora. This year, they designed this lovely, bright Fyoras Room Background. It's a gorgeous, very detailed background and I'm sure that many female pets would love to visit that room to see which treasures Fyora collects in her drawers and what kind of amazing gowns she has in her closet! It's rarity is not high, fortunately, so if you like it you can wish for it at the Wishing Well and, if you're lucky, your wish may become true! Otherwise, you can purchase it at the Trading Post for around 450,000 neopoints, or trying restocking it at Mystical Surroundings Shop.
12.

The Altador Cup Staff Tournament always gives out some funny, nice and interesting prizes to those who participated into it. This year TNT released a pair of Tired Eyes, which is a glasses-zoned wearable. Pets wearing those eyes will look very exhausted, like if they didn't do anything else than playing at the Altador Cup games for days. They have bags under their eyes, in fact, and it looks like their eyeball capillaries are going to explode very soon. They absolutely need to rest for a bit! If you missed the event or didn't have enough points to get them at the AC Staff Tournament Prize Shop, you can easily find your pair of Tired Eyes in shops for around 25k a piece.
This leads me to an end. I actually hope you enjoyed reading my article and maybe found out at least one wearable you hadn't considered purchasing yet!
Let's hope TNT will give us at least other twelve great items like these for the year to come!