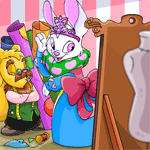 Buyable NC Mall Items Worth Having in Your Closet

by venused

--------

Since the introduction of customization, Neopets everywhere have closely followed trends in the wearable world, hoping to pick up a trophy for Neopia's prestigious Customization Spotlight. One of Neopia's favourite places to shop for wearables has always been the fashionable NC Mall. Fabulous new wearables come and go with the passing of each season. But what about the NC Mall wearables that remain fashionably appropriate all year?

With the furor of collecting limited edition items, it's easy to forget the role NC Mall staples can play in completing your closet! In this article, let's explore some of the NC Mall's most underrated wearables that don't come loaded with an outrageous cap value. Every item on this list can be bought directly in the NC Mall (for now, anyway!).

Khaki Trousers With Cuffs
These plain trousers might look quite simple at first glance, but that's exactly what makes them so great! Perfectly neutral, these khakis pair with just about anything in your closet with ease. Need something simple to go with that brightly coloured shirt you won from the latest site event? These are the trousers for you. Best of all, these trousers work great on both male and female Neopets, making them all the more versatile, so you get more bang for your NP!

Woodland Archer Cape and Quiver
Now you're probably thinking not just any Neopet could pull off this bright red cape. That's where you're wrong! The Woodland Archer Cape and Quiver is a perfect example of a statement piece that your Neopet can build an outfit around. What's especially great about this item is that it features a stunning red gem clasp that elevates a basic cape into something special. Who wouldn't want to try on this lovely cape and feel like they belong on the Defenders of Neopia?

Winged Altadorian Sandals
One of the NC Mall's first items, these sandals have earned their place in every Neopet's closet! If your Neopets regularly get all dressed up, they probably know Neopia's selection of footwear isn't the most expansive. The selection of shoes, boots and sandals in Neopia leaves a lot to be desired. Fortunately, these golden sandals pair with almost any outfit, so you don't need a huge collection.

Pretty Tropical Lagoon Background
This gorgeous wearable is just as stunning today as when it first arrived. Maraquan Neopets will love that they can enjoy splashing around in this water-themed background. The layered effect of the water lends a cohesive look to your Neopet's outfit without necessitating shelling out additional hard earned NP (or NC) on a foreground.

Lighted Hillside Background
Time and time again Neopets come back to this background. It's hard to deny it's anything but lovely. The cool-tone colour-palette is really quite beautiful. What Neopets love most about the forest scenery of this background is that it matches a huge array of outfits and is the perfect for just about any occasion.

Shenkuu Lantern Garland
Garlands are a simple way to spruce up a plain outfit in seconds. The Shenkuu Lantern Garland is a spectacular example of a garland that works with a variety of different outfits and won't clutter or hide your Neopet. It's perfect for adding a little brightness (it's got lanterns, after all!) to any look your Neopets sport.

Baby Pajamas
Since Bigsby Shadington's Wonderclaw machine introduced a plethora of baby wearables, Neopia's cutest residents have had no shortage of NC Mall items to choose from. Despite all the limited edition baby items crowding closets, Baby Pajamas are arguably one of the best baby items ever released. These adorable green PJs never go out of style and we've yet to see a baby Neopet that doesn't look precious in them.

Black Utility Trousers
Much like the aforementioned khaki trousers, Black Utility Trousers are another staple your Neopet can pair with just about shirt for a complete look. Want to sport a spooky getup for Halloween? These are your trousers. Perhaps you're more into rocking a dark, gothic-inspired look? These trousers are for you. Or maybe you prefer to keep it simple and go for the T-shirt and jeans look? That's right... these trousers work for that, too. Which is exactly why these versatile trousers are a must in any closet.

Frozen Tree Branch Wings
There's no denying that wings are a must for any fashionable Neopets. With literally dozens of wings to choose from, picking ones that your Neopets will wear can be tough. Neopets love that these wings aren't too ostentatious. They're simple and quite neutral, meaning they can be paired with just about anything and look polished. They're especially appropriate for fabulous winter-themed looks.

Spotted Print Glasses
You might be surprised to learn just how fashionable these spectacles look on your Neopet! While rocking glasses isn't for every Neopet, these are a great pair of neutral specs you can easily match to any outfit. They look quite dashing with Tyrannian-themed looks. Also, it doesn't hurt that they make your Neopet look like they've done a few extra Faerie Crosswords!

Golden Underwater Wig
This gorgeous wig's ethereal luminescence makes it a showstopper. It might take your Neopets a little time to warm up to this bold statement wig, but once you get them wearing it, they won't want to take it off. This bright blonde wig with vibrant green accents is a perfect wearable to build an outfit around. It looks amazing paired with water-themed items (try the previously discussed Pretty Tropical Lagoon Background) for an instant glam look!

Pretty Dark Wig
This wig is a classic. Simple but beautiful, it's perfect for Neopets that want to look pulled together but aren't interested in changing their look from season to season. This simple but tasteful wig is appropriate all year round, and is a great permanent addition to any closet.
There you have it, a dozen NC Mall staples that you never knew you needed! These classic wearables have weathered many a Neopian fashion trend and yet each one remains a great addition to your closet. You won't regret choosing to add any of them to your growing closet! We apologize in advance for all the NC items you're going to need to buy after reading this article (that's if you don't have them already!) But that's the price of being stylish!